New Year, new life. This saying is also fit for Barcelona's public transport, which introduces important developments in terms of newly available fares and the titles. Therefore, if you are planning a short trip to the Catalan capital, learning about Barcelona's new transport cards will come in useful.
Below, we summarize the most relevant changes and what the rates for this year will be, so that you don't have a single doubt when you land at Barcelona airport. In this way, it will be much easier to get to the city center, traveling with the correct ticket and without exposing yourself to possible penalties. Pay attention!
T-CASUAL: THE NEW 10-TRIP TRANSPORT CARD
As we said, the Metropolitan Transport Authority (ATM), an entity that manages public transport in Barcelona, has modified the public transport tickets of the Metropolitan Transport of Barcelona (TMB) since January 2020.
One of the most remarkable novelties is the disappearance of the most used ticket by tourists and those who do not use these means every day in their journeys: T-10. Even if you have never been to Barcelona, you are probably familiar with this formula, as it is used in many European cities, such as Madrid, Paris, Budapest or Munich. Its substitute will be the T-Casual, the new 10-trip card with 1 transfer included.
Although the operation of both is similar, the new T-Casual presents two fundamental differences when compared to the old T-10: on the one hand, the price, since the T-Casual is 11% more expensive than its predecessor. And on the other, it will become unipersonal (although it is not for nominal use, so any carrier can use it without problems and without the need to present any identification document, such as passport or ID). What does this mean? That the T-Casual, unlike what happened with the T-10, cannot be used by more than one person at a time. Its period of validity is one year.
The T-Casual rates for 2020, which depend on the number of areas through which it will circulate – a system that is also used, for example, in London – is as follows:
1 area: € 11.35 (old T-10, € 10.20)
2 areas: € 22.40 (old T-10, € 20.10)
3 areas: € 30.50 (old T-10, € 27.40)
4 areas: € 39.20 (former T-10, € 35.25)
5 areas: € 45.05 (old T-10, € 40.50)
6 areas: € 47.90 (old T-10, € 43.05)
And what happens if you have a T-10 from a previous stay in Barcelona? In that case, you can continue using it until next February 29, inclusive.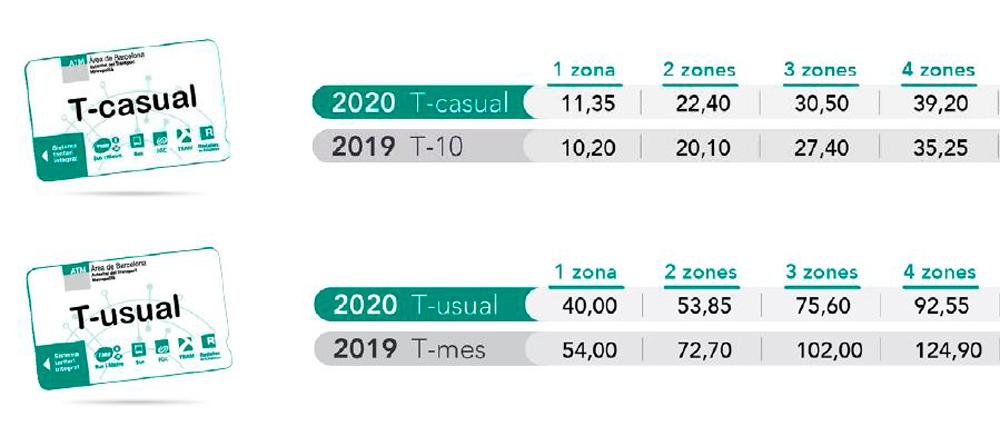 OTHER CHANGES IN TRANSPORT TITLES IN BARCELONA
Another of the new transport cards in Barcelona is T-Usual, which has replaced former T-Mes and T-50/30. Although this title is not widely used among tourists, since it has a validity of one month, here we detail the new prices, in case you are lucky enough to enjoy a holiday in Barcelona for 30 days or more.
1 area: € 40.00 (old T-Month, € 54.00)
2 areas: € 53.85 (old T-Month, € 72.70)
3 areas: € 75.60 (old T-Month, € 102.00)
4 areas: € 92.55 (old T-Month, € 124.90)
5 areas: € 106.20 (old T-Month, € 143.35)
6 areas: € 113.75 (old T-Month, € 153.55)
As with the T-10, both T-Mes and T-50/30 cards that were purchased in 2019 can be used until February 29.
On the other hand, two other cards for monthly and quarterly use are withdrawn: T-70/30 and T-Trimestre. However, if you still have one of these two titles, you can also use them until February 29 and March 31, respectively.
Do you plan to travel to Barcelona in a group? In that case, you can use the new collective T-Grup card, which will allow 70 trips in 30 days and is intended for groups, such as schools or sports clubs. Its validity is one month.
In addition, as of March 1, another new subscription will be launched: T-Familia, with eight trips and designed for the simultaneous use of one family. Its price will be € 10 and it will expire 30 days after the first validation.
In turn, the single ticket is maintained, for a single trip and without the right to transfer. This is more expensive in relation to 2019 and will cease to have a single price, since from 2020 the price is fixed by areas. We indicate the new rates below.
1 area: € 2.40
2 areas: € 3.40
3 areas: € 4.50
4 areas: € 5.75
5 areas: € 7.35
6 zones: € 8.55
Are you going to spend 2 days in Barcelona? If so, you should know that the T-Dia is also maintained. Destined essentially for tourists, it allows unlimited trips during a day on the public transport network, with the right to transfer. However, it is a bit more expensive than in 2019, since it now costs € 10.50. In any case, choosing this option will help you save in Barcelona.
Another of the transport tickets that continue is the T-Jove, a card for young people under 25 and that allows unlimited travel for 90 days. The price for an area is € 80 and represents a 25% reduction compared to the cost in 2019, which was € 105. The T-16, the free transport ticket for children under 16 years of age in their area of residence, will also be maintained.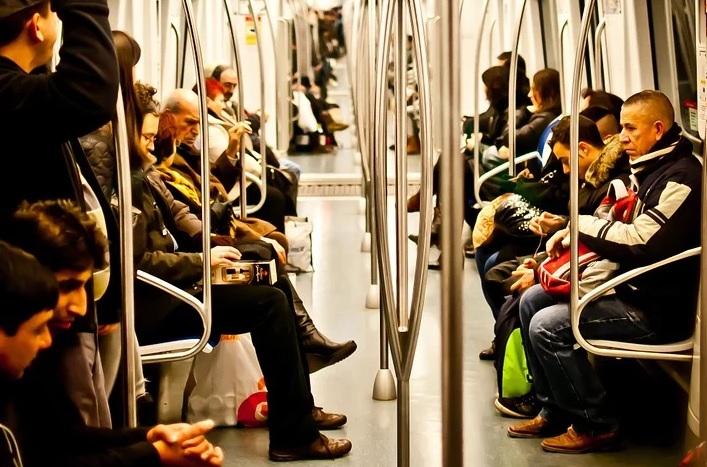 A NEW LOW COST TRAIN BETWEEN BARCELONA AND MADRID
After reviewing the new transport cards in Barcelona, we want to take advantage and explain another novelty related to transport, this time long distance. We are talking about a high-speed train that will run between Madrid and Barcelona from the 6th April 2020 for a low fare. This new service will be called AVLO (acronym for high speed low cost). It is expected that the first tickets will start selling at the end of this month so that the Madrid-Zaragoza-Barcelona AVLO line can be launched coinciding with Easter. Those responsible plan to extend this train model to other railway lines once the service has settled. In this way, you can make the most of your stay in our rental apartments in Barcelona, taking a trip to Madrid or Zaragoza. How about?
Do you have any questions related to the new transport cards in Barcelona? If so, do not hesitate to contact us: we will be happy to guide you.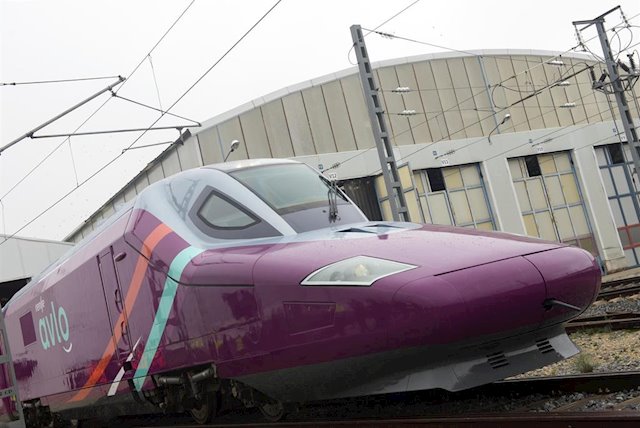 MORE INTERESTING STUFF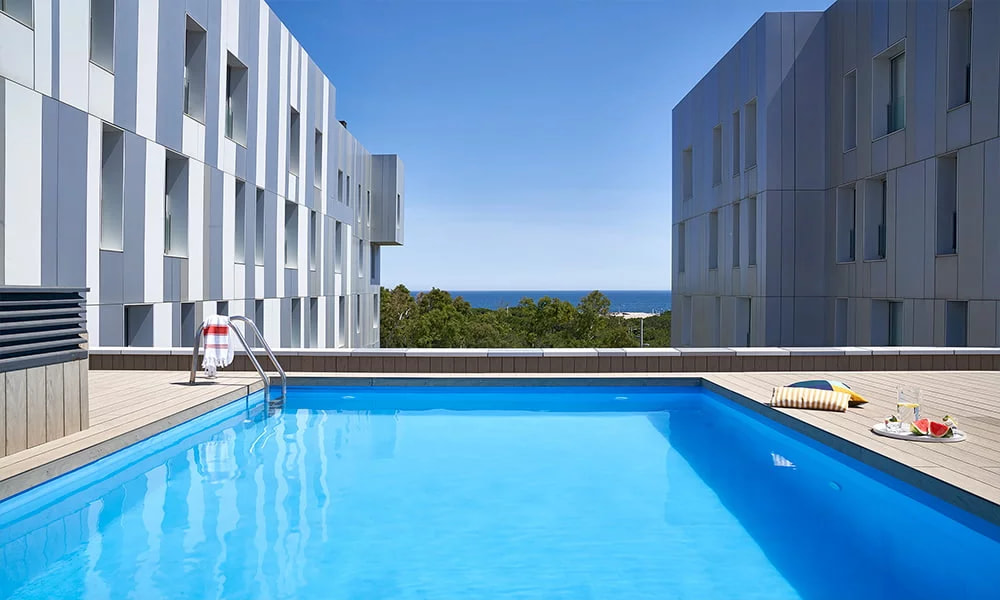 Holiday apartments by the beach in Barcelona
Since 2010, Lugaris Apartaments has been offering you the best holiday rental flats in Barcelona, perfect for a family holiday, with friends or as a couple, or for medium-term stays.
You can choose between apartments near the beach in Barcelona, at Lugaris Beach, with sea views, 2 swimming pools (one for adults and one for children) and capacity for up to 6 people, and the Lugaris Rambla flats, located on the Rambla de Poblenou and just 300 m from Bogatell beach, with a balcony or terrace of up to 22 m2 and ideal for couples or families and groups of up to 5 people. All our luxury flats in Barcelona are air-conditioned and equipped with all the appliances, furniture and bed linen you will need during your stay. They also have satellite TV and free high-speed Wi-Fi connection, as well as a safe and a 24-hour private security service.
What's more, when you make your booking, you can reserve many other additional services: international press in your flat, parking space, transfer service to and from Barcelona airport, bicycle hire, supermarket shopping, museum, sports and show tickets, babysitting service and much more.

For more information, contact Lugaris Apartments without obligation.