If your head needs a break from all the information you have collected by touring the monuments and historic buildings in Barcelona, you will undoubtedly need to clear your brain with a fun activity that will entertain both you and your companions, whether your partner, your children or your friends. If you have not found any proposal that suits you from our list of unique plans in Barcelona, in this post we have compiled a list of the top 20 fun things to do in Barcelona that will ensure you have a whale of a time during your stay.
FUN THINGS TO DO IN BARCELONA WITH FAMILY
We know that traveling and sightseeing with children can be tiring for them, so it is important that we find a space for all the family to have a great time and take home the best memories from this holiday.
CosmoCaixa
Yes, it is a museum, but we assure you that it deserves a place on our list of fun things to do in Barcelona. Kids and adults will have a great time pulling strings, pressing buttons and seeing the reaction produced by a simple touch of the fingers on a surface in the 'Sala de la Materia', where the transformation of matter is explained. In the room, children can also discover the animals that hide in the tropical ecosystem created in this science museum. In addition, CosmoCaixa offers interesting temporary exhibitions.
CosmoCaixa is located on carrer d'Isaac Newton. You can access this space by taking the L7 line for Ferrocarrils Catalans from Plaça de Catalunya and getting off at the Avinguda Tibidabo stop. You can also arrive with bus lines H4, V13, V15, 22, 73, 75, 60 and 196. CosmoCaixa is open every day including holidays, so you have no excuse for your children to have fun while learning science.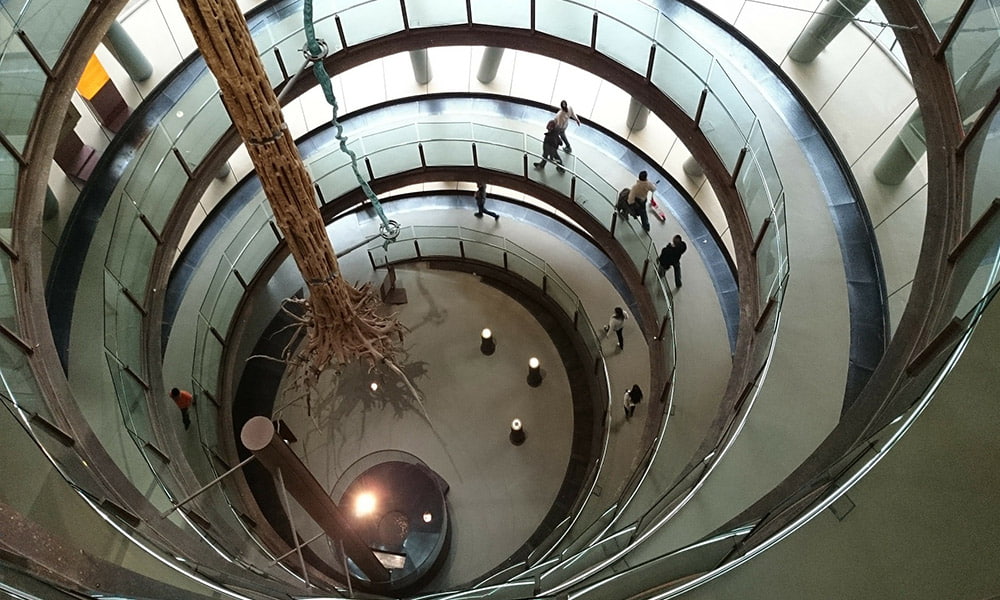 Tibidabo
One of the oldest amusement parks in the world, Tibidabo, is a perfect place for your children to unleash their adrenaline and have a dream of a day. There is a total of 30 attractions among which are a roller coaster, a Ferris wheel, several bumper cars and the jewel in the crown: the terrifying Hotel Krüeger, the park's haunted house. Adults can also enjoy the privileged views of the city of Barcelona that this location offers and the picturesque corners of this park that is more than 100 years old.
Tibidabo opens its doors so you can spend a fun family day on weekends and most of the days during the week in summer. To ensure that the park is open the day you plan your visit, check the schedules on its website. On the other hand, you can get to Tibidabo by public transport with the T2A bus that leaves Plaça Catalunya, or with the Tibidabo funicular. The park also offers a parking area at the top of the hill.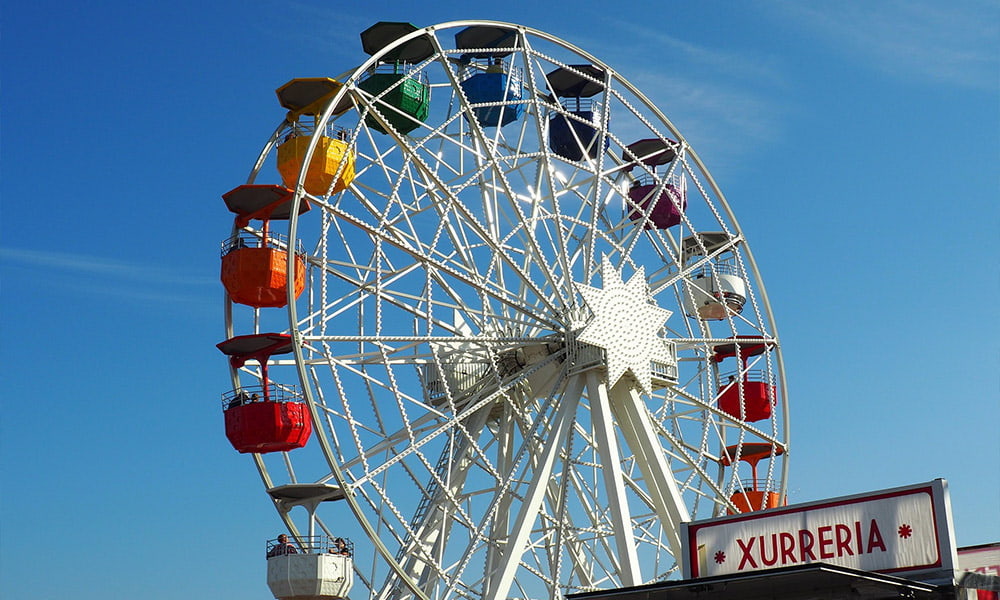 Barcelona's swimming pools
Need a way to avoid the heat? A fun family day at a very low cost is what the different municipal swimming pools around the city can offer, which represent a safe alternative to the sea for the little ones. If you cannot decide between the best outdoor swimming pools in Barcelona, we recommend that you choose one with large green areas where your children can play as well as splash around in the water. An example is the Can Dragó CEM, which has many shaded areas as well as ideal pools for babies due to their shallow depth.
Enjoy the swimming pools during the summer months, since they are generally open between June and mid-September. If you want an indoor pool at a reasonable price for a cold day, we recommend the Sant Jordi Swimming Pools, which open their pool and thermal area to the public on mornings during the week and all day on weekends.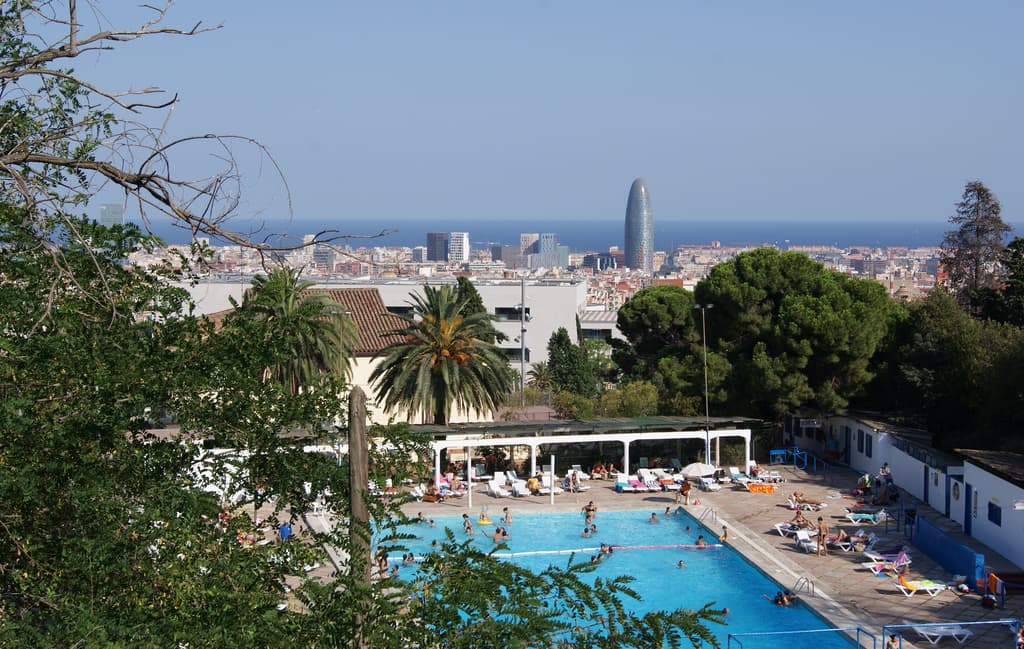 La Casa dels Entremesos
Puppets, giants and capgrossos ('big-heads') are the highlight of this place. This building houses an initiative to spread Catalan folklore among children, so, in addition to being amazed by the presence of the most important giants of the city, they can also have fun with the performances that are organized there. This is an excellent option if you do not know what to do in Barcelona with children.
To get to the Casa dels Entremesos from our apartments in Barcelona, you only have to take the L4 of the metro to Jaume I, go up Via Laietana and turn to carrer les Beates, 2. The center is open every day except Mondays .
FUN THINGS TO DO IN BARCELONA WITH TEENAGERS
We know that it is sometimes difficult to find things to do together as children get older: their tastes change, and we fear they might get bored. Therefore, we have put together a series of activities for teenagers in Barcelona that they will undoubtedly enjoy.
Ice skating
Right in front of the F.C. Barcelona stadium you will find this skating rink. Here, children, teenagers and adults can spend a day of fun gliding on the ice. You also have the option of going to the Skating Club Barcelona, which opens its doors to the public almost every day of the year and is in the centre of the city. In this rink, if you have never skated, you also have the option to order a 15-minute express class with a teacher for an additional fee.
You will find the FC Barcelona Ice Rink on carrer Arístides Maillol, get off at the Les Corts stop on the L2 subway to get there. Keep in mind that this rink opens from October to July. On the other hand, you will find Skating Barcelona on carrer Roger de Flor, 168. Get off at the Verdaguer stop on the L5 to get there.
Barcelona Bosc Urbà
An adventure park on the heights of the Barcelona Fòrum is a good alternative for thrill-seekers, teenagers and seniors alike. Slide across zip lines, climb nets, cross impossible bridges and have a great time with the circuit that the urban forest adapts to each type of visitor. If your teenage children are daredevils, we recommend doing the red circuit, reserved for the bravest.
The park is very close to our beachfront apartments Barcelona. You only have to take the tram and get off at the Fòrum stop. Although from November to March they open all the mornings on weekends, we recommend that you enter in your Facebook page to consult the opening hours of the day you want to go, since it usually varies quite a bit.
Nau Bostik
If you want to surprise your teenage kids with a totally ground-breaking place, take them to the Nau Bostik, in the Sant Andreu district. This old factory appears on our list of fun things to do in Barcelona because it is one of the most original centres of contemporary culture in Barcelona. In this nucleus of urban creation, you can learn about the local street art movement thanks to 700 m2 of graffiti, take the most instagrammable photos and take some of the cheapest drinks in Barcelona. Take a look at its schedule, every month a vintage market is set up, with plenty of food trucks and live music.
You will find this industrial building on carrer Ferran Turné, 11, which you can reach by getting off at the Sagrera stop of the L1 or L5 of the metro, with the R3 and R4 lines of RENFE commuter trains or bus number 34.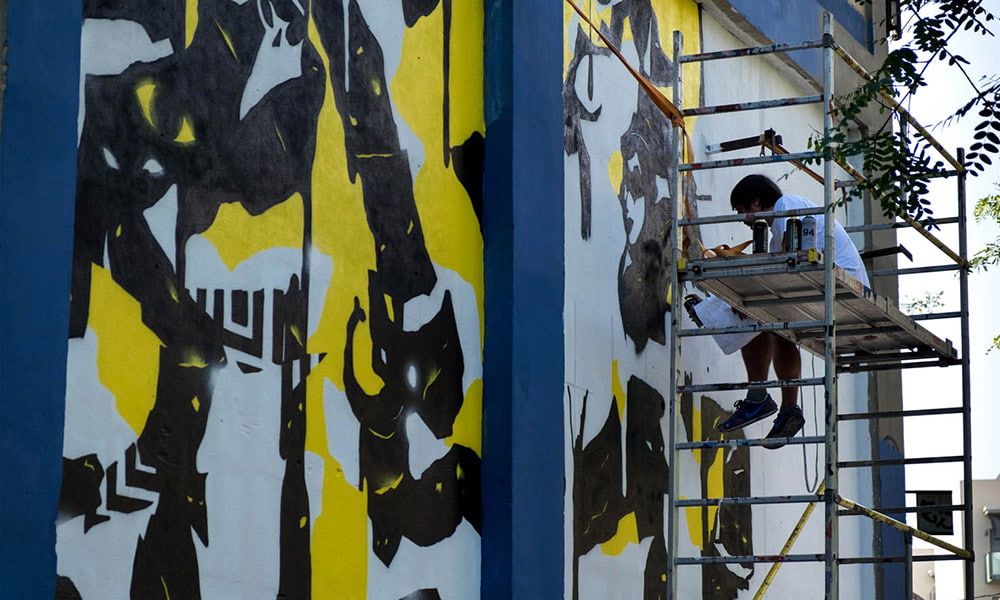 Activities in the sea
The Mediterranean Sea gives teenagers who visit Barcelona an excellent opportunity to practice numerous water sports and fun activities. Practice paddle surfing, parasailing and kayaking in the Olympic Port, have fun with an inflatable at full speed with the fly-fish or try the jet skis in the Fòrum park, an unforgettable experience for the most daring. There are several companies that organize this type of activities, so it is best to consult with the city's tourist office to advise you on the most appropriate.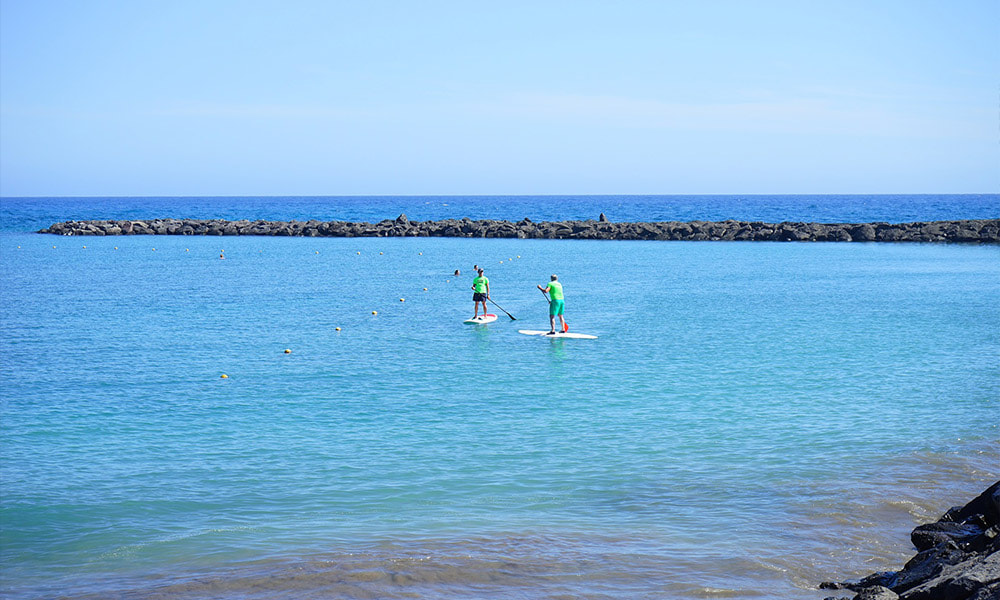 FUN THINGS TO DO IN BARCELONA FOR COUPLES
Having fun with your partner is the easiest thing to do in this city. In addition to the number of romantic places in Barcelona, we want to propose other fun activities to do in Barcelona as a couple.
A city for swing dancing
Barcelona is undoubtedly one of the best cities in southern Europe to practice this dance. If you want to have fun with your partner, you just must find out in which square or ballroom swing fans are organized on this weekend, so you can join them. Also, if you have never taken a swing class in your life, in Barcelona you will also find dozens of schools that can give you some introductory advice.
If you need an example, the Ciutadella Park fills with trumpets and double bass so you can swing dance on the first and third Sunday of the month.
Mercantic
Spending a romantic morning in a place that will transport you to other times is possible in Sant Cugat's Mercantic, a large space where you will find an infinity of vintage shops arranged in the most picturesque way. Drink a vermouth among old books or grab a bite at the street food trucks that you will find around the site. We assure you that the visit will provide hours of fun whatever your tastes.
You can get to Mercantic with lines S2 and S6 of the FGC, getting off at the Volpelleres stop. We recommend going in the morning with plenty of time ahead, since it takes 40 minutes to arrive. The venue is open every day of the week except Monday.
Cocktail with a view
If you are looking for fun things to do in Barcelona for couples while you get the chance to relax, we recommend you enjoy the panoramic views offered by some of the best rooftop bars in Barcelona. Taking a dry Martini with views of the sea or the cathedral in a totally relaxing atmosphere while listening to jazz with the best of companies is always a good idea to finish a day in the most surprising and romantic way.
Laser tag
Not the romantic type? To feel like a child again, and if you want to surprise your partner with something really original, you can go to any of the laser tag venues in Barcelona. Although this game is designed for groups, you and your partner can have fun lining up on opposite sides to test your aim with a laser gun.
You will find several laser tag places in Barcelona city, such as the Play Point Barcelona, Games and more, or Combat Zone Barcelona. If you are a true Laser Tag pro, you can also try the one located at the indoor karting in Sant Feliu de Llobregat and take the opportunity to go around on its track too.
FUN THINGS TO DO IN BARCELONA FOR FREE
Don't want to spend money on having a great time? Here we briefly describe some fun things to do in Barcelona for free, we promise you'll have as much fun as with the previously mentioned activities.
Geocaching in Barcelona
If you have a detective within, you can download the official app to go on a treasure hunt around Barcelona. You will be surprised by the number of routes you will find, from a game inspired by Carlos Ruiz Zafón's novels to a route across the universities of the city. Spending a fun afternoon for free and learning about the city is possible while searching for clues, boxes and secret compartments hidden in Barcelona's public space.
Hiking around Montserrat
Nature is one of the free treasures that this world gives us, so why not take advantage of the day to hike and breathe some fresh air? Although if you do not want to leave Barcelona you can take a walk through the natural area of Collserola, we recommend you visit the mountain of Montserrat, as its views, trails and paths ensure a day of fun and exercise that cannot be trumped.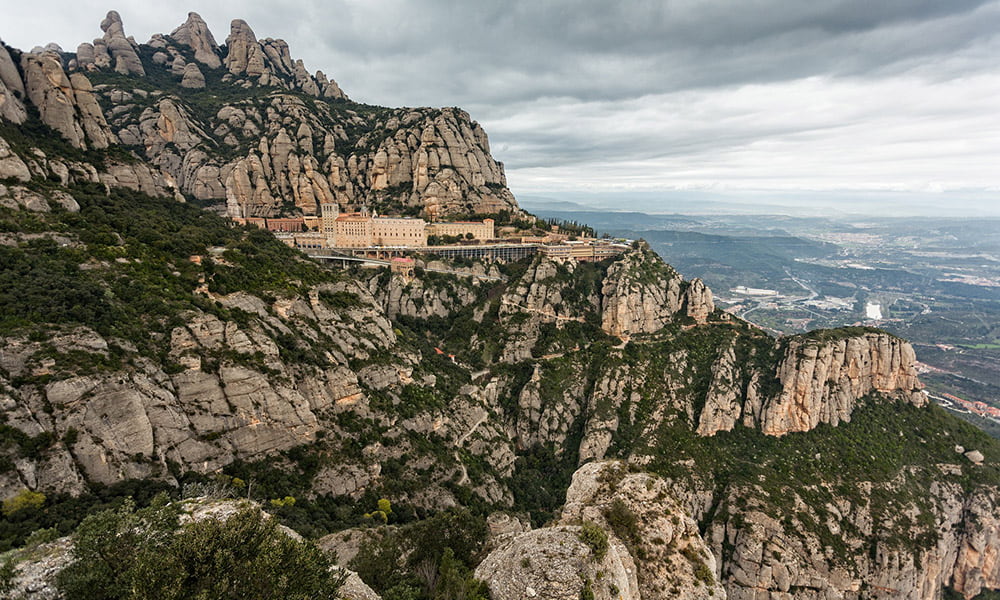 The Horta labyrinth
A classic in all lists of fun things to do in Barcelona for free is to get lost in the Horta labyrinth. Whether you're a couple, are visiting as a family or have teenage kids, this completely free park will give you hours of fun playing hide-and-seek or strolling through its majestic gardens.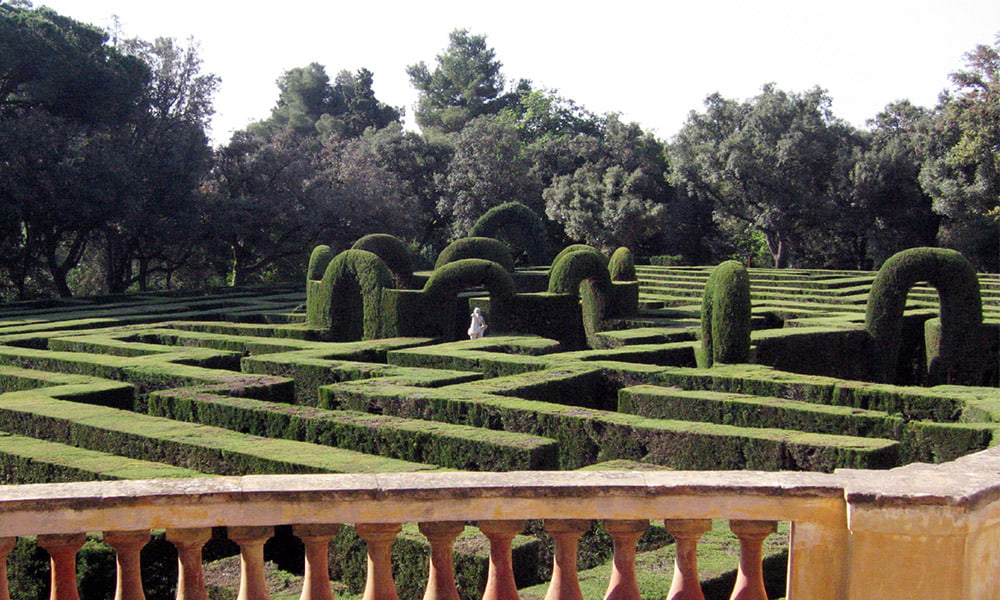 FREE THINGS TO DO IN BARCELONA ON A RAINY DAY
If the cold or the rain prevent you from being outdoors, in Barcelona you have several options to have fun for free. Practice skateboarding at Nevermind (having a beer wouldn't hurt), visit the art exhibitions in the Center de la Imatge de la Virreina or the Centre d'Art Santa Mónica, practice your stretches enrolling in the free class at Sahajayoga's Happy Yoga or take refuge in the Boqueria market.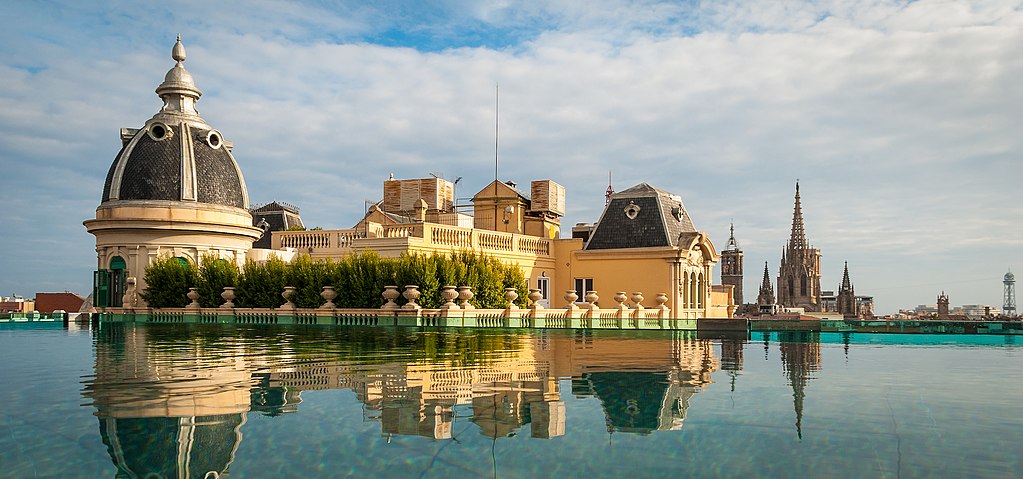 Do you know about any other fun activities that we have forgotten to mention in this post? Do you want to explain your experience doing some of these activities? We want to know your opinion, as your experience helps other users, so leave us a comment below!