n a city like Barcelona where there are so different places to visit, the metro network is a key transport to get around the city with total comfort. Opened in 1924, the network that once linked Lesseps with Plaça de Catalunya today consists of a total of 12 lines, 186 stations, more than 150 kilometres in length and is the second longest in the country.
In addition, in 2016 the subway was used by more than 400 million passengers, many of whom were using it for the first time. If you are one of these people who have arrived in Barcelona and do not know how to use Barcelona metro, here we will explain all the details, from how to buy a ticket, learn about timetables or how the zones work.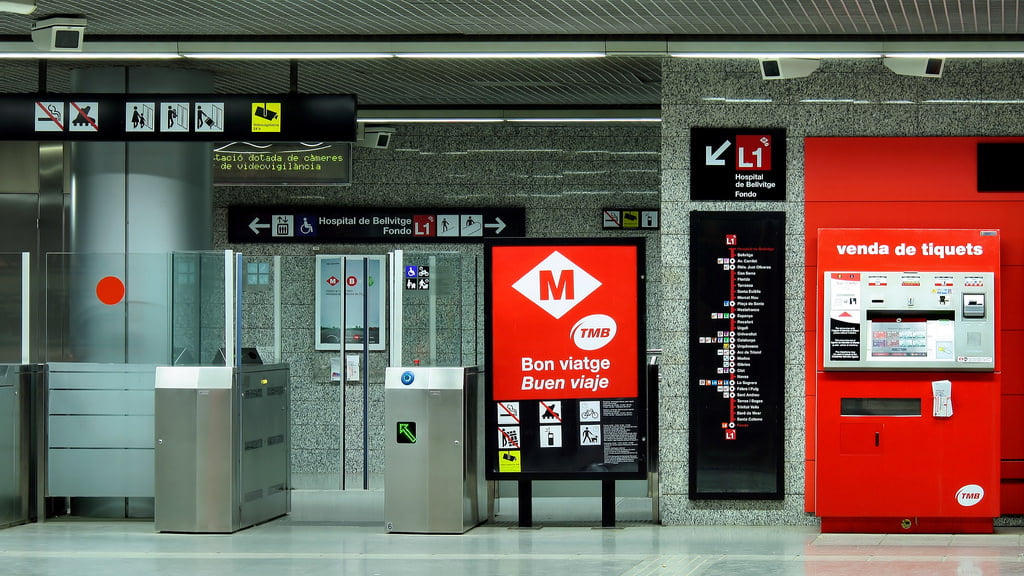 BARCELONA METRO TICKETS
There are many options to choose from when you buy a ticket, so we will explain each one of them to move around the Barcelona metro in the most comfortable way:
Types of ticket
– Single ticket. As the name suggests, this ticket only allows one trip by public transport. Yes, you can transfer if you need to change between any metro line, but you cannot get off the transport being used. Another important fact that you should know is that in any trip made in the public transport network, the ticket expires two hours after having used it.
– T-Dia. This pass will allow you to travel both on the Barcelona metro and the rest of the public transport in the city throughout the whole day. You should know that this is not a 24-hour ticket but is only valid until 04:00 AM on the day you purchased it. Another feature is that it is individual, so two people cannot travel with the same one.
– T-Casual: This ticket, available from January 1, 2020, replaces the old T-10. Like its predecessor, it is valid for 10 trips. Despite this, this card is unipersonal, that is, it can only be used by one person per trip. This card is valid until the day the rates are changed.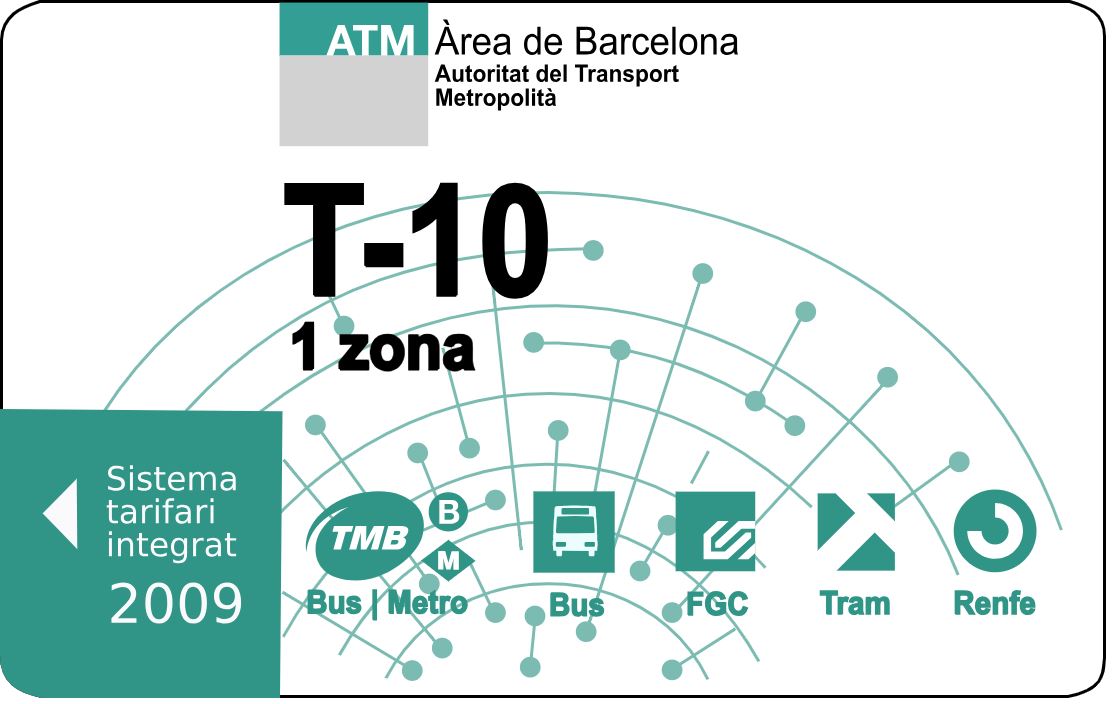 – T-Usual. This card is intended for those people who use public transport regularly and replaces the old T-50/30, and T-mes. Thus, buying this ticket the user will have unlimited trips that he/she can use during the next 30 days. This card can be used by one person only, and it will also be the one that the user of the old T-trimestre card should use, having to renew the card every month, instead of every three months.
– T-grup: Another of the novelties of 2020 is this multi-personal card that allows a total of 70 trips in 30 days, and replaces the old 70/30 card. It is ideal for groups of people traveling to the city of Barcelona on specific occasions.
– T-family:the last of the additions to this rate system is this multi-personal card that has a total of 8 trips and that can be used during the next 30 days after its purchase. This card will be available from March 1, 2020.
– T-Trimestre. Like the previous one, it is also unipersonal, so you can travel as many times as you want throughout the area for three months in a row.
– T-Jove. This card is designed for those under 25 traveling for 90 days in a row at a reduced price.
– T-4. It is a multi-person T10 card at a reduced price. It is only valid for those who have a pink card (mainly retired or disabled people). There is also a one-person modality that allows people with disabilities and people over a certain age (the limit is established by each municipality in the metropolitan area) to travel for free.
– T-16. This is a travel card for one zone for young people from 4 to 16 years old (up to 31 December of the year of their 16th birthday), valid for unlimited free travel while the card remains valid. It is also valid for the Aeroport T1 and Aeroport T2 metro stations (line L9 Sud).
– T-Verda. It is a one-person, free-of-charge card with three years of validity. It can be requested by those residents in the metropolitan area of Barcelona who decided to get rid of and decommission a vehicle without an environmental certificate.
– T-Aire. It is a multi-personal ticket for two integrated journeys from 1 to 6 zones. It can only be bought and validated on days decreed as traffic-restricted due to high air pollution levels and should be used on the day of first validation. The price is that of two T10 journeys, with a 10% discount. It is not valid in the Metro stations T1 and T2 (line L9 South).
– Hello Barcelona Travel Card. These tickets are ideal if you are here on holidays for a few days and are staying in one of our apartments in Barcelona. This option allows you to choose a ticket to travel during the time you stay in the city, from 48 h to 120 h or 6 days. In addition to being able to make as many trips as you want, you will also have access to the line that takes you directly to the airport (L9 Sud).
– T-Mobilitat. This metro pass is a PVC contactless card that can be used throughout the ATM area. It can be topped up with journeys from the TMB app and also offers a virtual card that you can use from your mobile phone. The card has an initial cost of €4.5 and can be used indefinitely. If you lose it, the card has a 5-year guarantee. To date, this application allows you to buy T-Usual and T-Jove tickets.
How to pay for the metro in Barcelona
Now that you know the type of ticket suits your needs, to travel on the metro to any point in the city, the first thing you should do is buy a ticket. Here are the instructions:
1. Go to the ticket machine in the entrance and choose your language, it will be much easier for you.
2. Choose the type of ticket you want. In the lower right part of the screen you will find the 'More' button. Press it if the option you need does not appear on the screen.
3. Once the ticket type has been selected, the price will appear on the screen. On your left, you can select the number of tickets you want to pay for, and on the right, decide in which zones you want to travel to (if you need to buy a ticket from more than one area, read the following sections). Select 'continue'.
4. Now you must pay the amount that appears on the screen. Pay in notes through the first slot of the upper-right part of the machine. The slot to pay by card is located right next to it. Occasionally, some machines have no change, so they do not allow bills. In this case you must pay with another method or try another machine.
5. Confirm the purchase and wait for your ticket to appear in the opening below the screen.
If you want to buy an 'Hola Barcelona' card before arriving in the city, you also have the option to buy it online and pick it up at the airport tourist office or any other city office.
Using the Barcelona metro system
Once you have purchased the ticket, you only need to start your trip. Look at the subway map (you'll find it below if you need it) and decide where you want to go. When you have passed the turnstile, you will find two signs that will indicate the stops in each direction, so it is as easy as following the signs to the direction you want to go to reach the correct platform.
Once on the subway, remember that above each door there is a map of the line, and the stop you are about to arrive at will blink. On the other hand, the lights in red represent the stops the metro has already made.
Transfers in the Barcelona metro
If you need to change lines, apart from on our map, you can also know where to get off thanks to the map in the carriage, as it tells you what type of transfers can be made at each stop with a small symbol:

– Tram: Indicated with a square turquoise green logo with a white 'T'.
– Train: There are two types of trains. The Renfe commuter trains are marked with a white 'R' inside an orange box, while Ferrocarrils de la Generalidad (FGC) are signalled with a darker orange square with a white logo that resembles a chain.
Remember that you can transfer to any other type of transport without problem as long as it is within zone 1 and it has not been more than two hours since you first entered. However, if you leave the metro at a stop that was not the one you wanted and want to go through the turnstile again, you will have to use another trip.
Metro zones
There is a total of 3 zones that make up the Metropolitan Area and another 3 that will allow you to reach any point in the province, including some medieval villages near Barcelona.
If you are wondering where zone 2 begins to know if you need to buy a ticket for more than one zone, you should know that the entire metro network of Barcelona is located within zone 1. In addition, you can also travel to other cities and towns in the metropolitan area, the last stops that accept Zone 1 tickets are Castelldefels, Sant Boi de Llobregat, Sant Feliu de Llobregat, Montcada i Reixac and Montgat. Therefore, if you want to take an excursion outside of Barcelona, such as a visit to Montserrat, you must buy a ticket with more areas. In the mentioned case, for example, you should purchase a 4 zones ticket.
An important detail is that, if you go by metro to El Prat airport, the 1 zone ticket is not valid, so you must buy a special ticket unless you have an 'Hola Barcelona' card working. The ticket is not valid to transfer to the tourist buses, the Montjuïc cable car or the Tramvia Blau.
Barcelona metro timetables
Have you ever wondered what time the Barcelona metro closes? In this section we will explain the timetables in which the Barcelona metro runs, since it works 365 days a year.
– From Sunday to Thursday: It opens at 05:00 AM and closes at 12:00 PM
– Friday and holiday vigil: Open at 05: 00 AM and close at 02:00 PM
– Saturday: It opens at 05:00 AM and it does not close during the whole night
-Sunday: it opens from 12:00 AM to 12:00 PM
Note that the last train leaves each end of the line at 00:00 h, but that stations also close doors at this time.
On December 31, the train runs during the entire night, as well as the night of June 23 to 24, the night of August 17 to 18, September 21 to 22 and September 23 to 24.
Barcelona metro map
Now that you have all the information you need, you only need to decide where to go. Visit Gaudí's art and eat in the best restaurants in Barcelona. It's up to you! Here you have a map of all the subway lines, so you can comfortably move around the city: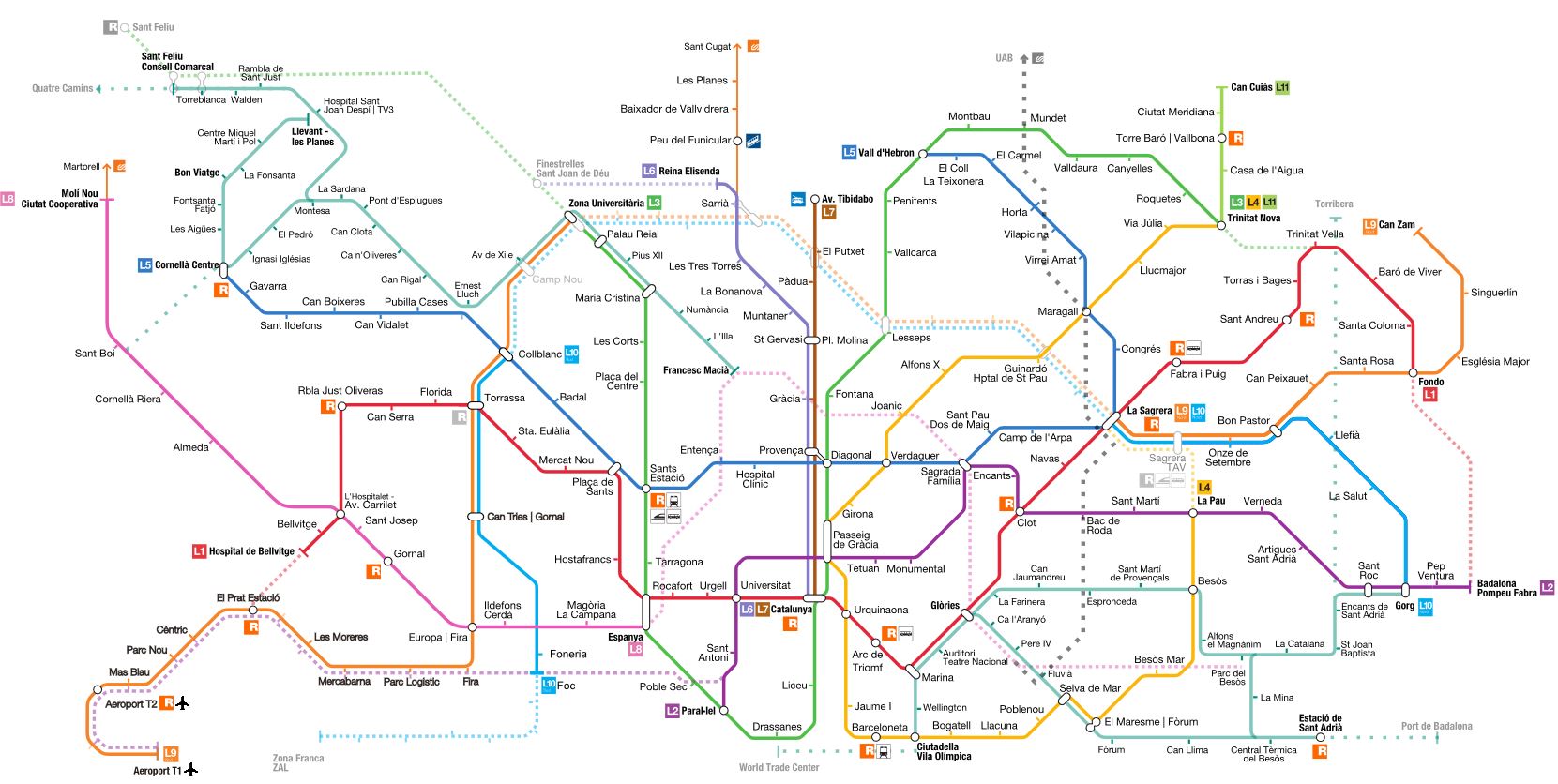 Leave your comment to explain your own experience and some tips so that the rest of the readers know how to use Barcelona metro to perfection.