Several factors can turn an interesting trip into a memorable experience; for instance, the amount of cultural and leisure activities offered in the chosen destination, local gastronomy, the accommodation, the weather… If you are planning a weekend getaway to the Catalan capital, we have excellent news for you, since there is no need to worry about any of these aspects. Not even the weather in Barcelona!
In fact, everybody knows that you will not be short of places to discover here. In addition, the city has plenty of restaurants where you will be able to taste the most delicious typical dishes of Barcelona. Finding a good place to sleep will not be a problem either, as our apartments on the beach have everything you deserve during your holidays. Something similar happens with the weather.
Nonetheless, if you want to make sure that you are putting the clothes you really need in your suitcase, this post about the weather in Barcelona can be quite helpful. Moreover, we will suggest some of the best apps so you can check the weather forecast in advance. Take note!
WHAT IS THE TEMPERATURE LIKE IN BARCELONA?
As you probably already know, Barcelona has a pleasant Mediterranean climate, but with a unique characteristic: its urban microclimate, which means that temperatures can be up to 7 degrees higher than in other neighboring towns. On the other hand, the location of the city on the Northern side of the Mediterranean basin causes some weather conditions, such as a very short dorught period.
You will find four clearly differentiated seasons in Barcelona: spring, summer, autumn and winter; any of them are a suitable to visit the city.
Winter, from December to March, tends to be short, with rather cool temperatures and little rain (there are only between 10 and 15 cloudy days on average). On these dates, the average temperatures are around 50 °F (10 °C), with a maximum of 55.4 °F (13° C). Night frosts are usually limited to less than a week a year, and they are more common in neighborhoods located at higher altitudes, in the areas surrounding the Collserola mountain range and in the streets near the Besòs River, in the north. In any case, they are frequent not in the city center. The coldest temperature reached in Barcelona city is 14 °F (-10 °C), which was registered in Observatori Fabra, at a height of 405 m or 1.476 feet.
Snow is a strange phenomenon in the city and the snowflakes rarely stick. Generally, spells are only spotted on the Tibidabo mount, the highest point in the city. The biggest snow spell in Barcelona took place some decades ago, in Christmas 1962. It was followed by less intense snowfalls, which happened in 1985, 1993, 1999, 2010 —then, there were between 2 and 2.3 inches of snow in the city center and the beach; from 4 to 6 inches in the highest neighborhoods and about 76 inches on the Tibidabo mountain— and 2018.
Concerning summer in Barcelona, it is a long and warm season, with high humidity. In July and August, peak temperatures during the day are usually around 86 °F (30 °C). Of course, there may be exceptions. For example, when the southwest wind blows — called llebeig or garbí in Catalan— from the sea to inner land, the thermometer can reach almost 104.5 °F (40 °C). The highest recorded temperature in Barcelona city is 103.82 °F (39.9 °C), which was registered in Raval.
However, if you are going to travel in summer, it is worth taking light jackets and thin, long trousers, since the temperatures can go down at night from June to September .
During spring, there are maximum temperatures ranging from 59 °F (15 °C) in March to 77 °F (25 °C) in June. In autumn, the weather is still pleasant, but the maximum temperatures go down from 70 °C (21 °C) at the end of September to 59 °F (15 °C) at the end of November or the beginning of December. In addition, the sun does not shine every day and rain becomes pretty common. Therefore, if you are going to travel to Barcelona during these months, have an umbrella in hand and add some mid-season clothing in your suitcase, with some thick clothing and short-sleeved shirts. They will be useful if the temperature rises.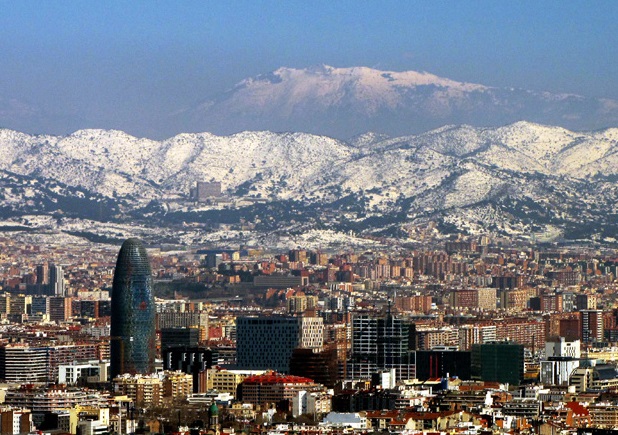 WHEN DOES IT RAIN IN BARCELONA?
If you want to learn more about the rain in Barcelona, we have a surprise for you: did you know that it rains as much as in London, if not more? Do not panic: in the case of the Catalan capital, its 600 liters per year per square meter are condensed in a few days, unlike in the British city. The other major difference with the English capital has to do with the sun. As expected, Barcelona beats London, with over 2,500 hours of sunshine per year.
Autumn is the rainiest season —the rainiest months are October, with about 100 liters, and September, a period in which storms are frequent due to cold fronts, followed by spring.
On the contrary, the driest months are July and February, although it is always advisable to have an umbrella on you.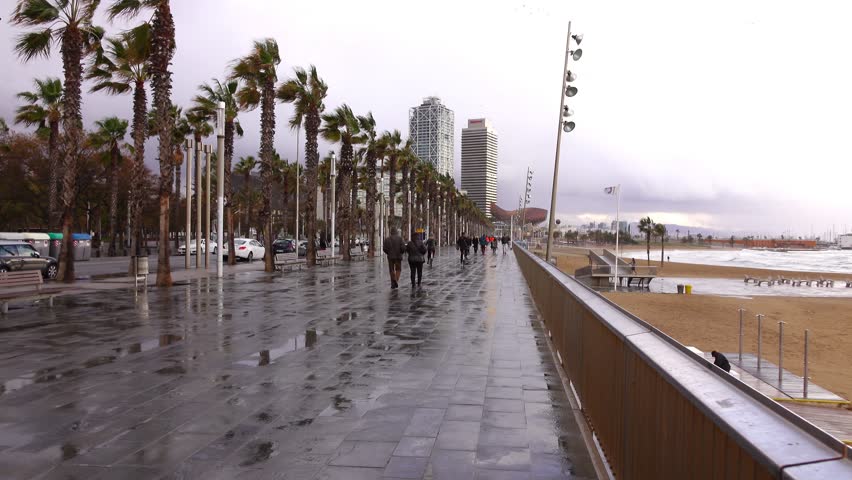 SOME WEATHER APPS TO USE IN BARCELONA
App Alertes. The Meteorological Service of Catalonia offers this personalized alert service, which provides real-time storm alerts in Barcelona and the Catalan towns of your choice. It offers data from more than 160 weather stations.
El Tiempo de AEMET. The Spanish State's Meteorology Agency has got its own app. Download it and check the weather forecast for any location in Spain.
El Tiempo en RTVE.es. The Spanish TV and radio broadcasting service provides you with a 7-day forecast in 8,000 Spanish towns —including Barcelona and other municipalities in its province— and 2,000 more from other countries. Check the weather forecast in any city in just one swipe, with animated images, and add all those places you are interestend in to your list of favorites. This will be very useful if you are thinking about going hiking.
Eltiempo.es. This is one of the leading meteorological information apps in Spain. Take a look at more than 200,000 towns around the world, with a renewed design. It is very easy to use!
tumeteo BCN. It offers the weather forecast in Barcelona in a visual and intuitive way.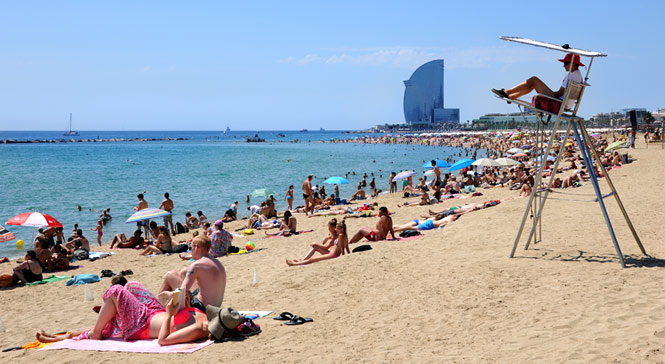 We hope this information will help you plan your trip to Barcelona. However, if you have any questions or want to send us your comments, remember that we are eager to give you a hand. So, do not hesitate and send us your messages!