Lugaris Rambla
-
RAMBLA DEL POBLE NOU 16-20 08005 BARCELONA
MORE INTERESTING STUFF
Lugaris Rambla: vacation rentals close to the beach in Barcelona
The Catalan capital is one of the four most visited cities in Europe, is much more than Gaudi architecture and a pleasant climate throughout the year: in fact, Barcelona is an ideal choice to get closer to the Mediterranean Sea. And to do that, nothing is better than renting apartments close to the beach in Barcelona, such as those of Lugaris Rambla.
Due to its characteristics, these upscale lodgings are the perfect choice for all those who seek to have maximum comfort just minutes from the sea and the main entertainment areas of the city, while still enjoying a quiet environment where lifelong restaurants and terraces play the predominant note.
The Lugaris Rambla building is situated just 300 m from the beach. Specifically, you'll live on the Rambla del Poblenou, 16-20, one of the most important streets of the old town of Sant Martí de Provençal and currently one of the 10 districts that make up the city. In addition, the area is known for bringing together an extensive heritage from the time of the Industrial Revolution and for accommodating the 22@, the great hub of technology companies in Barcelona. Also, not too far away, rises the Agbar Tower (1999-2005), an impressive skyscraper of 145 m in height, the third highest building in Barcelona designed by famed architect Jean Nouvel.
In any case, the main feature is its extraordinary proximity to the sea and nine beaches of Barcelona: Llevant, Nova Mar Bella, Mar Bella, Bogatell, Nova Icària, Somorrostro, Barceloneta, Sant Miquel and Sant Sebastià, to which should be added the area of Forum baths. Eight of these places were honored in 2016 with the prestigious Blue Flag award, which recognizes its environmental quality and its excellent security, rescue and health care conditions.
In addition, this place brings together a large range of leisure activities, concentrated in places like the Olympic Port or the Casino of Barcelona.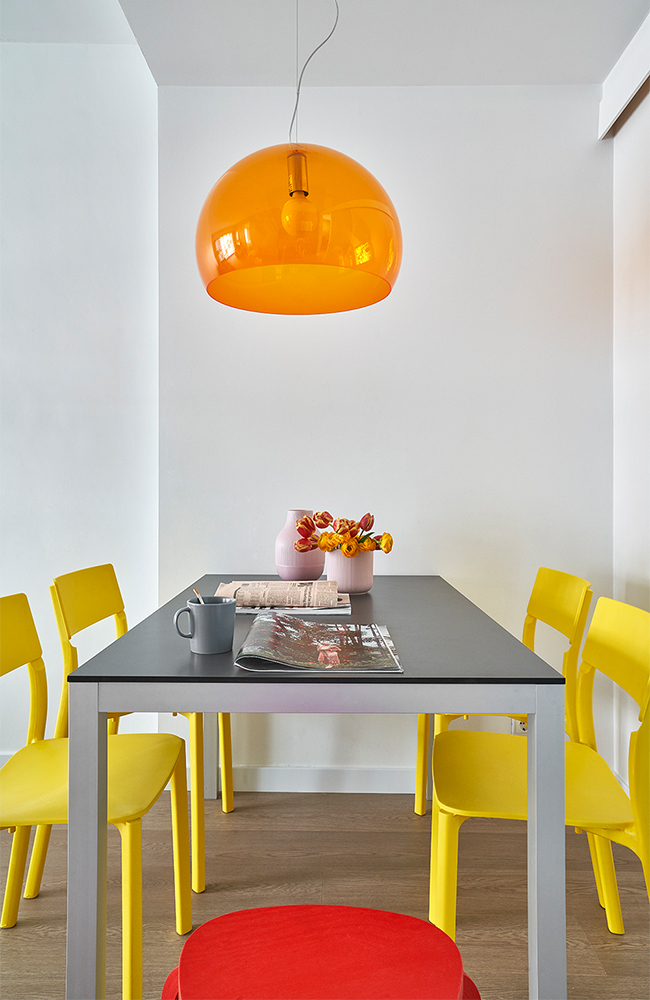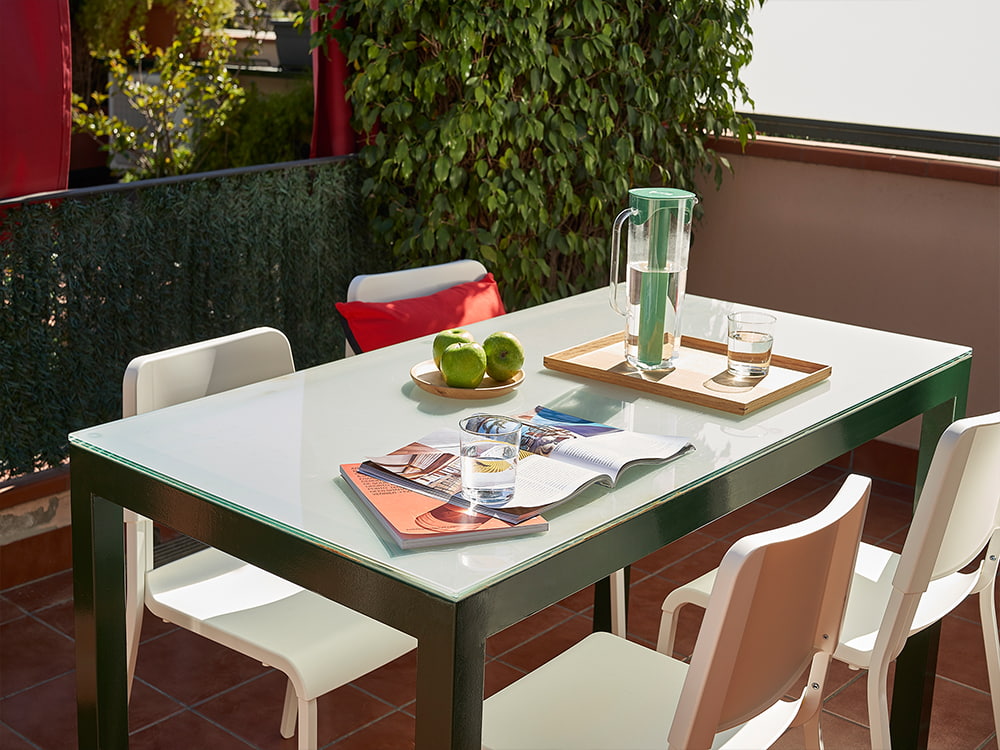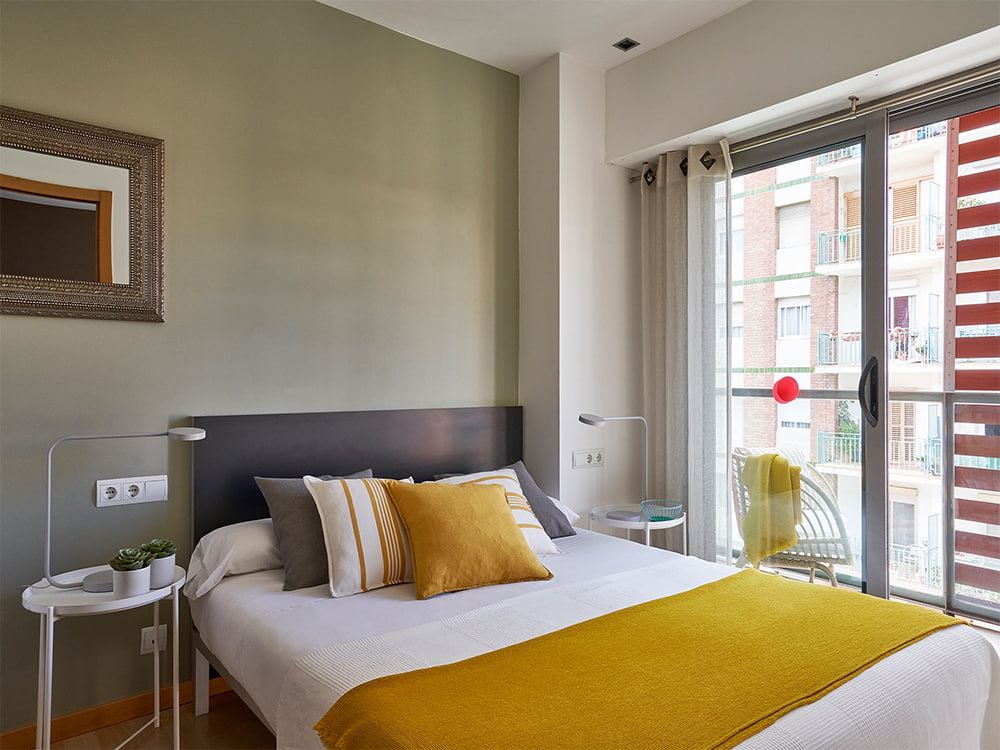 CHOOSE YOUR APARTMENT CLOSE TO THE BEACH IN BARCELONA
In addition to its ideal location, the Lugaris Rambla complex puts in your hands all the amenities you'll need during your stay. Whether you visit the Catalan capital on business or you want to spend an unrepeatable holiday, our exclusive Rambla apartments in Barcelona will exceed your highest expectations.
And so you can better understand our proposal, we will summarize below some of the details that make our rental apartments in Barcelona truly unique. No matter if you visit the city alone, with your couple or family: whatever your situation, we have the solution that best suits you.
Premium apartments in Barcelona from 2 to 4 people
If you are traveling on your own or with one or two companions, you should discover our Business apartments for 2 or 3 people. Within this category, we have apartments between 38 and 52 sqm of living area with kitchen, living room, 1 bedroom with 1 double bed and 1 sofa-bed and 1 bathroom with bath or shower.
And if you want to take advantage of the long, warm summer evenings dining outdoors without having to go outside, you will also have your own balcony (on request).
Premium apartments for 2 or 4 people in Barcelona
We know how comfort is important for you when you're away from your city. Therefore, we have prepared even the smallest detail to make you feel at home from the first day. Therefore, we are pleased to introduce you our Premium apartments for 2 to 4 people.
Certainly these are our most special houses: with an area ranging between 49 and 52 sqm, equipped kitchen, living room, 2 bedrooms with double bed, 1 sofa bed and 1 bathroom with bath or shower.
As in the case of Business apartments, you can also request to have a magnificent balcony.
Family apartments in Barcelona for 2 or 5 people
Do you travel to Barcelona accompanied by your family? In that case, we encourage you to settle in our Family apartments for 2 or 5 people. These are luxurious apartments from 53 to 57 sqm, equipped with kitchen, living room, a room with 1 double bed, 1 bedroom with single beds and 2 bathrooms with bath and shower. In any of them, you and your couple or your children will have the privacy and the space you need to take the full advantage of your visit to the city.
Premium apartments in Barcelona from 2 to 5 people with terrace
Are you looking for maximum comfort for you and your family? If so, be sure to get to know our offer of Premium apartments for 2 to 5 people with terrace. If you choose this package, you can live in a fantastic apartment from 50 to 55 sgm, with a kitchen, a living room, a room with double bed, 2 room with 1 pull-out bed, 1 sofa bed, 1 bathroom with shower and 1 terrace of 22 sqm.
In this way, all our Ramblas apartments in Barcelona offer endless additional amenities: parking, elevator, high speed Wi-Fi, furniture, satellite TV, air conditioning cold and heat, hair dryer, iron and ironing board, Nespresso coffee maker, cookware, cutlery, crockery, fridge-freezer, oven, microwave, dishwasher, washer-dryer, linens, towels and amenities. You can be sure that you'll feel like in the best hotels.
RENT APARTMENTS CLOSE TO THE BEACH IN BARCELONA
Given its privileged location and everything that the Rambla apartments in Barcelona provide you, we can guarantee that this is one of the best accommodations close to the beach.
If you need more details, contact us without any obligation. We will be happy to answer all your questions. Hurry up: at the Lugaris Rambla complex the best luxury apartments in Barcelona are waiting for you.
Perfect as holiday apartments or for professional reasons, our housing offers are the ideal choice not only for sightseeing in Barcelona or enjoying the beach, but they also ensure the best quality of life for you and your family. After living in our apartments, we are convinced that you will find it hard coming back to your city. Choose your apartment and try it!
PEOPLE LOVE US
Nice and clean, kitchen has what is needed for lunch or light dinner. Pool on fifth floor, not too large a pool, but with a view that compensates! Close to public transport and hop-on-hop-off buss stop. Lots of restaurants nearby and VERY close to the beach.

Emil W.

21/06/18

Just returned from a 5night stay, great location, comfortable apartment close to restaurants and metro. Staff at reception could not have been more helpful, highly recommend.

Sarah H.

23/02/18

best place to stay it was such a nice place to stay especially with a big family. the place is clean and close to the city. surrounded by good restaurants and grocery stores are around the corner. a couple blocks away from the metro but its so easy to find taxis if you dont feel like taking the public transportation. we will stay here again if we want to visit Barcelona again.

632celestef

19/03/18

A great apartment complex with spacious rooms. The pictures are real, that's just the way it is. We were fortunate enough to stay on the 6th floor such that we had a great overview of the city as well as a view to the beach.Many great restaurants and bakeries in the area, as well as great food shopping.The beach access is great as well.

Klaus R.

04/11/18

"Exceptional" Location, Staff friendliness, Customer Centricity, Room size, Facilities

Arsalaan

28/06/18

Great location excellent accommodation would definitely stay again

SamB P.

19/01/19

Great apartments, and great service and information upon arrival We were there as a family and had apartment 33 - an apartment with one twin bedroom connected to a small hallway with a laundry machine and a bathroom with wc and shower, and with a double bedroom with ensuite bathroom with shower/bath and toilet. The two bathrooms were perfect for us - 3 women spend quite some time with only one bathroom. In addition to these rooms there was a kitchen with refridgerator, microwave, sink, dishwasher and water boiler and glasses/plates/cutlery. The kitchen also had a large bottle of water and some coffe for the first night. The livingroom had a nice sofa and chair, and also a dining table with four chairs. We also loved the west facing balcony that you accessed through a large sliding door in the living room. There was some noise from the rambla if you wanted to sleep with the window open, but not too bad. No car traffic! The walk to the beach was only a few minutes, perfect - pretty much the closest you get to the beach on average in Barcelona. The walk to the nearest undergroud station was a bit further, maybe 7-8 minutes, but not too bad. When we arrived the host gave us alot of information and recommendations and maps, and answered any questions we had. Great service! They were also available on email and answered quite quickly. Can't really say I have anything negative to say!

Kristin P.

28/05/18

We stayed here for a week in 2016 it was clean and really close to both the beach and Barcelona city. We would love to stay again for our 30th wedding anniversary but only for a couple of nights. Is this possible?? 🤞🏻

lori a.

01/01/19

5 Tagestrip im Februar Top Appartement, modern eingerichtet- 7. Stock mit Meerblick! Alles da was gebraucht wird, Geschirr und Handtücher. Nettes Personal, Supermarkt um die Ecke, U-Bahn in 10 Min. Fußweg, Bus noch näher, haben wir aber nicht versucht.

pschabus2018

02/03/18

We stayed 3 nights at a Lugaris beach apartment. It's nicely appointed with a comfy bed, good sized space, and a washer/dryer combo. Kitchen is small but handy if you're staying a bit longer and dont want to eat out every meal. We went in the off season, so the hot tub wasn't heated. I'm sure in the summer the rooftop pool is popular.

Alex H.

19/03/18

Great location, Great staff, Great city! We stayed in Barcelona for 4 days and were fortunate to stay at Lugaris Beach resort. It's only a 4 minute walk to a really nice public beach. The hotel is in a great location, walking distance to shops and nightlife. The staff at Lugaris was amazing as well. They helped with sightseeing, dinner reservations, and more. Always super friendly. Will definitely stay with them again.

Mike E.

26/06/18

We really enjoyed our stay. Great location

Vilma W.

14/03/20

We loved our stay here! The location is right next to the a beach with plenty of restaurants and supermarkets nearby. Very easy to get around, getting to the city center was easy with plenty of options. We had a few rainy days while we were there but the staff sent us a little notice and we're happy to suggest some things to do on a rainy day. They staff couldn't be nicer!

Alex H.

23/10/19

This place was fantastic! The location is great. It is across the road from the beach and close to a bus stop which takes you to the center in about 15 minutes. Also around the corner are a number of great restaurants to sample some of the great Spanish food!! The room itself is very good. Large, comfortable with a high class of appliances and amenities. The staff are also very friendly and helpful. I would happily stay here again.

auckspider

28/06/18

Comfortable, clean and secure, excellent, friendly service. My stay at Lugaris couldn't have been better. The Internet service was great (70Mbps down and 20Mbps up most of the time), the bed was comfortable and clean, and I especially liked the welcome pack, complete with ingredients for a romescada (which I actually took home with me so I could cook it for my partner). The staff (esp. Rachel) were polite, charming and helpful.

tomnewton1983

13/03/18

Staff was great. The area is fun, close to the beach and fun restaurants!

Kim D.

24/09/18

Property was nice, clean, beds comfortable, quiet. It had big windows, so we had lots of natural light. The apartment was big enough for us and had everything we needed. The staff was very friendly, helpful. During our stay we met Manuel, Victor, Alex and Maria. Everyone of them was extremely friendly and nice with us. I would consider staying at Lugaris again.

radudelacluj

07/12/19

beautifull design appartement nearby the sea We'd liked the modern design from the appartment with beautifull views to the sea and Barcelona city. The appartment is also clean and fully equiped. It is situated in a nice and quiet neighborhood.(Poblenou) The staff is very kind and very helpfull. We recommended Lugaris very higly .

jo_capelle

13/03/18

It is one of the best location in Barcelona. We really enjoyed the beach nearby. Most of the top attractions in Barcelona are not very far from this location. The apartment was very neat and clean. People there at the reception are very helpful.

Rakesh P.

14/11/18

We stayed in Lugaris Beach apartments, the apartment was nice and clean, the beds comfy and it was quiet, which allowed us to have a proper sleep and rest. Eva and Pia were lovely ,friendly and welcoming. You can book all your tickets for the main attractions from the reception, get a taxi or advice in general if need to.I wouldn't call the apartments luxury but you've got everything you might need: washing machine,coffee maker with complimentary capsules, a toaster ,hair drier, dishwasher , tv with few channels ,fridge/freezer and even a mop and a bucket in case you feel like cleaning 🙂 We booked an apartment with a sea view, it was only a side sea view which was a bit disappointing but we enjoyed our stay in general.

Arenesa D.

10/01/19

Very nice apartment that had everything we needed. Great service!

Per R.

24/03/18

Recently stayed at Lugaris for 1 week with my misses. The staff (Alex, Viktor & Maria) where phenomenal, they helped us out and were very hands on. The apartment was clean, tidy and well presented. It's a great location, accessible to the city centre, the beach and other tourist attractions. I'd definitely recommend Lugaris!

Seeza S.

10/12/19

Fantastic location, clean and perfect sized apartments with all amenities for a small family. The staff at the front desk, couldn't be more friendlier. The only downside with our experience was that the swimming pool was not heated, but the view from the rooftop was amazing.

Mo S.

24/03/18

This was the best choice I could have made! The appartment was exactly as described - actually even better! It was very nice and clean, had all the stuff you might need - two bathrooms, iron, TV, kitchen, full equipment. There is A/C in the apartment. Reception is helpful, as mentioned on the website you can leave your luggage in a deposit if you need to pick it up after check out. Location is very good it is right next to the beach but also with easy access to the city centre. Despite street going right in front of the building the place is quiet and cosy. If you need a taxi to the city centre you will pay app. 13-15 euro (depending on the exact spot) and to the airport - app. 35 euro.

Magdalena J.

15/02/20

Good option for a stay of a few days or more. A little bit outside the center, yet not too far. Restaurants and supermarkets closeby. Rooms are smaller and a little less attractive then the pictures suggest but still good value for money. Staff is helpful and friendly.

Halls C.

19/12/19

Lovely place to stay. Just crossed the road to sandy beach.

Jan J.

26/11/17

We loved our stay. The staff was extremely nice and helpful with things that came up. The room is simple but has everything needed. The bed was comfortable!

Valeria L.

02/12/18

The staff was super helpful and accommodating. They upgraded us to a bigger apartment in order to accommodate our request. The seaside view was beautiful! They helped us figure out how to get around the city and were so friendly. Thank you for a great stay!

Terry B.

19/12/19

My husband and I totally enjoyed ourselves. The complex is conveniently located next to public transportation, as well as withing walking distance of many boutiques, grocery stores, restaurants, and wonderful walking paths by the beach. The staff was very helpful too the entire time we were there.

DeBorah A.

07/02/20

Absolutely perfect for a family stay in Barcelona. Very modern and funky reception area and the most helpful and friendly staff you could possibly want. Great apartment, very new, cool, spacious and had all the necessary facilities. Rooftop pool is a great bonus for the kids (although not quite warm enough in April...) Poblenou is a lovely, vibrant neighbourhood (it's really been improved since I lived there in the early 1990s) - loads of great cafés, restaurants and bars, as well as supermarkets etc. It's also an easy bus or metro ride into the centre of Barcelona. Would definitely go back to Lugaris 🙂

andrew t.

29/04/18

Very bright and spacious flat, comfortable, clean and well-equipped, located near the beach and shops & restaurants. The staff is always available to help and very friendly. Overall a great place to stay!

Muriel C.

15/05/18

Very well located on Poblenou, nice resturants, stores, close to the subway,great service from the people who work at hotel, the lady that made us the check in a Argentinean girl( I'm sorry I forgot her name) was really nice and give us a map,tips and explained how to get tickets to the attractions and more. Apartments are very comfortable with a fully equipped kitchen and washing machine.

Dennis l.

14/06/18

We loved our stay here! The location is right next to the a beach with plenty of restaurants and supermarkets nearby. Very easy to get around, getting to the city center was easy with plenty of options. We had a few rainy days while we were there but the staff sent us a little notice and we're happy to suggest some things to do on a rainy day. They staff couldn't be nicer!

Alex H.

23/10/19

This place was fantastic! The location is great. It is across the road from the beach and close to a bus stop which takes you to the center in about 15 minutes. Also around the corner are a number of great restaurants to sample some of the great Spanish food!! The room itself is very good. Large, comfortable with a high class of appliances and amenities. The staff are also very friendly and helpful. I would happily stay here again.

auckspider

28/06/18

Comfortable, clean and secure, excellent, friendly service. My stay at Lugaris couldn't have been better. The Internet service was great (70Mbps down and 20Mbps up most of the time), the bed was comfortable and clean, and I especially liked the welcome pack, complete with ingredients for a romescada (which I actually took home with me so I could cook it for my partner). The staff (esp. Rachel) were polite, charming and helpful.

tomnewton1983

13/03/18

Staff was great. The area is fun, close to the beach and fun restaurants!

Kim D.

24/09/18

Property was nice, clean, beds comfortable, quiet. It had big windows, so we had lots of natural light. The apartment was big enough for us and had everything we needed. The staff was very friendly, helpful. During our stay we met Manuel, Victor, Alex and Maria. Everyone of them was extremely friendly and nice with us. I would consider staying at Lugaris again.

radudelacluj

07/12/19

beautifull design appartement nearby the sea We'd liked the modern design from the appartment with beautifull views to the sea and Barcelona city. The appartment is also clean and fully equiped. It is situated in a nice and quiet neighborhood.(Poblenou) The staff is very kind and very helpfull. We recommended Lugaris very higly .

jo_capelle

13/03/18

It is one of the best location in Barcelona. We really enjoyed the beach nearby. Most of the top attractions in Barcelona are not very far from this location. The apartment was very neat and clean. People there at the reception are very helpful.

Rakesh P.

14/11/18

We stayed in Lugaris Beach apartments, the apartment was nice and clean, the beds comfy and it was quiet, which allowed us to have a proper sleep and rest. Eva and Pia were lovely ,friendly and welcoming. You can book all your tickets for the main attractions from the reception, get a taxi or advice in general if need to.I wouldn't call the apartments luxury but you've got everything you might need: washing machine,coffee maker with complimentary capsules, a toaster ,hair drier, dishwasher , tv with few channels ,fridge/freezer and even a mop and a bucket in case you feel like cleaning 🙂 We booked an apartment with a sea view, it was only a side sea view which was a bit disappointing but we enjoyed our stay in general.

Arenesa D.

10/01/19