Seeing a city from other perspectives that you are not used to is a real privilege, Barcelona is no exception. The rise in the popularity of rooftop bars, venues located on the roofs of buildings and hotels, is a fact in this Mediterranean city. It not surprising at all, since you can enjoy a 360-degree view of the city's best monuments as the Sagrada Familia, the Cathedral, Tibidabo and even the sea, it's always a delight to have a cocktail in your hand. Whether you are going to have a drink, relax after a long day of sightseeing or enjoy a romantic moment with your partner, here you will find the best rooftop bars in Barcelona with a view, classified so that you can choose the perfect one for each occasion.
To surprise your partner with a different perspective of Barcelona, there is nothing better than taking her to one of the rooftop restaurants with the most romantic environments to have a good wine or dine with the capital of Catalonia at your feet. Keep reading to choose between these three romantic terraces:
TERRAZA MARTÍNEZ
If you want to impress someone with good meal, amazing views and unbeatable surroundings, Terraza Martínez is the place to go. No, this restaurant is not exactly on a building to be called a rooftop, but the views are worth the visit. Specializing in grilled dishes, fish and paellas, you will have the opportunity to taste the typical Catalan food while you enjoy one of the most romantic places in Barcelona with views of the sea and the port. Reach the hill of Montjuïc with the cable car so that this evening is unforgettable.
ROBA ESTESA
Apart from the beautiful square in which it is located, Hotel Neri has another very well-kept secret: its rooftop bar and restaurant. Roba Estesa is a place surrounded by plants and spectacular views of the center of the Gothic Quarter. Among the terraces mentioned in this list, this may be one of the most atmospheric. Here you can taste fusion cuisine, which combines local ingredients with a signature touch.
THE MOOD ROOFTOP TERRACE
In the heart of Barcelona's Eixample we find this romantic restaurant, which is ideal for those of you with the most exquisite palates. The landscapes of La Pedrera, the park of Montjuïc and the sea will accompany you for dinner in what is presented as a feast for the senses. Not only can you eat in this romantic atmosphere, but you can also have some cocktails if you prefer.
If you are looking for an exclusive place where you can relax after a hard day, the city of Barcelona has beautiful hideouts in its skyline where you can pamper all your senses as you deserve to, sipping on delicious drinks while you let the panoramic of the city catch you:
TERRAT DE MANDARIN
One of the most stylish buildings on Passeig de Gràcia has one of the best views of Barcelona on its rooftop. The Terrat de Mandarin is the perfect place to chill out in a hammock, have a cocktail and even try some of the Peruvian-inspired dishes prepared by its inhouse chef of this place. In addition, one of the most recommended places to stay to watch the sunset in Barcelona is precisely this point.
OHLA
Another venue with views over the Gothic is the top of the Ohla, which offers an exceptional space designed exclusively for your relaxation and enjoyment. The comfortable sofas and sun loungers are located around an infinity pool that reflects the blue sky, creating an ideal environment that positions this hotel rooftop as one of the best chill-out rooftop bars in Barcelona without a doubt.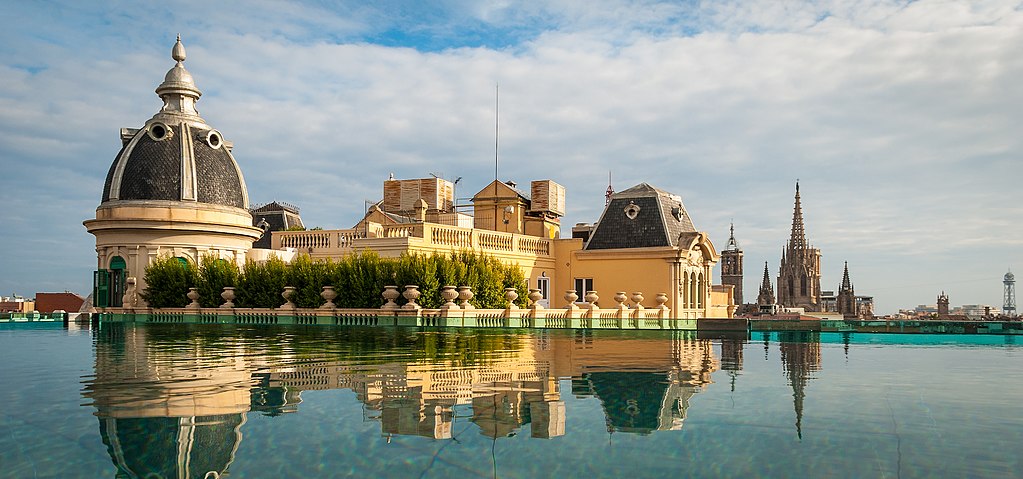 D'APROP
Sofas, lounge chairs and comfortable armchairs will welcome you to the d'Aprop, a chill-out located on the top floor of a hotel on carrer Trafalgar. This is one of the most charming rooftop bars in Barcelona. As the name suggests (D'aprop means 'from close up' in Catalan), this rooftop bar offers personalized treatment and local cuisine (prepared by a Michelin star chef) so you can relax in the heights. Enjoying this little secret a few steps away from the centre is a privilege that is worth experiencing. As if all this were not enough, this is one of the closest venues to our rental apartments on the beach in Barcelona.
If what you are really looking for is a rooftop in the heights to drink with a spectacular view, we bring you three great places with character and a dreamlike panoramic to enjoy the Mediterranean summer as you deserve to.
ALAIRE
One of the legendary cocktail rooftops in Barcelona is AlAire, the spectacular space that Condes de Barcelona has on its rooftop. This bar is located on the magnificent Paseo de Gràcia and is the perfect place to rub elbows with the cosmopolitan inhabitants of the city, as this is where they have their after-work drinks, making it one of the most authentic places to have a snack. In addition, the wide space offered is filled every night with live music or a DJ to liven up the evening.
MIRABLAU
Surely one of the best rooftop bars with a view in Barcelona, or one of the most panoramic, is offered by the Mirablau. Having a drink in this place and continuing the party in the heights of the city is a great option. Located in the neighborhood of Sarriá, this place offers several spaces depending on your mood, so you can eat in the restaurant, have a quiet drink with the city as a backdrop, or dance to the beat of the latest musical hits until the early hours of the morning.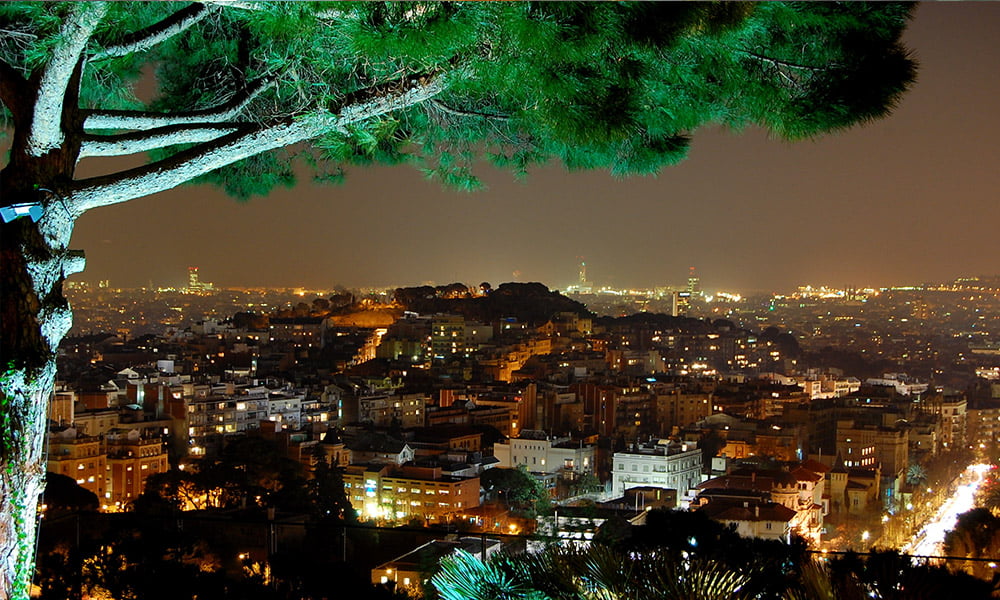 B-POOL
Do you want to enjoy a spectacular view of the magic fountain of Montjuïc? The B-pool offers great views of Plaça España and the possibility of having a cocktail while enjoying a privileged place to see the famous water and lights show. With reasonable prices, this place has a large solarium where you can relax, some delicious drinks and a good menu that has nothing to envy to the best tapas bars in Barcelona.
Did you like these suggestions? Do you want to mention a rooftop with views that is not on the list? If so, leave us a comment: we would love to know your opinion.
MORE INTERESTING STUFF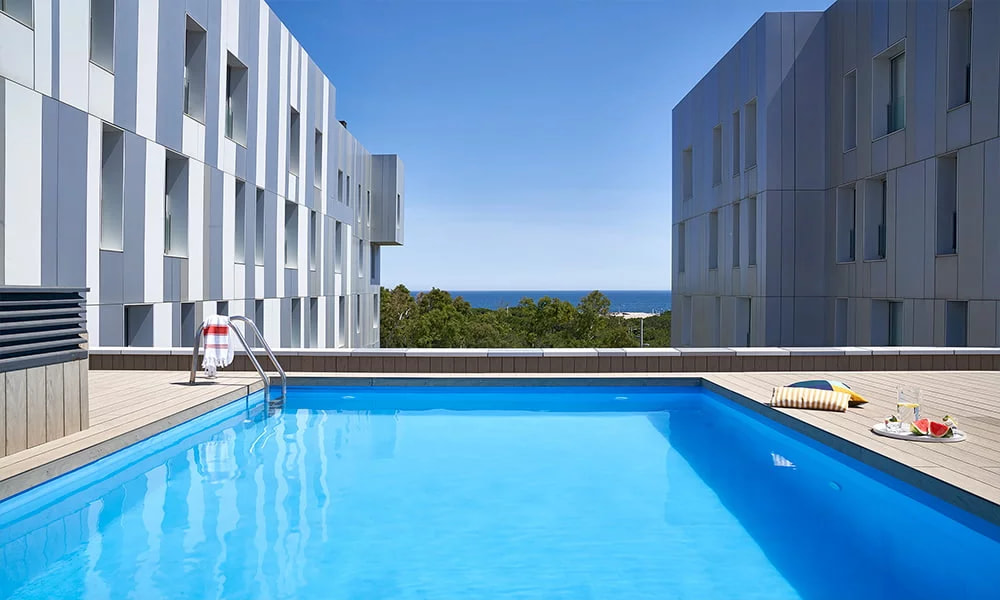 Holiday apartments by the beach in Barcelona
Since 2010, Lugaris Apartaments has been offering you the best holiday rental flats in Barcelona, perfect for a family holiday, with friends or as a couple, or for medium-term stays.
You can choose between apartments near the beach in Barcelona, at Lugaris Beach, with sea views, 2 swimming pools (one for adults and one for children) and capacity for up to 6 people, and the Lugaris Rambla flats, located on the Rambla de Poblenou and just 300 m from Bogatell beach, with a balcony or terrace of up to 22 m2 and ideal for couples or families and groups of up to 5 people. All our luxury flats in Barcelona are air-conditioned and equipped with all the appliances, furniture and bed linen you will need during your stay. They also have satellite TV and free high-speed Wi-Fi connection, as well as a safe and a 24-hour private security service.
What's more, when you make your booking, you can reserve many other additional services: international press in your flat, parking space, transfer service to and from Barcelona airport, bicycle hire, supermarket shopping, museum, sports and show tickets, babysitting service and much more.

For more information, contact Lugaris Apartments without obligation.