Lugaris apartments discounts, promocodes and deals
"At Lugaris we love happiness. Our commitment is to do everything to make you feel at home. That's why we offer you a service for every need".
At Lugaris we have specific and recurring discounts and deals so that you can make the most of your stay and enjoy extra advantages when you stay with us. When you make your reservation, you can use a discount promocode for your holiday apartment in Barcelona as well as take advantage of benefits for the simple fact of booking through our website.
Are you coming by car, do you need a transfer, do you want to forget about chores such as cleaning or having to go shopping? We explain all the discounts, promotions and services you can enjoy during your stay at Lugaris.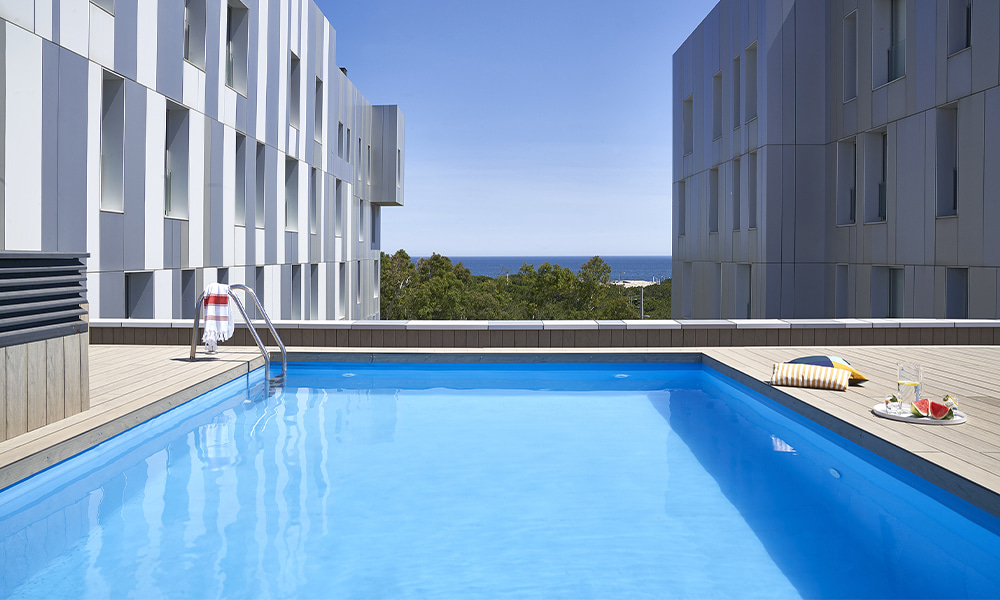 Find the best Lugaris promocodes
Do you want to get 5% off just for making a reservation on our official site? Well now, if you manage your booking through our website you can have it. To do so, just enter the BOOKNOW promocode! and the discount will be applied automatically. This is a one-off promotion, so if you want to take advantage of it, don't hesitate and book now. This code is not cumulative, so if you use it you will not be able to access other possible discounts.
But although this discount does not last forever, making a reservation from our website always has a reward, for example, being able to cancel for free up to 7 days before your arrival or using any of the other discount codes for our holiday apartments in Barcelona. Want to know more about them? We'll explain them to you now. At Lugaris we also offer you 3 other promocodes for you to use depending on what suits you best. These are non-cumulative codes, which means that you can only use one of them for each booking. That's why we'll explain their advantages so that you can choose the one that best suits your stay:
Other advantages and discounts at Lugaris Barcelona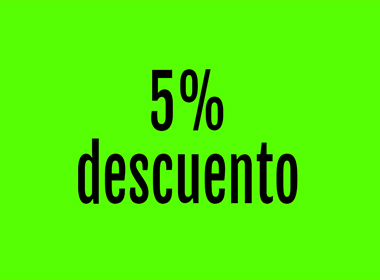 Free parking
Depending on the reasons for your trip or stay, you may need to use a private car to get around. We know how complicated and cumbersome it can be to look for and find a place to park in a city like Barcelona. That's why we offer Lugaris' car park so that you can park your car without any problems or wasted time. By using the PRKFREE promocode you can use our car park completely free of charge. Both Lugaris Beach and Lugaris Rambla have a spacious car park for our guests' exclusive use. If you prefer to use your code for other discounts or advantages, you will still be able to use the facilities to park your car at a price of 18€/day.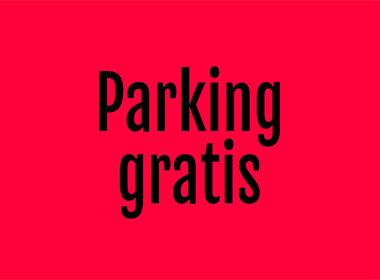 PRIVATE TRANSFER SERVICE
It's clear to us that once you arrive in Barcelona, especially if you've travelled a long way, all you can think about is getting home, dropping off your bags and getting some rest. In these cases, a private transfer to pick you up at the airport (or the port terminal) and take you to Lugaris apartments is the best solution so that you don't have to worry about anything and can enjoy all the comforts. By using the TRANFREE promocode when you make your booking, you can enjoy this service for free without having to think about which connections you will have to make or if there will be a long queue to catch a taxi. Even if you don't want to use this voucher, we also offer the possibility of arranging a transfer for you if you request it during the booking process.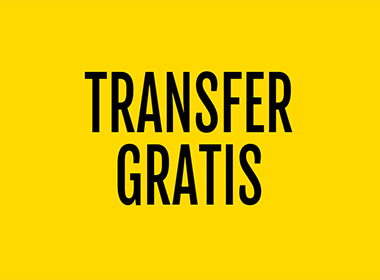 CLEANING SERVICE
When you're on holiday you want to totally disconnect, let yourself get carried away by a wonderful city like Barcelona and enjoy as much as possible of everything it has to offer. That's why we don't want you to waste time cleaning, tidying or doing household chores and we offer you the CLEANFREE promocode to get it for free. This includes a full flat cleaning service, with change of bed linen (as well as towels), carried out by a group of professionals of our utmost confidence under the supervision of a coordinator. As with the other services mentioned above, should you wish to use your voucher in another of our promotions, we can also offer you room service at a price of 40€.
Please note that all these codes are not cumulative. In other words, you will have to choose only one code for each booking. That's why we recommend that you think about your needs before making your booking so that you can choose the one that best suits you.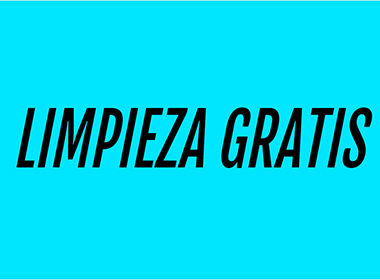 One service for each need
If you decide to stay at Lugaris apartments, you will be able to enjoy a series of benefits and services to make your stay as comfortable as possible. Our mission is to be able to offer you all the services you may need, as this will be your home and that's how we want you to feel. That is why when you are making your booking you can choose all the packs and services you want from the following list:
BENEFITS OF LUGARIS: SERVICED FLATS IN BARCELONA
As we have explained above, with the CLEANFREE code, booking your flat is rewarded. However, even if you decide to use another Lugaris discount code, you can always hire our extra cleaning service to leave your flat spotless, change bed linen and towels and forget about everything related to the cleaning of your new home. The price of this service is 40€.
All our flats are equipped with a Nespresso coffee machine so you can enjoy a good coffee without having to leave home. If you want to, you can order coffee capsules at our reception for a price of 5€ per packet of 10 units of coffee.
If you need a place to park your car and you don't want to use the code PRKFREE to do it for free, you can always ask us for a space when you make your booking – or whenever you need it. Our car park, located in the same building as the flats, has easy access directly from the lift, ideal for those who don't want to waste a minute looking for a space or walking to the car. The price of this service is 18€/day.
Children are more than welcome at Lugaris, and that's why they also deserve a bed adapted to their needs. If you have a baby up to 2 years old, you can request a cot free of charge and it will be available for you once you arrive at your flat.
If your flat in Barcelona is going to turn into a love nest, what better than taking advantage of the C'est L'amour Pack? This service includes a box of chocolates, a bouquet of 15 red roses and a 37ml bottle of champagne to leave your partner with their mouth wide open. For the price of €75 you'll find all this on arrival, to make your trip to Barcelona the most romantic of your life.
When you arrive at your flat you may not think about some of the items and cleaning products you will need during your stay. That's OK! You don't have to worry about them. With the Dirty Harry Pack, priced at €6, we include kitchen paper, bin liners, toilet paper, dishwasher detergent and washing machine detergent.
HOLIDAY APARTMENTS WITH SERVICES FOR CHILDREN IN BARCELONA
If there are going to be children at home, colouring pencils are a must. That's why if you choose the baby-boom pack when you make your booking we will equip the flat with crayons and a notepad so you can paint and colour everything you want. In addition, this pack also includes a cot.
Travelling with children can be complicated logistically and in terms of time. In addition to all the preparations, travel and activities, you have to add extra luggage and take care of your kids. To avoid this inconvenience, you can use our The Mamas & The Papas Pack. This pack, priced at €88, includes the cleaning service, airport transfer and supermarket shopping, so that everything runs smoothely and without lifting a finger. Depending on the volume, the grocery shopping service may be charged with a €5 to €25 handling fee.
Barcelona has a thousand things to do and places to visit, but not all of them are suitable for children. What's more, parents also have the right to be able to enjoy moments of freedom and leisure. That's why at Lugaris we offer you our babysitting service so that you can have fun without having to worry about schedules or how your little ones will be. The price of the babysitting service is 20€/hour.
PAY ATTENTION TO THE LATEST LUGARIS DEALS
This list can be updated, as we try to cover new needs as we come across them. We also regularly run exclusive promotions for all those who book through the Lugaris website, so keep an eye on our social networks and website to make the most of your experience!
PEOPLE LOVE US
SantyMA

Estuve, junto a mi hijo, hospedado en el apartamento la primera semana de enero. Desde la atención de Marco en nuestra llegada hasta el check out, el servicio fue excelente. El apartamento cuenta con todo lo necesario para una grata estadía, hasta cuenta con lavarropas. Esta muy bien ubicado, cerca de la playa, el metro y la rambla del poblenou. Serán nuestra opción en el próximo viaje a Barcelona.
1/25/2019