ACCOMMODATION FOR THE AMERICAs CUP IN BARCELONA
Want to stay at Lugaris with a large group? Fill out this form, and we'll get in touch with you.
Welcome to Barcelona, the vibrant city that will soon host the prestigious America's Cup 2024! As anticipation builds for this thrilling sailing event, Barcelona is buzzing with excitement. In the months leading up to the America's Cup, the city will be filled with a multitude of events and trials, attracting teams and fans from around the world.
With so many visitors coming to Barcelona, finding the perfect accommodation can be a challenge. But don't worry because we have the ideal solution for you: Lugaris Apartments.
At Lugaris, we understand the importance of comfort, convenience, and a warm welcome. Our luxurious apartments provide a home away from home for those seeking a memorable stay during the America's Cup. Located next to Barcelona's finest beaches, our apartments offer stunning sea views and easy access to the main points of interest of this grand event.
Whether you're a competing team, a sailing enthusiast, or simply someone who wants to immerse themselves in the atmosphere of this extraordinary event, Lugaris Apartments will cater to all your needs. Our spacious and fully equipped apartments ensure a comfortable and enjoyable stay. With a variety of options to choose from, including stylish studios and spacious apartments for up to 6 people, we have the perfect accommodation to suit your preferences.
By staying at Lugaris Apartments, you'll not only experience the best in comfort and luxury but also benefit from our exceptional service. Our dedicated team is ready to assist you with any requests or information you may need, ensuring that your time in Barcelona is unforgettable.
Don't miss out on the experience of the America's Cup Barcelona 2024. Reserve your stay at Lugaris Apartments today and be a part of this incredible sailing spectacle while enjoying the finest accommodation Barcelona has to offer.
"At Lugaris, we value happiness. Our commitment is to do everything to make you feel at home. Come to Lugaris. Your home, wherever you are."
CEO of Lugaris Apartments
WHY STAY AT LUGARIS DURING THE AMERICA'S CUP 2024?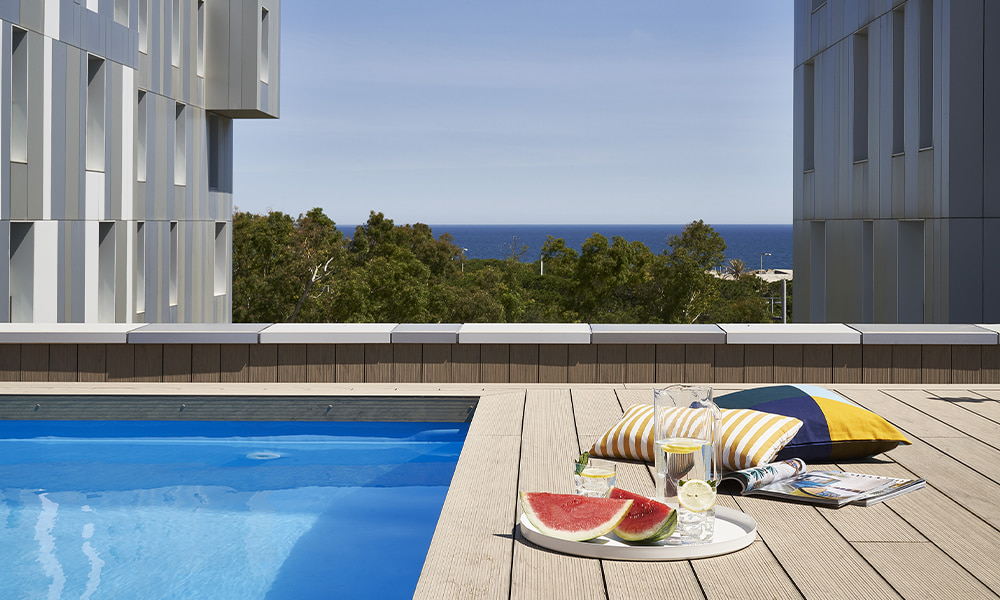 Lugaris Apartments are located near the Mediterranean Sea, offering a privileged vantage point to witness the exhilarating race unfold. From here, you can witness the Emirates Team New Zealand go head-to-head with the four challenger teams, starting on August 22, 2024. We understand that teams require a base to rest, prepare for the preliminary tests, and rehearse for this monumental occasion.
This is where Lugaris Apartments comes in, providing a diverse selection of rental apartments located just a few minutes away from the beautiful Bogatell and Mar Bella beaches. Whether you're an individual or require accommodations for a large group, you can find suitable options for the America's Cup at Lugaris Apartments.
Want to know about the advantages of relying on us? Let us explain them to you:
HAPPINESS: THE FEELING THAT SOMEONE EXPERIENCES WHEN STAYING IN LUGARIS APARTMENTS IN FRONT OF THE BEACH OF BARCELONA

• Weekly cleaning service: Our dedicated cleaning service ensures that your apartment remains impeccable throughout your stay. If you desire more frequent cleaning, simply contact us, and we'll make the necessary arrangements.
• High-speed Wi-Fi: Need to work from your apartment in Barcelona? Don't fret. At Lugaris, you'll have access to lightning-fast internet, allowing you to stay connected and productive.
• Private parking: Bringing your car? Leave the hassle of parking behind. We offer convenient parking spaces within the same building as Lugaris Beach, ensuring that you have a secure place to park throughout your stay.
• Fully equipped kitchen: Our apartments feature fully equipped kitchens, distinguishing us from traditional hotels. You'll find all the utensils, cutlery, and appliances you need, including an oven, microwave, refrigerator, and freezer. Prepare delicious meals and savour the convenience of a home-cooked experience.
• Workspace: If you need to handle business matters during your stay, our apartments provide ample space to transform them into your office. Get work done while enjoying a view of the sea, combining productivity with a refreshing atmosphere.
• 1, 2, or 3-bedroom apartments: Whether you're travelling alone or with a group, Lugaris Apartments offers accommodations of various sizes to cater to your needs. Choose the perfect apartment that suits your requirements.
• Rooftop swimming pool: If you opt for a long-term rental at Lugaris Beach, you'll have access to an additional perk. Enjoy a rooftop swimming pool and take in the sight of passing boats as you relax and unwind.
• Personalised attention: Our team of specialised hosts is dedicated to ensuring your stay is comfortable and enjoyable. We are here to assist you with any needs or requests you may have, providing personalised attention throughout your time with us.
• And there's more!Discover all the additional services and amenities offered by Lugaris Apartments by visiting the following link.
CALENDAR OF MAJOR EVENTS OF THE AMERICA'S CUP BARCELONA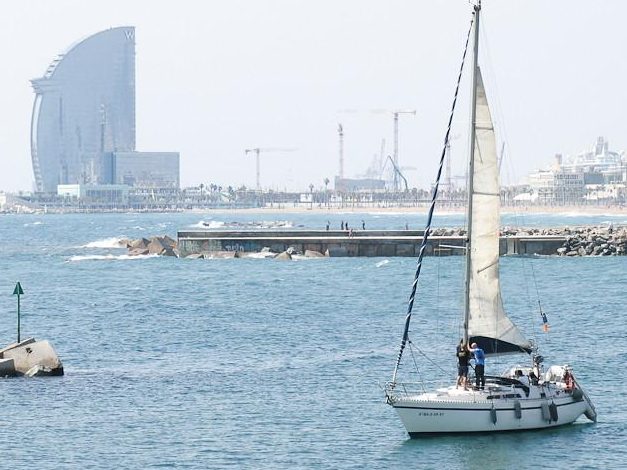 To keep you up to date on the America's Cup events, here's a summary of what's to come before the sailing boats start navigating the Mediterranean. For which events will you be staying with us?
PRE-RACE IN VILANOVA I LA GELTRÚ
In September 2023, ACE Barcelona, the organiser of the America's Cup, will host a pre-race in Vilanova i la Geltrú, situated less than 50 km from Barcelona. This thrilling four-day event marks the first competition where all six participating teams will compete in a preliminary competition. If you require a transfer from your accommodation to Vilanova i la Geltrú, simply let us know at reception, and we'll be more than happy to make the arrangements for you.
america's cup experience
Local and international organisers are collaborating to create an immersive space known as the America's Cup Experience, designed to enhance your enjoyment throughout the entire sporting event. This dedicated area will offer a wealth of information, including historical data about the teams, sailing innovations, and maritime science. One of its highlights is a large 600-square-metre screen where you can watch the exhilarating competitions unfold. Additionally, there will be a designated area for children and a virtual simulation space, allowing you to experience the regattas in a whole new way. The America's Cup Experience is set to be located in the IMAX building, conveniently situated just an 8-minute drive away from Lugaris Beach.
BARCELONA WORLD RACE
The Barcelona World Race is a distinctive regatta that stands out as the only round-the-world race with two crew members on each boat. Starting and concluding at the port of Barcelona, this event captures the attention of sailing enthusiasts. Organised by the Barcelona Ocean Sailing Foundation (FNOB), the race traditionally takes place annually between January and April. Although the previous edition was unfortunately cancelled due to funding challenges, there are no barriers preventing the tradition from resuming for the upcoming 2024 season.
PRELIMINARY TESTS
Before the 37th edition of the America's Cup, various preliminary tests will take place. The most exciting ones will be the final preliminary test, the Challenger Selection Series, and other events that will take place in late 2023 and early 2024, yet to be determined. The organisation estimates that there will be three more.
TEAMS' BASES
Spectators will have the opportunity to observe the construction of the teams' bases, which is scheduled to commence in April 2023. It is expected that by the summer of the same year, the bases will be fully completed, allowing the teams to settle in and prepare for the initial races. Starting in September, the teams will shift their focus towards intensive training sessions, and reviewing logistics and technical aspects to ensure a seamless and flawless competition. This period marks a crucial phase in their preparation as they fine-tune their strategies and gear up for the thrilling races ahead.
FEMALE AND YOUTH AMERICA'S CUP
One of the major events of this year is the historic women's sailing regatta, something that has never been done before in a staggering 171 years. A championship for young sailing talents will also take place. Both events will be held at Port Olímpic, which is undergoing renovations to provide the necessary facilities to accommodate the participating teams in these events. The Youth America's Cup will take place on September 19, 2024, while the Female America's Cup will begin on October 3.
SOLO MED RACE
The Solo Med Race is a solo race that takes place in the Mediterranean Sea. It debuted in 2022 and is scheduled to return in future editions, as this year's race will be held on May 7. The organisers of this event are the Club Nàutic de Sa Ràpita (Mallorca), the FNOB, and Base Mini Barcelona.
COPA NADAL PORT DE BARCELONA
Only the bravest dare to participate in this enduring tradition, where even the harshness of winter is not a deterrent. It entails a plunge into the waters of the port of Barcelona, but with a twist—it takes place in the middle of December when temperatures are far from what we are accustomed to!
PEOPLE LOVE US
SantyMA

Estuve, junto a mi hijo, hospedado en el apartamento la primera semana de enero. Desde la atención de Marco en nuestra llegada hasta el check out, el servicio fue excelente. El apartamento cuenta con todo lo necesario para una grata estadía, hasta cuenta con lavarropas. Esta muy bien ubicado, cerca de la playa, el metro y la rambla del poblenou. Serán nuestra opción en el próximo viaje a Barcelona.
1/25/2019