Are you going to visit the Catalan capital and are looking for the best beaches in Barcelona to cool off in summer? Well, read on because here at Lugaris we're going to introduce you to one of Barcelona's favourite beaches: Bogatell Beach.
Barcelona's beaches have managed to achieve an excellent quality of cleanliness and beauty that allows tourists to spend the whole day tanning in the sun, without missing any of the amenities they need. Without a doubt, this is one of the best plans you can't miss in Barcelona during your summer holidays.
Where is Bogatell beach?
Bogatell beach is located on the coast of Barcelona, right between Mar Bella beach and Nova Icària beach. It is located in the district of Sant Martí and is 700 metres long. This was one of the remodelling projects that Barcelona undertook in 1992 to modernise the city's coastline and make it attractive to tourists.
If you are wondering how to get to Bogatell beach, you should know that there are several ways to get there:
You can easily get to the beach by bike, as it has a special lane for bicycles to circulate quietly.
You can get there by car, although you should bear in mind that the parking spaces are in the Blue Zone and that, depending on the time of day, you will have to pay for them.
To get there by public transport, you can take the V31, H16, 92 or V27 bus. You can also get to the beach by metro, getting off at the Bogatell stop on L4.
Moreover, if you are staying at Lugaris apartments, you can easily access Bogatell Beach on foot, as it is less than 10 minutes away on foot.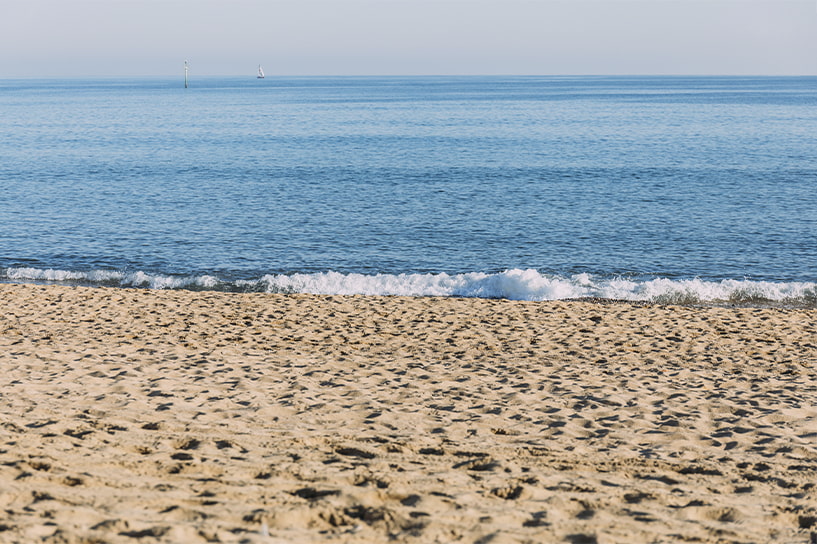 What does Bogatell mean?
Now that you know where Bogatell beach is, if you're a bit curious you might be wondering what the meaning of this strange word is. The origins of this name can be found in the old Barcelona, which was not yet remodelled for the 1992 Olympic Games.
At that time a torrent of water flowed down from the Vilapicina neighbourhood and into the sea. This stream was known as the Bogatell and the truth is that the inhabitants of the area saw it as their nearest sewer, as the smell it gave off was not very pleasant.
From the 1980s onwards, the whole of Barcelona's coastline underwent extensive renovations, the work culminating in 1992. Today, Barcelona's coastline is one of the main attractions of the city and practically the whole country.
What to do on Bogatell beach?
Thanks to its central location in the city of Barcelona, Bogatell beach is currently one of the most visited beaches by tourists. In addition to having a car park nearby, it is also considered one of the safest, as it is a favourite beach for families who come to relax and cool off on summer days.
Unlike other beaches in Barcelona, such as Somorrostro or Barceloneta, Bogatell beach is frequented by a slightly more adult public. The age of the visitors is around 35 to 38 years old, and the bathers are not usually interested in parties and rowdiness, but rather in having a good time relaxing on the beach.
All of Barcelona's beaches have been equipped with the necessary facilities for sports such as beach volleyball, football and table tennis. You can bring your own net or use one of those provided by the city council for public use.
Bogatell beach has the following services available for its visitors:
Adapted public showers and toilets.
Children's play areas.
Lifeguard service.
Sun loungers and parasols for hire.
Bicycle parking and car parking nearby.
Restaurants.
Free Wifi.
If you have rented a flat near Bogatell beach, the tourist office can inform you of all the water activities available. You can book your experience to learn how to paddle surf, kayak, windsurf, kitesurf, etc.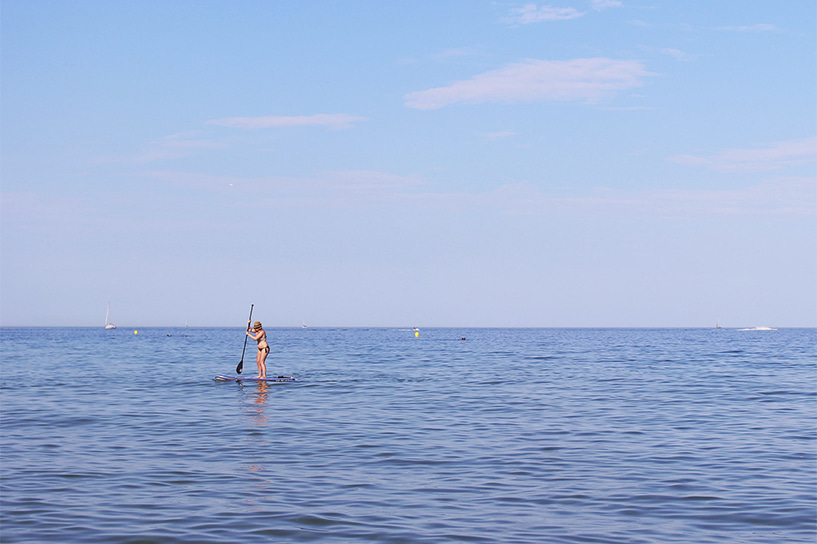 Best restaurants on Bogatell beach
Mediterranean gastronomy is one of the most renowned worldwide because it is based on the good quality of the product above all else. It is not common to use too many condiments or elaborate sauces when presenting the ingredients, as it is important that the essence of each delicacy stands out on its own.
In the case of the city of Barcelona, the main product you will find is seafood, due to its proximity to the sea. Some of the restaurants in Bogatell are real treats for your palate, while others can be a pure rip-off. We recommend that you can go to reputable establishments and read the reviews before you book.
Bogatell is also full of the best beach bars for a drink, but the restaurants are a little trickier, so we want to help you make the right choice.
L'Escamarlà
L'Escamarlà is a restaurant on Bogatell beach, located on the seafront. In its menu you will find the best Catalan gastronomy, where the most characteristic seafood elements come together to create authentic works of art. Its specialities are rice dishes, seafood and seasonal market produce.
Each of the ingredients is selected by the restaurant's chef to ensure you get the maximum flavour in every mouthful. And while you try these delicacies you can enjoy a spectacular view of the sea from the terrace.
Xiringuito Escribà
Xiringuito Escribà is one of the most famous restaurants in Barcelona and is located on Bogatell beach. This restaurant overlooking the Mediterranean Sea is characterised by the professionalism and enthusiasm of its team. Its vision of service and gastronomy is highly innovative, making it a culinary and style benchmark in Barcelona.
Joan Escribà is the creator of the project that has become the best place to taste the majority of seafood dishes, in a very modern and friendly atmosphere. Rice is the real star of the menu, although you can't miss the tapas, starters and seafood.
Can Fisher
Can Fisher is a rice restaurant located on the Bogatell beach that is characterised by making the ordinary recipes of a lifetime, with an extraordinary touch capable of conquering any palate. Their menu is full of traditional and innovative food and their recipes are free of excess fat and evoke the aromas of a lifetime.
For them, innovation in the kitchen does not mean having to renounce traditional flavours, but simply improving them. That is why they work with local produce and reinvent the most traditional Barcelona recipes.
Xiroi Ca la Nuri
The Xiroi Ca la Nuri restaurant is located in Bogatell, on the seafront, where diners can choose whether they want to eat inside the restaurant or on the platform located on the sand. Its menu features Mediterranean rice dishes and tapas, mainly made with ingredients from the sea.
You can relax with beautiful views of the sea while tasting some excellent recipes in an informal atmosphere. The terrace at Xiroi is ideal for any time of the year and at weekends you can listen to live music to liven up your meal. Some of the favourite dishes for visitors are the Ca la Nuri rice dish, the creamy rice with prawns and cuttlefish or the cod casserole with aubergine and honey.
Now you know everything you need to know about Bogatell Beach and all the services you will find available to enjoy your holidays to the full. Take a look at our Lugaris website to see all the accommodation we have available and start organising your days off in Barcelona at the best price.
NUESTROS APARTAMENTOS EN BARCELONA
Since 2010, Lugaris Apartaments has been offering you the best holiday rental flats in Barcelona, perfect for a family holiday, with friends or as a couple, or for medium-term stays.
You can choose between apartments near the beach in Barcelona, at Lugaris Beach, with sea views, 2 swimming pools (one for adults and one for children) and capacity for up to 6 people, and the Lugaris Rambla flats, located on the Rambla de Poblenou and just 300 m from Bogatell beach, with a balcony or terrace of up to 22 m2 and ideal for couples or families and groups of up to 5 people. All our luxury flats in Barcelona are air-conditioned and equipped with all the appliances, furniture and bed linen you will need during your stay. They also have satellite TV and free high-speed Wi-Fi connection, as well as a safe and a 24-hour private security service.
What's more, when you make your booking, you can reserve many other additional services: international press in your flat, parking space, transfer service to and from Barcelona airport, bicycle hire, supermarket shopping, museum, sports and show tickets, babysitting service and much more.

For more information, contact Lugaris Apartments without obligation.