Let's be honest: if you're planning your first 2-day trip to Barcelona, we know that your priority will be to contemplate the Sagrada Familia, the Gothic Quarter, Montjuïc and other tourist spots that spread throughout the Catalan capital, right? However, what happens when it is not the first time you visit Barcelona? If this is your case, you will most likely want to know about undiscovered places to visit in Barcelona that are not so crowded. And we assure you there are some.
Take advantage of your visit to one of the most popular destinations in the world to discover really unique corners that very difficult to find in any other town or city on the planet. Hard to believe? Not at all: here you have our top 10 unique places that will surprise you. Take a note of them!
18TH CENTURY HOUSES AND SHOPS
We start our tour of undiscovered places to visit in Barcelona with an unparalleled site in Europe: El Born CCM. You will find it in the former Born market building (1876), which was the first in which iron was used in Barcelona. Its interior accommodates an archaeological site that includes part of the Ribera neighborhood, which dates from the beginning of the 18th century which was demolished by the Bourbon troops to build a military citadel. In addition, El Born CCM recalls the final moments of the War of Succession, September 11, 1714, and the consequences that the fight had for Barcelona and Catalonia. A permanent exhibition of personal objects recovered in the area also helps the visitor get to know what life was like during these hard times.
Access to the center, located in 12 Plaça Comercial is free. You can also book guided tours -with an additional cost- that will allow you to walk among houses, bars, distilleries and other buildings of the time.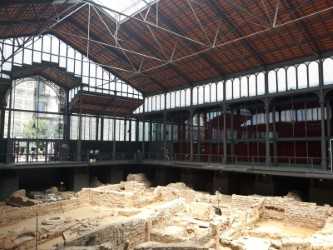 A BEACH IN THE HEART OF THE CITY
In addition to the 10 urban beaches of Barcelona, with all services and magnificently communicated by public transport, the heart of the Eixample hides an inland beach. It is an interior courtyard located between Carrer de Bruc and 56 Roger de Llúria presided by the famous tower of Les Aigües. This space has a swimming pool and a sandy area for children, so it is ideal to spend a morning or summer afternoon with the family. If you want to know more about the so-called Eixample beach, check out this article about the best outdoor swimming pools in Barcelona.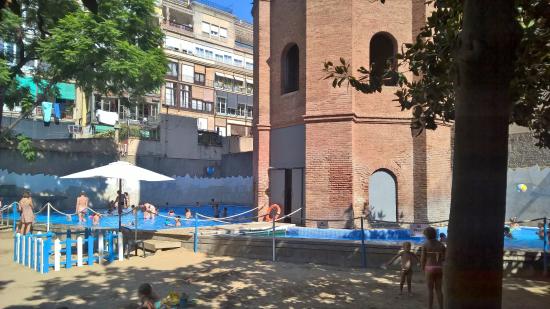 ANTI-AIRCRAFT SHELTERS
The Civil War (1936-1939) not only turned Barcelona the first city in the world to be bombed from the air: it also motivated the construction of numerous underground galleries so that the civilian population could protect themselves from attacks. In total, about 1,300 anti-aircraft shelters were excavated, some of which can be visited today.
One of the best known is Refugi 307 (175 Nou de la Rambla), in the neighborhood of Poble-sec. It consists of 200 m tunnels with a height of 2.1 m and a width of 1.5 to 2 m, which included a fountain, toilets, a nurse's office, a children's area and a fireplace. This work of engineering was carried out by the neighbors themselves.
Another anti-aircraft shelter open to the public is located in the Plaça del Diamant, in Gràcia. Discovered in 1992 as a result of some construction works, it is 12 m deep and was one of the 90 shelters that were built in the neighborhood. At that time, it was a highly industrialized area, so it became a priority military objective.
Normally, visits to this last shelter takes place every Sunday at 11:00 a.m., at an affordable price.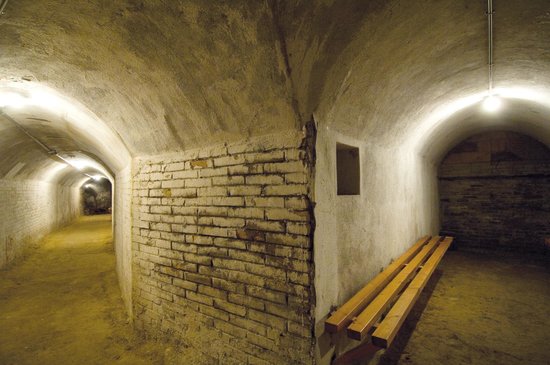 AN ANTIAIRCRAFT BATTERY
We continue with the Civil War, since this tragic episode has left us another place that is worth discovering: the remains of an anti-aircraft battery. It was located at the top of the Turó de la Rovira, in the Carmel neighborhood, and was created to defend the citizens from the Italian air force. At the end of the confrontations, the cannons were removed, and this space was used to build a neighborhood named the barri dels Canons, which was one of the last shantytowns in Barcelona.
You can get there by taking the V17 bus and walking for about five minutes, or by going to the Nen de la Rutlla square and, from there, going up on foot through the beautiful Guinardó park. The itinerary is perfectly signposted. By the way: the Carmel bunker is one of the best viewpoints in Barcelona.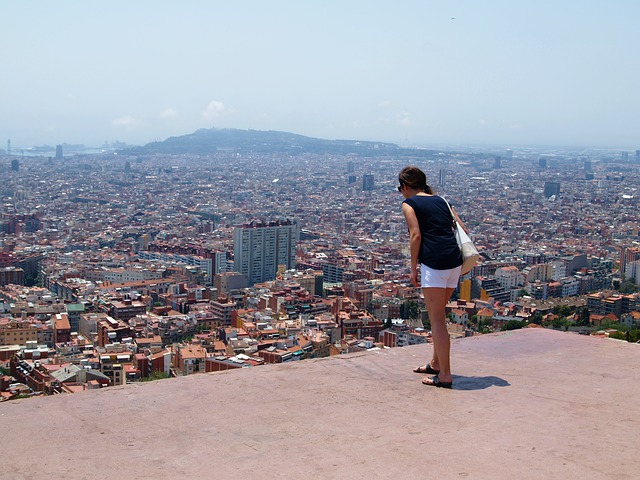 A FORMER PRISON THAT IS NOW OPEN TO THE PUBLIC
From 1904 until its closure, on June 8, 2017, Barcelona's Men's Prison Model has been a key place in the recent history of the Catalan capital. Erected in 1887 to become a reference within the Spanish State, hence its name, has seen thousands of people pass through its cells, many of them imprisoned for political reasons or even for their sexual orientation during the Franco dictatorship. It was here where, on March 2, 1974, Salvador Puig Antich was executed. He was the last person to be executed with a garrote vil in Spain.
Today, La Model prison can be visited for free on Fridays, from 5:00 p.m. to 6:00 p.m., and on Saturdays, from 10:00 p.m. to 6:00 p.m. No prior registration is required, you should take into account that a maximum of 30 visitors are allowed to enter every 15 minutes. As for courtyard entrance, it is open from 10:00 a.m. to 7:00 p.m. from Monday to Saturday.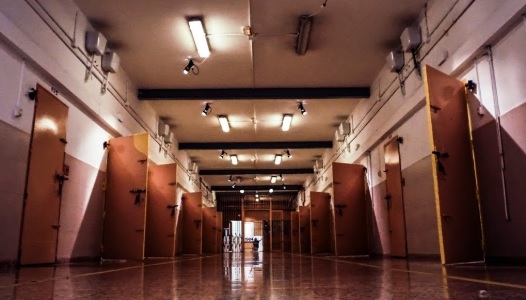 A 19TH CENTURY FACTORY
Catalonia has been one of the pioneering regions in the industrialization of southern Europe. Would you like to visit a factory from this period? If so, we recommend you visit the Anis del Mono factory, a popular aniseed liqueur that has been present in Catalan homes for more than a century.
Founded by José and Vicente Bosch in 1870, this industrial complex keeps its old distilling room and various modernist elements. Walking along its rooms, you can learn about how anise and other drinks were produced, such as Aromas de Montserrat.
The tours are carried out on the third Sunday of each month, except in July and August. The next day, tickets for the next month's visit go on sale. It is advisable to contact the factory to inquire about the availability. The telephone number is (+34) 93 384 17 50, in the morning, and the address, 115 Eduard Maristany in the neighboring city of Badalona.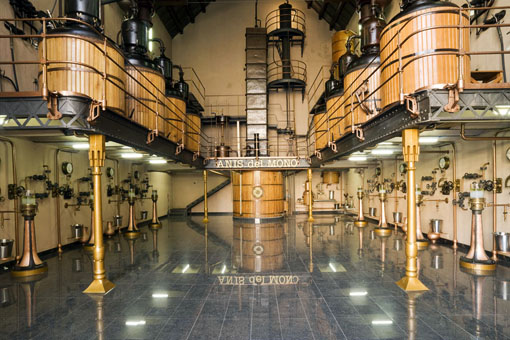 A COLLECTION OF FUNERAL CARRIAGES
Although it may be an uncomfortable subject, it is obvious that death has been present during all ages and in all cultures. Would you like to take a trip to the past to know more about the subject? To do so, we suggest you visit the Collection of Funeral Chariots from Barcelona's cemeteries. There you will find 13 funeral carriages, six carriages to accompany the relatives to the church and the cemetery and three motor cars, as well as various decorative elements that made their operation possible. The tour lasts approximately one hour and a half and can be done on Saturdays and Sundays from 10:00 am to 2:00 pm, in 56-58 Mare de Déu del Port. Telephone: (+34) 93 484 19 99.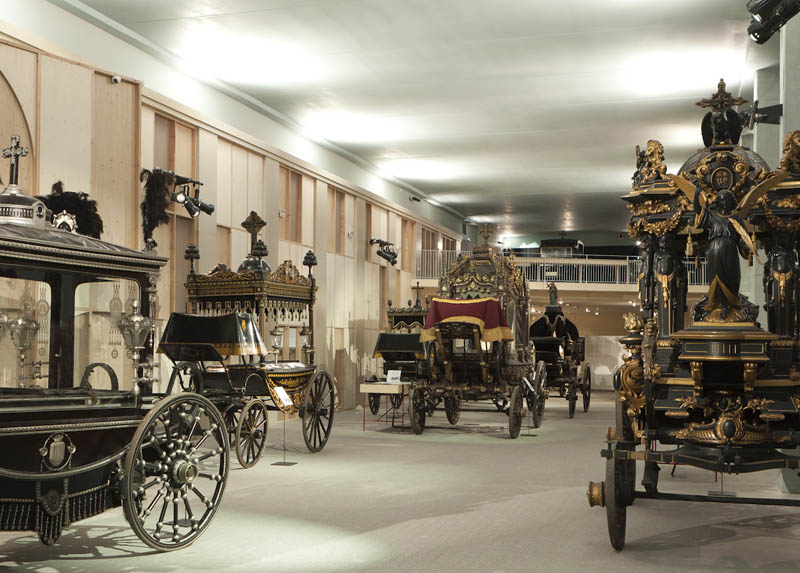 A BOOKSTORE THAT INSPIRED A BEST-SELLER
Among the most demanded themed routes in Barcelona, the one that has to do with the sets of The Shadow of the Wind, by Carlos Ruiz Zafón, one of the great phenomena of 21st century fiction literature, stands out. Well, if you want to know what inspired this novel and the other three that make up the tetralogy of The Cemetery of Lost Books, we have the answer.
This is the Kepos-Canuda bookstore, founded on April 14, 1931 (date that coincides with the proclamation of the Second Republic). Although it is currently in Gràcia —on 36 Pare Lainez—, its historic premises, located in the Raval neighborhood, had an area of 600 m2 and more than 100,000 books, some of which were authentic bibliographic oddities.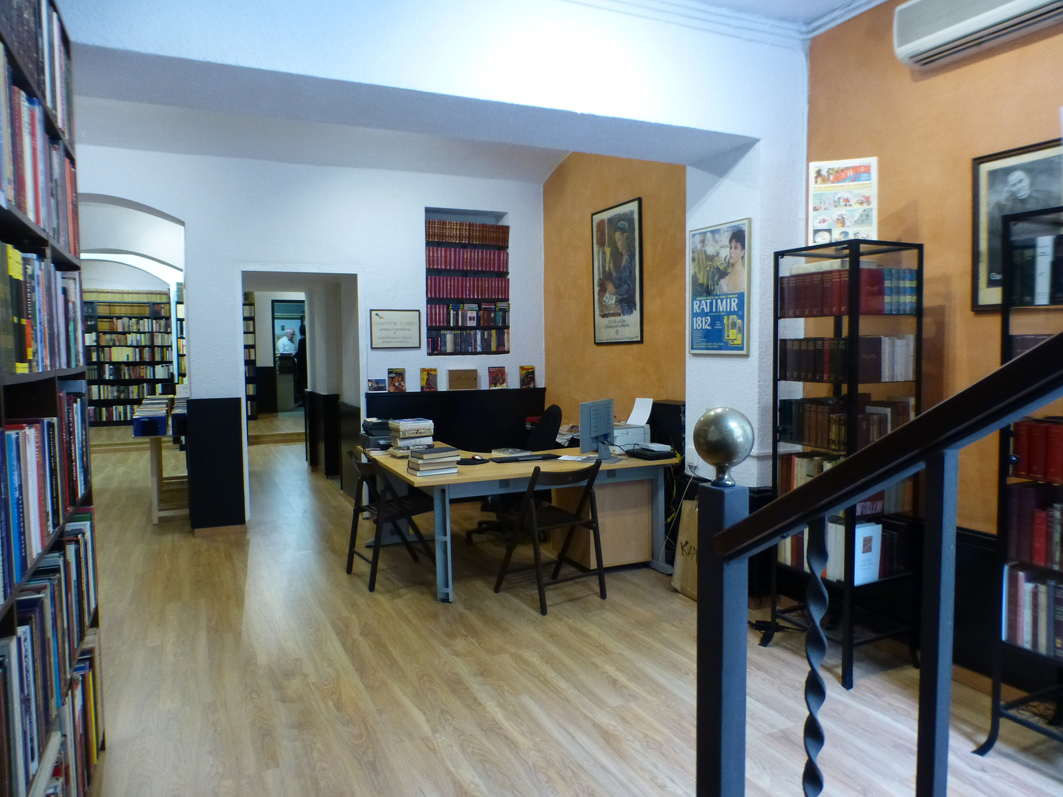 AN OUTDOOR DOLLHOUSE
Feel like a child once again in this beautiful dollhouse. Located on Carrer de la Costa and next to the Mercè Rodoreda gardens, it is a construction of the late nineteenth century covered with ceramics. If you are thinking about visiting with children, we assure you that this is one of the most fun things to do in Barcelona if you are visiting as a family. Try it out!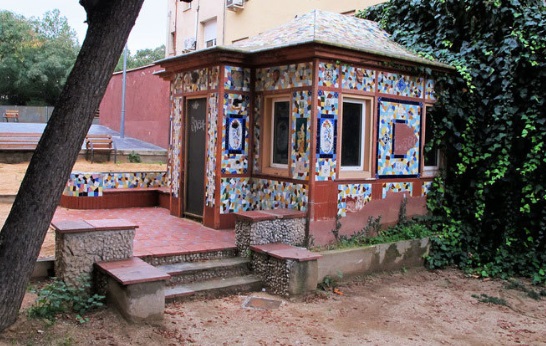 ALLOTMENTS IN THE URBAN AREA
It can be difficult to believe, but we assure you that it is possible to travel to rural Catalonia without leaving Barcelona. To do this, it is enough to go up to La Clota neighborhood, belonging to the district of Horta-Guinardó.
Once there, we advise you to walk around the streets of Alarcón, Capcir, Sant Genís or Lisboa, where time seems to have stopped. There you will find traditional buildings and one-story houses with a small vegetable patch, where the occupants continue to grow their own fruits and vegetables as in the olden days. Watchtowers can even be spotted (or torre de Guaita, in Catalan), from which the peasants controlled the area at a time when banditry and pillage were common.
To get there, we recommend you take the metro to the Montbau stop (L3) or take the 27-bus line to the Sports Palace of Vall d'Hebron stop.
So, this is the end of our list of undiscovered places to visit in Barcelona, which will surely be useful for those who travel to the Catalan capital frequently. However, we will be delighted for you to help us expand this range of proposals. Do you want to share your recommendations with us?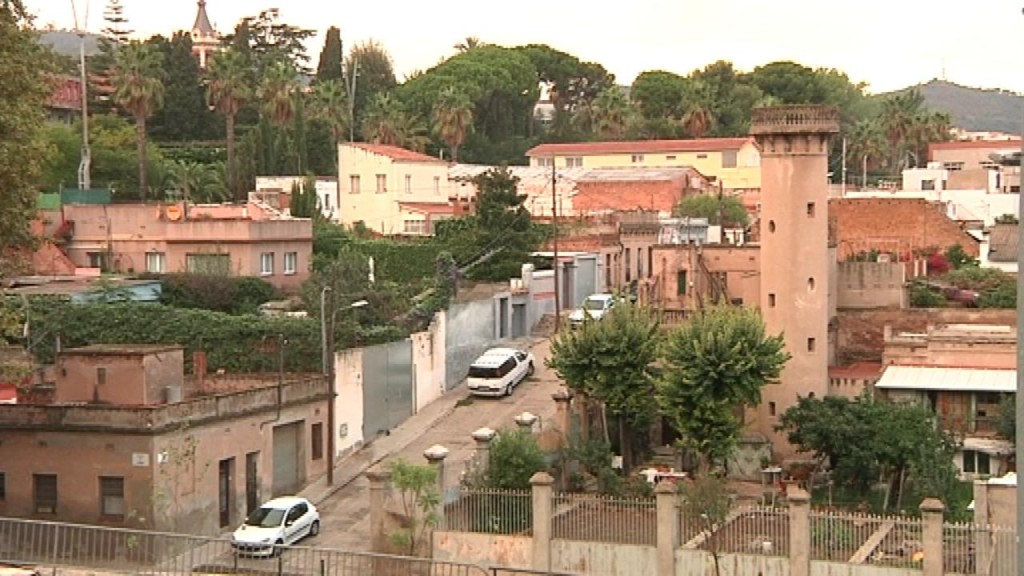 MORE INTERESTING STUFF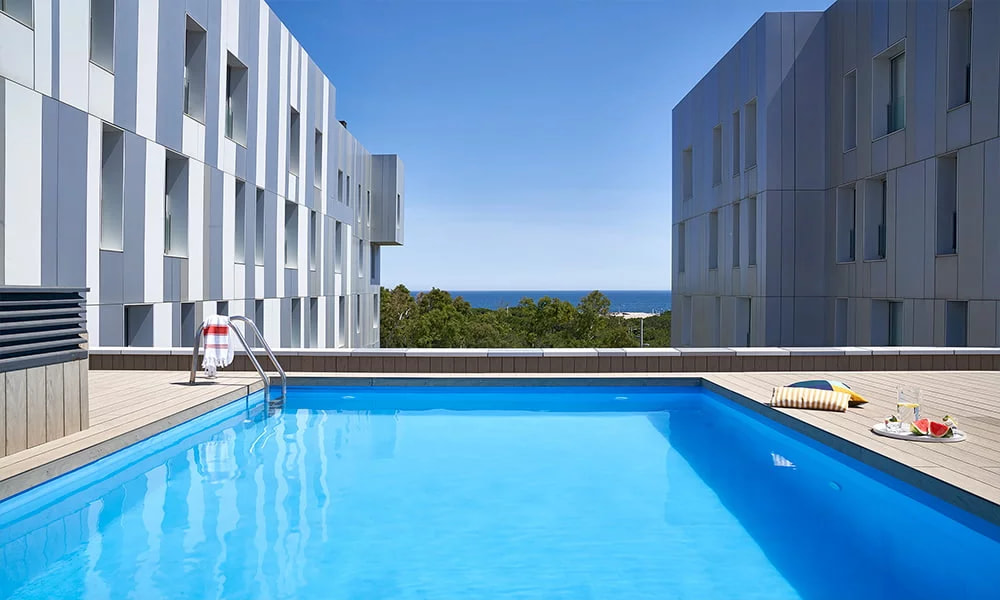 Holiday apartments by the beach in Barcelona
Since 2010, Lugaris Apartaments has been offering you the best holiday rental flats in Barcelona, perfect for a family holiday, with friends or as a couple, or for medium-term stays.
You can choose between apartments near the beach in Barcelona, at Lugaris Beach, with sea views, 2 swimming pools (one for adults and one for children) and capacity for up to 6 people, and the Lugaris Rambla flats, located on the Rambla de Poblenou and just 300 m from Bogatell beach, with a balcony or terrace of up to 22 m2 and ideal for couples or families and groups of up to 5 people. All our luxury flats in Barcelona are air-conditioned and equipped with all the appliances, furniture and bed linen you will need during your stay. They also have satellite TV and free high-speed Wi-Fi connection, as well as a safe and a 24-hour private security service.
What's more, when you make your booking, you can reserve many other additional services: international press in your flat, parking space, transfer service to and from Barcelona airport, bicycle hire, supermarket shopping, museum, sports and show tickets, babysitting service and much more.

For more information, contact Lugaris Apartments without obligation.