Do you want to know where to find the best hamburgers in Barcelona? A good hamburger is characterised by the correct cooking of all its ingredients. The way the meat is prepared, the type of bread used, the complementary ingredients, the combination of flavours and the cheese are basically the resources that, if cooked properly, can offer an exquisite result.
Barcelona has a very interesting gourmet tradition. The hotel and catering businesses place great emphasis on the development of new recipes that can offer a different, high-quality product. On a gastronomic level, the hamburger is taking centre stage on the menus of bars and restaurants in the capital, but what are the best hamburgers in Barcelona? As an alternative to the best places in Barcelona to have a barbecue and taste the best meat, we have made a selection of the top 10.
Top 10 of hamburgers in Barcelona
Nowadays, many people are looking for the perfect hamburger in the different cities that make up the Spanish geography. More and more bars and restaurants are including their own hamburger recipe on their menus. The aim is to achieve the best public appreciation and the fame that will allow the establishment to receive more customers.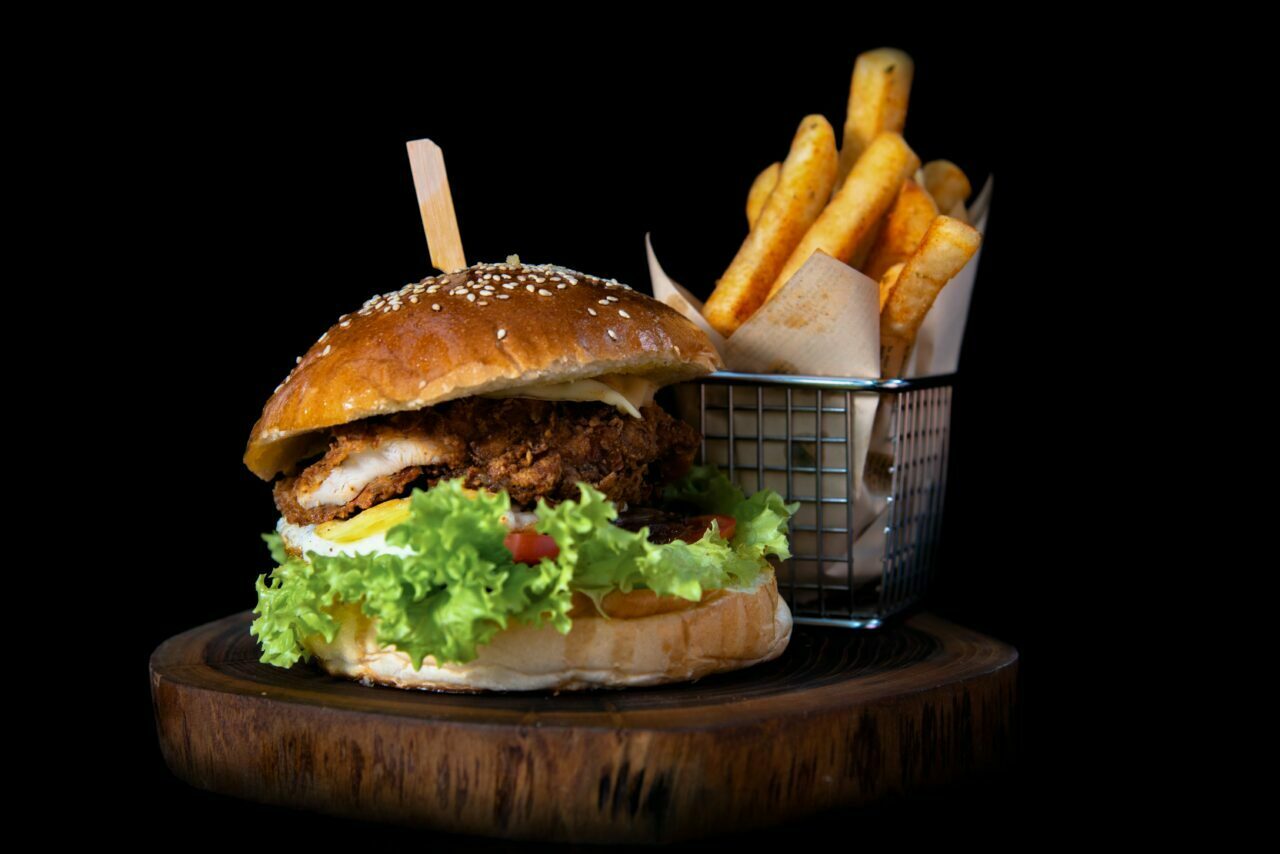 1. La Central
La Central is an urban restaurant with a modern and contemporary décor located on the Via Laietana, on the Passeig del Born. This place has gained a lot of fame thanks to the fact that it makes one of the best hamburgers in Barcelona, at least that's what its customers think. They offer a wide variety of products and all kinds of meats, so you can enjoy the best dishes in one of the most interesting hamburger restaurants in the Catalan capital.
The burgers are made with 100% beef. The quality is excellent and they are cooked to the consumer's taste. In addition, they have different varieties, among which the organic black Angus and free-range chicken stand out. The ingredients are all natural and the meat is purely organic, something that generates reliability and confidence to taste a product of the highest quality.
On the other hand, it is one of the main places to eat vegan hamburgers in Barcelona. There are chickpea, spinach, tofu… They also take great care in the ingredients they use so that there is no animal content at all.
2. Vicio
One of the latest novelties in the world of hamburgers in Barcelona is Vicio, a place located next to Avinguda Diagonal, in the heart of the city. Run by Aleix Puig, winner of the seventh edition of Masterchef, this is undoubtedly the place to be for fans of this food.
One of their star dishes is the truffled Cheeseburger, a gourmet bite that will delight even the hungriest diners. They also have options for vegetarians and vegans, including a version of their famous truffled burger!
Want to know Vicio's secret? Top quality ingredients, starting with the bread and ending with their delicious cheddar cheese. Are you going to miss out?
3. La Vespa Burguer
When we talk about Italian cuisine, it's not just pasta and pizzas, you can also find great hamburger recipes. Well, at La Vespa Burguer you will find a famous product in Barcelona. The wide variety of hamburgers available in this establishment is undoubtedly an added value.
One of the most significant is the one they call La Pampa. It is characterised by a careful and sophisticated preparation process, with the intention of providing the palate with an explosion of flavours. Likewise, it is also characterised by being one of the restaurants that makes vegetarian hamburgers in Barcelona.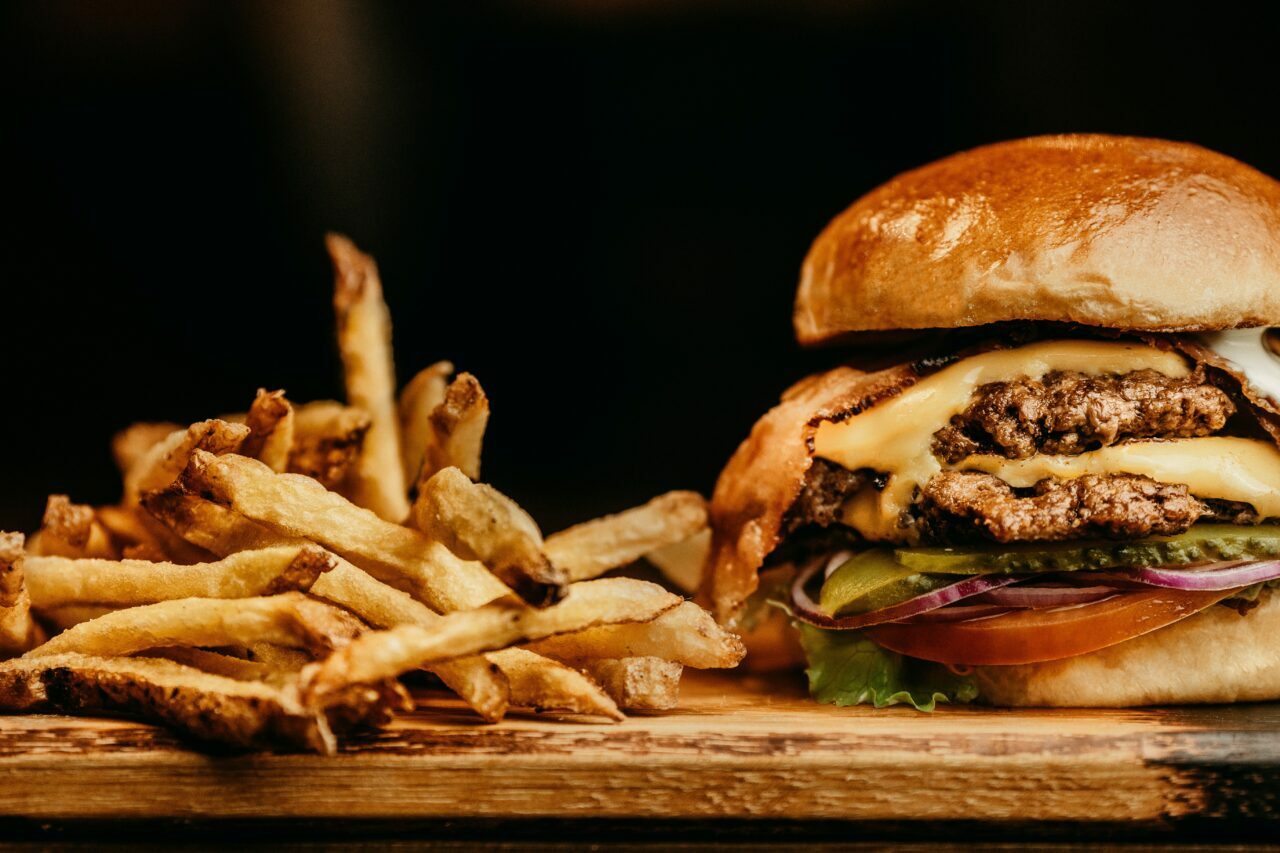 4. Koby Burguers
In the last year, Koby Burguers has achieved great social recognition in Barcelona. It has established itself as one of the best places to eat, mainly because of its comfortable and pleasant premises and the fact that it offers burger deliveries. They make a type of hamburger with a large number of complementary ingredients, including guacamole, foie gras and sweet potato chips.
The variety of hamburgers is second to none; they even have a menu of vegetarian burgers and a different selection of meats, such as chicken and beef. The size of all of them is surprising and can be considered a very interesting gastronomic product to enjoy both in the premises and at home.
5. Big Al's
Of course, we couldn't miss one of Barcelona's most famous and prestigious restaurants. At Big Al's you can enjoy an extensive hamburger menu that follows the American format and model. They are large in size, include numerous ingredients and are among the best burgers in Barcelona. Examples include the Widownaker, the Three-Way and the Fat Elvis.
They offer a very extensive menu where there are also other types of dishes to share, but it is the burgers where they are most famous. For those who are devoted to the typical American hamburger, this is where you can enjoy one of the best quality main dishes in Barcelona. In addition, a varied dessert menu is included and it is considered one of the best craft beer bars to accompany the time spent enjoying the burger.
6. La Sagrada
In the top 10 gourmet hamburgers in Barcelona, it is worth mentioning the one at La Sagrada. The care and precision with which they prepare their dishes is unparalleled. They deserve great recognition for making large burgers on the grill; they even cook them on stone and incorporate all kinds of ingredients to give them more flavour, such as Lotus biscuit sauce.
One of the best choices in Barcelona is at this restaurant. It is one of the reference points to visit whenever you are in Barcelona, especially for those who are fans of good hamburgers. They have their own recipe that stands out from other varieties in the city and they try to find their own essence that makes them different.
7. Mirch Barcelona
Here you can enjoy a high quality hamburger where they try to innovate with sophisticated, exotic and innovative ingredients. To do this, they do something very different from what you usually find in other restaurants in the capital: Indian butter chicken burgers. This is something very new that undoubtedly makes them different.
The result is a tasty burger with a distinct touch of curry, as they are looking for the essence of Indian food but combined with the typical American burger. In this way, they achieve a degree of originality and innovation that makes them highly valued. They even have a soft and fluffy brioche bun, without forgetting the good vegetarian burgers.
8. La Porca
La Porca is another good option for an exquisite burger with a great reputation in the city; in fact, in 2019 they received the award for the Best Burger in Barcelona. To do so, they use large, natural pieces of meat, introducing alternative ingredients such as English and smoked cheddar or gherkin relish on brioche bread. The aim is to achieve a recipe that is highly interesting for the palate and easy to eat.
There is no doubt that La Porca has achieved great recognition in Barcelona. This is mainly due to the good work carried out in the elaboration of gourmet hamburgers.
They try to look for an original and own recipe, something that can differentiate them from the typical hamburger restaurants that only follow the American model. In this way, they have achieved a reputation that, today, is still really good in the city, which is why it is worth visiting the establishment to try one of the best hamburgers in Barcelona.
9. Bro
A franchise that is gaining more and more recognition is Bro. They make high quality burgers and work with all kinds of ingredients to provide a different taste than usual. Some varieties are worth mentioning, such as the "Mexican", which has a spicy, intense flavour with lime-pickled onion. The taste is something really different and attractive, to which must also be added the incorporation of other products such as the Bro sauce, which is made in-house.
10. De Paula
When looking for a type of burger that is out of the ordinary, at De Paula you can enjoy a recipe with a Brazilian flavour. Their burgers are made from picaña, a type of cut of beef that is quite common in Brazil. The quality and juiciness of these burgers is unmatched, something that makes them taste different from the typical American or more commercial recipes.
They have a very soft and tender homemade bun, ideal for this type of meat, as well as grilled or barbecued burgers. One of the best known is the so-called "Copacabana", made with beer bread and knife-chopped picaña. Thus, it can be said that at De Paula you can eat a more original and distinguished type of hamburger, which is something worth appreciating and worth enjoying in Barcelona.
The best vegetarian burgers in Barcelona
Vegetarian and vegan hamburgers are becoming more and more popular in Barcelona's restaurants. Many restaurants have decided to include different vegan products on their menus, including hamburgers.
There are tofu, chickpea, lentil, vegetable burgers and more. Vegetarian restaurants are gaining more and more followers and even offer very good quality products in all of them.
1. La Vespa
Just as this place for meat burgers has been mentioned above, they also do vegetarian dishes. They have a varied selection of products so that you can enjoy a high quality vegetarian meal, both for its elaborations with chickpeas and tofu.
2. Bacoa
This franchise is well known for making good quality veggie burgers. The "El Gran Vegano" burger, made from spinach patty with chickpeas, sweet and sour canned tomato and mashed avocado, is particularly noteworthy. A type of recipe that allows you to enjoy natural ingredients and the best quality pulses and vegetables.
3. Green & Burguer
Simplicity and good taste stand out in the elaborations of Green & Burger. They make some of the best vegetarian burgers in Barcelona, as well as vegan ones. It should be noted that they work with chickpeas, spinach, lentils and tofu, as well as other ingredients. To all this, we must add the good cheeses and search for new flavours to delight the diner with a high quality product.
4. Vegan Junk Food Bar
Within vegan food, this establishment stands out for being followers and defenders of vegan food. They are looking for an alternative to meat and work in a relaxed and alternative atmosphere. They try to develop their own original recipes, making each of their dishes stand out drastically from the typical vegan products; that's why their hamburgers are a good gastronomic option in Barcelona. They also have other interesting products, such as pizzas and nachos, all handmade and completely vegan.
5. Cat Bar
If you are looking for an alternative place to try a different kind of vegetarian or vegan burger, you can find it at Cat Bar. They have a wide variety with a mouthwatering and delicious menu. The seed burger is worth mentioning, made with great precision and looking for different flavours. The aim is to offer an exquisite, high-quality product without incorporating any animal ingredients, which is why it is one of the most renowned vegetarian burgers in Barcelona.
Where to find gluten-free hamburgers in Barcelona 
Products for coeliacs are also available in some restaurants in Barcelona. It is true that not all restaurants offer them, but they are increasingly present on the menus with the aim of including this public and gaining a larger number of customers. This is why it is important to be able to find some establishments in Barcelona that offer gluten-free hamburgers.
The restaurants mentioned so far that work with animal meat may also have a section on their menus for coeliacs; however, they do not usually have a wide variety. It should be noted that a large number of them have a sign on their menus indicating which products are suitable for coeliacs, which is why more and more establishments are trying to combine ingredients in most of their dishes that are basically not harmful to people who do not want to eat gluten. Therefore, you can go to many of them and find a quality service that is also aimed at coeliacs, but it is also true that there are others that do focus mainly on producing quality gluten-free hamburgers.
Some of the most significant restaurants and bars that offer products for coeliacs and specifically hamburgers are, for example, Santa Burg Eixample, a place where you can enjoy an exquisite dish without fear of eating anything with gluten; that is, everything is carefully measured and controlled to avoid any indigestion and make a product of the highest quality at a special price.
Another restaurant that also offers this type of hamburgers is Lux&Burg. Not only do they have good quality and vegan products, but they also focus on the gluten-free public. Many people come to this establishment for the good treatment and service, as well as for offering a varied and very interesting menu.
M2 Gluten Free is a place aimed primarily at people who cannot eat gluten. It is a bit far from the centre of Barcelona, but it is worth it for the extensive menu and the good food they prepare. They have all kinds of products, including hamburgers, pasta and pizzas. In this way, a person with coeliac disease can be sure to avoid lactose-free and gluten-free food in a place like this, and of course, they have vegan options.
Finally, Copasetic is another of the best places to eat at. Their hamburgers for coeliacs are very good and of excellent quality. This is corroborated by their customers, in the same way that they try to take care of the cooked products so that they are mainly aimed at people who try to avoid gluten at all costs.
In short, the question is to investigate and find the restaurant that offers the best quality at an affordable price. There are many places that may have specific products for coeliacs, but these are considered to be the ones with the most extensive menus to enjoy delicious cuisine and forget about gluten.
NUESTROS APARTAMENTOS EN BARCELONA
Since 2010, Lugaris Apartaments has been offering you the best holiday rental flats in Barcelona, perfect for a family holiday, with friends or as a couple, or for medium-term stays.
You can choose between apartments near the beach in Barcelona, at Lugaris Beach, with sea views, 2 swimming pools (one for adults and one for children) and capacity for up to 6 people, and the Lugaris Rambla flats, located on the Rambla de Poblenou and just 300 m from Bogatell beach, with a balcony or terrace of up to 22 m2 and ideal for couples or families and groups of up to 5 people. All our luxury flats in Barcelona are air-conditioned and equipped with all the appliances, furniture and bed linen you will need during your stay. They also have satellite TV and free high-speed Wi-Fi connection, as well as a safe and a 24-hour private security service.
What's more, when you make your booking, you can reserve many other additional services: international press in your flat, parking space, transfer service to and from Barcelona airport, bicycle hire, supermarket shopping, museum, sports and show tickets, babysitting service and much more.

For more information, contact Lugaris Apartments without obligation.