Discover the best craft beer bars in Barcelona! If you want to hop on to the craft beer movement and find the best craft beer in Barcelona, don't miss this selection of bars. After all, there's nothing like enjoying a typical drink in some of the best terraces in the city, but even better if they are craft beers.
And there's a reason why Barcelona is today one of the undisputed capitals of quality beer in the world. Take a closer look at what's brewing in the city:
Discover the most recommended craft beer bars in Barcelona
Craft beers are just what the name suggests: beers made from 100% natural products, with no preservatives, colourings or added sweeteners. They are also beers whose brewing and filtering must be done by hand, and which therefore have a markedly unique character that can be perceived in their flavours and aromas: no two are the same, just as no two craft brewers brew them in the same way.
Here's a look at the best craft beer bars in Barcelona.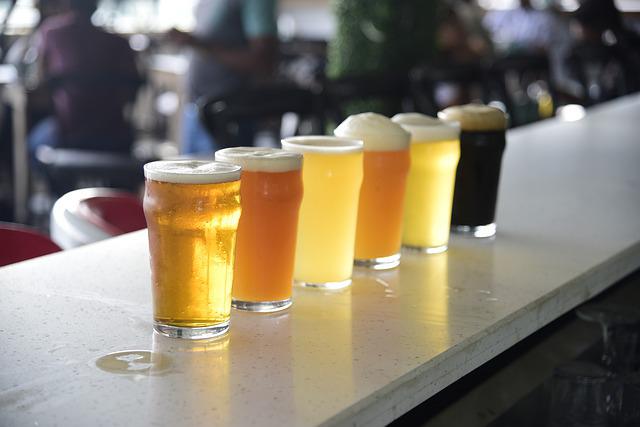 La Textil
You can't talk about craft beer in Barcelona without going to the Eixample or, as it's increasingly known, the Beerxample. La Textil, named after the old warehouse where it is located, is a place of worship for craft beer, which combines the best of craft distillation without sacrificing the fact that the litres flow in large quantities.
This is confirmed by its 1,100 m2 of bar space and its 18 taps at the bar, and the fact that it has a brewery capable of producing no less than 120,000 litres a year. Up to 70 hop gourmets can sit down here to meet in this distinguished place of beer worship, which has unique products for all tastes, from brown ale to lager, without forgetting the speciality coffees, wines and cocktails. Their grilled street food restaurant is something you should miss out on either.
MonDoré
Another unmissable destination in the Beerxample is none other than MonDoré, one of the best exponents of craft beer in the area, in this case accompanied by a successful selection of rice dishes and tapas, together with a menu that includes suggestions and indications on the art of pairing, so that both neophytes and the initiated do not leave without having learnt something new.
BierCab
BierCab is another of the best craft beer bars in Barcelona. And, in fact, it was one of the first turning points in marking Barcelona as a beer tourism destination around the world.
Its claim to fame is having achieved no less than first place in the world ranking of beer destinations on the RateBeer website in the summer of 2014. 30 taps and a wide selection of bottles are their best weapons to ensure that everyone who sets foot in their territory, now expanded thanks to the BierCaB ShoP, leaves as a loyal advocate of what they have tried and tested.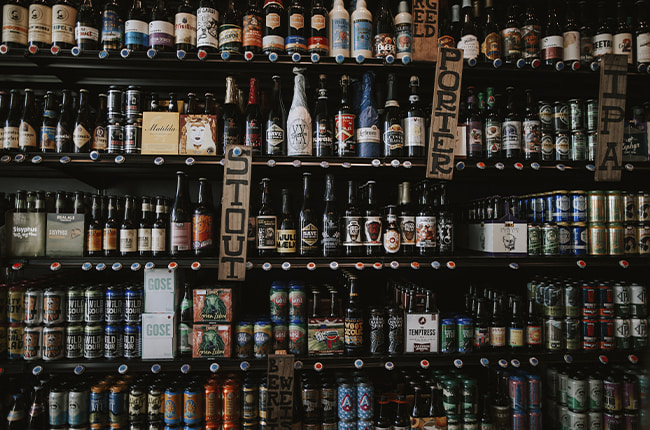 La Cerverseria Clandestina
Just a stone's throw from the Sagrada Familia awaits a corner that is a haven for the best-informed locals. La Cerveseria Clandestina is home to travelling art exhibitions, good music and top-notch burgers and tapas, with a vegan option of course.
And of course, a rich supply of craft beers. With 10 taps on constant rotation, the bar makes sure to offer beers for every palate, and if that's not enough, they'll quickly offer their menu with over 50 bottles of craft beers.
Cerveseria Jazz
Álex Camacho has been cooking many of the city's best burgers behind the bar since no less than the end of 1992, when Jazz opened its doors to establish itself as a landmark when it comes to music, burgers and, of course, quality craft beer.
Three things that would make anyone happy on their own, but which together make this place a symbol of Barcelona. The menu is not very extensive, but you don't need much variety when you only offer the best quality.
2D2spuma
Much more than just a bar, 2D2 is also a shop with up to a thousand references, including its own product, of course, and a bar equipped with 9 taps that rotate their offer, among which there are always at least 5 local products.
As if that weren't enough, three days a week they offer tapas pairing at very cheap prices, because the idea that craft beer is expensive can also be a myth.
Ølgod
In the heart of the Raval you'll find the Ølgod, a craft brewery that pours ale from no less than 30 barrels. Does its name catch your attention? It's a Danish village whose meaning will sound like music to beer-lovers' ears: god of beer.
And its runes and Viking ship at the entrance are ready to welcome all warriors, sailors and even raiders who come willing to measure themselves first with real Nordic beer with open arms, although of course accompanied by local production. And to eat? A small menu but home-made food of unquestionable quality, where even the nachos are traditional, and where you won't leave with an empty stomach.
Mikkeller Bar Barcelona
Directly from Copenhagen comes this place with no less than 24 craft beer taps and a totally modern and Scandinavian spirit that is impossible not to call hygge, a concept from those latitudes that evokes what we like to call "a chill blanket & movie night".
Popcorn is a must, but we'd rather swap the tea or soft drink for a good craft beer, right?
Ale&Hop
If you go a little further afield, to Sant Pere to be precise, you will find one of the most popular meeting points for the most astute and experienced brewers in the area and not so close by. If you enter without prejudice and let them advise you, you will discover new and quality flavours, because the world of beer can be as wide as you are willing to accept.
In order not to leave anyone hungry, they have an appetising menu of vegan hamburgers and tapas. Not for nothing have they been a benchmark since they opened in 2011.
Fábrica Mortiz
Fábrica Moritz is another of the best craft beer bars in Barcelona. Closer to the Brew Pub concept but hard to miss, the former Moritz Beer factory is now a space where you can enjoy unpasteurised beer, straight from the tank of a microbrewery.
Of course, the offer includes a wide variety of international tapas and you can even visit the microbrewery itself. A visit that is an experience in a unique setting.
La cerveza artesana en Barcelona
Beer has been with us since the dawn of civilisation. Its origins are not entirely clear at present, but it is believed that, as soon as humans began to farm, beer appeared. It probably had a lot to do with some lucky, absent-minded person who fermented some grains and discovered something much better than he had expected.
However, the industrialisation of the brewing business in recent decades made beer more affordable for everyone, but it also left more than one beer aficionado without what he or she loved most about their favourite product: an original craft beer, with the particularities of the skilled hand that had brewed it.
This inevitably led to a resurgence of craft beer and today we are still enjoying great growth in the sector, with an ever-increasing range, quality and above all character, the latter in contrast to the standardised industrial beers.
Craft beer has thus become a symbol of the most demanding beer lover: one who, tired of large-scale manufactured products, seeks to return to the roots and origins of a product as old as man himself: we are what we drink, and we have been for a long, long time, being hops, yeast, malt, water and many other ingredients that make us unique.
OUR APARTMENTS IN BARCELONA
Since 2010, Lugaris Apartaments has been offering you the best holiday rental flats in Barcelona, perfect for a family holiday, with friends or as a couple, or for medium-term stays.
You can choose between apartments near the beach in Barcelona, at Lugaris Beach, with sea views, 2 swimming pools (one for adults and one for children) and capacity for up to 6 people, and the Lugaris Rambla flats, located on the Rambla de Poblenou and just 300 m from Bogatell beach, with a balcony or terrace of up to 22 m2 and ideal for couples or families and groups of up to 5 people. All our luxury flats in Barcelona are air-conditioned and equipped with all the appliances, furniture and bed linen you will need during your stay. They also have satellite TV and free high-speed Wi-Fi connection, as well as a safe and a 24-hour private security service.
What's more, when you make your booking, you can reserve many other additional services: international press in your flat, parking space, transfer service to and from Barcelona airport, bicycle hire, supermarket shopping, museum, sports and show tickets, babysitting service and much more.

For more information, contact Lugaris Apartments without obligation.