The good weather has arrived in the capital of Catalonia, and every day is the perfect opportunity to spend the day outdoors and have a picnic with family and friends. If you want to forget about the bustle of the city for a day, there are plenty of areas and restaurants that offer a grill where you can cook whatever you want, from typical calçots, botifarra or a delicious escalivada, to experience the most delicious typical dishes of Barcelona in an original way. Discover the best places for a barbecue Barcelona and its surroundings, put on your chef's hat, and get your BBQ going! Keep reading and choose the one you like the most.
FONT LES PLANES
In the natural park of Collserola you will find Les Planes, a neighborhood in Barcelona that borders the municipality of Sant Cugat. This small urban area is surrounded by nature, so it is not surprising to find many picnic areas that are ideal for a barbecue. Here you will find a large outdoor zone with tables to eat outdoors with whoever you want. Each table for 4 people costs approximately €10 and you will have to rent the grill. Also, if you do not carry firewood with you, they can also provide it. Do you want to make a paella? They also provide pans and a stand to support it. Moreover, in the bar area they will also provide the ingredients if you forgot to bring one.
You can easily get here by getting the S1 or S2 line of the Ferrocarrils Catalans, getting off at the Les Planes stop.
Timetable: Open every day except Tuesday. The schedules vary according to the time of year.
Address: Vallvidrera road to Sant Cugat (BV 1462), km. 6.5 crossing with Passatge de Bellavista, 08017 Barcelona
PARC DE LA TRINITAT
It is not on our list of most beautiful parks in Barcelona, but the truth is that Trinitat Vella has a nice park full of sculptures and beautiful corners to sit in the shade. In the barbecue area, you can rent everything you need to make a barbecue with your loved ones for €12 (including the table). After booking, in the small kiosk you can get everything you need. In addition, the park has a playground with swings for children and sports facilities. You can easily reach the park by taking metro line 1 (Red line) and getting off at Trinitat Vella.
Timetable: Open every day from 10:00 a.m. to 06:00 p.m.
Address: Nus de la Trinitat, 82I, 08033 Barcelona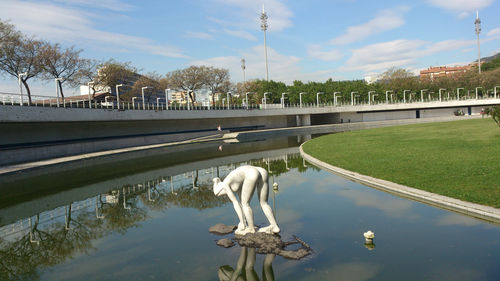 SANTA CREU D'OLORDA
Also located in the Collserola mountain range, you can visit this Romanesque hermitage, ideal if you do not know what to do in Tibidabo. In addition to admiring its architecture, you will find a small restaurant in the hermit's house, where you can buy firewood or charcoal to cook on the grills you will find. Surrounded by pine trees, there are many places where children can play, especially if you plan to hike up to Puig d'Olorda.
Timetable: Monday to Sunday in summer from 09:00 a.m. to 04:00 p.m. Check timetables during the rest of the year.
Address: BV-1468, km 6, 08750 Barcelona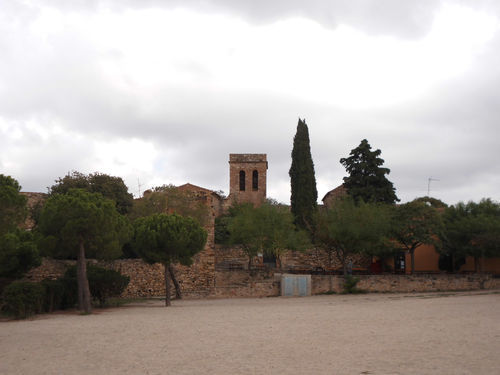 TORRENT DE CAN COLL (CERDANYOLA DEL VALLÉS)
And this is where our list of places for a barbecue in Barcelona ends. But do not worry, just a few miles away you will find the Torrent de Can Coll, within the Collserola mountain range. The homonymous restaurant is a typical place for those who are looking for cycling routes in Barcelona, since they make good breakfasts. Just behind, we find the leisure area where there is a large picnic zone with barbecues. You can sit at large or small tables and buy certain ingredients if you have forgotten them at the bar. There is a playground to play a game of football if you want to have a great time.
In addition, if you visit the place on Sunday morning, you can visit the Can Coll Environmental Education Center, located in an old, fifteenth century farmhouse where you can take a guided tour to learn about life in these typical Catalan buildings and the environment in which it is located.
Timetable: Monday, Wednesday, Thursday and Friday from 09:00 a.m. to 06:00 p.m. and from 08:30 a.m. to 06:00 p.m. at weekends.
Address: BV-1415, Km. 2, 08290 Cerdanyola del Vallès, Barcelona.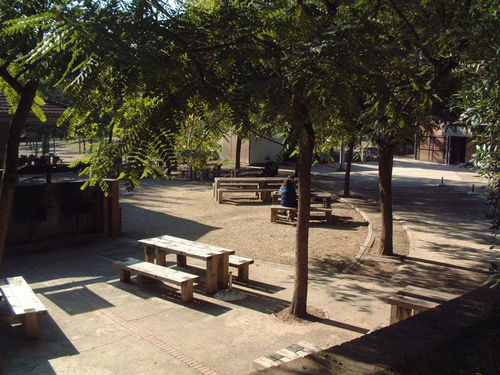 LA SALUT (SANT FELIU DE LLOBREGAT)
In the picnic area next to the homonymous stream and a hermitage you will have the opportunity of being right next to the city of Barcelona, but still enjoy nature. In the same restaurant you can buy wood to light the fire. Here you will find a large space, ideal for the whole family. In addition, you can combine the getaway with a visit to Casa Gran de la Gleva, a house built in the 15th century and the place where you will find the restaurant.
Timetable: Wednesday to Friday from 10:00 a.m. to 05:00 p.m. and from 09:00 a.m. to 06:00 p.m. on weekends.
Address: Riera de la Salut, 100, 08980 Sant Feliu de Llobregat, Barcelona.
GUALBA ENVIRONMENTAL PARK
If you want to have a barbecue in a really unique place and combine it with a hiking trail in Barcelona, the Montseny Natural Park is the ideal spot. In this park you can go on an excursion to an impressive waterfall and end the tour in the picnic and barbecue area, sheltered by the shade of the trees. You can book your table that includes free access to the park, marked maps and access to the football field that is in the vicinity. In addition, in summer you can also combine the ticket from the picnic area with the pool to take a dip.
Timetable: from 09:30 a.m. to 08:00 p.m. in summer and until 06:00 p.m. in winter.
Address: Can Illa Vell, S/N, 08474 Gualba, Barcelona.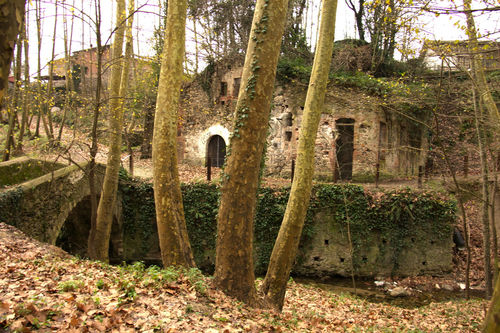 BARBACOA LOURDES (ARENYS DE MUNT)
This curious place imitates the famous sanctuary of Lourdes, located in France. Around it, among the trees, we find a huge picnic area consisting of more than 100 stone tables that can be rented for €15 in a bar that is next to the cave.
Timetable: 10:00 a.m. to 06:00 p.m., closed Monday.
Address: Place Barri Sobirans, S/N, 08358 Arenys de Munt, Barcelona.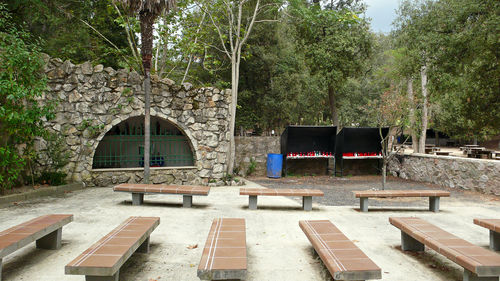 CAN XEC (MONTORNÈS DEL VALLÈS)
We continue with our route around the best places for a barbecue in Barcelona and beyond with Can Xec, open on weekends and some holidays for you to have a great time is this picnic area that includes two covered areas so that you do not have to run in the case of rain. At the bar you can rent grills and pans in addition to buying any basic kitchen product that you have left behind. In addition, the children will have a great time on the football field and the trampolines that are in the area.
Timetable: Weekends from 09:30 a.m. to 06:30 p.m.
Address: Carrer de Vilanova, 53, 08170 Montornès del Vallès, Barcelona.
BARBACOA EUROPA (GAVÀ)
Do you want to organize a barbecue by the sea? If you want to enjoy a day at the beach as well as a good slow-cooked meal, this restaurant in Gavà makes it as easy as possible. Rent the chairs and tables that you need and cook a good paella in one of the three barbeque areas that the venue has outdoors. This is the perfect place to spend the day as a group, and even hold an original celebration.
Timetable: Open every day. Weekends from 08:30 a.m. to 00:00 a.m.
Address: Av. Europa 92-102, 08850 Gavà Mar, Barcelona.
BARBACOES PARC LES CAMANYES (TORRELLES DE LLOBREGAT)
Enjoy nature and one of the most impressive rock formations in the province of Barcelona. If you want to go on an excursion to the caves of Torrelles, you can combine it with a luxury picnic. In the heart of the forest you will find a barbecue area with approximately 70 tables next to a bar where you can rent grills and charcoal. If you travel to Barcelona with children, you can also take advantage of the opportunity to visit Catalunya en Miniatura, a small park dotted with mini-sculptures.
Timetable: Only open on Saturdays and Sundays from 09:30 a.m. to 07:00 p.m.
Address: Carretera BV-2005, km 3.2, 08620 Torrelles de Llobregat, Barcelona.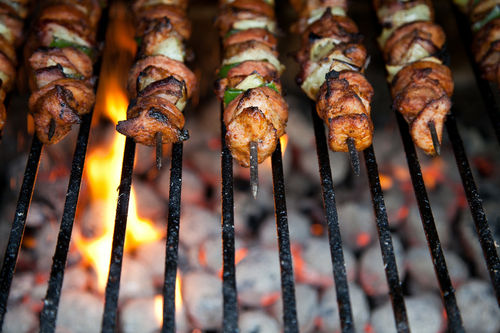 MERENDERO NOSTRA SENYORA DELS ÀNGELS (LA ROCA DEL VALLÈS)
Indoor celebratory rooms in a small castle and a lot of stone tables on the outside will make this place a good choice to spend the day with great views. It has a playground for children, and it is surrounded by oaks so you will have shade during most of the day.
Timetable: Saturday, Sunday and holidays from 09:00 p.m. to 19:00 p.m.
Address: Road from Mataró to Granollers, km 11.5.
MERENDERO CAN VIA (LA PALMA DE CERVELLÓ)
Another of the best places for a barbecue in Barcelona that is in the Baix Llobregat region is this place that has been offering a place to rest and eat hot since 1965. In addition to the barbecues, there is a sports area where you can play basketball, volleyball and even minigolf. Do you want to make a small excursion? Walk along the Rafamans stream or visit the small town of Palma.
Timetable: Open on weekends and holidays from 09:00 a.m. to 07:00 p.m.
Address: Masia Can Via, 08756 La Palma de Cervelló, Barcelona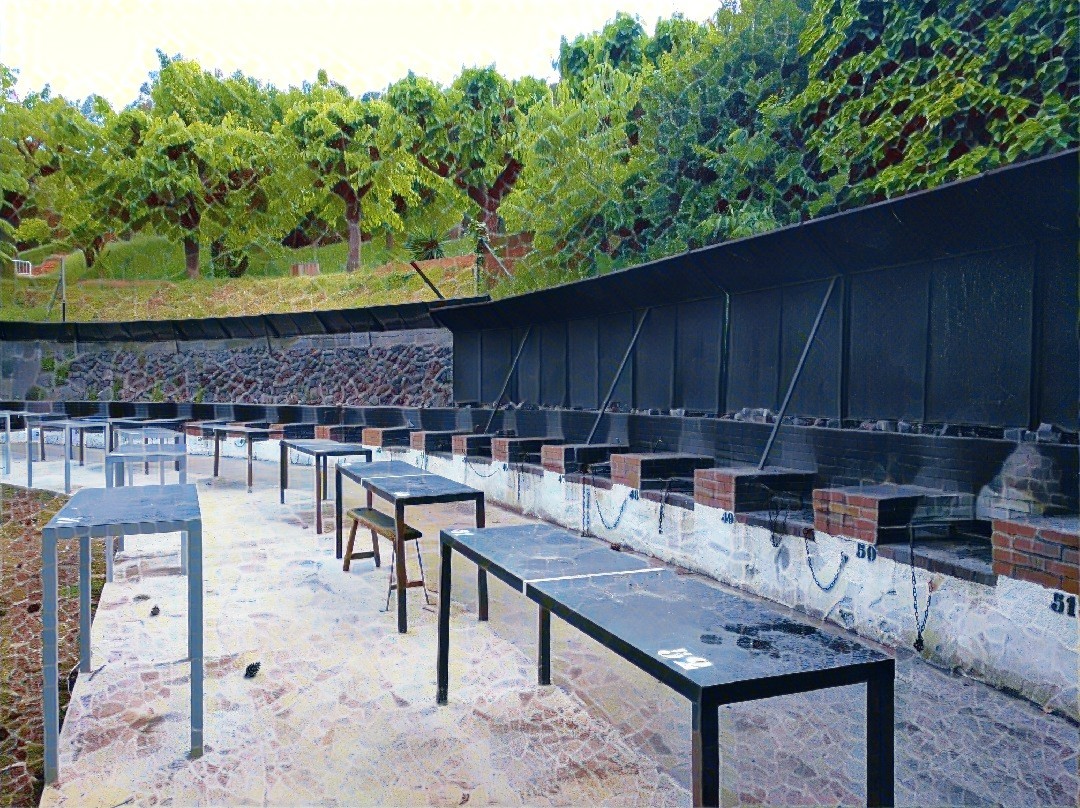 PARC DE PI GROS (SANT VICENÇ DELS HORTS)
As its name suggests (it translates as Big Pine Tree), a large pine presides over the entrance to this park on the outskirts of the town of Baix Llobregat. This beautiful forest green area with several paths to discover hides a public picnic area with 12 tables and 12 barbecues that can be used free of charge as long as the rules of use are respected. The kiosk next door rents any tool you may need.
AIDINA PARK (VILANOVA D'ESPOIA)
In the municipality of Torre de Claramunt you will find the small town of Vilanova d'Espoia, very close to some places of interest such as the Castell de la Torre, or several Romanesque churches. In addition to barbecues and shaded areas to eat, here you will find a riding school so that lovers of this equine sport can practice in a unique space.
Timetable: weekends from 11:00 a.m. to 06:00 p.m.
Address: Ctra. De Vilanova d'Espoia, km. 0.5, 08789, La Torre de Claramunt, Barcelona.
BARBACOA BEGUES VALPARAÍSO (BEGUES)
This millenary town of great cultural and natural interest offers the opportunity to have a barbecue at the gates of the Garraf Natural Park. At Begues Valparaiso barbecue area you have 154 tables to have your barbecue and, if you want, you can think big and book a Foc Rodó, a large grill where you can make the largest paellas and grill food for big parties.
Timetable: Saturdays, Sundays and holidays from 09:00 a.m. to 08:00 p.m.
Address: road from Gavà to Avinyonet, km 13.7, 08859 Begues, Barcelona.
LES MARTINES (TERRASSA)
Les Martines picnic area, just outside the city of Terrassa, is surrounded by olive trees and a large number of barbecues to cook at your own pace. In the bar restaurant you can also book a calçotada if you do not feel like cooking them yourself.
Timetable: It only opens on Saturday from 09:30 a.m. to 06:00 p.m.
Address: Carrer del Torrent de Can Guitard, s/n, 08224, Terrassa, Barcelona.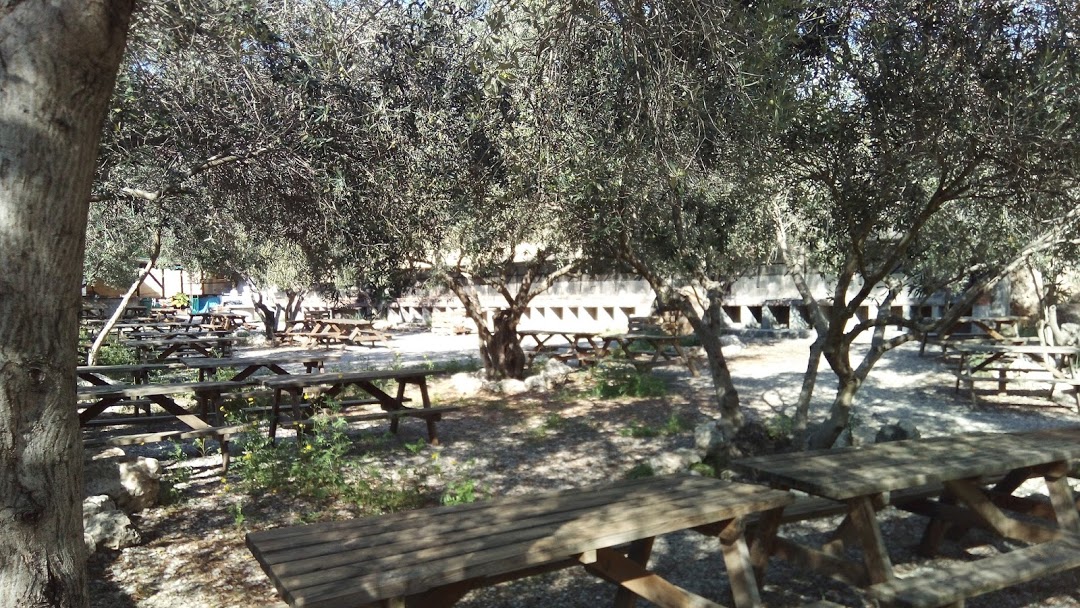 SANT JULIÀ D'ALTURA (SABADELL)
On the outskirts of the other capital of the Vallès, you will find a recreational area by a hermitage built in the sixteenth century. This picnic area among trees is ideal for family meals, with ample space for children to play and, if the adults prefer, they can also request a catering service.
Address: Matadepera Road, km 4, Sabadell, Barcelona.
What are your favorite places for a barbecue in Barcelona or its surroundings? You may even know another place that is not on the list. Tell us about it when you stay in our beach apartments in Barcelona. We are waiting for you!