Little by little, the tapas culture is making its way into Barcelona. And although this habit is not as deep-rooted as in other parts of the peninsula, the Catalan capital is an excellent option to enjoy this delicious afterwork habit. Does the idea tempt you? In that case, it's enough to get an urban map and mark the best tapas bars in Barcelona on them.
If you stay in any of our rental apartments on the beach of Barcelona, either Lugaris Beach or Lugaris Rambla, you will be very close to some of the best areas where you will find traditional bars, such as the Barceloneta district or the Rambla del Poblenou. Take advantage of its excellent location to enjoy the delicacies of Catalan cuisine!
Do you need ideas? In that case, check out some of the best tapas bars in Barcelona. It be hard to just choose one!
CERVECERÍA CATALANA
Without a doubt, this is one of the great classics. With a privileged location in the heart of the Eixample district, this bar is always crowded, despite the fact that the prices of its menu are far from cheap. In addition to the traditional croquettes and the unfailing patatas bravas, this establishment offers a wide selection of montaditos (for example, sirloin or crab), seafood and Galician octopus. Try their fried or grilled squid and taste them accompanied with a cold beer. You will love it!
Address: C / Mallorca, 236
Phone: 93 216 03 68
Closest metro station: Diagonal (L3, L5, L6 and L7) or Passeig de Gràcia (L2, L3 and L4)
TALLER DE TAPAS
Can you imagine being able to eat or dine in an old convent of the 14th century that has been completely renovated? That is precisely what the Taller de Tapas bar offers. Choose between a generous portion of Padrón peppers, some crispy bravas, grilled shrimp, steamed mussels … Although this chain of restaurants has other establishments, this one, located in El Born, is the most spacious and popular.
Address: C / Argenteria 51
Phone: 93 268 85 59
Nearest metro station: Jaume I (L4)
LATERAL
If you are looking for a more chic setting, but without sacrificing the authenticity of traditional tapas, this may be an excellent option. Preceded by the success of its three premises in Madrid, Lateral disembarks in the center of Barcelona with an establishment that evokes the charm of a French bistro. In its menu you will find appetizing suggestions such as corvina ceviche or guacamole, mozzarella and cherry tomato salad. Fancy it?
Address: C / Consell de Cent, 329
Phone: 93 485 67 93
Closest metro station: Passeig de Gràcia (L2, L3 and L4)
BAR CAÑETE
Welcome to one of the most genuine Raval bars. Located a few steps from the Rambles, its menu includes fresh products bough daily from the neighboring market of La Boqueria. Among the proposals that you cannot miss, the burrata with cherry tomatoes and vegetables, the Ensaladilla russa or the bread with tomato stand out. Want to dig into these suggestions?
Address: C / Unió, 17
Phone: 93 270 34 58
Closest metro station: Liceu (L3)
BAR DEL PLA
El Born district – and more specifically, the stately Montcada street, famous for housing institutions such as the Picasso Museum – accommodates this vaulted ceiling venue, where you can taste exquisite Catalan wines and cavas, either standing by the bar or sitting down . Also, this bar is very close to the Gòtic neighborhood, so it is a great choice to regain strength during your sightseeing tours of Barcelona.
Address: C / Montcada, 2
Phone: 93 268 30 03
Closest station: Jaume I (L4)
QUIMET Y QUIMET
This centenary winery is a must for those looking for bespoke tapas made with fresh ingredients. The undeniable quality of its menu has crossed borders: even newspapers such as The New York Times or The Guardian have recommended it to any foodie who wants to discover Mediterranean cuisine. Do you want to take some delicatessen home and surprise your loved ones? If so, you'll love to know that this establishment also has a small grocery store.
Address: C / Poeta Cabanyes, 25
Phone: 93 442 31 42
Closest station: Paral·lel (L2 and L3)
JAI-CA
Do not be confused by the deceptive name, more typical of a Chinese restaurant than the establishment that concerns us. Indeed, the Jai-Ca, created in 1955, is one of those timeless bars, decotated with marble tables, wooden chairs, a long bar and a small terrace. There you will find tapas as irresistible as the following: mussels in tomato sauce, squid, Galician octopus, shrimp, bravas, croquettes … You will come again!
Address: C / Ginebra, 13
Phone: 93 268 32 65
Closest station: Barceloneta (L4)
SEGONS MERCAT BARCELONA
Not very far from Barceloneta, we find a tapas bar waiting for us that has even appeared in the prestigious Michelin Guide. Their dishes and tapas are prepared with fresh products of the highest quality, and you will like to know that there is no lack of fish and freshly caught seafood. Its service is fast and efficient, which adds an excellent value for money. Here's a tip: this chain has another restaurant in the Eixample, in the street of Aribau, 3 bis.
Address: C / Balboa, 16
Phone: 93 310 78 80
Closest station: Barceloneta (L4)
EL VASO DE ORO
We continue on the same street, and for a powerful reason: the presence of this small bar with a classic atmosphere. Savor their delicious Padrón peppers, patatas bravas, chocos, ensaladilla russa, some of their generous sandwiches or their sirloin with foie and onion. By the way: this establishment also makes its own beer. This why it is also known as one of the best tapas bars in Barceloneta !
Address: C / Balboa, 6
Phone: 93 319 30 98
Closest station: Barceloneta (L4)
LA COVA FUMADA
We could not end our journey through the marine district of Barcelona without referring to another of its great gastronomic references: La Cova Fumada, which opened its doors for the first time in 1944. Although we had already referred to it before, it's time to do it again, since it was here where the bombes were invented, the appetizing balls of meat and potatoes that are now raging throughout the country. In addition, here you can also enjoy herring, sardines, fried squid and prawns.
Address: C / Baluard 56
Phone: 93 221 40 61
Closest station: Barceloneta (L4)
These are just some suggestions to find the best tapas bars in Barcelona to surrender to the taste of the highlights of Catalan cuisine, but we have already told you that there are many more. And staying in oiur Lugaris beach apartments, you have them at your fingertips. Do miss out on them!
MORE INTERESTING STUFF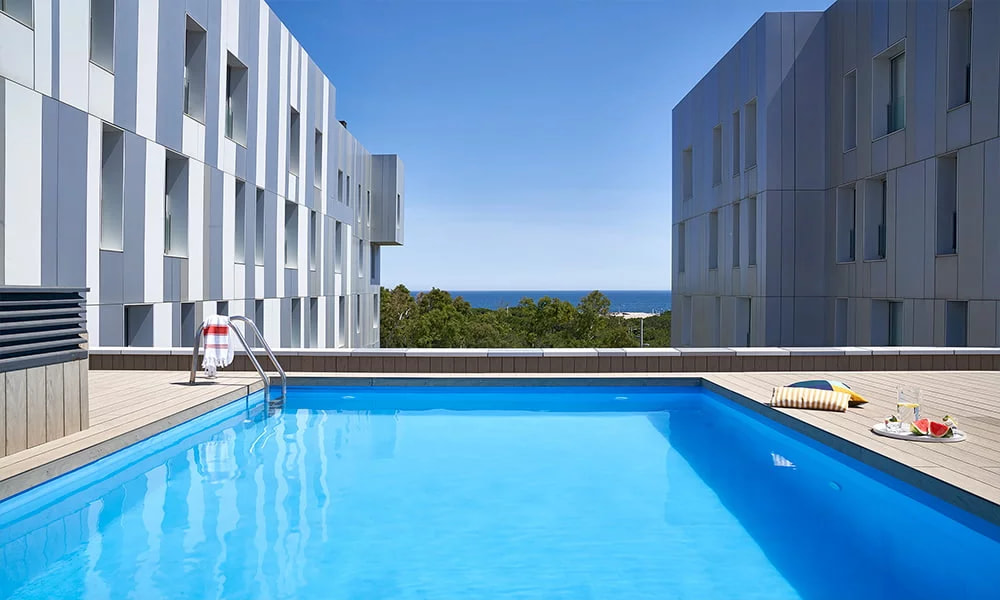 Holiday apartments by the beach in Barcelona
Since 2010, Lugaris Apartaments has been offering you the best holiday rental flats in Barcelona, perfect for a family holiday, with friends or as a couple, or for medium-term stays.
You can choose between apartments near the beach in Barcelona, at Lugaris Beach, with sea views, 2 swimming pools (one for adults and one for children) and capacity for up to 6 people, and the Lugaris Rambla flats, located on the Rambla de Poblenou and just 300 m from Bogatell beach, with a balcony or terrace of up to 22 m2 and ideal for couples or families and groups of up to 5 people. All our luxury flats in Barcelona are air-conditioned and equipped with all the appliances, furniture and bed linen you will need during your stay. They also have satellite TV and free high-speed Wi-Fi connection, as well as a safe and a 24-hour private security service.
What's more, when you make your booking, you can reserve many other additional services: international press in your flat, parking space, transfer service to and from Barcelona airport, bicycle hire, supermarket shopping, museum, sports and show tickets, babysitting service and much more.

For more information, contact Lugaris Apartments without obligation.