More than a mountain, Montjuïc is practically a small town amidst nature. Although there is news that the place was already used as a quarry about 10,000 years ago, the truth is that the area was not urbanized until the 1920s, on the occasion of the International Exhibition of Barcelona in 1929. Since then, this area has established itself as one of the most touristic spots in the Catalan capital. Now, what to do in Montjuïc?
That its relative isolation from other neighborhoods in Barcelona does not condition you; Here you will find everything you need for a memorable cultural and leisure day: museums, monuments, restaurants, gardens, landscapes, theaters, discos … Can you ask for more?
In addition, you will find it very easy to get there from our holiday apartments in Barcelona, since you can take the subway at the Poblenou or Selva de Mar (L4) stops and go to Espanya metro station (L1 and L3). At night, the N2 night bus also runs this route. Pay attention!
VISIT THE MUSEUMS OF MONTJUÏC
With the exception of the old town, Montjuïc is one of the best options to discover some of the most visited museums in Barcelona. We do not exaggerate when we tell you that this is one of the great hubs of the city. Check the list of the Museums of Montjuïc, below.
National Museum of Art of Catalonia (MNAC). Located in the impressive National Palace and created in 1990 from the merger of two museums, it brings together a fund of more than 250,000 Catalan works of art, including one of the most impressive collections of Romanesque paintings in the world. It is also convenient to pay attention to its modernist painting background and its temporary exhibitions, in which photography and numismatics have a place.
Museu Etnològic i de les Cultures of the Món. It is a municipal museum focused on Catalan reality and the cultures present in the city of Barcelona, while inviting us to reflect on universal everyday aspects. It is located on the Passeig de Santa Madrona, 16-22, and has recently undergone various refurbishments and improvement work.
Museu d'Arqueologia de Catalunya (MAC). In the same street as the previous one —it is located on the Passeig de Santa Madrona, 39—, you will find this archeological museum, opened in 1935. Enjoy its interesting collection of archaeological pieces of Barcino, the Roman city, with outstanding pieces such as the Mosaic of the circus, from the 4th century AD, and representing a chariot race held at the Circus Maximus in Rome. The museum also organizes temporary exhibitions, guided tours and free talks.
Joan Miró Foundation. You could not miss a museum dedicated to one of the most universal Catalan artists: the unforgettable Joan Miró. This institution hosts around 10,000 works, including sculptures, canvases, sketches, drawings and tapestries, which summarize all of Miró's artistic and vital stages. Temporary exhibitions of contemporary art are also held.
CaixaFòrum. At number 6-8 of Avinguda de Francesc Ferrer i Guàrdia, and in the heart of an old modernist factory, you can enjoy a cultural center that organizes temporary painting and sculpture exhibitions in collaboration with some of the most prestigious museums in the world. This proposal is combined with presentations, movie shows, concerts and other cultural activities. The entrance to all the exhibitions has a price of €4 and is free for those who own a bank account or a credit card from the bank that owns CaixaFòrum (you must show the documentation at the ticket office).
German Pavilion-Mies van der Rohe Foundation. This 1,050 m2 building was designed by Ludwig Mies van der Rohe and Lilly Reich to serve as the German pavilion at the 1929 International Exhibition. You will find it on Francesc Ferrer i Guàrdia Avenue, 7.
Poble Espanyol. This architectural complex, opened for the Universal Exhibition of Barcelona of 1929 and located on Avinguda de Francesc Ferrer i Guàrdia, 13, recreates a small town whose constructions are reproductions of some outstanding monuments of the entire Spanish geography. Inside, there are also traditional craft workshops, bars, restaurants, craft shops, discos and even a flamenco tablao, one of the best in Barcelona.
Olympic and Sports Museum Joan Antoni Samaranch. Opened in 2007 and located on the Olympic ring, this museum offers a complete tour of competition sports, with abundant winks to the 1992 Olympic Games in Barcelona. It is on Avinguda de l'Estadi, 60.
Montjuïc Castle. In addition to being one of the best viewpoints in Barcelona, this fortress also accommodates a small museum that summarizes the history of this defensive construction originally from 1649, from which Barcelona was bombed on more than one occasion. In summer, outdoor film sessions and concerts outside the castle are organized.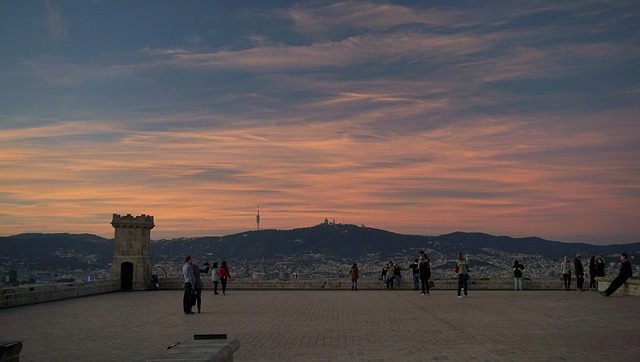 RELAX IN THE GARDENS OF MONTJUÏC
Undoubtedly, this 606-feet-high (185 m) mountain is one of the most attractive places in Barcelona. The beautiful gardens of Montjuïc, many of them listed on our top 10 most beautiful parks in Barcelona, contribute decisively to this. Do you want to know the most important?
Laribal Gardens. This is just another example of the interventions carried out on the occasion of the International Exhibition of 1929. Located at the confluence between the Passeig de Santa Madrona and Avinguda de Miramar and with more than 3 hectares, they were carried out between 1917 and 1924, following the design of Jean-Claude Nicolas Forestier and Nicolau Maria Rubió i Tudurí. Here you will find the famous Font del Gat, which inspired one of the best known Catalan folk songs.
Joan Maragall Gardens. Located on Avinguda dels Montanyans, 48, these elegant gardens of the early twentieth century, with tree-lined avenues and ornamental fountains, belong to the Albéniz Palace, residence of the Spanish royal family during their visits to Barcelona. The enclosure only opens its doors on weekends and on special occasions, such as the Mercè festivities.
Mossèn Cinto Verdaguer Gardens. This beautiful garden is located between the funicular of Montjuïc and the gardens of Joan Brossa (specifically, in Tarongers, 1-5). Opened in 1970 and with 4.3 hectares, this space stands out for its flower beds and the abundance of aquatic plants.
Joan Brossa Gardens. Located in Plaça de Dante, presided over by a sculpture by Llimona, they have several children's play areas, as well as a generous collection of sculptures spread among its grounds. Its total area is 5.2 hectares.
Mossèn Costa i Llobera Gardens. This garden, located on Carretera de Miramar, 28, and specialized in cacti and succulent plants, was chosen in 1987 as one of the 10 best gardens in the world by The New York Times. The completion date of the rehabilitation works is scheduled for the end of 2019.
Gardens of Mirador del Alcalde. Built between 1962 and 1969, these gardens will allow you to enjoy evocative trails, ponds, fountains and recreational areas, while providing you with stunning views of Barcelona. They are on the road to Montjuïc, S/N.
Botanical Garden of Barcelona. Created in 1999 and with 14 hectares, this green space is framed in Carrer del Doctor Font Quer, S/N. Its plant collections include species from Mediterranean climate regions from other parts of the planet, such as South Africa, Australia, California (United States) or Chile.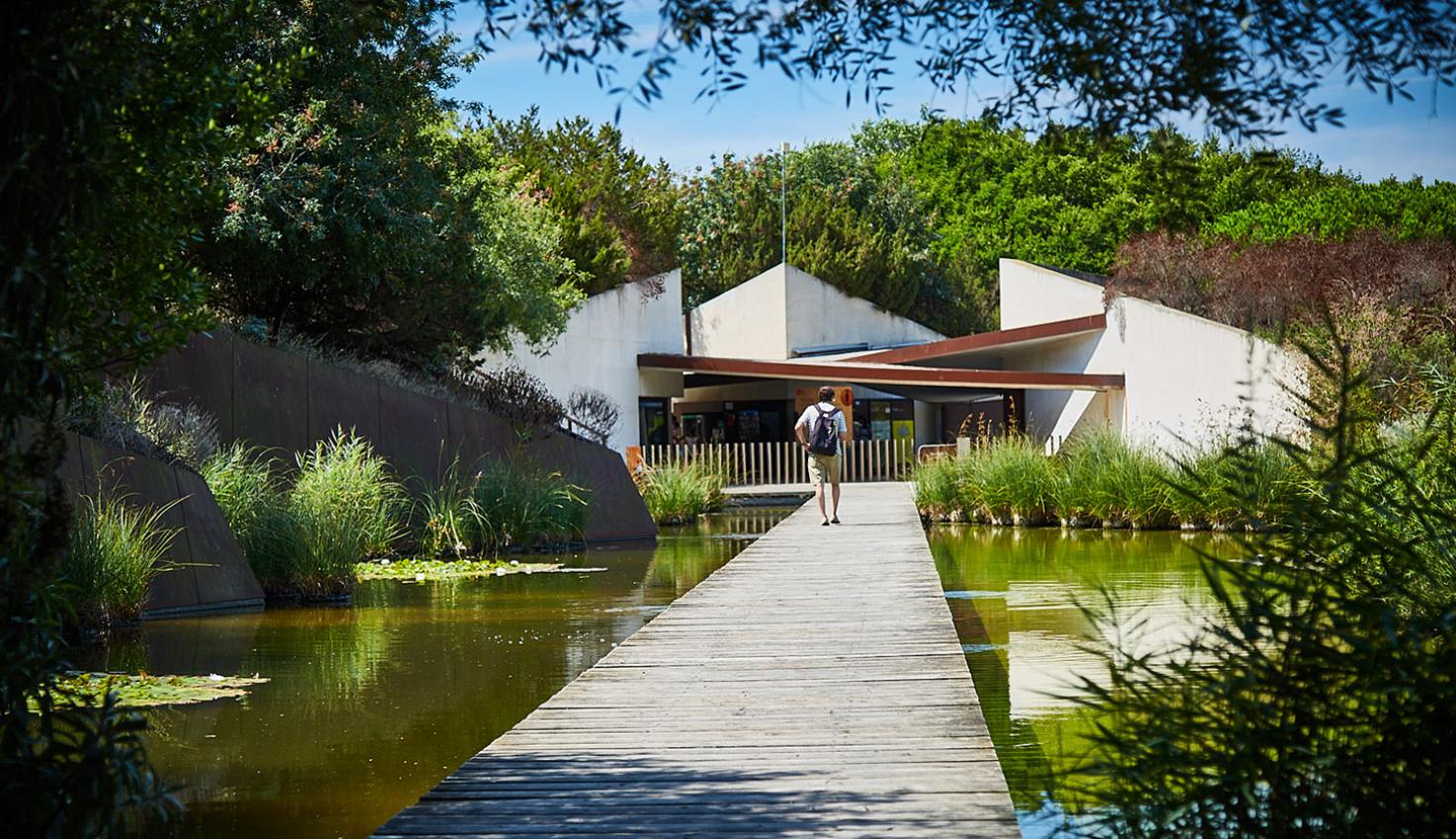 THE BEST ACTIVITIES IN MONTJUÏC
In addition to everything we've seen, there are many other things to do in Montjuïc. For starters, this is one of the most recommended places to go for a run in Barcelona, given its number of stairs, slopes and spaces of great attraction.
In any case, this is not the only option to do sports in Barcelona without leaving Montjuïc. For example, you can climb in La Foixarda, a space that houses 1,000 m2 of climbing surface distributed in a tunnel. Or if you prefer, you can have a swim in the early hours of the day in the Bernat Picornell pools, which were the scene of various swimming events during the 1992 Olympic Games. From there, you will enjoy a panoramic view of Barcelona to frame.
Do you fancy a theater evening? If so, approach the Teatre Lliure de Montjuïc —not to be confused with that of Gràcia—, located in the Margarita Xirgu square. Montjuïc also has an open-air theater: Teatre Grec, located on Passeig de Santa Madrona, S/N, opened in 1929 and with a capacity for 1,900 spectators. Each summer, the homonymous performing arts festival takes place in this Greek theater.
Other places to see in Montjuïc are the facilities that hosted Olympic events in 1992, such as Lluís Companys Stadium or Palau Sant Jordi, located near the Calatrava telecommunications tower. Very close to the castle, which you can reach by funicular, there is a simple monument to the sardana, the typical Catalan dance par excellence, just in front of where there was an amusement park between 1968 and 1998.
Although the proposal may seem somewhat gloomy at first sight, you can also visit the cemetery of Montjuïc, in which guided tours are organized regularly. The beauty of some of its sculptures and pantheons justifies the visit, just like the cemetery of Poblenou, one of the most beautiful in Barcelona. By the way: did you know that the word Montjuïc means 'mount of the Jews', and refers to a Hebrew cemetery that was in the area in the past?
At nightfall, we recommend you do not to miss the Magic Fountain, a light and sound show that takes place at the fountain next to the Palau Nacional, on Avinguda Maria Cristina (check the schedules in advance). And if you are going to travel to Barcelona for business, you should know that this same artery accommodates a part of the fairground of Fira de Barcelona.
Do you have any more suggestions on what to do in Montjuïc? If so, do not hesitate to send us your comments.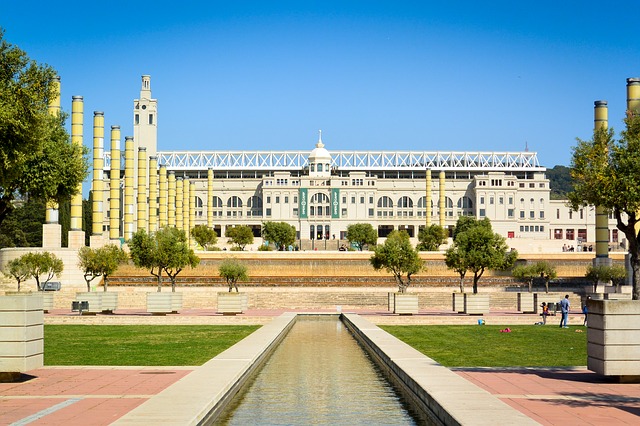 MORE INTERESTING STUFF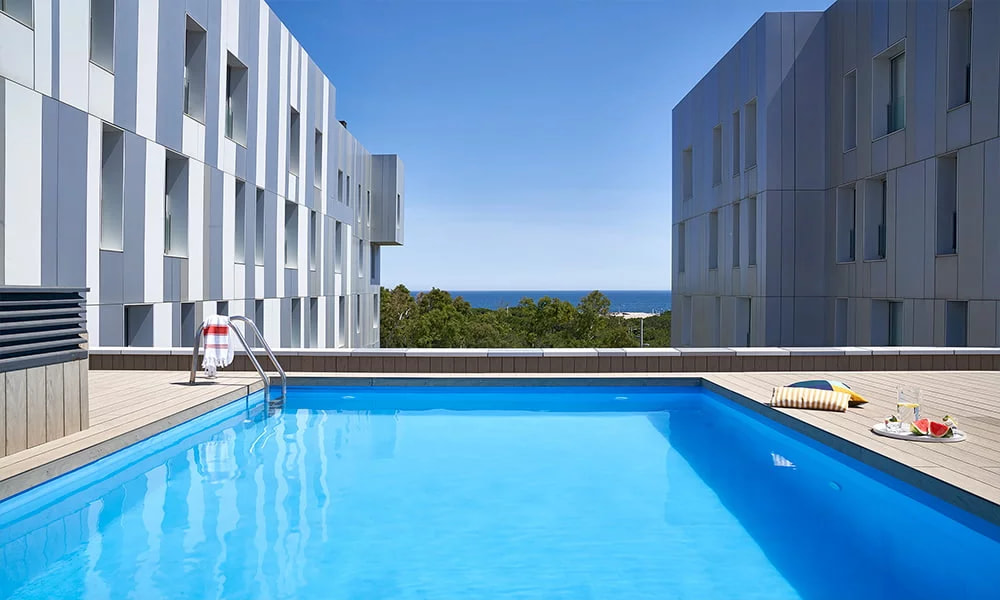 Holiday apartments by the beach in Barcelona
Since 2010, Lugaris Apartaments has been offering you the best holiday rental flats in Barcelona, perfect for a family holiday, with friends or as a couple, or for medium-term stays.
You can choose between apartments near the beach in Barcelona, at Lugaris Beach, with sea views, 2 swimming pools (one for adults and one for children) and capacity for up to 6 people, and the Lugaris Rambla flats, located on the Rambla de Poblenou and just 300 m from Bogatell beach, with a balcony or terrace of up to 22 m2 and ideal for couples or families and groups of up to 5 people. All our luxury flats in Barcelona are air-conditioned and equipped with all the appliances, furniture and bed linen you will need during your stay. They also have satellite TV and free high-speed Wi-Fi connection, as well as a safe and a 24-hour private security service.
What's more, when you make your booking, you can reserve many other additional services: international press in your flat, parking space, transfer service to and from Barcelona airport, bicycle hire, supermarket shopping, museum, sports and show tickets, babysitting service and much more.

For more information, contact Lugaris Apartments without obligation.