Discover the benefits of staying in a holiday apartment near the beach in Barcelona!
Barcelona is a city that has the Mediterranean sea on its doorstep. Known for being a city that never sleeps, it's likely that even if you have a plan for what you'll do when you arrive, it will change as soon as you discover all of the fun leisure activities the city has to offer.
If you want to avoid the hassle of using public transport often to get around the city, we at Lugaris recommend that you choose to stay in a holiday apartment near the beach, where a lot of the action in the city already takes place.
Looking for the best places to stay in Barcelona? Keep reading to learn about the benefits of staying in a Barcelona beach holiday apartment.
Why choose an apartment near the beach in Barcelona?
You've booked your tickets, so now you might be wondering: where is the best place to stay in Barcelona? Unlike a lot of cities, the real buzz in Barcelona is not only in the city centre, but also by its many beaches.
Our Lugaris beach holiday apartments are located right on the beachfront, which offers many advantages. As well as the many options for cultural activities, entertainment and nightlife, one of the greatest advantages of Barcelona is its location on the Mediterranean coast, and its range of quality beaches.
Here are some reasons why choosing a holiday apartment near the beach in Barcelona is the best decision you can make if you want to enjoy the sun and sea as well as explore the city.
Easy access to the beach
Barcelona is a coastal city with an internationally renowned beach. By staying in a Barcelona beach holiday apartment, you will be able to enjoy the sights and sounds of the sea at any time of the day. Pop down to the beach with just your swimsuit and towel to take a dip in the sea without the need to plan or travel.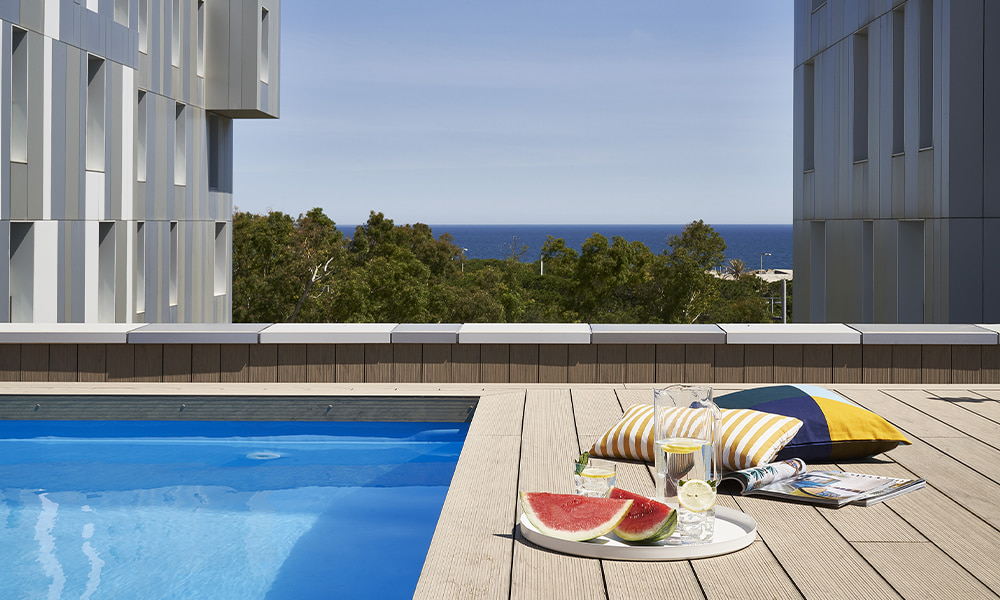 Security
Barcelona is a beautiful city but as in many big cities, there are often problems with theft. At the beach where there are many tourists, this is where the problem can be at its worst. Staying in a Barcelona beach holiday apartment means that you can leave all of your valuables at home when you head to the beach and rest assured that nothing will be stolen.
Activities
Barcelona beach offers a lot of activities such as swimming, paddle surfing, surfing, beach volleyball, and many others. By staying in a holiday apartment so close to the sea, you will be able to book any of these activities whenever you feel like it. In addition, there are many bars and restaurants nearby to go out for a drink or a good meal by the sea.
Services
Barcelona's beaches have a wide selection of services and amenities, such as showers, public toilets, sun loungers, parasols, etc. There are also restaurants right on the beach in summer to enjoy a delicious meal or a refreshing drink.
Comfort
Staying in a Barcelona beach holiday apartment means having everything at your fingertips. Wander down to the beach at your leisure, or head out to explore the city. Many of the city's tourist attractions and places of interest are close to the beach. While Barcelona's public transport is among the most efficient in Europe, no one wants to spend their holiday constantly travelling by metro or bus. Enjoy everything Barcelona has to offer from the comfort of a Lugaris beach holiday apartment.
Great views
Holiday apartments by the beach in Barcelona can offer stunning views of the city and sea. Enjoy Barcelona's spectacular sunrises and sunsets from the comfort of your accommodation.
Good atmosphere
The atmosphere created by its proximity to the sea is one of the many things that makes Barcelona so special. Staying in a holiday apartment by the beach, you'll experience a quiet and relaxed atmosphere, making this the best place to stay in Barcelona if you are looking to disconnect as much as possible and return home recharged.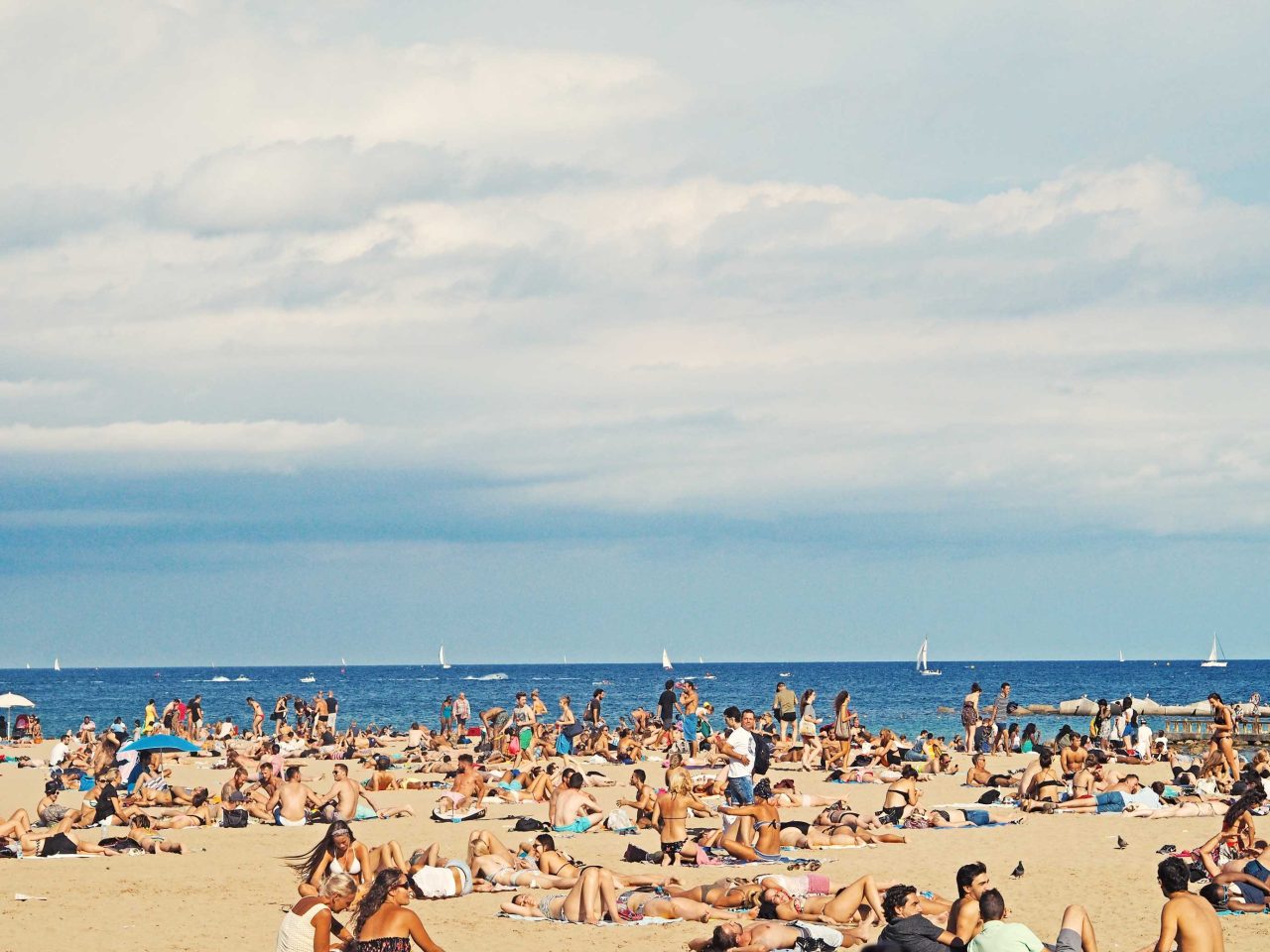 Where are the best beaches in Barcelona?
The Barcelona coastline is made up of 9 beaches that stretch approximately 4.5 kilometres. However, not all of these beaches are ideal places to stay as they are either too far from the city centre, or are located in busy or crowded areas.
For this reason, we at Lugaris suggest the following locations as the best places to stay in Barcelona near the beach.
Bogatell Beach
Bogatell beach is one of the most popular beaches in Barcelona and is located in the district of Sant Martí. It spans 640 metres long and 39 metres wide. Bogatell is an urban beach easily accessible by public transport and has a wide range of services, such as showers, public toilets, sunbathing areas, as well as a large selection of bars and restaurants.
It also offers a sports area where you can play beach volleyball, beach football and petanque. Bogatell beach is popular with both tourists and locals. It is known for its relaxed and quiet atmosphere, which attracts those looking to enjoy the sun and beach in a more relaxed environment than other more crowded beaches in the city.
Mar Bella Beach
Mar Bella Beach is one of Barcelona's most famous beaches and is also located in the Sant Martí district. It measures 500 metres long and 42 metres wide and is a very popular urban beach among young people and families.
It is also known for having a stretch of nudist beach, with a specific area designated for swimmers who wish to enjoy the beach without clothes. In addition to the standard urban beach amenities, such as showers and public restrooms, Mar Bella also has a wide range of sports facilities, such as beach volleyball courts, beach football, and a skateboarding area.
Moreover, there is a nearby club where you can practise water sports such as windsurfing and sailing. Mar Bella Beach is the best place to stay in Barcelona if you are looking for a vibrant and lively atmosphere.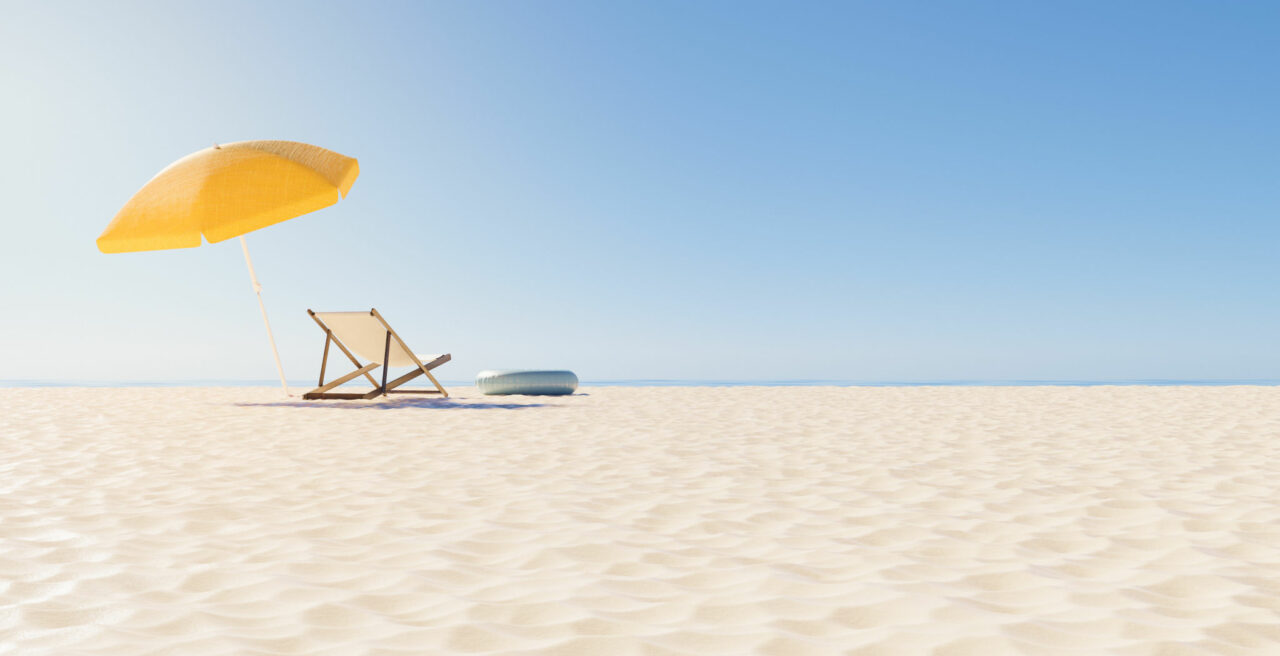 Why stay in a Lugaris beach holiday apartment in Barcelona?
Lugaris offers high quality hotels by the beach in Barcelona with all the amenities you need for an unforgettable holiday.
Still thinking about where to stay in Barcelona? Here are just a few of the reasons why you should choose to stay at a Lugaris holiday beach apartment on your next trip.
Wide selection of apartments
Lugaris offers a wide selection of high quality apartments in different parts of Barcelona, each tailored to the needs of our guests. Whether you are travelling as a couple, family, or group of friends, we've got something to ensure you have a comfortable stay.
Good location
The location of our holiday apartments is another reason why you should choose to stay with Lugaris. With the beach on your doorstep, you'll save so much time in travel, plus you'll enjoy some of the best sea views in Barcelona.
They are comfortable apartments
Lugaris apartments are equipped with all the amenities necessary for a comfortable stay. This includes fully equipped kitchens, bed linen, towels, flat screen TV, air conditioning, free WIFI and much more. Any additional requirements can be requested at the reception.
Customer service
At Lugaris, happy and satisfied guests are why we do what we do. We offer exceptional customer service, with a multilingual team available to help you with any questions or problems you may have during your stay.
Flexibility in your stays
Lugaris offers great flexibility in terms of length of stay. This means that you can book your apartment for as long as you need, whether for one night or for a longer stay.
There are so many reasons why you should choose to stay in a holiday apartment near the beach in Barcelona and at Lugaris, we have the best apartments ready and waiting. Take a look at our website to book an unforgettable stay in Barcelona.
NUESTROS APARTAMENTOS EN BARCELONA
Since 2010, Lugaris Apartaments has been offering you the best holiday rental flats in Barcelona, perfect for a family holiday, with friends or as a couple, or for medium-term stays.
You can choose between apartments near the beach in Barcelona, at Lugaris Beach, with sea views, 2 swimming pools (one for adults and one for children) and capacity for up to 6 people, and the Lugaris Rambla flats, located on the Rambla de Poblenou and just 300 m from Bogatell beach, with a balcony or terrace of up to 22 m2 and ideal for couples or families and groups of up to 5 people. All our luxury flats in Barcelona are air-conditioned and equipped with all the appliances, furniture and bed linen you will need during your stay. They also have satellite TV and free high-speed Wi-Fi connection, as well as a safe and a 24-hour private security service.
What's more, when you make your booking, you can reserve many other additional services: international press in your flat, parking space, transfer service to and from Barcelona airport, bicycle hire, supermarket shopping, museum, sports and show tickets, babysitting service and much more.

For more information, contact Lugaris Apartments without obligation.