Traveling to Barcelona for sports reasons is getting more and more popular. To prove it, here's a fact: in the last marathon organized in the Catalan capital, almost half of the runners were foreigners, coming from more than a hundred other countries, such as France, United Kingdom, Italy, Germany or Poland. A fact that confirms the good moment that sports tourism lives in Barcelona.
It's not the only one; According to Turisme de Barcelona, the percentage of participants from other nationalities is even higher in other tests, such as the demanding Ironman, where 5 out of every 6 competitors are foreign. The same applies to some of the great sports shows that take place in Barcelona every year and attract a large number of tourists from other nationalities.
If you want to add the opportunity to exercise on your next trip to Catalonia, we recommend that you continue reading, since we have compiled for you the 12 most popular sporting events in Barcelona.
And after taking part, you have the possibility of regaining strength in the apartments near the beach of Barcelona, where you will find everything you need to enjoy a more than deserved rest.
EDREAMS HALF MARATHON OF BARCELONA
The first of the great sporting events takes place on the third Sunday of February. This is the Half Marathon in Barcelona, a 13.1-mile (21.1 km) race that began to take place in 1991, and that is already reaching the 20,000 people registered per edition. A figure that also continues to grow year after year. This demanding test, which usually has a circular route, starts at 08:45 in the Poblenou neighborhood, where our holiday apartments are located, and ends at 11:30. Are you going to miss next year's?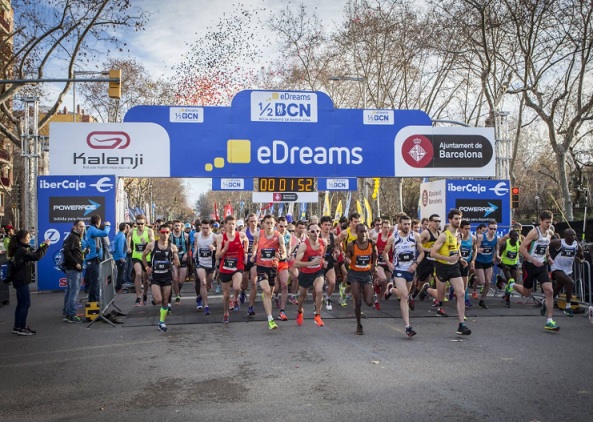 ZURICH BARCELONA MARATHON
The third Sunday of March witnesses the most important athletic event in the Catalan capital: the Zurich Marathon of Barcelona. Its 26.22-mile (42.2 km) route includes some of the most emblematic streets and avenues of the city center. The number of annual participants is very similar to that of the half marathon, since it is above 20,000 people. What are you waiting for to join them?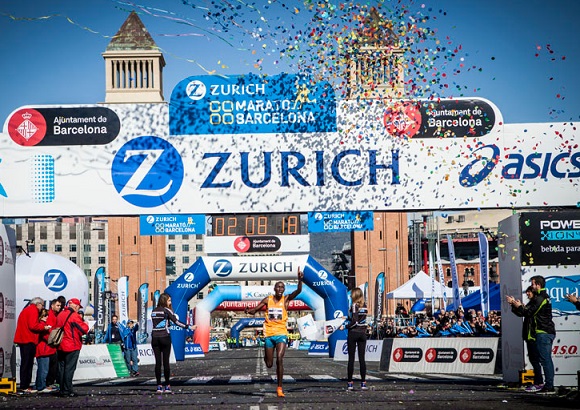 EL CORTE INGLÉS RACE
Since its first edition in 1979, this is one of the essential dates for runners. Organized by El Corte Inglés and with the support of the Barcelona City Council, it takes place in a 6.69-mile (10.766 km) circuit through the city center. The starting point is at the confluence of Plaça de Catalunya with the Gràcia promenade. After running through this artery and turning down Carrer Aragó, the runners pass through such emblematic places as the Plaça de Espanya, the Montjuïc mountain or the Paral·lel avenue, before concluding at the starting point.
In 1994, this race entered the Guinness Book of Records for having been the one with the most participants to date, with 109,457 athletes, which has also been its best historical record. One last reason to get sweaty with this test: registration is free.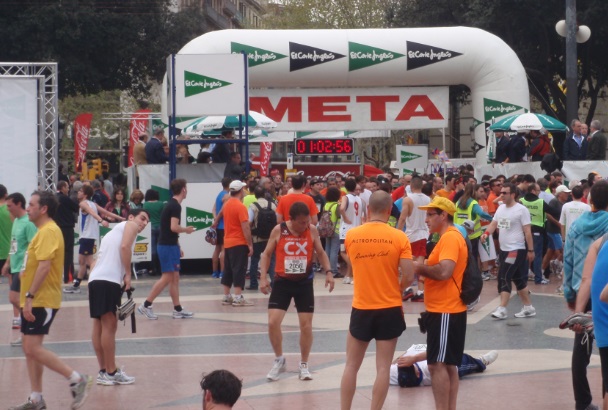 CURSA DE BOMBERS
The month of April brings the Cursa dels Bombers (Firemen's race), the most popular 6.21 (10 km) race in Barcelona. With more than two decades behind it, this test starts at 09:00 a.m. on Carrer Marquès de l'Argentera. As the name implies, the center of attention during this day are the firefighters of Barcelona, although this event is open to anyone who wants to put on their running shoes and run alongside them. Want to give it a try?
In its 2019 edition, the race moved to October due to the call for general elections on the date originally scheduled.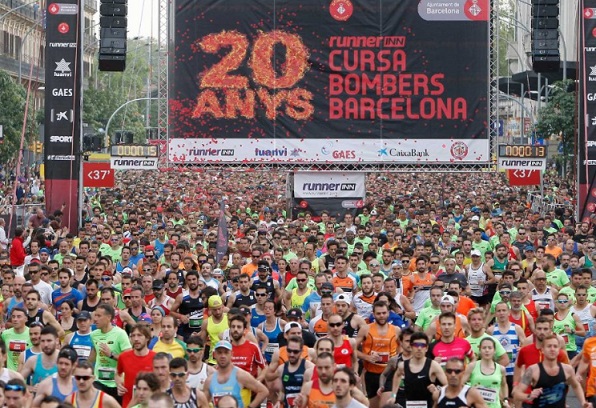 CURSA DE LA MERCÈ
One of the main events in Barcelona, the Mercè festivities —dedicated to the patron saint of Barcelona— also accommodates one of the most veteran races in the city, as it began to be celebrated more than 40 years ago. In mid-September, about 15,000 runners who are aiming to run the 6.21-mile (10 km) route. It is also a solidarity initiative, since the amount collected through registration —approximately 5 euros per person— goes to various NGOs, medical research and other non-profit projects.
The test takes place on the third Sunday of September and starts at 09:00 a.m. on Avinguda de Maria Cristina, in Montjuïc. Shall we see you there?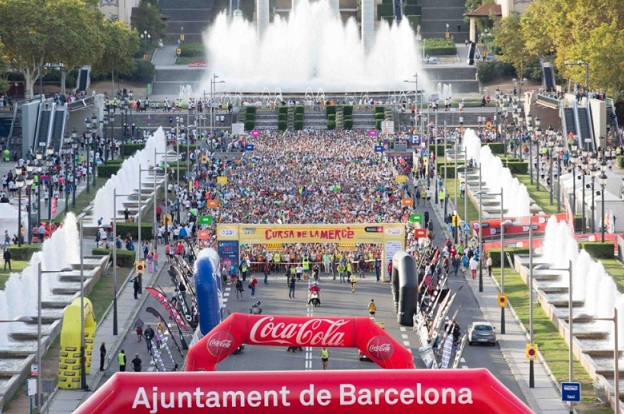 BARCELONA TRIATHLON
The first Sunday of October comes loaded with adrenaline. One of the options for sports tourism in Barcelona on that date is to take part in the Barcelona Triathlon. In this sporting event, triathletes must measure themselves with three sports disciplines: swimming, cycling and running, which are carried out in this order and without interruption. In the case of the swimming test, the chosen background is the Nova Mar Bella beach, located a short distance from our rental apartments in Barcelona. Therefore, if you stay with us, you can cheer on the athletes, even if you don't take part in the triathlon. How about that?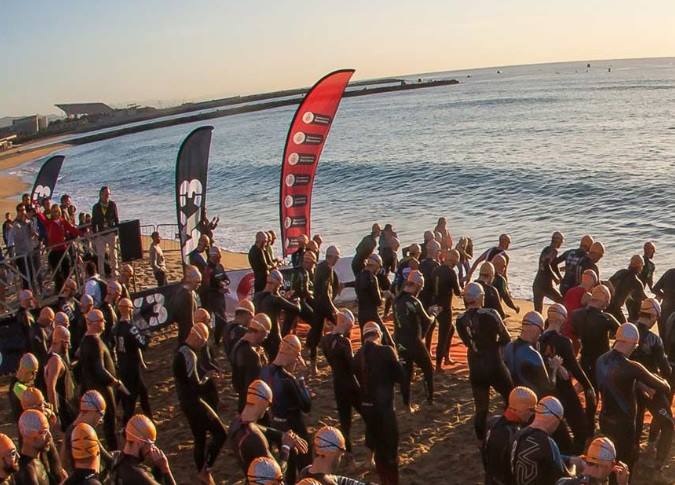 BARNATRESC INTERNACIONAL
Every month, except in August, the Association of Excursion Entities of the Barcelonès (AEEB), with the support of the Barcelona City Council, organizes a hiking route through Barcelona city, designed to promote healthy habits among citizens and promote some unknown places in Barcelona and its surroundings. However, the challenge is twofold the first weekend of October with Barnatresc International, as two 12.42 and 18.64-mile (20 and 30 km) walking itineraries are offered on Saturday and three 12.42, 18.64 and 24.85-mile (20, 30 and 40 km) walking itineraries on Sunday -Each participant must choose what distance they want to walk-, by the municipality and its surroundings. Although a time limit is set for departure and arrival, this hike is not competitive, since there is no official timing. The only aim is to play sports and discover some emblematic corners of the Catalan capital.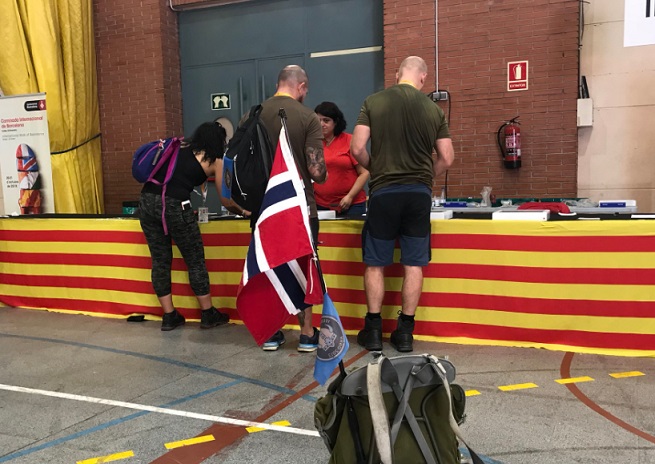 IRONMAN BARCELONA
This is another great date for the first Sunday of October. This extreme test takes place in the Barcelona town of Calella de Mar, in the Maresme region, and attracts competitors from all over the world. The challenge athletes face is enormous: swim 2.36 miles (3.8 km) in Mediterranean waters, make a fast bike circuit and finally run a marathon between the municipalities of Calella and Santa Susanna. A challenge available to very few.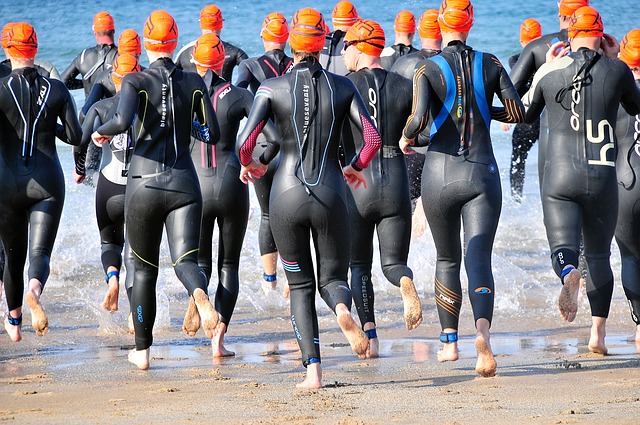 THE COLOR RUN
Created in 2012, The Color Run is a 3.1-mile (5 km) race with no time limit and with a particularity: at each kilometer point the participants throw colored pigments above, in the purest style of the Spring Festival, also called Holi, it takes place in India. Today, this test is held in more than 300 cities around the planet. If you want to participate in the one in Barcelona, we advise you to register online as soon as possible, since the limit of runners is 15,000.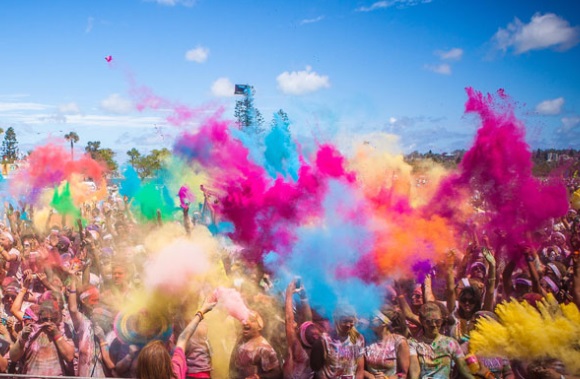 WOMEN'S RUN OR CURSA DE LA DONA
On the first Sunday of November, Barcelona accommodates the largest women's sporting event in Europe, which also has other Spanish cities as its setting. Each year, a pink tide formed by 35,000 women travels 4.87 miles (7.8 km) between Avinguda de Maria Cristina and Avinguda de Rius i Taulet to give visibility and help combat the scourge of gender-based violence. Want to sign up to support a good cause?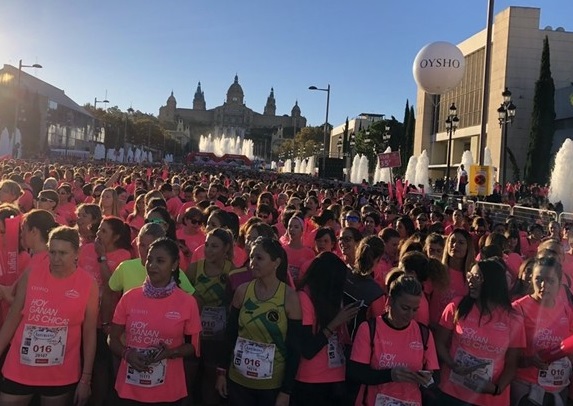 NADAL CUP IN PORT DE BARCELONA
Every December 25 and for more than 90 years, the most intrepid defy the cold temperatures of winter in Barcelona by diving into the icy waters of the port of Barcelona and swimming a distance of 200 m. Do you dare to face the thermometer?
/p>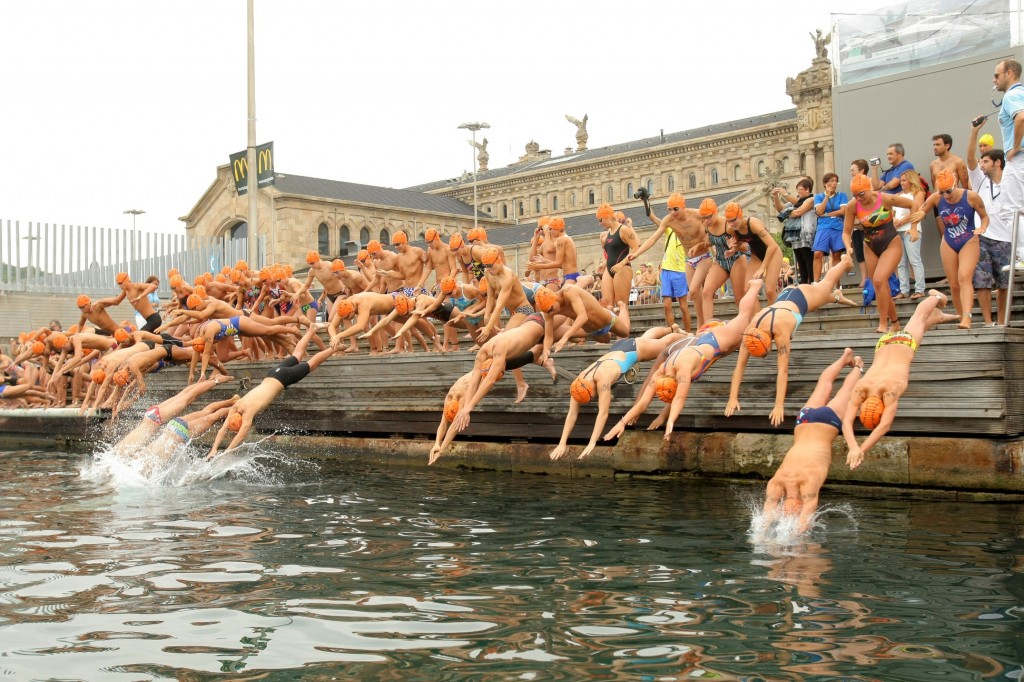 CURSA DELS NASSOS
The opportunities for sports tourism in Barcelona last until the last day of the year. Every December 31, thousands of runners say goodbye to the year by taking part in the Cursa dels Nassos, a traditional end-of-the-year 6.21-mile (10 km) race that starts at the Selva de Mar metro station starting at 5:00 p.m., very close to the Lugaris apartments in Barcelona. Do not miss it!
In addition to the popular sports events mentioned, this list could be completed with other sports shows and top-level competitions that take place in Barcelona and its surroundings, such as the Banc Sabadell Tennis Open Conde de Godó, the F1 Grand Prix of Spain, the Moto GP Grand Prix of Catalonia or the FC Barcelona or RDC Espanyol matches in European competitions.
What are you waiting to enjoy sports tourism in Barcelona too?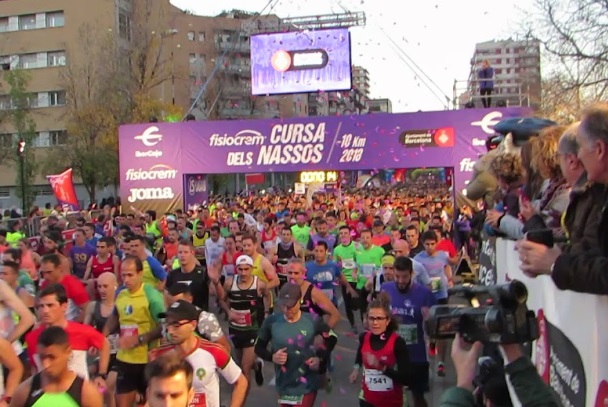 MORE INTERESTING STUFF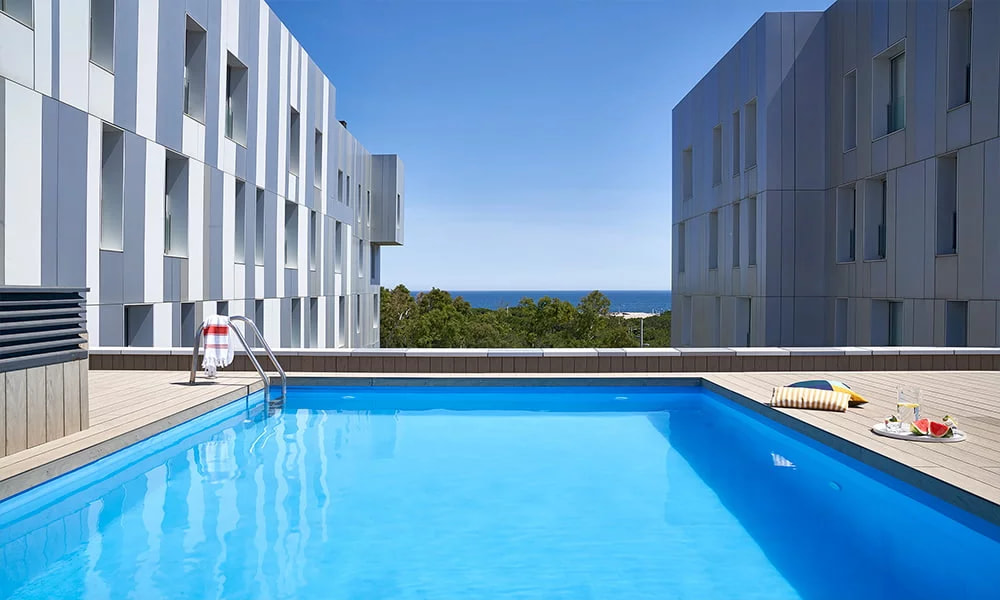 Holiday apartments by the beach in Barcelona
Since 2010, Lugaris Apartaments has been offering you the best holiday rental flats in Barcelona, perfect for a family holiday, with friends or as a couple, or for medium-term stays.
You can choose between apartments near the beach in Barcelona, at Lugaris Beach, with sea views, 2 swimming pools (one for adults and one for children) and capacity for up to 6 people, and the Lugaris Rambla flats, located on the Rambla de Poblenou and just 300 m from Bogatell beach, with a balcony or terrace of up to 22 m2 and ideal for couples or families and groups of up to 5 people. All our luxury flats in Barcelona are air-conditioned and equipped with all the appliances, furniture and bed linen you will need during your stay. They also have satellite TV and free high-speed Wi-Fi connection, as well as a safe and a 24-hour private security service.
What's more, when you make your booking, you can reserve many other additional services: international press in your flat, parking space, transfer service to and from Barcelona airport, bicycle hire, supermarket shopping, museum, sports and show tickets, babysitting service and much more.

For more information, contact Lugaris Apartments without obligation.