Did you know that, like Rome, Barcelona sits on seven hills? Moreover, we should add the two mountains between which the city spreads out: Montjuïc, located by the sea, and Tibidabo, whose 512 m altitude makes it the highest point in the municipality. This gives us a clue about the many green lungs that the Catalan capital has, among which there are also urban parks, so why not take advantage of them to enjoy a delicious meal in the open air? But to make sure you make the right choice; you can't miss out on the 10 best places to go for a picnic in Barcelona.
All these proposals will allow you to be in contact with nature without giving up on the comforts, services and leisure opportunities that urban tourism offers. Plus, this is an unbeatable option for those who are thinking of travelling to Barcelona with children. Want to sign up for this plan? If so, don't miss out on these recommendations.
1. PARC DE LA CIUTADELLA
Located in the Ciutat Vella district, this was the only public park in Barcelona for many years. Erected on the grounds of the former military fortress that gives it its name, and very similar to the Luxembourg Gardens in Paris, this space was built between 1872 and 1888, following the design of José Fontseré. In 1888, it hosted the Universal Exhibition in Barcelona. Today, its 17.42 hectares – 31 if Barcelona zoo is included – are home to numerous attractions, such as a monumental fountain, a life-size sculpture of a mammoth, a lake where you can take a pleasant rowing-boat ride, the former Museum of Zoology, the Hivernacle, a military church, the former headquarters of the Museum of Zoology and the Parliament of Catalonia, opposite which is a lake with the sculpture El Desconsol by Josep Llimona. It is also very close to the Arc de Triomf, one of the icons of Barcelona.
Take advantage of this unique space to recharge your batteries among linden trees, magnolias, poplars and many other species of trees and plants. To get there, use the metro – getting off at Arc de Triomf (L1) or Barceloneta (L4) – or the train, going to the Arc de Triomf or França station.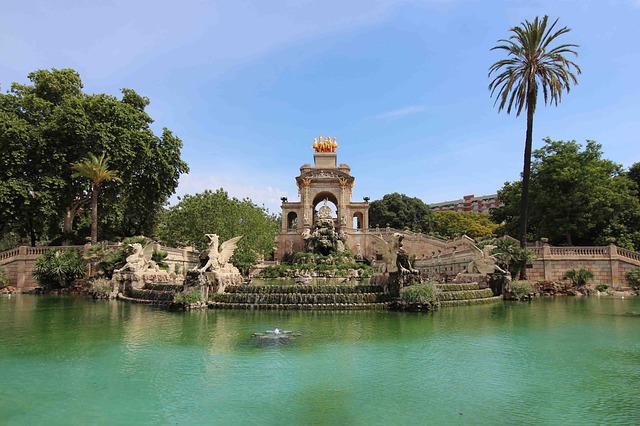 2. CERVANTES PARK
We now move to the district of Les Corts to invite you to eat surrounded by the intense aroma of roses. To do so, our advice is not miss out on Cervantes Park. Designed by Lluís Riudor i Carol and opened in 1965, it covers an area of 87,665 m2 and has around 11,000 rose bushes, with flowers of 245 different species. The presence of pergolas and sculptures add the finishing touches. Despite its undeniable charm, this space is rarely visited by tourists, so it is perfect if you want to immerse yourself in the most authentic Barcelona.
To get there, the best way is to take the metro to the Palau Reial stop (L3). The park is open daily from 10 am to 9 pm. Access is free.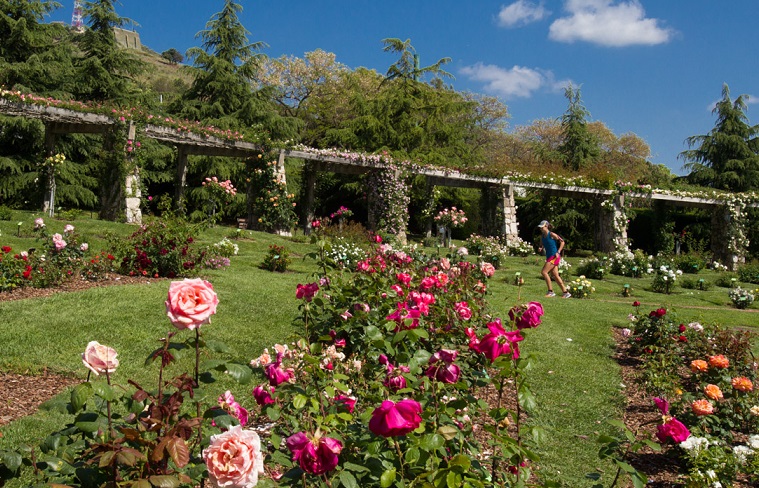 3. POBLENOU CENTRAL PARK
Inaugurated in the spring of 2008, this unique spot in the Poblenou district combines architecture and nature in a great diversity of environments. It covers an area of 55,000 m2, distributed between the streets of Bilbao, Marroc and Bac de Roda, as well as the Avinguda Diagonal. Outside the park, a large perimeter wall covered with Mediterranean vegetation welcomes visitors with Gaudí-like accesses. The purpose of its promoters was to make this park a space that would combine different habitats and offer a place to disconnect, which they have more than achieved. There you can rest in comfortable metal chairs in the shade of a thick and colorful vegetation, while you enjoy a delicious lunch or snack.
The nearest metro stop is Selva de Mar (L4).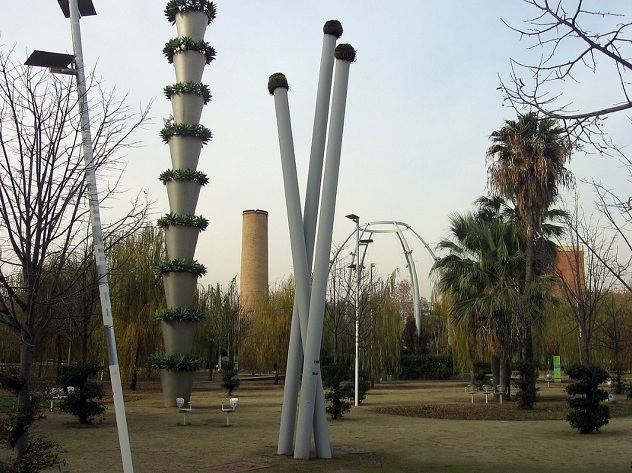 4. MAR BELLA URBAN SPORTS PARK
If you or your companions are passionate about skating, you can't help but discover this incredible corner next to the beaches of Barcelona. This Mar Bella park, of nearly 3,000 m2, has everything you need to unload adrenaline on your skateboard, such as ramps prepared for skaters to do jumps, turns and pirouettes. When the physical exercise is over, a large grass area is the ideal excuse to sit down and recharge your batteries.
This park is just a few meters away from our holiday apartments in Barcelona, so you will be there in a matter of minutes if you decide to stay with us. The nearest metro stops are Poblenou and Selva de Mar, both on the L4.
The only drawback is that access is through the Tibidabo Amusement Park (fee). Check the access times depending on the time of year you travel to Barcelona.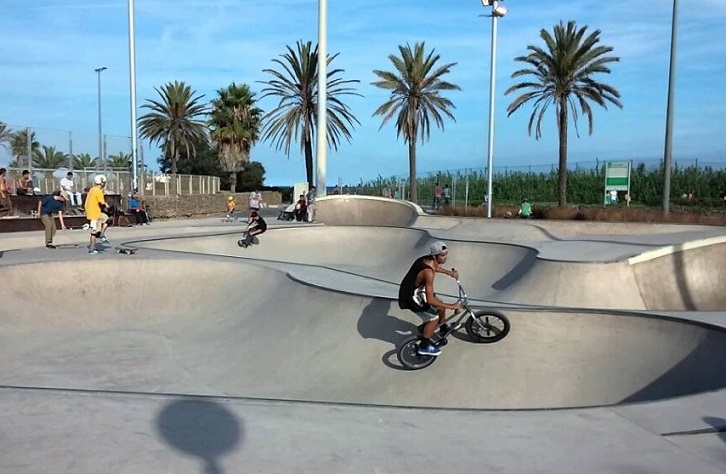 5. CAN BORNI
Within our selection of the 10 best places to go for a picnic in Barcelona, this is perhaps the least known, even by the locals themselves. The Can Borni nursery is located in the district of Horta-Guinardó, and on the iconic mountain of Tibidabo. Built between 1917 and 1923 and restored in 2006, it was a former nursery for new plants at the Institute of Parks and Gardens of Barcelona, before becoming one of Barcelona's public gardens. The land is distributed in several terraces that receive water from a fountain located in the mountain. Its Mediterranean plants will make you forget that you are on holiday in an urban center. Do you dare to check it out on site?
The only drawback is that access is through the Tibidabo Amusement Park (fee). Check the access times depending on the time of year you travel to Barcelona.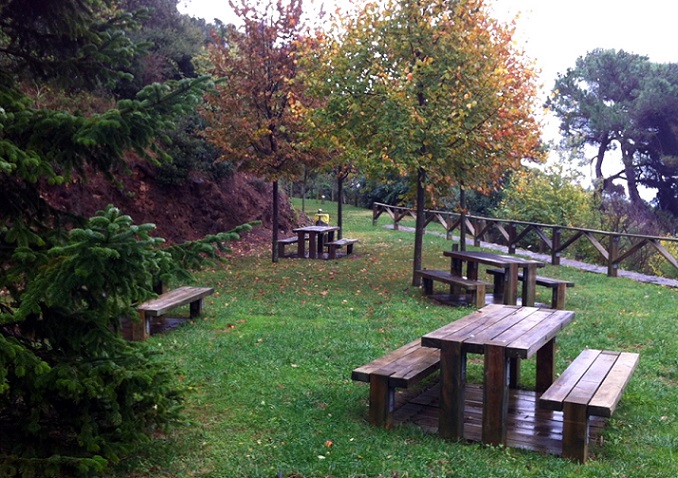 6. LABERINT D'HORTA PARK
We are not leaving Horta-Guinardó yet, as the oldest garden in Barcelona (1794-1808) is an unbeatable option for picnics. In a neoclassical and romantic style and converted into a public park in 1971, its main attraction is a plant labyrinth created with cut-out cypresses. In addition to this, there are numerous sculptures, ponds, fountains, waterfalls and a canal that crosses the upper area. Some Spanish monarchs have walked around its gardens, such as Charles IV, Ferdinand VII and Alfonso XIII, and it has been the scene of plays, films and cultural events. Are you going to miss it?
If you want to relax in this incomparable setting, take the metro to Vall d'Hebron (L3 and L5).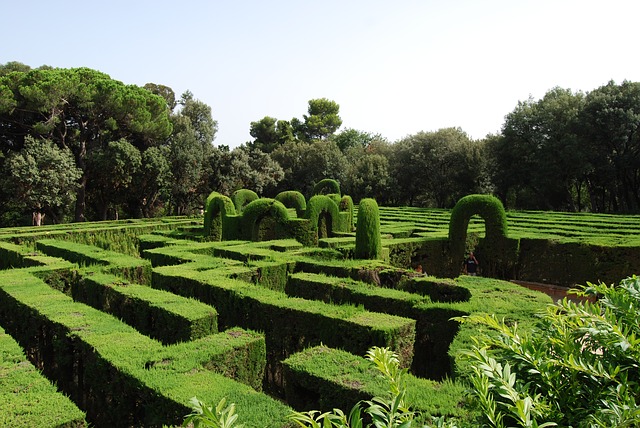 7. PARC DE L'ORENETA
This park, opened in 1978 and was remodeled in 1993, it is located in the foothills of the Collserola mountain range and in the district of Sarrià-Sant Gervasi, one of the most elegant and peaceful districts of Barcelona. With vegetation dominated by holm oaks, pines and carob trees, this was the site of the 1910 Oreneta Castle, which was destroyed during the Civil War. It also housed a farmhouse, Can Bonavista, which was acquired by the Red Cross for the construction of a hospital that was never built. Finally, ownership passed on to the Barcelona City Council. In the upper area, there is a children's play area, a pony track and a miniature train circuit that operates on Sundays and holidays from 10:30 am to 1:30 pm. Of course, you'll also find picnic tables, and facilities for playing table tennis.
You can get there with the Ferrocarrils de la Generalitat de Catalunya (FGC), going to the Reina Elisenda stop, or by car, taking the Ronda de Dalt and getting off at exit 9 (Sarrià, Caralleu).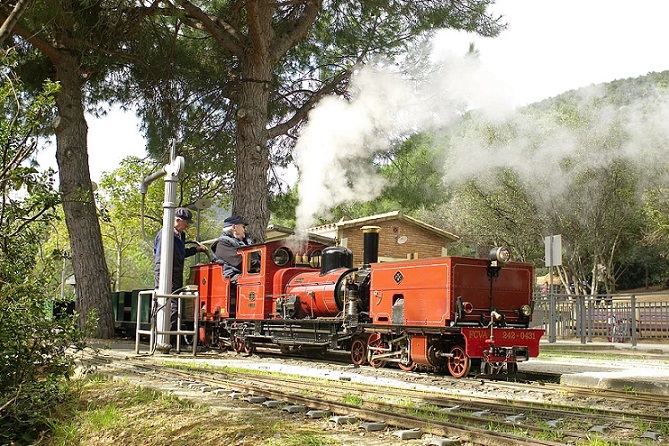 8. TURÓ DE LA PEIRA PARK
Once known as the Turó del Montarell, this 133-metre hill guarantees shade for visitors thanks to its dense pine forest. In 1936, it became one of the first public parks in the city and was used as a firewood reserve during the Civil War. Its 7.71 hectares full of paved paths are ideal for running in Barcelona. You will find picnic tables and, at the top, a viewpoint with a cross that will give you unique views of the Catalan capital.
The nearest metro station is Vilapicina (L5).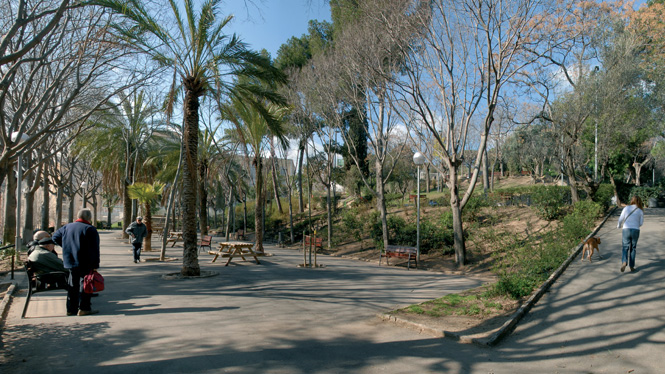 9. COLL DEL PORTELL
Although we have already referred to this magnificent hill when talking about the best viewpoints in Barcelona, it is worth going back to this space as a picnic area. Although to get there you will have to make a long route on foot from Les Planes -a place you can reach by taking the FGC-, you will reach the Coll d'en Portell (351 m), a hill that will allow you to eat with Barcelona at your feet. There, a comfortable wooden bench awaits you so that you can enjoy an aperitif in the open air with the city at your feet. Can you imagine it?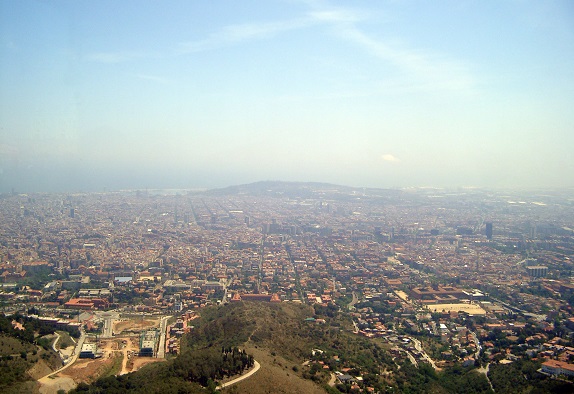 10. MIRADOR DE L'ALCALDE GARDENS
We close our tour in one of the most emblematic spaces of the mountain of Montjuïc: the gardens of the Mirador de l'Alcalde (1962-1969). Get ready to enjoy its seductive paths, flowerbeds, vegetation, a pond, fountains, rest areas… And to top it off, you will be able to enjoy a panoramic view of Barcelona that will leave you speechless.
These gardens, located on the road to Montjuïc, S/N, are open daily from 10:00 am to 7:00 pm. However, the closing time is approximate, as in winter they are closed when the sun goes down.
Do you have any ideas to extend this list with the 10 best places to go for a picnic in Barcelona? In that case, don't hesitate to send us your suggestions, we look forward to hearing from you!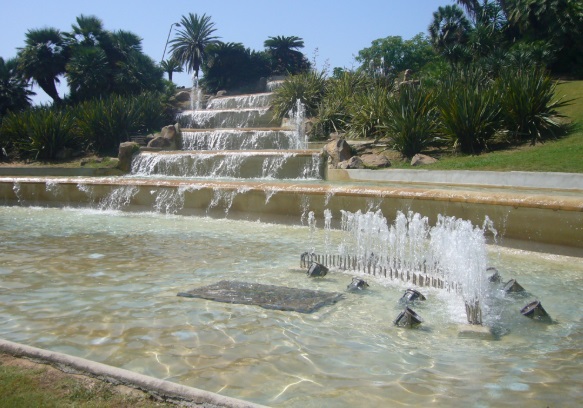 MORE INTERESTING STUFF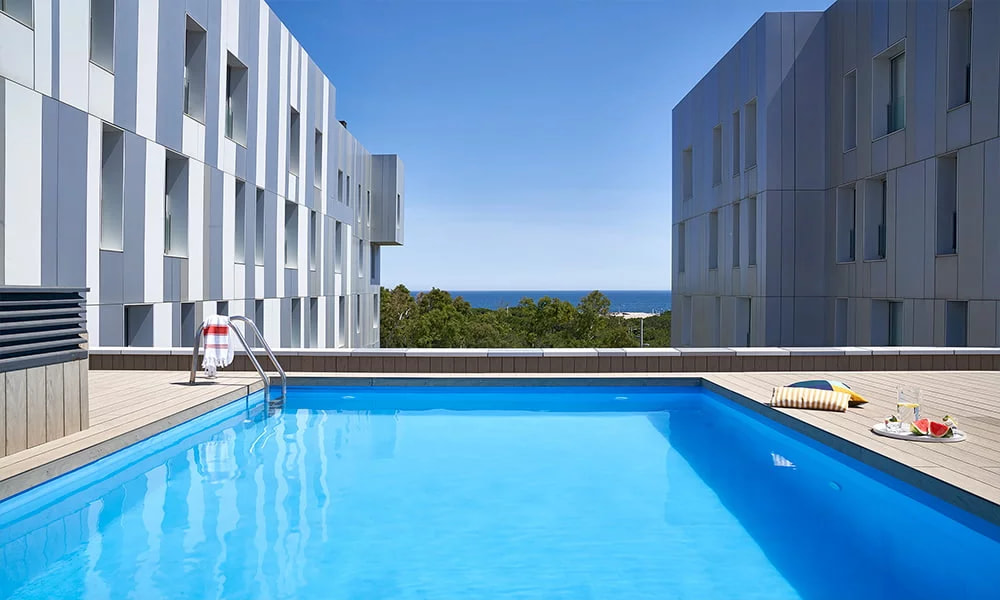 Holiday apartments by the beach in Barcelona
Since 2010, Lugaris Apartaments has been offering you the best holiday rental flats in Barcelona, perfect for a family holiday, with friends or as a couple, or for medium-term stays.
You can choose between apartments near the beach in Barcelona, at Lugaris Beach, with sea views, 2 swimming pools (one for adults and one for children) and capacity for up to 6 people, and the Lugaris Rambla flats, located on the Rambla de Poblenou and just 300 m from Bogatell beach, with a balcony or terrace of up to 22 m2 and ideal for couples or families and groups of up to 5 people. All our luxury flats in Barcelona are air-conditioned and equipped with all the appliances, furniture and bed linen you will need during your stay. They also have satellite TV and free high-speed Wi-Fi connection, as well as a safe and a 24-hour private security service.
What's more, when you make your booking, you can reserve many other additional services: international press in your flat, parking space, transfer service to and from Barcelona airport, bicycle hire, supermarket shopping, museum, sports and show tickets, babysitting service and much more.

For more information, contact Lugaris Apartments without obligation.