Barcelona plays an essential role in the Spanish theater scene for various reasons. In addition to accommodating around 50 theaters, the Catalan capital has seen two of the greatest opera figures of all time: Montserrat Caballé and Josep Carreras.
And that's not all: in fact, did you know that theater in Barcelona has a history that goes back more than 400 years? It was at the end of 1579 when the Teatro del Hospital de la Santa Creu, renamed as Teatre Principal, was permanently granted exclusive theatrical performances. Therefore, the city has now turned into a compulsory stop for fans of dramatic art.
Possessing a varied and perfect billboard for all audiences -even for all those who plan to travel to Barcelona with children-, this is an ideal option for those who wish to put the cultural touch to their weekend getaway.
From Lugaris, we encourage you to round off your stay in our apartments on the beach with a visit to the best theaters in Barcelona. Here are some of the most tempting suggestions. Do not miss out on them while on your next holiday!
EL GRAN TEATRE DEL LICEU
If there is a space with a special emotional charge, that is the Liceu, the largest operatic colosseum in the city and the flagship of Las Ramblas. Opened on April 4, 1847, it reopened its doors in 1999, completely renovated, after a fire destroyed it on January 31, 1994. The shows take place almost every day and accommodate different genres: from Classical opera to the operetta, as well as some Broadway hits or magnificent contemporary scenic art.
The main hall has a capacity of 2,286 seats distributed over an area of 360 m². It also has a space of 530 m² to organize banquets, with seating for 530 people. The big events also take place in the Saló dels Miralls ('Hall of Mirrors'), in the lobby.
Since its reopening in 1999, the theater of the Liceu has been equipped with the greatest advances to allow an agile and efficient change of scenery.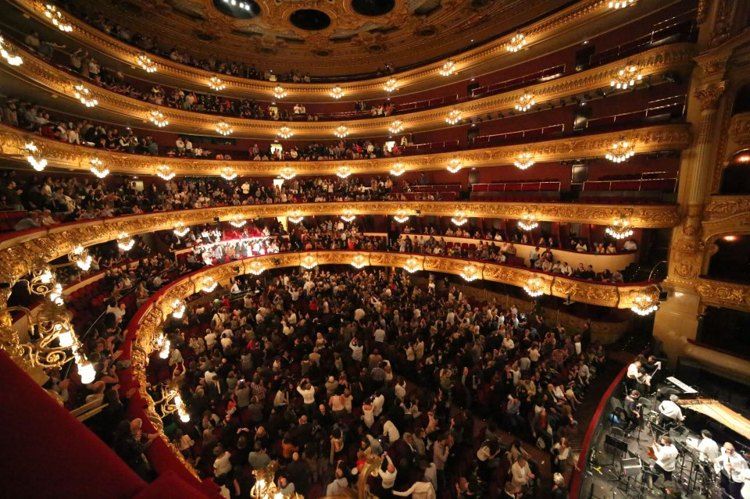 PALAU DE LA MÚSICA CATALANA
Undoubtedly, another interesting place for tourists, with the claim to have been declared a World Heritage Site by UNESCO in 1997. Its architect was the Catalan architect Lluís Domènech i Montaner, one of the pillars of modernism. With an eclectic appearance, its façade and interiors house an explosion of mosaics, a beautiful inverted geodesic dome, floral ceramic motifs and an unparalleled ornamental symphony.
There you will find classical music concerts, flamenco and jazz, without forgetting its emblematic recitals of Spanish guitar, considered the best in the international scene. If you want to enjoy the best guitarists in the world, this will be an unbeatable choice.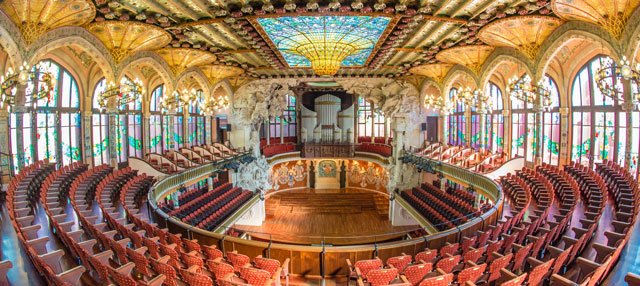 TEATRE LLIURE
Located in Montjuïc, it is a theater dedicated to the representation of contemporary works, as well as great classics such as Shakespeare's pieces. The original distribution of its rooms helps to create a closeness between the actors and the public. Do you live outside Catalonia and are you worried about the language? In that case, you will like to know that this theater has a subtitling service in Spanish and English to follow the plays that are represented in Catalan.
By the way: the theater is the headquarters of one of the best contemporary ballet companies in Europe. A real perk for dance enthusiasts.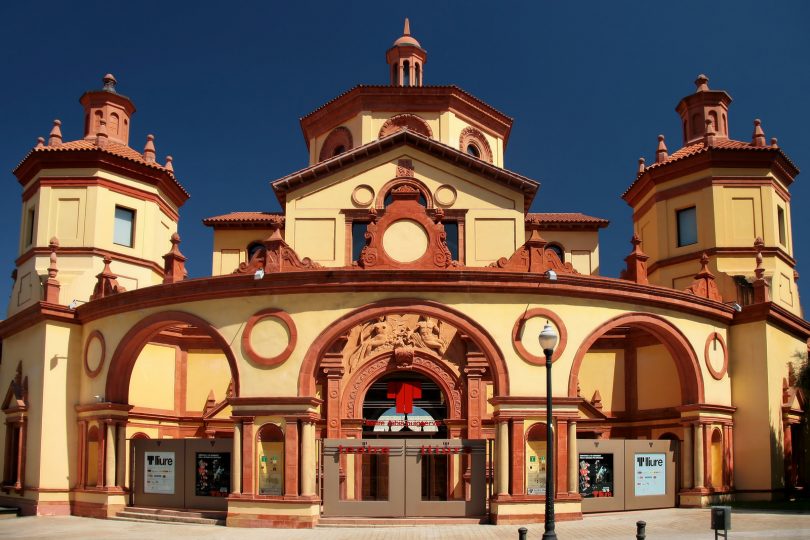 TEATRE NACIONAL DE CATALUNYA
Opened in November 1996 and designed by Ricardo Bofill, whom was inspired by a classical Greek temple, this Poblenou theater is dedicated to national dramaturgy. From time to time, musical performances, talks, workshops and various cultural proposals are also scheduled, which add the icing on the already golden cake that its interesting theater program is.
The works are usually in Castilian or Catalan, although the latter are also subtitled in Spanish.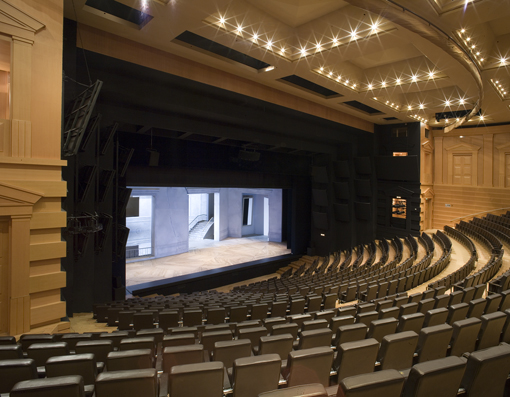 L'AUDITORI
Located a short distance away from the previous one, this theater project by the Navarrese architect Rafael Moneo was inaugurated in March 1999 and is intended both for the organization of concerts (especially of classical pieces) and for musical dissemination. In this sense, we must not lose sight of the fact that the complex, known as the City of Music, also houses the Museum of Music of Barcelona.
Periodically, its four rooms are also rented to host events.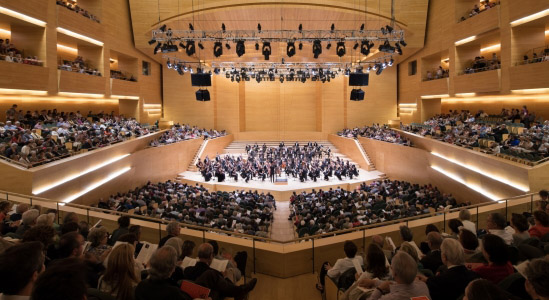 TEATRE CONDAL
In the 1930s, the lively avenue of Paral·lel, in Poble-sec, next to Raval, earned the nickname of European Broadway, given its large concentration of theaters, superior to that of any other city on the Old Continent. Among the survivors of that golden age is the Teatre Condal, a venue that has 697 seats and is more than a hundred years old (it was inaugurated in 1903). There you will be able to enjoy first-level Spanish artists, monologuists, national and international classic works, comedies and many other proposals that justify the visit.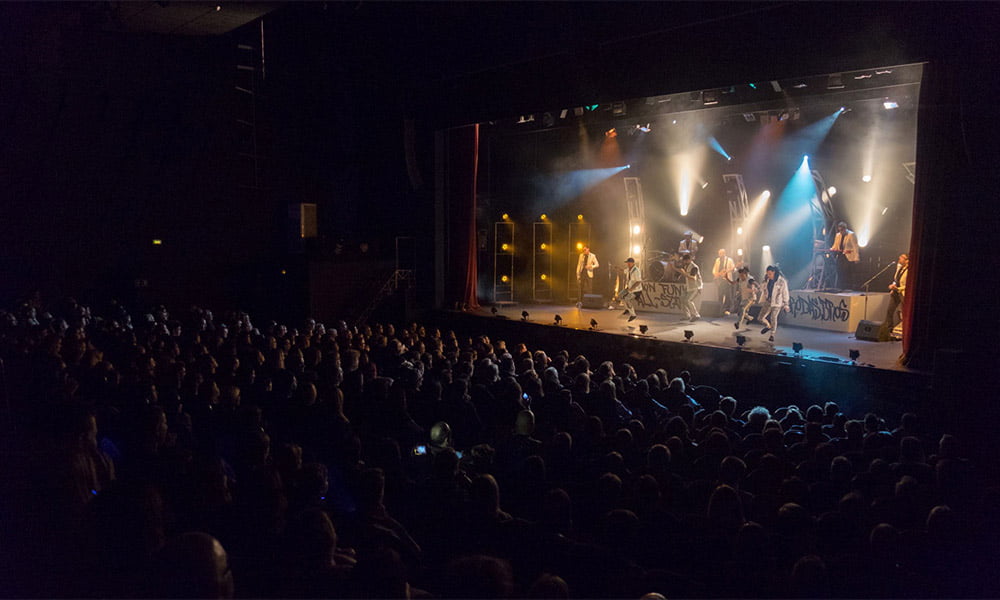 TEATRO VICTORIA
Privately owned and also located on Avenida del Paral·lel, it specializes in comedy and musicals, as well as zarzuelas and other light pieces of classical Spanish theater. This makes it a success amongst the cultural offer in Barcelona. Not far from there, the legendary El Molino opens its doors, an institution in the variety shows and cabaret, which is also more than a century of history.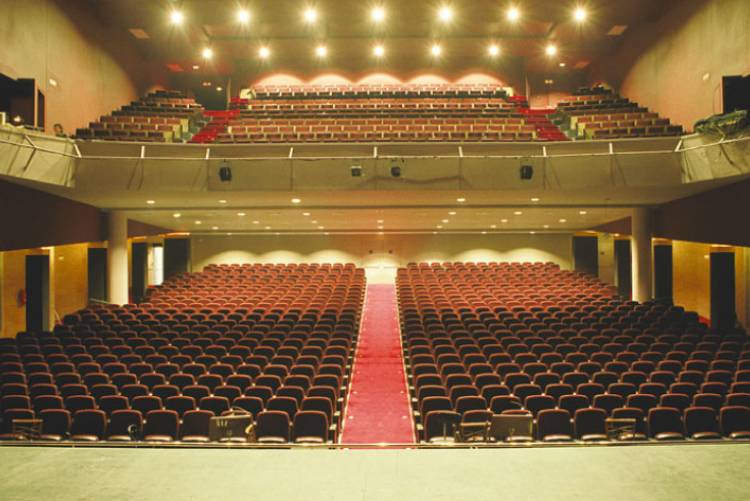 TEATRE POLIORAMA
Created at the end of the 19th century, converted into a cinema and recently renovated, this private theater on the Rambla usually includes musicals and comedy pieces in its program. Its central location, a few steps from the fountain of Canaletas, make it an ideal option for those wishing to go to the theater in Barcelona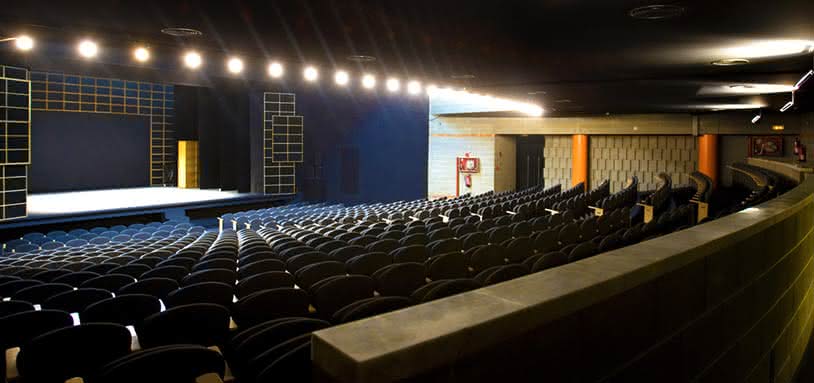 TEATRE TÍVOLI
Opened in 1919 and belonging to the Balañá group of cinemas and theaters, this historical theater on Carrer de Casp, 8, a short distance from Plaza de Catalunya, is an unbeatable option to see zarzuelas, musicals and monologues by the main comedians of our country.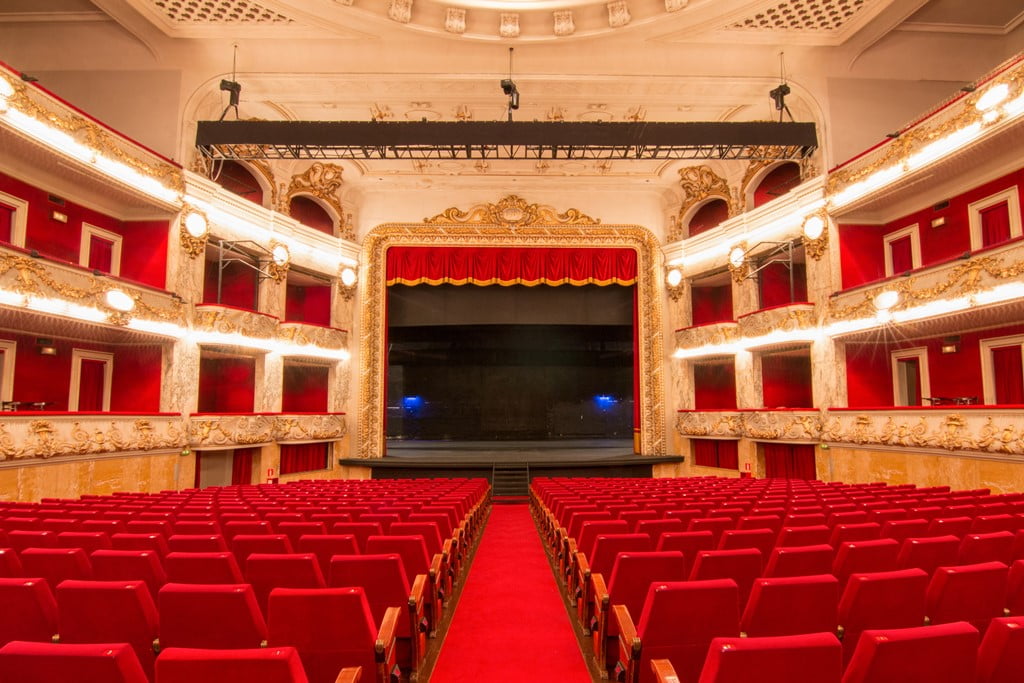 However, in addition to these theaters, there are many other venues in Barcelona. Among them, the Teatre Goya, in the emblematic street of Joaquín Costa, in the Raval; the Teatreneu, in Gràcia, famous for the presence of consecrated monologueists; the Teatre Romea (in Calle del Hospital, 51), with more than a century and a half of life and capacity for 660 spectators; the Club Capitol, on the Ramblas, created in 1926 as a cinema and turned into a theater in 1989 to house comedies and monologues; La Seca Espai Brossa, in El Born, and in which the viewer is only a few meters away from the actors; the Teatre Gaudí Barcelona, near the Sagrada Familia and that hosts children's plays; SAT Teatre, located in Sant Andreu and ideal for families with children … You choose!
Of course, if you would like to add another to the list of the best theatres in Barcelona, we would love to know them. Do not forget to send us your proposals!