Every August, the main monuments of Barcelona give way to one of the great events of the year in the city: the festivities of Gràcia. For more than a week, the streets of this district of Barcelona are decorated in a unique way thanks to the patience and dedication of the local people, while at the same time they host an infinite number of concerts and leisure activities. But what can you see in Gràcia outside these dates?
Although this is not one of the most touristy places in the Catalan capital, we can assure you that there is a lot to do in this former town, which had its own town hall until 1897. Traditional and modern at the same time, Gràcia is not only Barcelona's hipster Mecca -with permission from Carrer Parlament-, but also a bohemian and cosmopolitan district, capable of seducing any traveller.
Do you want to know why? If so, don't miss out on these must-see places. They will convince you!
Casa Vicens, one of Gaudí's first works   
Among all of Gaudi's art in Barcelona, Casa Vicens, located at number 24 Carrer de les Carolines, is the oldest. Moreover, this was the big building directed by the brilliant architect from Reus. Erected between 1883 and built during five years, this landscaped house combines the use of stone, exposed brick and a wide range of tiles in various colours. They reflect a clear Mudejar and Orientalist influence, which were very much in vogue at the time.
The wrought iron fences are directly inspired by nature and, specifically, by the palm heart, a typical palm tree of the western Mediterranean. The railings and fences are also made of wrought iron and are the prelude to the modernist decorative motifs. Inside, carved and polychrome wood dominates, matching the furniture. Would you like to discover it? If so, you'll be pleased to know that this house has been open to the public since November 2017.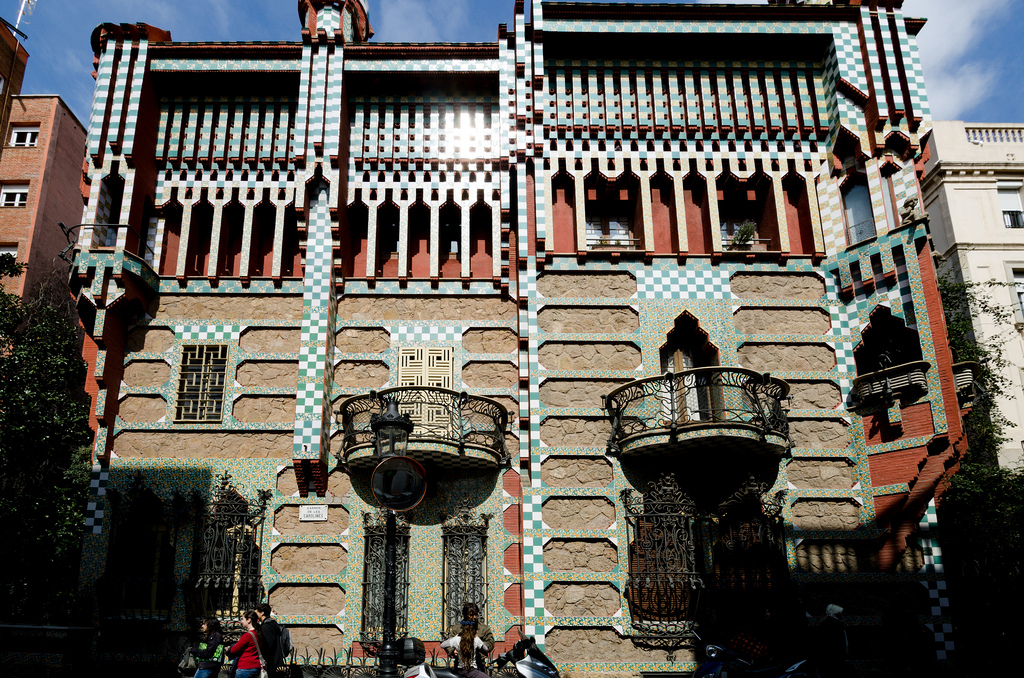 Park Güell: nature and modernism   
Casa Vicens is not the only work of Gaudí in Gràcia. Nor is it the most important, since this privilege corresponds to the Park Güell, a large unfinished garden city, located on one of the slopes of Mount Carmel. Built between 1900 and 1914, it was inaugurated as a public park in 1926 and has more than 17 hectares of surface area, making it one of the largest architectural works in southern Europe. In 1984, UNESCO declared Park Güell a World Heritage Site.
If you want to visit it -something we can't recommend enough to all those who stay in our holiday apartments in Barcelona-, the best thing is to book your tickets online. This way, you will avoid queuing and the risk of not being able to get in at the desired time, since the influx of visitors to the monumental area is restricted. However, there is another area that is free of charge. Once there, you will understand why it is one of the favourite places to go running in Barcelona.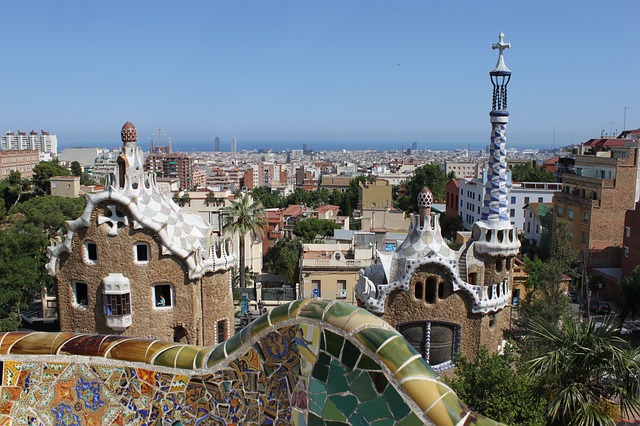 Plaça de la Vila de Gràcia  
If there is one district in Barcelona where squares are especially important, it is the district of Gràcia. Not only because it is an obligatory meeting point for the local population, but also because of the history that they treasure in many cases. Therefore, these places are an obligated stop in Gràcia.
The most important square is Vila de Gràcia, the administrative centre of the district. Although throughout its history it has taken on various names – it has been called Plaça d'Orient, Plaça de la Constitució and, until 2009, Plaça de Rius i Taulet – this corner maintains its charm intact, with houses built between the 1870s and the beginning of the 20th century. There is a reason why it is included in the Inventory of the Architectural Heritage of Catalonia.
Located between the streets of Sant Domènech, Diluvi, Mozart and Francisco Giner, it is one of the busiest spots in Gràcia. Its most characteristic element is in the centre: a tower built by Antoni Rovira i Trias, between 1862 and 1864, with a bell tower and a clock and known as the Campanari de Gràcia or Torratxa de Gràcia. At the end of the 19th century, this monument gave the title to two progressive magazines of the time.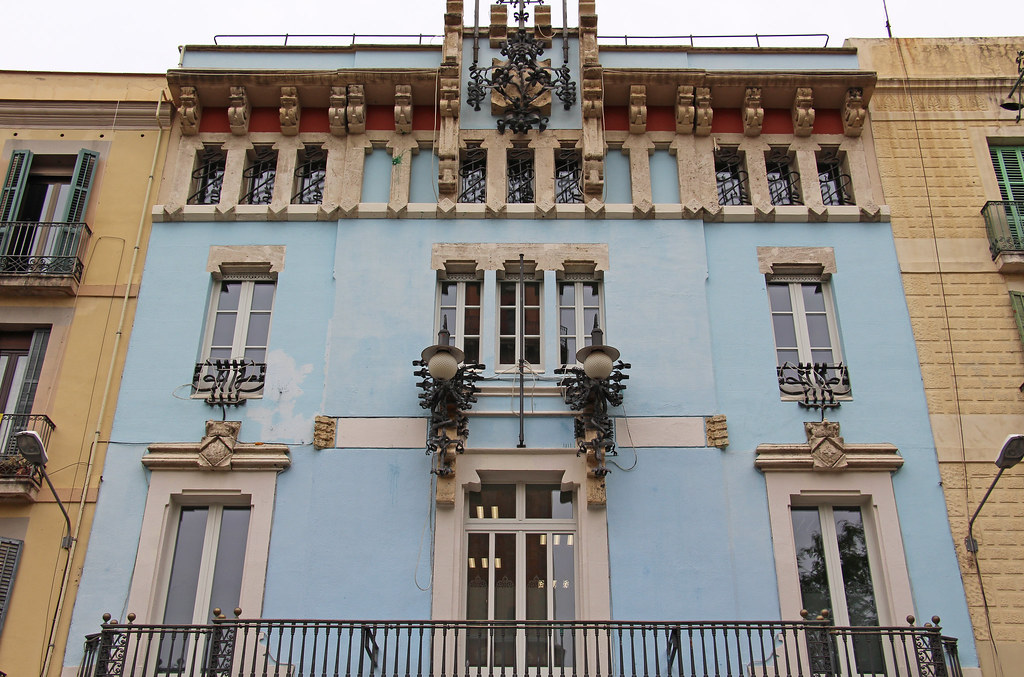 Plaça del Diamant   
Although there are many books inspired by Barcelona, La plaça del Diamant (translated in English as The Time of the Doves, The pigeon girl or Diamond Square depending on the edition), by Mercè Rodoreda, is one of the most popular in Catalan literature. The title makes it clear so you know where most of the plot takes place. And we assure you that it's worth dropping by. This square, which dates back to the 1860s, is home to several restaurants with terraces. Moreover, the subsoil of this corner of Gràcia hides a surprise: one of the air raid shelters that the civilian population built during the Civil War (1936-1939) to take shelter when there were air raids. Without a doubt, this is one of the most unusual places to visit in Barcelona that you cannot miss.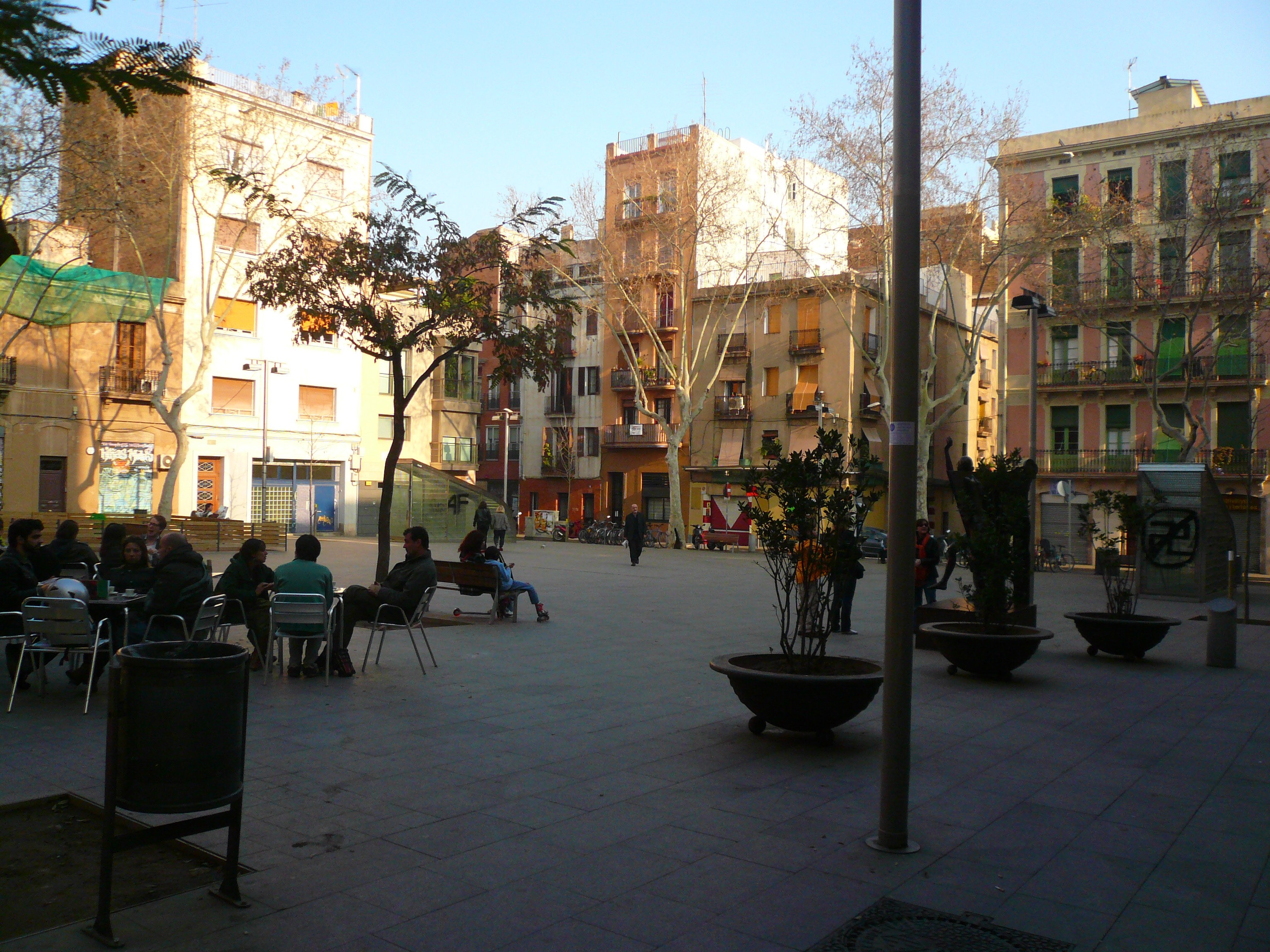 Plaça de la Virreina  
Developed in 1878 by the architect Josep Artigas, this tree-lined square retains its peaceful, neighbourhood atmosphere thanks to the presence of the church of Sant Joan – with a modernist chapel – and the low workers' houses that still stand on one side. At one end of the square you will find a sculpture titled Ruth, by Josep Maria Camps. If you want to take a break during your visit to Barcelona, take a seat in one of its pleasant bars with a terrace. And if you are passionate about the seventh art, take the opportunity to see one of the films shown at the nearby Verdi Park cinema, all in their original language with Spanish subtitles.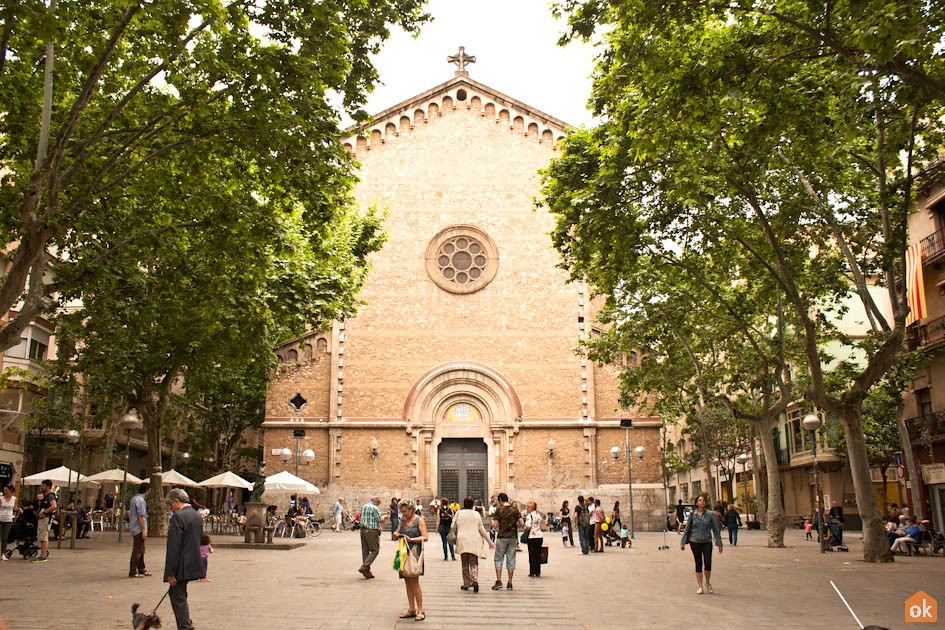 Plaça de la Revolució   
Next to the Plaça de la Virreina, and located at the end of Carrer de Verdi, is another square full of terraces and restaurants. Although it was originally named after the then Queen of Spain, Isabella II, in 1868, when she was dethroned, it adopted its current name. When you arrive, we invite you to look for some large letters on the ground that form the word "revolució", revolution in Catalan. By the way: on its sides, this square has many restaurants and one of the best ice-cream parlours in Barcelona.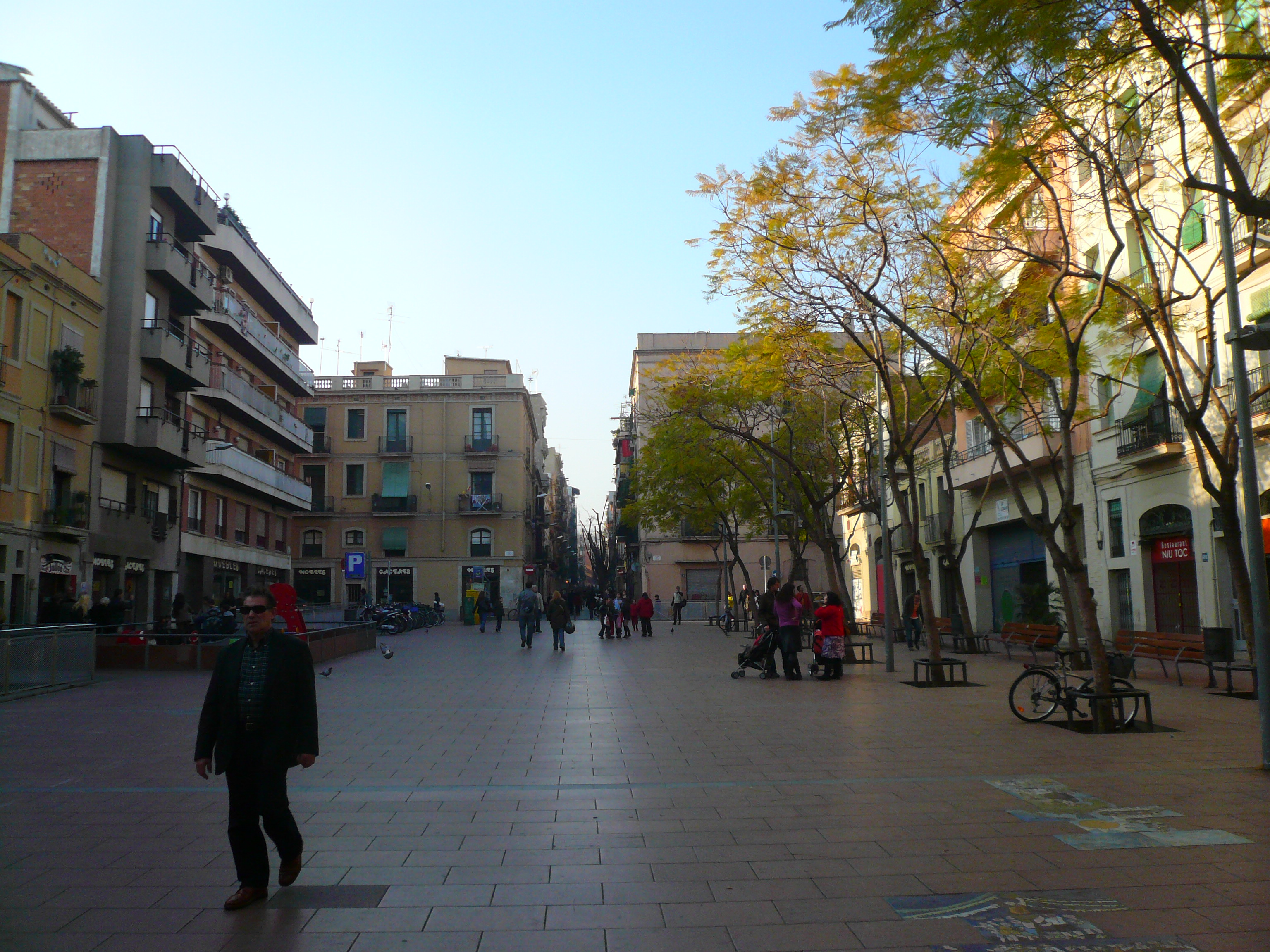 Llibertat market 
As you may have noticed during this review of the best places to see in Gràcia, this district has the spirit of vindication in its DNA. To the name of some of its most distinctive corners, you can add the Llibertat market, one of the oldest markets in Barcelona. Erected in 1888 by the architect Miquel Pascual i Tintorer, this food market shelters its vendors under an imposing iron and brick structure that deserves some attention. You will find it at 27 Plaça de la Llibertat.
The other large market in Gràcia – along with the market in Lesseps – is temporarily closed for improvement work. This is the Abaceria Central market, located at number 186 of La Travessera de Gràcia and commonly visited by the popular classes of the neighbourhood. While renovation work is being carried out, which is scheduled to be completed in 2022, the market has been temporarily moved to Passeig de Sant Joan.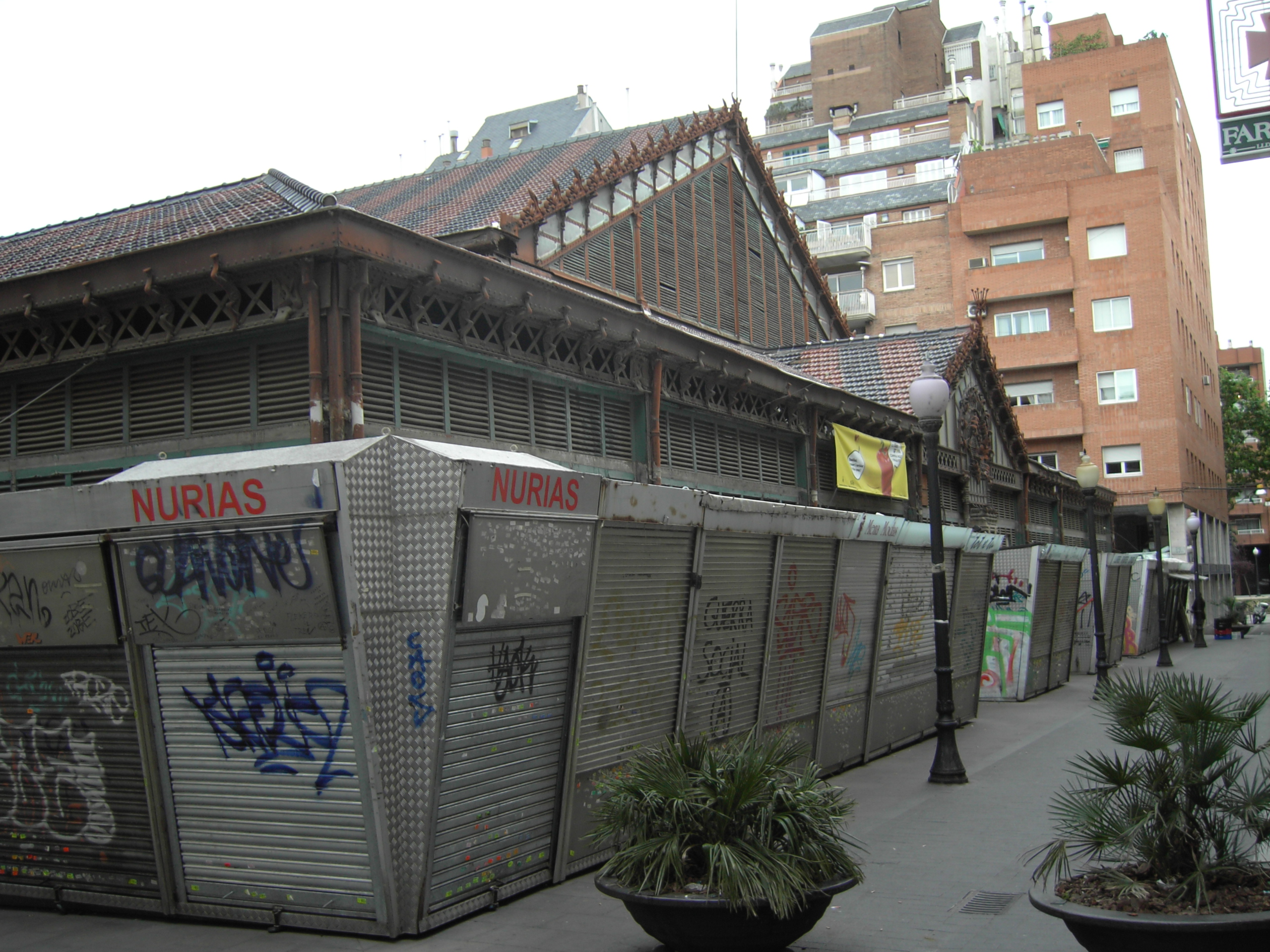 Vallcarca Viaduct  
Popularly known as the Vallcarca Bridge, this viaduct is located in the Vallcarca and Penitents district. Inaugurated in 1923, it connects the Avinguda de la República Argentina with Plaça de Mons, and crossing Avinguda de Vallcarca. At present, it is catalogued as a Cultural Asset of Urbanistic Interest in the Catalogue of Architectural Heritage of Barcelona.
And one last note before finishing our list of what to see in Gràcia: if during your route you feel like getting your strength back, take a look at the best places to eat in Gràcia.
Of course, we are also waiting for your input to expand our suggestions. Do not hesitate to send us your ideas to visit in Gràcia during your stay in our holiday apartments in Barcelona!