Talking about urban tourism is not always synonymous with never-ending tours, lightning visits to museums and monuments or intense shopping afternoons in department stores. You can find small oases, even in the busiest cities, in which to leave your worries aside, relax with a drink in your hand… and surround yourself with nature (yes, you read correctly). This is the case of the Catalan capital, where you will find places that are an invitation to calmness. So, you can find a spot to make them part of your next holiday, we want to discover 10 bars with a patio or garden in Barcelona that will surprise you.
Although our Barcelona beach apartments are perfect for resting, you may want to take a break while you walk the streets and avenues of Barcelona. In that case, you cannot miss these recommendations. Take note!
CENTRE CÍVIC CAN DEU
We start this itinerary through the bars with patio or garden in Barcelona with a civic center. Surprised? Although it can be shocking, everything has an explanation, since the Centre Cívic Can Deu opens its doors in a unique house. It is a beautiful modernist estate that was the residence of the Deu family for decades. Created in 1898 by the architect Eduard Mercader i Sacanella, this property stands out for its square tower or viewpoint and for a garden presided by a pavilion, where lunches and refreshments are served. To access this space, you must cross a corridor decorated with windows. In 1986, the property became the cultural center that we know today, being the first house that was recovered as public equipment in the les Corts district.
The bar, located in Plaça de la Concòrdia, 13, operates from Monday to Saturday from 09:00 a.m. to 9:00 p.m., and on Sunday, from 10:00 a.m. to 02:00 p.m.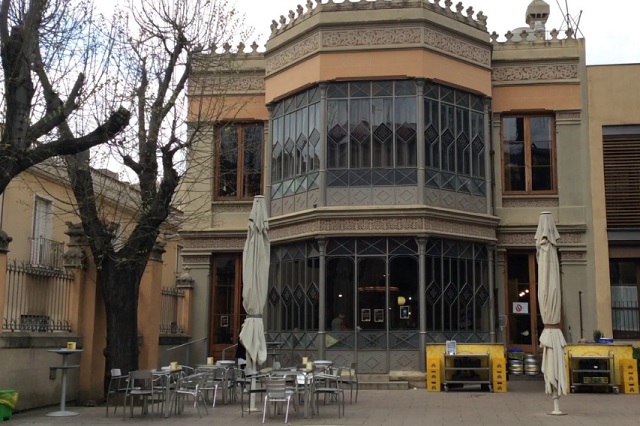 EL CAFÈ D'ESTIU
Undoubtedly, the Frederic Marès Museum is a reference when it comes to the museums of Barcelona. In addition to exhibiting all kinds of collections of works of art and objects -including metro or tram tickets, fans, glasses or pipes-, the venue also accommodates one of the most attractive bars with patio or garden in Barcelona: El Cafè d'Estiu, one of the best kept secrets of the Gothic quarter. Here, you can take a break in a quiet terrace with cocktails and refreshments, surrounded by orange trees and imbued with history. Can you ask for more?
You will find it in Plaça de Sant Iu, 5, and its opening hours are from 10:00 a.m. to 10:00 p.m. To know the days of the week in which it provides service, it is recommended to check the website of the establishment, since they vary depending on the season.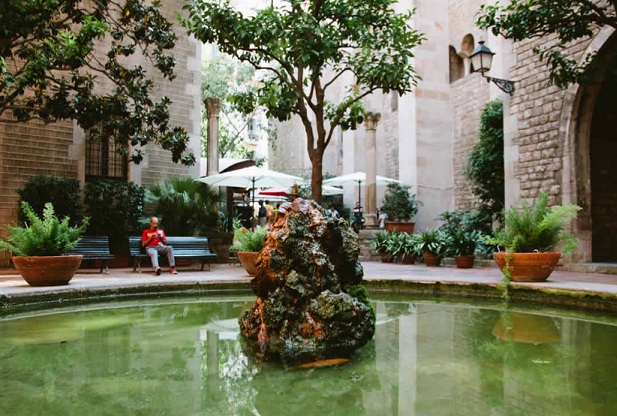 EL JARDÍ
We are not exaggerating if we say that El Jardí is one of the most idyllic corners in El Raval. It is also one of the oldest in the neighborhood, since it is framed next to the stone walls of the old hospital of Santa Creu, the first one that was in the city, and that was replaced at the beginning of the 20th century by the current hospital of Sant Pau. This is the corner where the first theater of Barcelona was created, at the end of the 16th century.
The culinary suggestions in this bar are based on market cuisine and it's ideal for a romantic dinner. El Jardí is in Carrer de l'Hospital, 56, and it is open from 10:00 a.m. to 12:00 a.m., Monday through Friday, and from 12:00 a.m. to 12:00 a.m., on Saturdays and Sundays.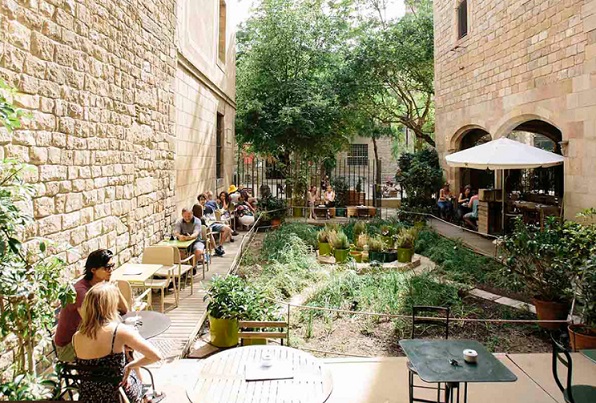 CASA DE LA MISERICÒRDIA GARDENS
After being closed for decades, this old chapel recently reopened its doors, converted into a space where culture and leisure go hand in hand. It is the bar of the La Central bookshop, which has a garden. This is divided into two areas: a main courtyard of Gothic inspiration, with palm trees and orange trees, and a second patio that borders what was the orphanage of the Sisters of Charity. Next to the bar, there is also a reading room and a small dining room.
It is on Carrer de Elisabets, 6, and the hours are from 10:30 a.m. to 09:00 p.m., Monday through Friday, and from 10:30 a.m. to 09:00 p.m., on Saturdays. It closes on Sunday.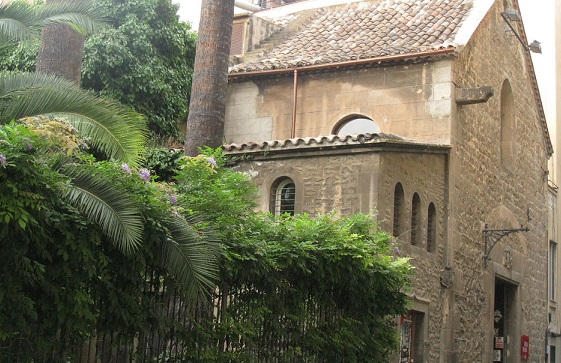 L'ANTIC TEATRE
A few steps from the Palau de la Música Catalana, one of the monuments that are classified as a World Heritage Site in Barcelona, we come across this beautiful bar with a garden, which is the main source of income of the social and cultural center of L'Antic Teatre. Having to order the drinks or the appetizer at the bar and having to take your order to the table will not be a problem. In this corner of the Gothic quarter, in the center of an interior patio and in the shade of some old trees, you can take a break in good company. Inside, you have the option to study or read and, with a bit of luck, you can sit on a small balcony overlooking the outside.
The terrace of L'Antic Teatre is in Carrer Verdaguer i Callís, 12. It opens from Monday to Thursday, from 10:00 a.m. to 11:30 p.m.; Fridays, from 10:00 a.m. to 12:00 p.m. on Saturdays, from 05:00 p.m. to 12:00 p.m., and on Sundays, from 05:00 p.m. to 11:30 p.m. That's right: you cannot book a table and it's almost always full.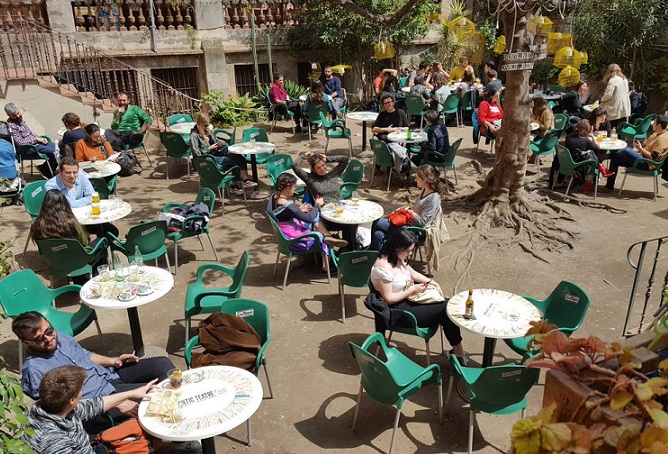 ATENEU BARCELONÈS
This cultural institution, one of the most prestigious in Barcelona, can boast a romantic garden that leaves the visitor speechless. In Carrer de la Canuda, 6, you will find a pond with fish, towering palm trees and tables where you can have a snack without a rush. The bad news? That is only for members, so you will have to wait for special occasions, such as April 23, the festivity of Sant Jordi, or Corpus Christi Day, to savor an exquisite coffee in this unique setting.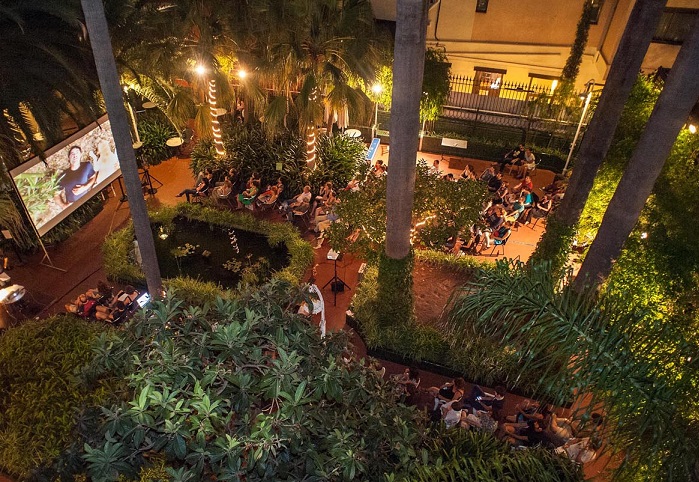 LA TORRE ROSA
This cocktail bar has earned a space in the ranking of charming and unknown places of Barcelona. Belonging to the neighborhood of Congrés i els Indians, in the district of Sant Andreu, it has its origin in Villa Jazmines, a holiday home from 1920 that was a private property until the fifties. Later, it hosted an academy, a school and, since 1987, a cocktail bar that is a benchmark in Barcelona nights. Its strong point is a pleasant and partially covered garden, in the shade of pines and palm trees and with a top-notch set menu.
It is on Carrer de Francesc Tàrrega, 22, and it opens from Monday to Thursday, from 07:00 p.m. to 02:30 p.m.; on Fridays, from 07:00 p.m. to 03:00 p.m.; on Saturdays, from 05:00 p.m. to 03:00 p.m., and on Sundays, from 05:00 p.m. to 02:30 p.m. We recommend that you check the website for the vermouth timetable, which is only offered for a few months.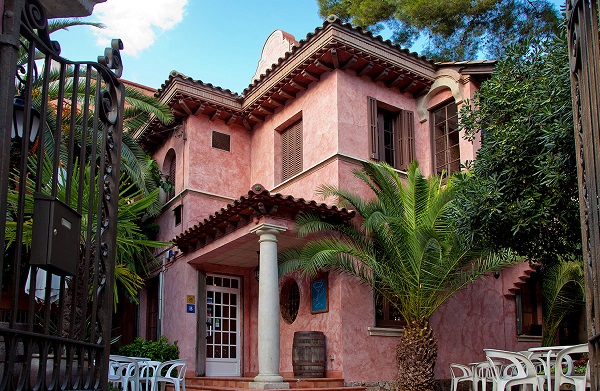 MONOPOL
This bar, which has one of the best terraces of Poblenou, is the social venue of Esportiu Monopol, an entity that has deep roots in this Barcelona neighborhood. Inside, it is decorated with trophies and other objects related to the world of sport, and you can enjoy a small patio with an urban garden and daily dishes and tapas, as well as many vegetarian dishes.
Monopol is located on the Rambla del Poblenou, 74, that is, on the same street as the Lugaris Rambla apartments, and it is open every day from 11:00 a.m. to 12:00 a.m.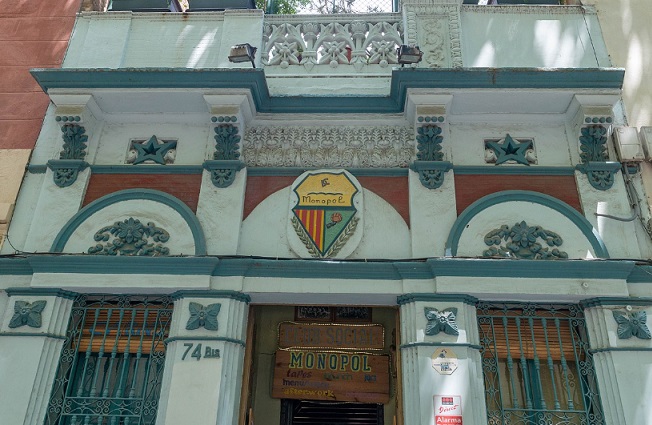 OLOKUTI GRÀCIA
This fair-trade shop, with high ceilings and hydraulic floors has a surprise in stall: an evocative interior garden, full of vegetation and wrought iron tables. There are no waiters and the only drinks are refreshments that can be purchased in a self-service machine, but we assure you that you won't mind. In this haven of peace, you can forget about the daily headaches, tasting an ecological drink and letting yourself be lulled by the song of the birds and an indescribable calm.
The store is on Carrer d'Astúries, 38, and it is open from Monday to Saturday from 10:00 a.m. to 09:00 p.m. It closes on Sunday.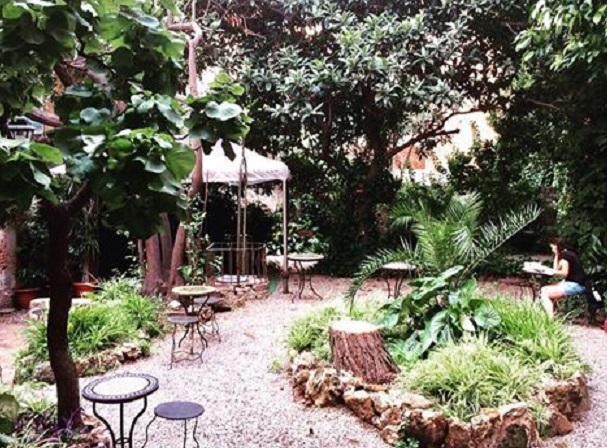 SAMBA BRASIL
Samba classes and other Latin rhythms, a space for lovers of Brazilian culture… This may be the most attractive point in this bar in the neighborhood of Horta. However, what interests us in this case is its tropical garden, an ideal place to savor exotic and original juices. At nightfall, its careful lighting gives it a magical atmosphere.
Samba Brasil is located in Plaça de Santes Creus, 20. It is open on Sundays and from Tuesday to Thursday from 06:30 p.m. to 02:00 p.m., and on Fridays and Saturdays, from 06:30 p.m. to 03:00 p.m. Close on Mondays.
With this selection of bars with a patio or garden in Barcelona, we are sure that you will get much more out of your stay in our holiday apartments in Barcelona. And if you want to help us expand this list, do not hesitate to send us your comments. We will be happy to read your suggestions!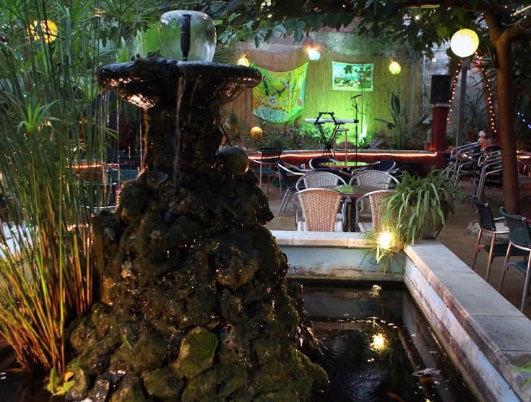 MORE INTERESTING STUFF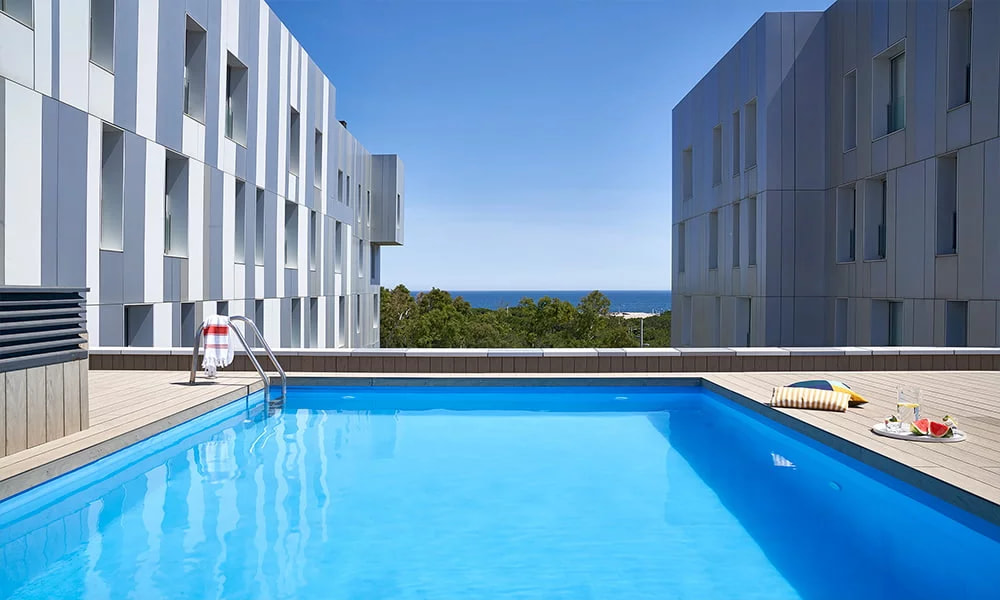 Holiday apartments by the beach in Barcelona
Since 2010, Lugaris Apartaments has been offering you the best holiday rental flats in Barcelona, perfect for a family holiday, with friends or as a couple, or for medium-term stays.
You can choose between apartments near the beach in Barcelona, at Lugaris Beach, with sea views, 2 swimming pools (one for adults and one for children) and capacity for up to 6 people, and the Lugaris Rambla flats, located on the Rambla de Poblenou and just 300 m from Bogatell beach, with a balcony or terrace of up to 22 m2 and ideal for couples or families and groups of up to 5 people. All our luxury flats in Barcelona are air-conditioned and equipped with all the appliances, furniture and bed linen you will need during your stay. They also have satellite TV and free high-speed Wi-Fi connection, as well as a safe and a 24-hour private security service.
What's more, when you make your booking, you can reserve many other additional services: international press in your flat, parking space, transfer service to and from Barcelona airport, bicycle hire, supermarket shopping, museum, sports and show tickets, babysitting service and much more.

For more information, contact Lugaris Apartments without obligation.