The neighborhood of Poblenou is one of the least known, but one of the most attractive at the same time. Its proximity to the sea and its unquestionable modern environment makes it one of the best places to spend a holiday in spring or summer in Barcelona. And what better way to enjoy this area when the good weather arrives than with a good cold drink while you enjoy the warm rays of sunlight that the Mediterranean has to offer? Therefore, Lugaris invites you to take a beer in the best terraces of Poblenou, one for each taste and palate.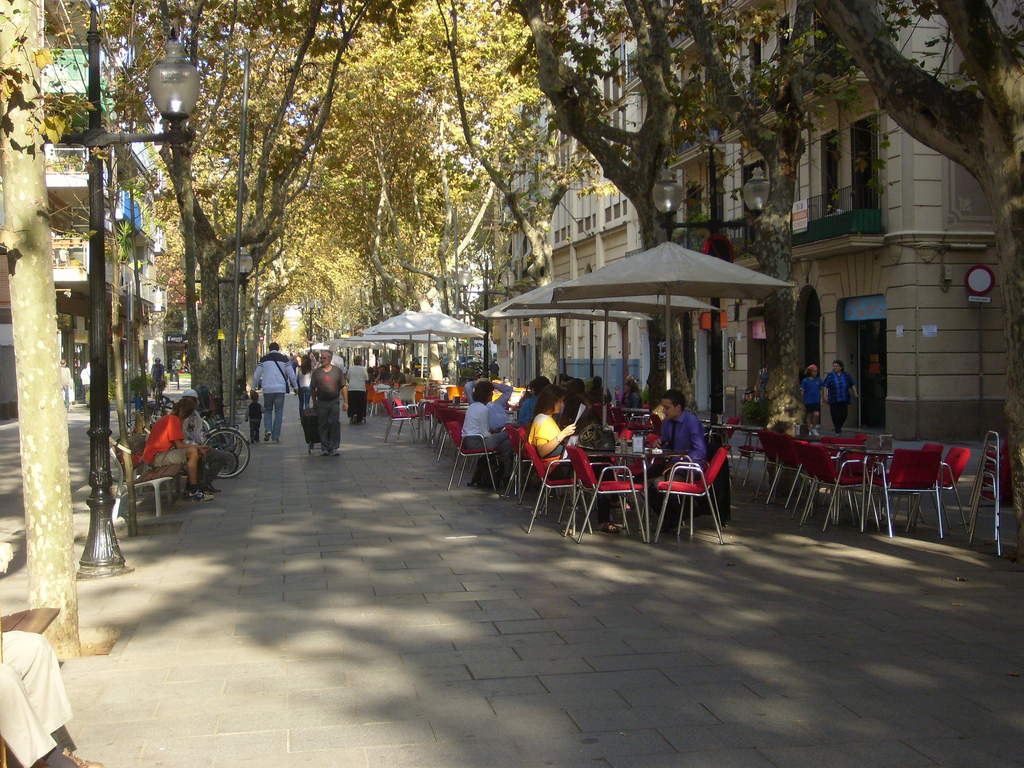 RESTAURANTS WITH TERRACE IN POBLENOU
There is no greater pleasure than to be able to eat a good meal with the sea breeze caressing your hair, right? If you want to enjoy the best terraces of Poblenou while you taste the most delicious dishes, here are some of the best restaurants in the area that allow you to eat outdoors.
Arola
Under the roof of the prestigious Hotel Arts is Sergi Arola's kitchen, one of the chefs with a Michelin star who enjoys a place in Barcelona. Here you can have the most original and best quality tapas in front of the Mediterranean, as the place has a large terrace where you can feel like a true sybarite. It is an experience for the most exquisite palates that include dishes such as their signature patatas bravas, creamy rice with lobster or a Mediterranean fideuà.
Address: Marina, 19-21
Opening hours: Thursday to Monday from 1:00 PM to 3:30 PM and 8:00 PM to 11:00 PM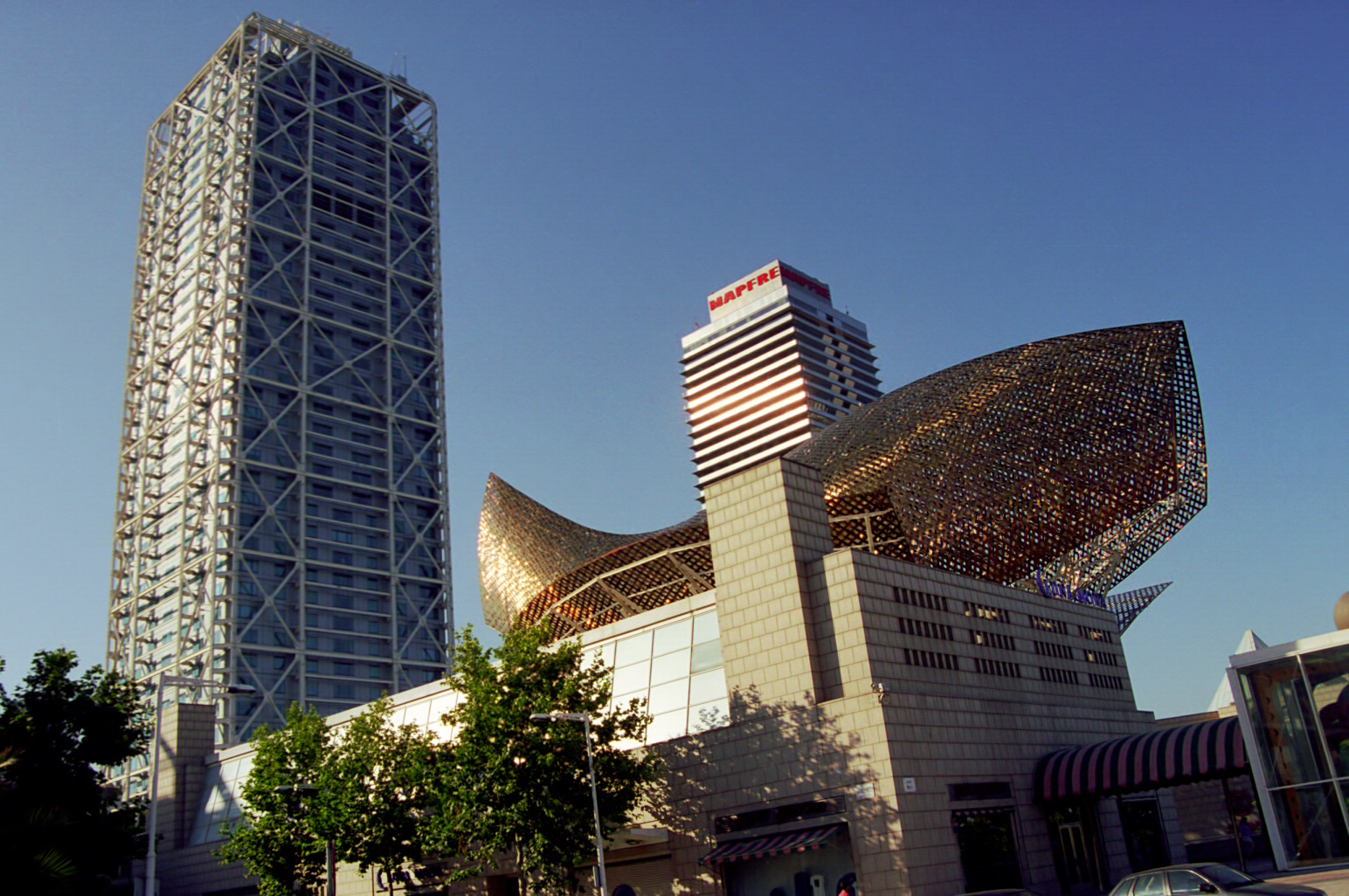 Els Pescadors
Located in one of the most authentic squares of the neighborhood, Els Pescadors opened its doors since 1980 in an historic enclave where fishermen and workers from the 19th century lived together. On its terrace, located in this square that preserves the essence of the old fishing district, you will be able to taste the delights that the Maulin-Duran family will offer you. Among its most celebrated dishes are a large assortment of rice dishes (arrós a la Cassola), one of the typical dishes of Barcelona and Catalan cuisine, as well as a large assortment of meat and fish of the highest quality.
Address: plaça de Prim, 1
Opening hours: from 1:00 PM to 4:00 PM and from 8:00 PM to 11:00 PM
Boo
One of the best restaurants with sea views in Barcelona is Boo, which is in full breakwater of the beach of Mar Bella. On its terrace you will feel as if you were floating in the middle of the Mediterranean and you can choose between tasting its delicious tapas or trying their full menu, which consists of a fusion between local and international cuisine. One of their most recommended dishes to accompany with a creative cocktail is the seafood paella, among others.
Address: espigó de Bac de Roda, 1
Opening hours: from 1:00 PM to 01:00 PM in summer (June-September) and from 1:00 PM to 6:00 PM and 7:30 PM to 00:30 PM in winter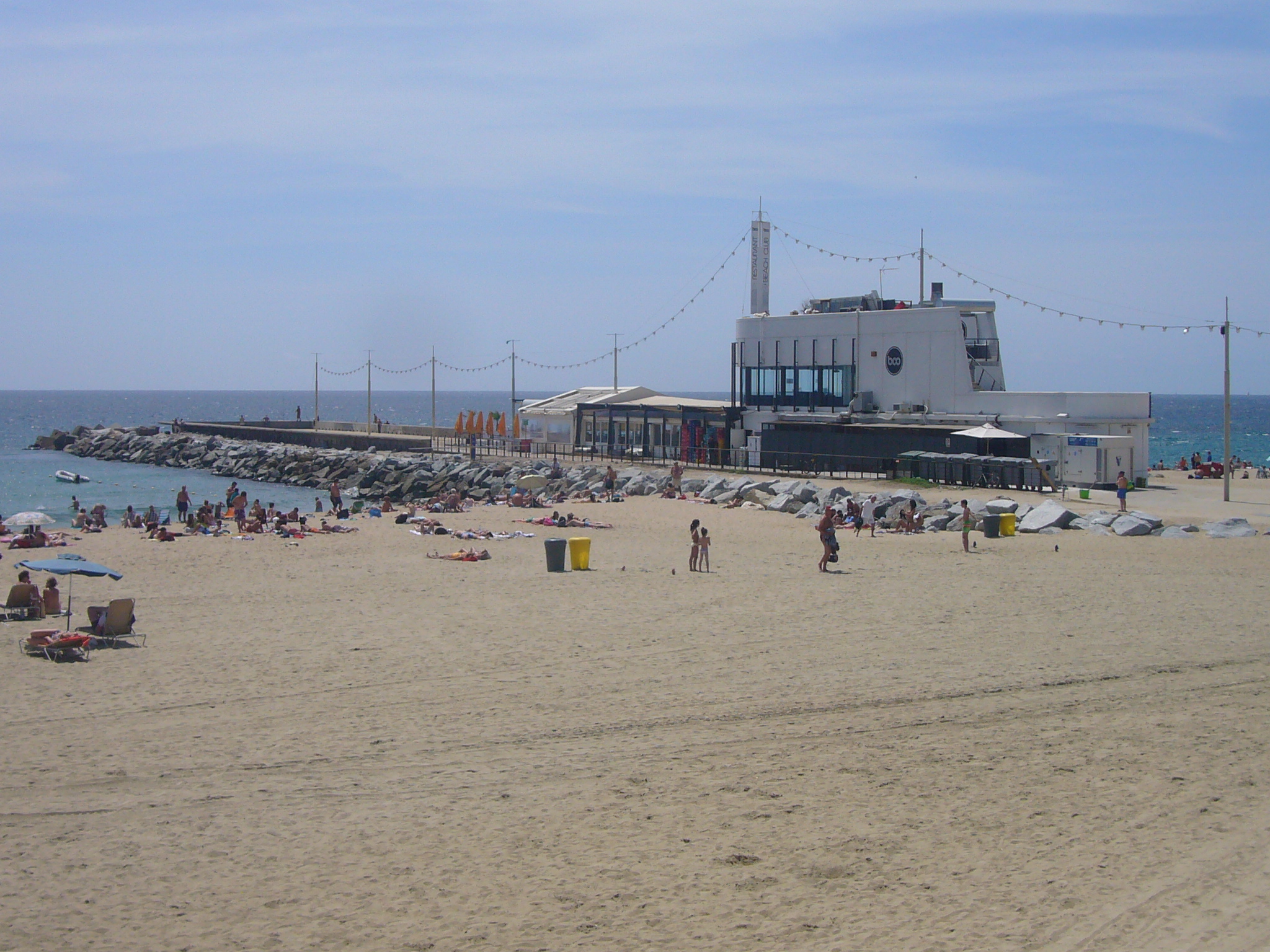 Aguaribay
We could not finish this list of restaurants in Poblenou without forgetting the vegetarians and vegans who also want to enjoy their food in the sun. From a coffee and a mid-morning snack to the delicious midday menus prepared with seasonal ingredients, here you can eat organically at any time of the day. Also, if you are intolerant to gluten or vegan, you will also have several options to suit your needs. The tables on its small terrace in a quiet street will allow you to accompany the dishes with a fresh organic beer.
Address: Taulat, 95
Opening hours: Monday to Sunday from 1:00 PM to 4:00 PM, dinners from Thursday to Saturday from 8:30 PM to 11:30 PM
El Tinglado
If you want the full-on authentic Mediterranean experience, we recommend this restaurant belonging to Moncho's group. In the actual Olympic port, you can taste the freshest fish cooked on the grill or charcoal. Taste its assortment of seafood tapas, highlighting the steamed mussels or squid.
Address: Port Olímpic. Moll de Gregal, 5-6
Opening hours: Monday to Sunday from 12:00 PM to 01:00 AM
BARS WITH TERRACE IN POBLENOU
If you want to try the typical drinks of Barcelona in the best terraces of Poblenou, accompanied by a good appetizer, do not miss these ideal bars to take a pleasant break during the hottest months.
Tío Che
One of the most authentic places in Poblenou is this ice cream shop and horchatería that is already celebrating its first centenary. In its location in the heart of the neighborhood, the Rambla del Poblenou, has been delighting young and old with its homemade sweets for several decades. Have an horchata (tigernut milk) on their terrace, which is homemade by the fifth generation of this business, while you enjoy their own ice cream. In addition, you should not miss the beloved figure in the entrance, because during a period its location was endangered because of a new municipal ordinance, which would later be avoided thanks to pressure from neighbors.
Address: rambla del Poblenou, 44-46
Opening hours: Monday to Friday from 10:00 AM to 10:00 PM, Saturday and Sunday from 10:00 AM to 12:00 AM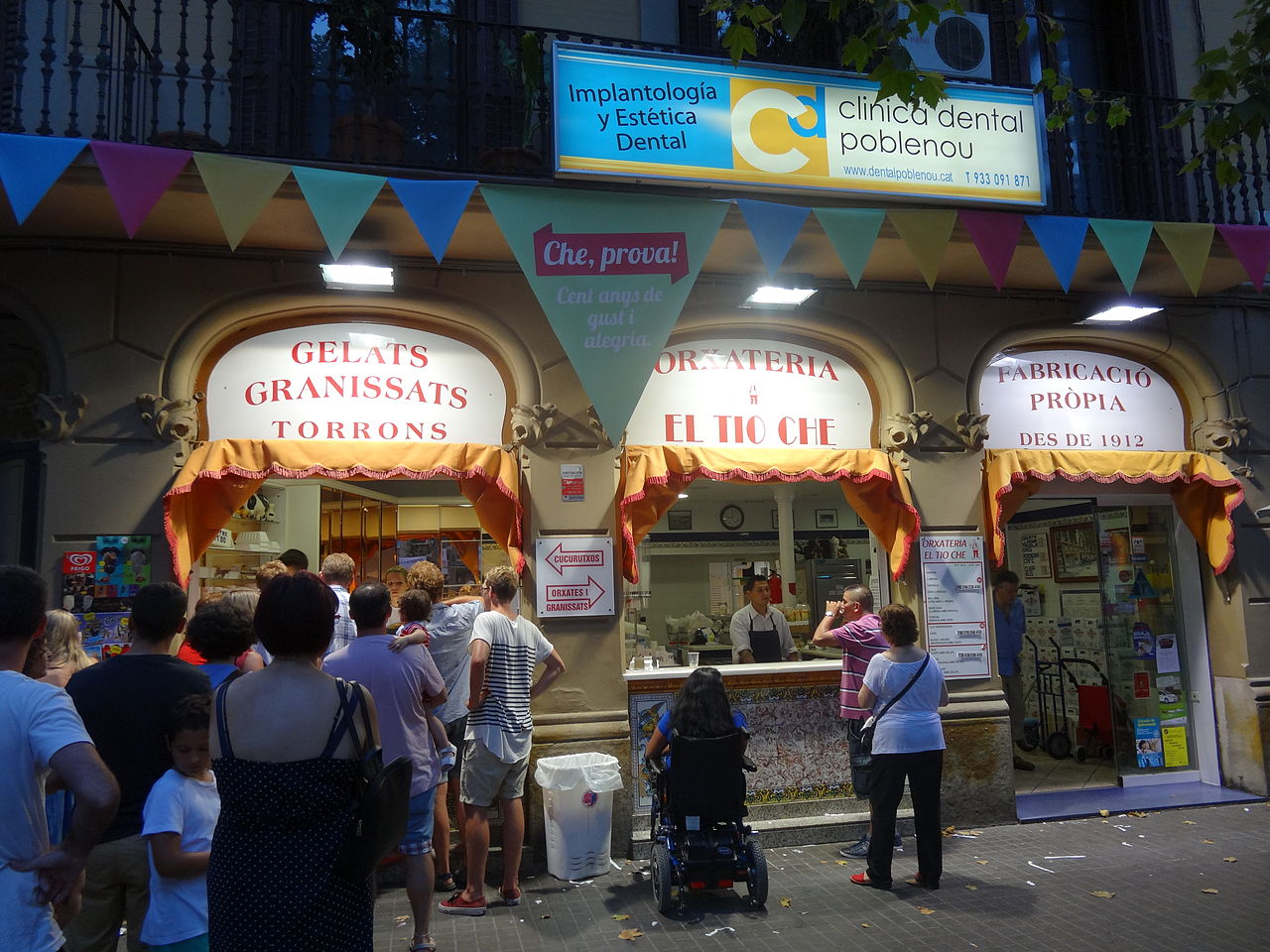 El 58
This bar-restaurant is ideal for a drink if you want to get away from the big crowds. Ideal to go with friends, you must cross the restaurant to reach its interior terrace, full of light, but sheltered from the chaos of the street. Here you can accompany a cold beer with some of the tapas that the waiters serve daily. You can also enjoy the outdoor space in winter, as they have a heater.
Address: rambla del Poblenou, 58
Opening hours: 1:30 PM to 11:00 PM from Tuesday to Saturday. Sunday from 1:00 PM to 4:00 PM
Can Dendé
This bar that is also part of our list of the best places to have brunch in Poblenou has also made it among the best terraces. Even if there are only three tables outside, it's worth sitting here during mid-morning for a coffee or a freshly made smoothie. Do not miss their eggs benedict, you will love them.
Address: Ciutat de Granada, 44
Opening hours: Monday to Thursday from 9:00 AM to 04:00 PM, Friday from 9:00 AM to 4:30 PM, Saturday and Sunday from 10:00 AM to 04:30 PM
Bar Local
Next to our seaview apartments in Barcelona is this bar and tapas restaurant in Poblenou. Ideal to have a drink at sunset, here you will have the chance to taste the best beers made in Barcelona while trying out the most original tapas, made with completely fresh product. This is the ideal place to relax and watch the quiet life of the neighborhood flow, listening to the murmur of the waves in the background.
Address: passeig de Calvell, 45
Opening hours: Wednesday to Sunday from 12:30 h PM to 12:00 AM
Monopol
One of the most charming bars on this list is undoubtedly the Esportiu Monopol club. The football team and school in the neighborhood has used this bar as a meeting place for decades, which is why you will find many references to this sport. Although it looks like a typical neighborhood bar, you should know that its stairs lead to one of the most privileged terraces of Poblenou, which even has an urban garden. This is the perfect place to visit with friends with a good beer in hand and even try their tapas and daily menu.
Address: rambla del Poblenou, 74
Opening hours: from 11:00 AM to 00:00 AM every day.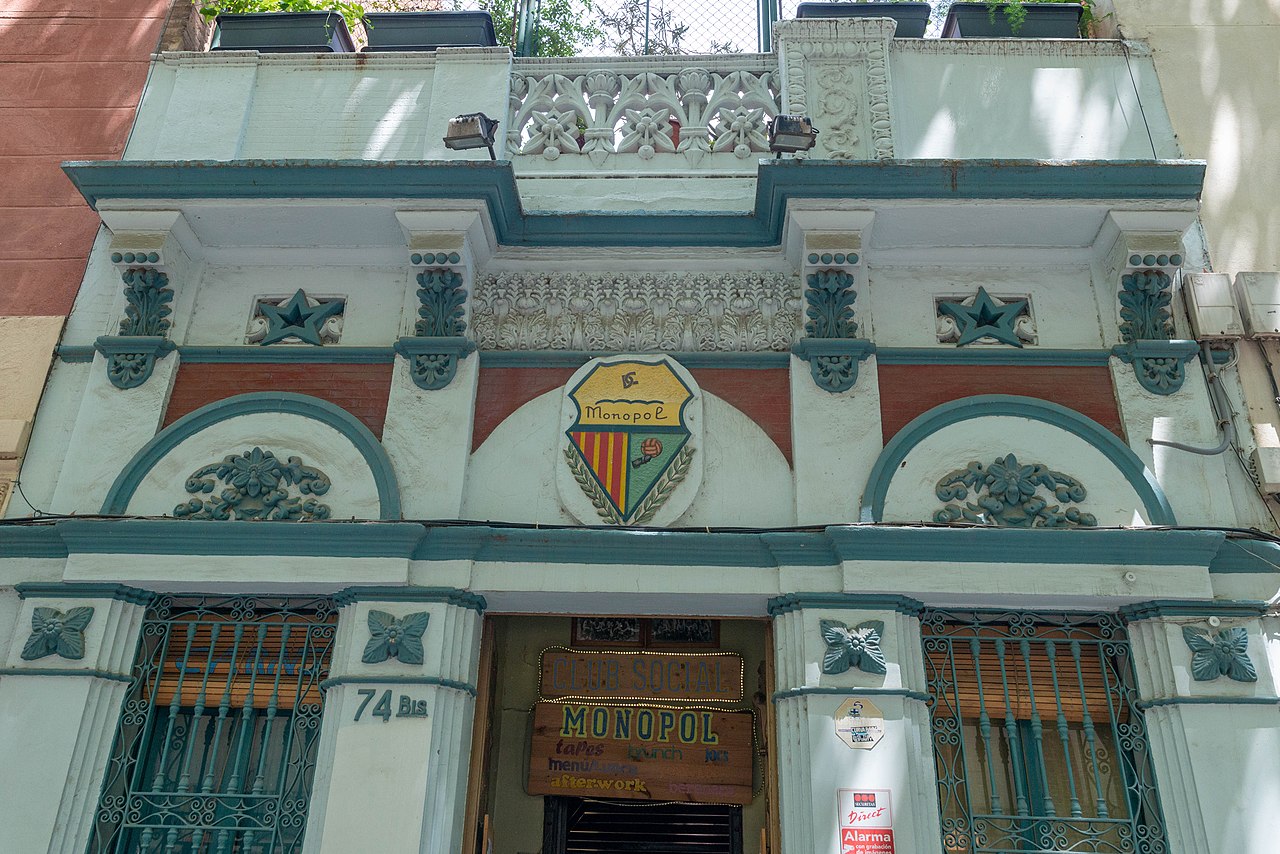 24 Cielos
Cocktails with a bird's-eye view and some delicacies that are sure to surprise you. This is what the rooftop of a well-known Poblenou hotel offers. In 24 Cielos, you can admire the city from a different perspective, so it could be on our list of the best rooftop bars in Barcelona, but with the difference that you will also have the opportunity to enjoy it when it's cold, windy or rainy, since It is equipped for all types of weather.
Address: Pere IV, 272
Opening hours: from 12:00 PM to 00:00 AM
Now that you know the best terraces of Poblenou, you just must choose the one you like most and enjoy the calmness and the warm temperature of the city in good company. Do you know other terraces in the neighborhood? Have you visited any of the ones mentioned in the article? Do not hesitate to leave a comment with your doubts, experiences or points of view.
MORE INTERESTING STUFF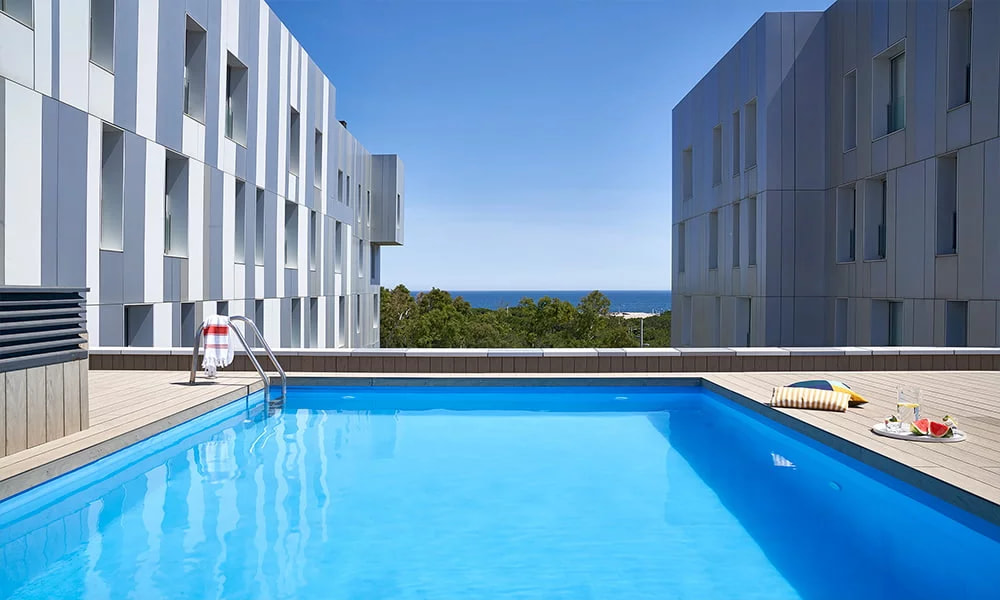 Holiday apartments by the beach in Barcelona
Since 2010, Lugaris Apartaments has been offering you the best holiday rental flats in Barcelona, perfect for a family holiday, with friends or as a couple, or for medium-term stays.
You can choose between apartments near the beach in Barcelona, at Lugaris Beach, with sea views, 2 swimming pools (one for adults and one for children) and capacity for up to 6 people, and the Lugaris Rambla flats, located on the Rambla de Poblenou and just 300 m from Bogatell beach, with a balcony or terrace of up to 22 m2 and ideal for couples or families and groups of up to 5 people. All our luxury flats in Barcelona are air-conditioned and equipped with all the appliances, furniture and bed linen you will need during your stay. They also have satellite TV and free high-speed Wi-Fi connection, as well as a safe and a 24-hour private security service.
What's more, when you make your booking, you can reserve many other additional services: international press in your flat, parking space, transfer service to and from Barcelona airport, bicycle hire, supermarket shopping, museum, sports and show tickets, babysitting service and much more.

For more information, contact Lugaris Apartments without obligation.