Did you know that more than 19 million foreign tourists visit Catalonia every year? Although this is a large figure, it should not surprise us, especially if we consider how much this land has to offer the newcomer. From the magnificent beaches of the Costa Brava or the Costa Daurada to the ski resorts of the Catalan Pyrenees, through its cities, its charming inland villages… and the prehistoric paintings in Catalonia.
Although they are not well known to the general public, their importance is beyond doubt. Let us explain: of the 757 sites with cave paintings in the Mediterranean arch of the Iberian Peninsula – and which were declared World Heritage by UNESCO in 1998 – 60 are in Catalonia. In addition to their undeniable artistic value, these pictorial manifestations are also of great historical interest, as they provide an insight into the society, climate and landscape of the Palaeolithic and later periods.
Why not get to know them on your next trip? If you have in mind coming to Barcelona and booking one of our flats by the beach in Barcelona, any of these 10 sites with prehistoric paintings in Catalonia will be a perfect destination for a day trip. Here they are.
1. LA ROCA ROJA OR VALLDECERVES, RISCOS D'ANCOSA, LA LLACUNA
Among the prehistoric paintings in Catalonia, we find some outstanding examples in the province of Barcelona. One example is the cave paintings of La Roca Roja or Valldecerves, discovered in the municipality of La Llacuna barely 30 years ago and the only known ones in the Anoia region.
The paintings are distributed on two cliffs. On the one hand, cliff I, formed by two cavities that hold the representation of a deer and vestiges of other drawings respectively, one of which could correspond to an archer. A few metres to the right, cliff II unfolds, with four figures, one of which is a goat.
No attempt has yet been made to make a chronological approximation of the paintings, as no research work has yet been carried out.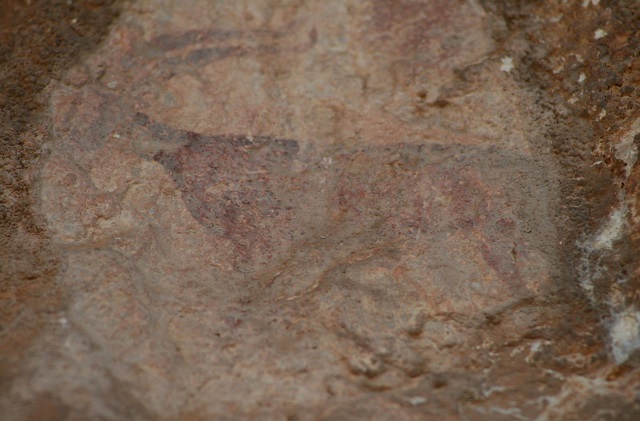 2. COVA DELS SEGARULLS, OLÈRDOLA
We continue in the province of Barcelona to visit the Cova dels Segarulls, also called Cova del Fondal de la Seguera. This is a natural cave with samples of cave art, and which served as a collective burial place for cremation and burial.
Its gallery is 7 m long and it narrows in the middle, ending in a small room. The walls at the entrance are full of cavities, and in one of them, on the left hand, you can see representations of the schematic and pointed archers, as well as fingerings and stains. The latter type of representation extends over all the walls. Some of these motifs can even be seen under the smoky ceiling of the corridor. There are a total of 22 painted figures.
The dating of these figures is complicated due to the fact that the chronology of the site cannot be associated with that of the paintings. However, there seems to be a consensus that they were painted during the Eneolithic or Bronze Age, although this is not definitive.
During the excavation of the cavity, which took place in 1958, 23 pieces of flint, a polished, 12-centimeter-long, basalt axe, the blade of a knife, fragments of burnished ceramics from the Final Bronze Age and fragments of burnt skulls were also recovered.
You will find this cave, declared a World Heritage Site, on the southern slopes of the Garraf massif, in the La Seguera stream, 3 km south of Vilafranca del Penedès and in the municipality of Olèrdola. Access is free, although the path is somewhat difficult.
A word of advice: don't forget that Olèrdola has other sites with cave paintings: the Abric de Can Castellví and the Abric de Can Ximet.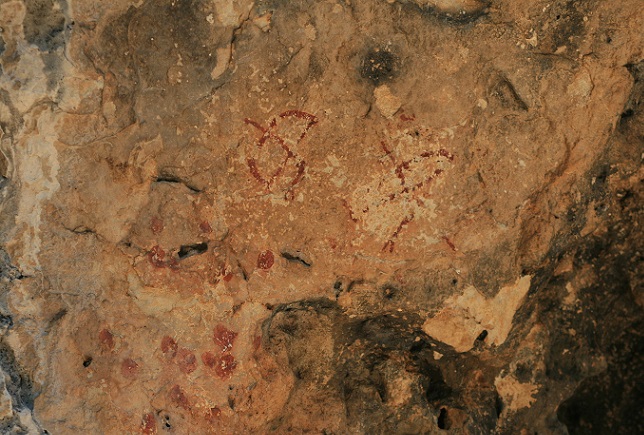 3. LA ROCA DELS MOROS, EL COGUL
We leave Barcelona behind to discover what is probably the most important exhibition of cave art in Catalonia: La Roca dels Moros, in the village of El Cogul, Lleida. As in the previous case, it is also a World Heritage Site.
This treasure was discovered in 1908 by the then rector of El Cogul, Ramon Huguet, 1908. However, those who made it known were Ceferino Rocafort, that same year, and Joan Cabré, in 1914.
The caves of El Cogul are one of the most relevant sites of cave paintings in the so-called Levantine cave art, as well as the most notable artistic and religious expression of European prehistory. The 48 figures found on La Roca del Moro – most of which are red, although there are a small number of engravings – are distributed in eight compositions representing scenes of hunting and wild animals. The best known, however, shows several women dancing, in a fertility rite. Alongside these cave paintings there are 250 signs of northeastern Iberian writing and Latin alphabet. One of them is was made by a Roman soldier, which would indicate that the site was a sanctuary that lasted until the Iberian and Roman periods.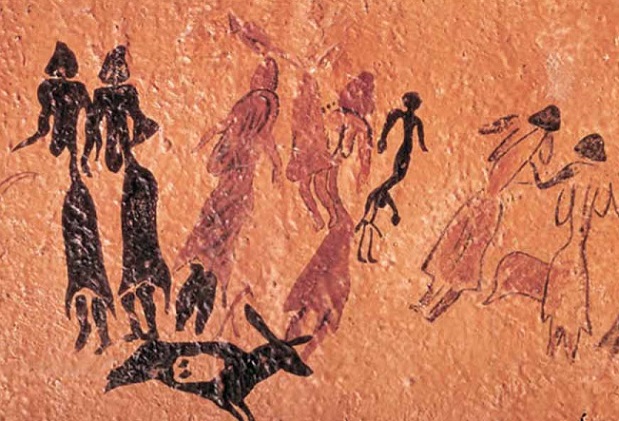 4. COVA DELS VILARS O DELS VILASOS, OS DE BALAGUER
Els Vilars, on the eastern side of the Os mountain range, in the municipality of Os de Balaguer (Lleida), is home to this small cave, which is also part of the World Heritage Sites. Inside, two painted areas can be seen: the one on the left side, which concentrates most of the representations, and the one just entering, to the right of the entrance. The first group has 29 motifs, both schematic and naturalistic, which correspond to quadrupeds, human representations, concentric circles, a doe, lines and remains of pigment.
It seems that these paintings could correspond to the Bronze Age (1800 BC-650 BC).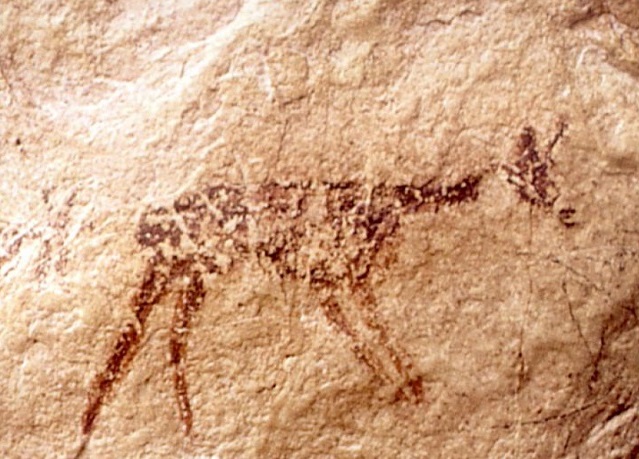 5. ABRICS DE L'ERMITA, ULLDECONA

In the area of L'Ermita, in the municipality of Ulldecona, Tarragona, there are a total of 13 shelters that make up the most important, complex and well-preserved group of Levantine style rock art in all of Catalonia. They are also under the protection of UNESCO.
These paintings range from naturalism to schematization and have been dated between the pre-ceramic period (6000 BC – 5000 BC) and the Bronze Age, between the second and first millennium BC.
The first discovery was made on 31st March 1975, in shelter V of the Ermites district, although this part cannot be visited. Among the shelters that can be accessed, the first shelter stands out, with a large number of figures, as there are 170 remains. In any case, it is also possible to access coats 4 and 8.
The most commonly used colours are red and black. The most common scene is that of hunting and the most common animal, the deer.
One last recommendation: if you want to do even more cultural tourism, include the castle of Ulldecona in your route, an excellently preserved building as well a good way to travel to the Middle Ages. This is in addition to other activities in the area, such as a visit to the nearby Iberian village of La Moleta del Remei or the opportunity to see ancient olive trees.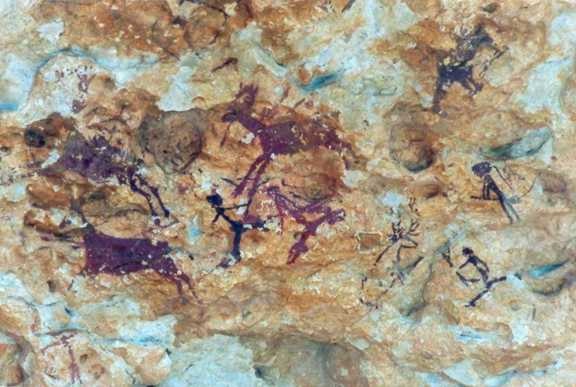 6. MOUNTAINS OF PRADES, MONTBLANC

The Prades Mountains cave painting complex contains around forty sites, although only three of them can be visited: Mas d'en Llort, Portell de les Lletres and Ramon d'en Bessó.
Their pictorial representations consist of hunters and wild animals such as deer, goats, wild boar or cattle, as well as shepherds with domestic animals and a large number of signs. Therefore, it allows the visitor to learn about the transition from a hunter-gatherer society to one based on livestock and agriculture. On the other hand, this could have been a place dedicated to worship the sun, as you can also see representations of sunset.
From the Interpretation Centre of Rock Art in the Mountains of Prades, at Carrer de la Pradera, 2, Montblanc (Tarragona), you can hire excursions to the area. In this museum, you can also see an exhibition with s
full-scale reproductions of these rock shelters, which are a World Heritage Site.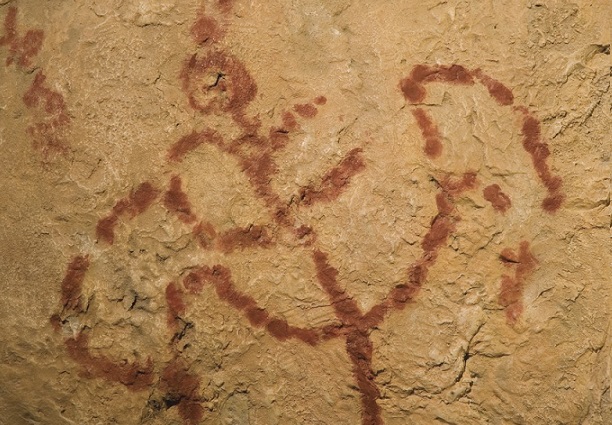 7. CAPÇANES

As well as being well known for its delicious wines, the Priorat region of Tarragona can boast some of the best prehistoric paintings in Catalonia. For example, those of the small village of Capçanes, whose valleys host various examples of cave paintings within a radius of 2 km. Although they were discovered in 2006, visits did not begin until 2014.
This is a group of 19 sites located in three ravines near the Llaberia mountain range, of great artistic quality and the originality of some of the immortalized themes. This is the case of the mural called La matança, the only representation of a human hunt known in Levantine art. Archers, deer and bovines can also be seen, as well as some schematic and figurative engravings that are difficult to appreciate.
The guided tours take place on the first Saturday of each month from 10:30 a.m. (the meeting point is in front of the Capçanes cooperative), although in July and August this activity also takes place in the afternoon. It is essential to book online through the website https://codoleducacio.com/activitats/capcanes-art-rupestre-al-priorat/. Remember that availability to visit is limited!
At the end, you will be able to test your aim by shooting with reproductions of weapons of the time, an ideal proposal for both adults and children.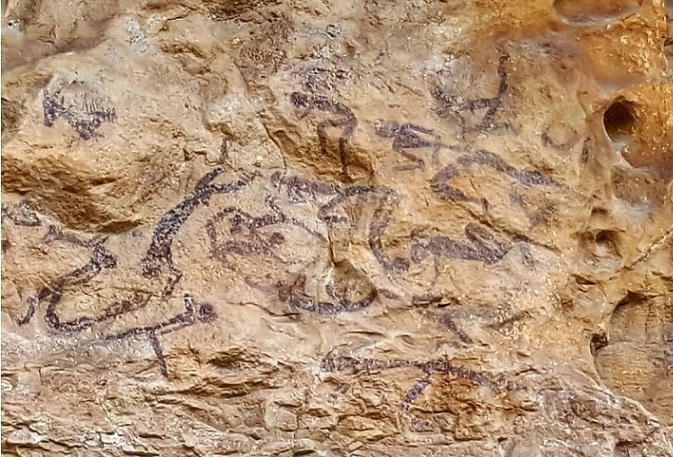 8. CABRAFEIXET, PERELLÓ

Declared a World Heritage Site by UNESCO in 1998, this is the most important vestige of cave art in the Baix Ebre region of Tarragona. They are located at an altitude of 80 m, in the Barranc de les Nines. These paintings depict hunting scenes, in which hunters and animals appear. Access by car is allowed and is perfectly signposted.
If you continue to walk up for another 20 minutes, you can also visit the Cova Mallada, which is 20 m deep and 7 m high.
You can also take advantage of your excursion from Barcelona to discover the Municipal Museum of Perelló, where there is a collection of flint remains that belonged to the inhabitants of this cave and which are about 35,000 years old. It is currently being renovated.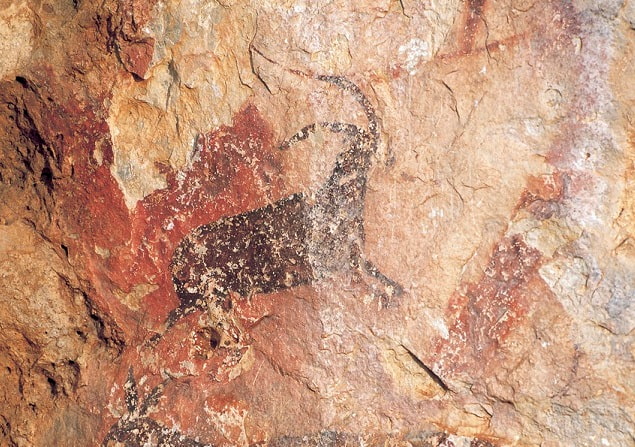 9. COVA DEL CINGLE, COVA DEL PI I COVA DEL RAMAT, TIVISSA

The second largest Catalan municipality, the picturesque and mountainous Tivissa, in the province of Tarragona, can also boast some of the best cave paintings in Catalonia, which were declared a World Heritage Site. Its discoverer was Jaume Poch Garí, a school teacher who came across one of these caves during a visit to his son, who was working as a telegrapher in Tivissa. On one of his walks, he went into the Cova del Pi, in the Font Vilella, studied by Eduardo Hernández Pacheco (1922) and corresponding to schematic art, with representations that are between 3,500 and 6,500 years old, so they would correspond to the Neolithic and the Bronze Age.
Later, the Institute of Catalan Studies carried out some prospecting in those places and discovered the Cova del Cingle and the Cova del Ramat; this time, with samples of Levantine art between 6,500 and 10,000 years old, with figurative motifs.
The last discovery was made by the very young Joan Miquel Brull, who in 1991 discovered the Cova del Taller with Levantine deer. Other nearby sites are located in Rasquera and Vandellós, among other enclaves.
The paintings are about 7 km from the centre of the village. The route is very well signposted as a hiking route, although you may find the caves closed for conservation reasons. Before going, contact Tivissa Town Hall to check availability. If a visit is not possible, go to the Iberian village of Castellet de Banyoles or take a walk to the chapel of Sant Blai.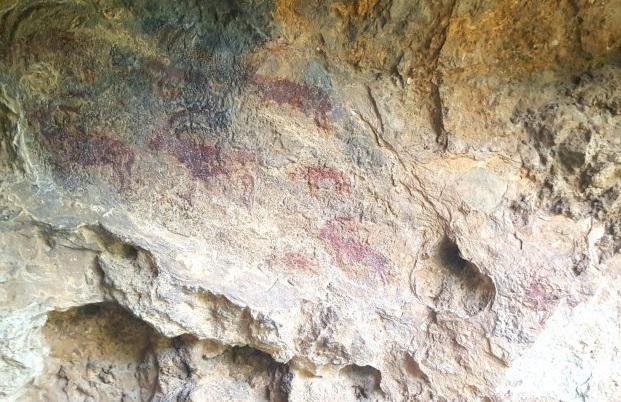 10. COCÓ DE LA GRALLA, MAS DE BARBERANS

The cave paintings of the Cocó de la Gralla are waiting for you in the Montpou ravine, in the municipality of Mas de Barberans in Tarragona and within the Els Ports Natural Park. This complex has figures that were not documented in Catalonia until 2018.
They were discovered by a resident of Santa Bàrbara. In 2014, the authorities were informed of their existence. The authorities confirmed their authenticity and began to draw up a comprehensive recovery plan.
The group is made up of 69 figures in the Levantine or figurative style, among which 27 archers, another four human figures and three goats can be seen; some are decorated with feathers. Two rows of running archers stand out, as well as several animals and footprints, which probably reflect a hunting scene. These figures make this ensemble one of the most exceptional of all those preserved in Catalonia.
What did you think of these suggestions? If you know more examples of prehistoric paintings in Catalonia, we invite you to send us your comments.