When talking about Barcelona, it is almost inevitable to think about its magnificent urban beaches on the shores of the Mediterranean. However, its province not only offers sea, but also impressive mountains. We do not only refer to the Tibidabo, whose 1,680 feet (512 m) make it the roof of the Catalan capital, but also to the spectacular pre-Pyrenean peaks that mark the limit with the provinces of Lleida and Girona. It is an indescribable symphony of nature that also delights fans of winter sports. Are you one of them? In that case, we are convinced that you would like to know where to go skiing near Barcelona.
Easily accessible by car, train or bus, the Catalan ski resorts offer you everything you need to unload adrenaline during your next getaway. Does the idea tempt you? Then pay attention to these proposals to enjoy the snow and choose yours: you will live a day full of emotions before resting in one of the best apartments in Barcelona in complete style.
LA MOLINA-MASELLA
These two resorts form the ski area of Alp 2500, one of the most visited by Barcelonians. Both add up to a total of 87.5 miles (141 km) with a height difference of more than 2,952 feet (900 m), which extend from Coma Oriola de Masella, in the Cerdanya region, to the Pla d'Anyella, in the Ripollés region. If you book the combined pass, you will have the opportunity to slide among dense coniferous forests and enjoy unparalleled views; From there you will see the Cerdanya valley, the widest in the Catalan Pyrenees. As a fun fact, we could mention that La Molina was the first station in Spain that had a mechanical lift, inaugurated in 1943.
Another strong point of this enclave is its excellent location, since getting to La Molina-Masella from Barcelona will take you less than two hours (it is about 93.2 miles, 150 km, away). You can choose between traveling there with Ferrocarrils de la Generalitat de Catalunya (FGC) or by car, through the Cadí tunnel (toll road) or the Collada de Toses on the N-152 road. Traveling by this route is free, although the journey is much longer.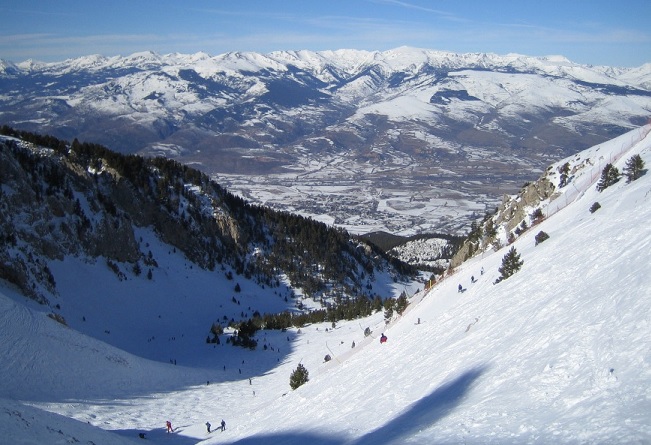 VALL DE NÚRIA
Without a doubt, this is one of the best options for family skiing near Barcelona. Located in the Girona municipality of Queralbs and at an altitude of 6,562 feet (2,000 m), the Vall de Núria station is easily accessible by the Barcelona-Puigcerdà railway line —which celebrated its centennial in 2019— and with the Núria rack railway, a mountain train that connects the town of Ribes de Freser (about 74.5 miles, 120 km, from Barcelona) with Queralbs and the Vall de Núria, in Ripollès. During its 12.5 km of route, it takes a more than 3,280 feet (1,000 m) drop and offers panoramic views that will amaze you.
Once at the station, 11 medium and low-difficulty slopes (5 miles, 8 km, in total) await, perfect for the little ones and for those who are learning to ski or snowboard, as well as 5 lifts. Take the opportunity to visit the sanctuary of the Virgin of Núria and the hermitage of Sant Gil (1615), in Queralbs.
By the way: the area is much appreciated due to its many hiking trails during the warmer months (photo). Would you like to take an excursion?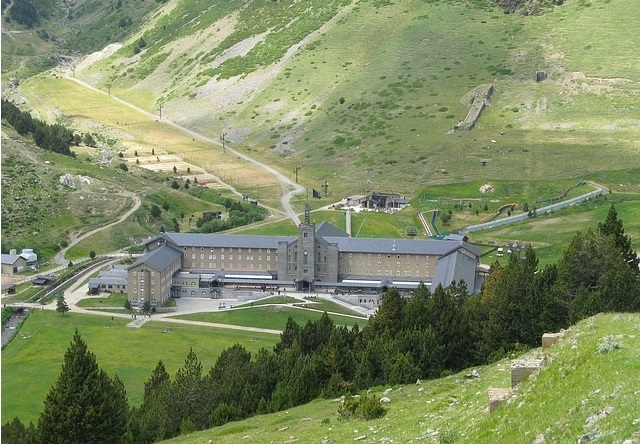 PORT DEL COMTE
Located in the region of Solsonès and 89 miles (143 km) from Barcelona city, it is an ideal ski resort for families, with postcard scenery, since it is surrounded by a lush forest of black pine trees.
The station has 38 slopes with a total of 31 skiable miles (50 km) and 16 lifts and is divided into three clearly differentiated areas: the hotel area, indicated for beginners; the Sucre area, for skiers or riders with an intermediate level, and the sector of L'Estivella, recommended for those who already have a good command of skis.
From Barcelona, you can reach Port del Comte by car, following the C-16 and C-55 roads.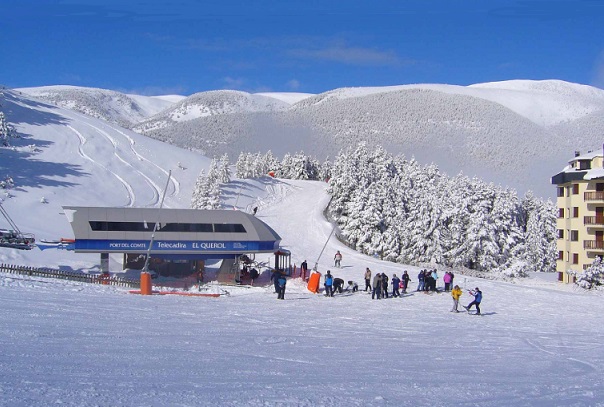 VALLTER 2000
In the municipality of Setcases (Ripollès, Girona) and 95 miles (153 km) from Barcelona, we find Vallter 2000, the easternmost ski resort in the Catalan Pyrenees. Its facilities, whose maximum height is 8,202 feet (2,500 m) above sea level, offer visitors 11 ski lifts and 18 ski slopes totaling 12 miles (19 km), which include a freeride area. Similarly, it should be noted that this is one of the few that has a marked track to practice skimo or ski mountaineering.
In its central part you can access the ski lifts of Barquins and the Jordi Pujol Planella chair lift, with a good combination of blue and red runs.
For non-skiers, Vallter has a recreational park where you can sledge, and a snow garden, in which children will have a great time while their parents ski.
To get to Setcases from Barcelona, you must drive either road C-16 or C-17. The duration of the trip is about two hours and 40 minutes, approximately.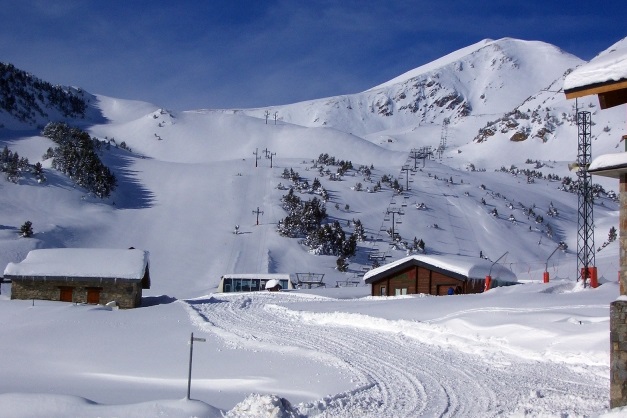 PORT AINÉ
Belonging to the municipality of Rialp and the Natural Park of Alt Pirineu (Pallars Sobirà region, Lleida) and created in 1986, this skiing station near Barcelona is under the Pic de l'Orri (8,000 miles, 2,440 m) and stands out due to the excellent quality of its snow during the entire ski season. In fact, it is considered to be the ski resort with the best snow in the Pyrenees.
Port Ainé has about 18.5 miles (30 km) of slopes and 2,625 feet (800 m) of altitude for skiers and snowboarders of all levels. In addition to the hypnotic landscapes, the great attraction of this winter resort is its orientation towards families and newbies. Its JET-CIM detachable 6-seater chairlift takes you to the Bellavista green track, a 3-km route that will make you fall in love with its landscapes.
On the other hand, Port Ainé also accommodates one of the first snow parks of the Pyrenees, equipped with initiation and improvement lines.
From Barcelona, there are 155 miles (250 km) away and you can get there by private vehicle, on a road trip that will take between three and three and a half hours. However, if you are in the city of Lleida or its nearby towns such as Balaguer, Tremp, Pobla de Segur, Sort or Rialp, you can take a special bus from the ALSA company that will take you to the slopes. This service operates every Saturday, Sunday and holidays in winter and every day of the Constitution Bridge (the journey is round trip). For more information, we recommend you check the website of this transport company.
Other ski resorts near Barcelona include those of Baqueira Beret, Espot Esquí, Boí Taüll —where some of the best examples of Catalan Romanesque are also waiting for you— or Tavascan, although the latter remains closed in 2019.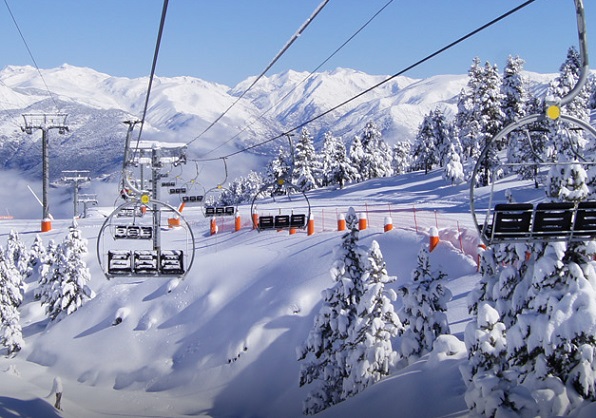 What do you think? Which of these Catalan ski resorts do you want to visit the most? If you want to send us your comments and observations about it, do not hesitate. Surely, they will surely be useful for those who want to go skiing near Barcelona.