Check out the best beach bars in Barcelona! After a long, cold winter, the long-awaited summer is finally here and with it, the wonderful. There's nothing better than cooling off with a cold drink, tasting Mediterranean cuisine or even listening to some live music.
Barcelona is a city with a culture deeply rooted in its beaches. That's why, at Lugaris, we'd like to introduce you to some recommended bars for a drink on Barcelona's best beaches.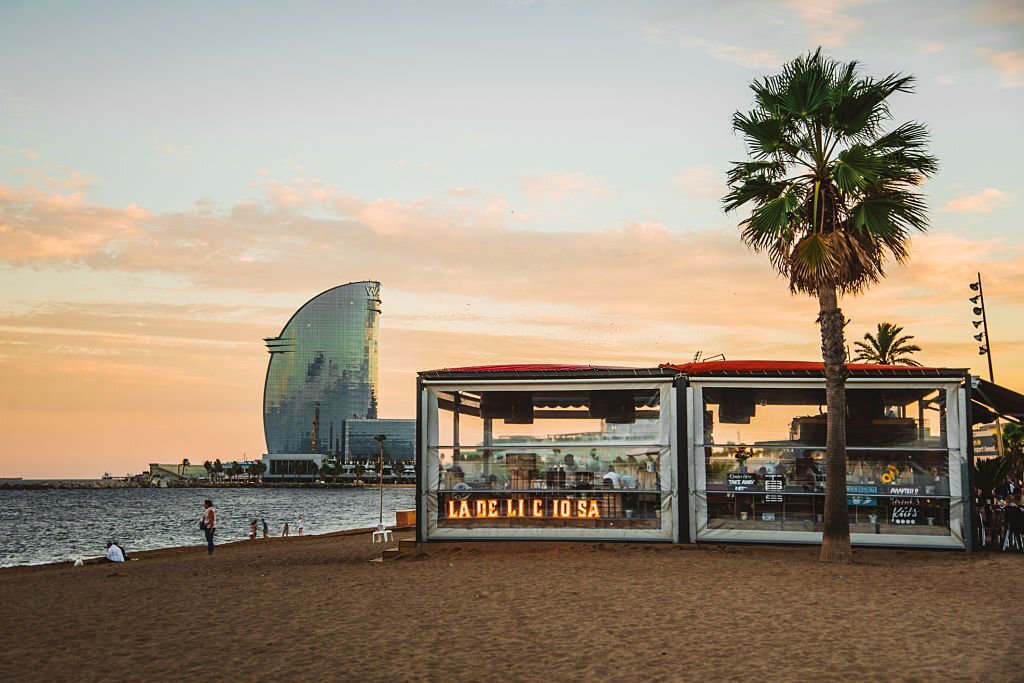 The best beach bars in La Barceloneta
Barceloneta is Barcelona's seaside neighbourhood par excellence. It is true that many of its bars are only designed to attract tourists, but its streets are home to some real gems of Catalan gastronomy. Some of its establishments have even been recognised as the best tapas bars.
In these bars you can sit on a terrace overlooking the sea and enjoy a cold drink, taste some of the tapas or try a good cocktail.
Segons Mercat
Segons Mercat is one of the best beach bars in Barcelona. It is an establishment that opened in 2007 and has become one of the best beach bars in Barcelona. When you arrive, the first thing you'll notice is that from the outside it looks like a fishmonger's, but don't panic, just keep going in!
If you're just here for a drink, you can sit at one of the tables on the terrace and enjoy the direct view of the promenade. But if you're hungry, your first stop should be at the fish counter, where you can choose the fresh fish you want to eat.
Choose the quantity of fish you want to eat, the way it is cooked, go through the checkout and sit down at your table. In no time at all you will have one of the best freshly cooked delicacies of the sea in front of you.
Can Solé
When you go to Can Solé, take a look at who is sitting at the table next to you, because it's likely to be a famous person. This restaurant has hosted and continues to host celebrities such as Michael J. Fox and Sara Montiel.
They offer a menu based on fish, seafood and rice dishes and always work with top quality and very fresh produce.
You will have a hard time deciding between their 18 different types of rice: arrós a banda with scallops, creamy rice with crayfish, black rice with cuttlefish, etc. Remember to book your table before you go, otherwise you probably won't be able to try this exquisite delicacy.
Bar Leo
You can't say you've been to Barceloneta if you don't have a drink in this bar, because it has become one of the main places in the area due to its tradition and good prices.
You'll get there for a beer, but maybe you'll end up trying some of their tapas (like the bombes), or listening to some live Catalan rumba.
Can Sardi
Can Sardi is another of Barcelona's best beach bars. As its name suggests, the speciality of this seafront bar is sardines. They are grilled, pickled and smoked.
You can also find other tapas with fresh seafood and dishes cooked with love. Don't forget to try some of their homemade desserts, you won't regret it.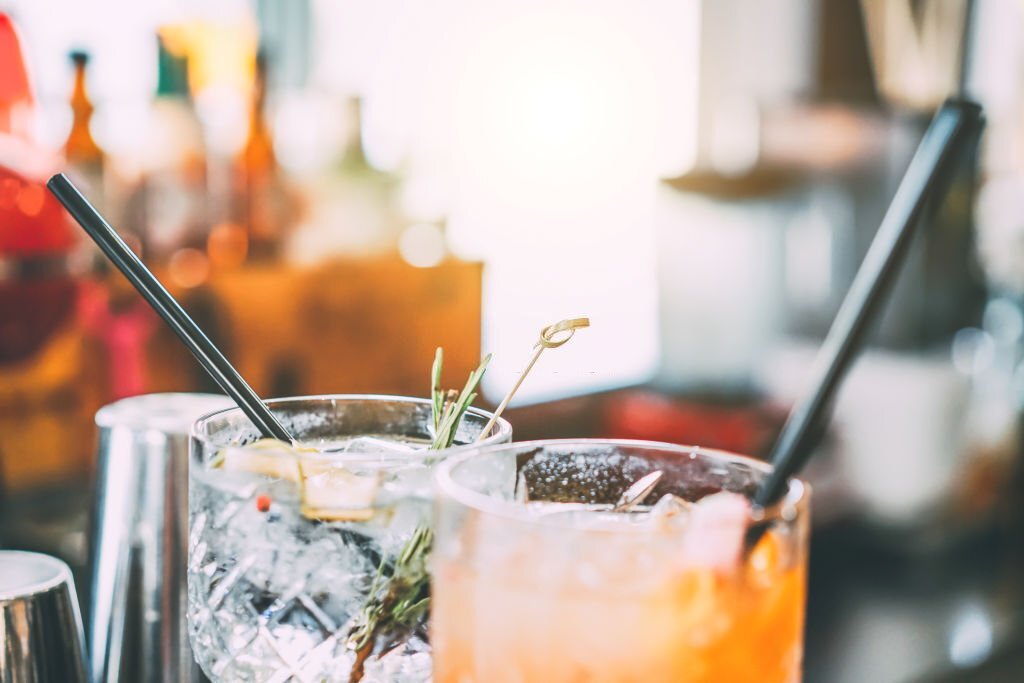 The best bars on the beach Barcelona
Chiringuitos, improvised bars that are located on the actual beach, are undoubtedly the best bars with sea views, precisely because they are located right on the sand. They are ideal for those hot days when you decide to spend your day enjoying the sun on the beach.
When you feel you've had enough, or simply want to take a break, good beach bars can be very useful for cooling off. These are structures that are set up every year on the sand of the beach and where you can find cold drinks, good food and a very summery atmosphere.
Bambú
Bambú is a place that offers a very quiet atmosphere at any time of the day, although at night the atmosphere tends to get a little livelier. You can find a wide variety of freshly made cocktails with top quality products. That's why it has become one of the best beach bars in Barcelona to enjoy an open-air party.
Chiringuito Escribà
One of the best bars in Barceloneta beach is Chiringuito Escribà. It is a somewhat unusual establishment, as its menu includes a wide range of cakes and pastries from the famous Escribà brand, as well as cocktails and paellas.
That's why they say it's the best beach bar in Barcelona for groups, because everyone will find something on the menu that catches their eye.
La Deliciosa
La Deliciosa is another of the best beach bars in Barcelona. This beach bar is somewhere between a bar and a restaurant. The reason is that they serve drinks at all hours and drinks on weekend nights, but if you go at lunchtime, you'll find some of the best dishes of Catalan gastronomy.
This is also the closest chiringuito to the city, so you can even walk there if you're strolling around the centre of Barcelona.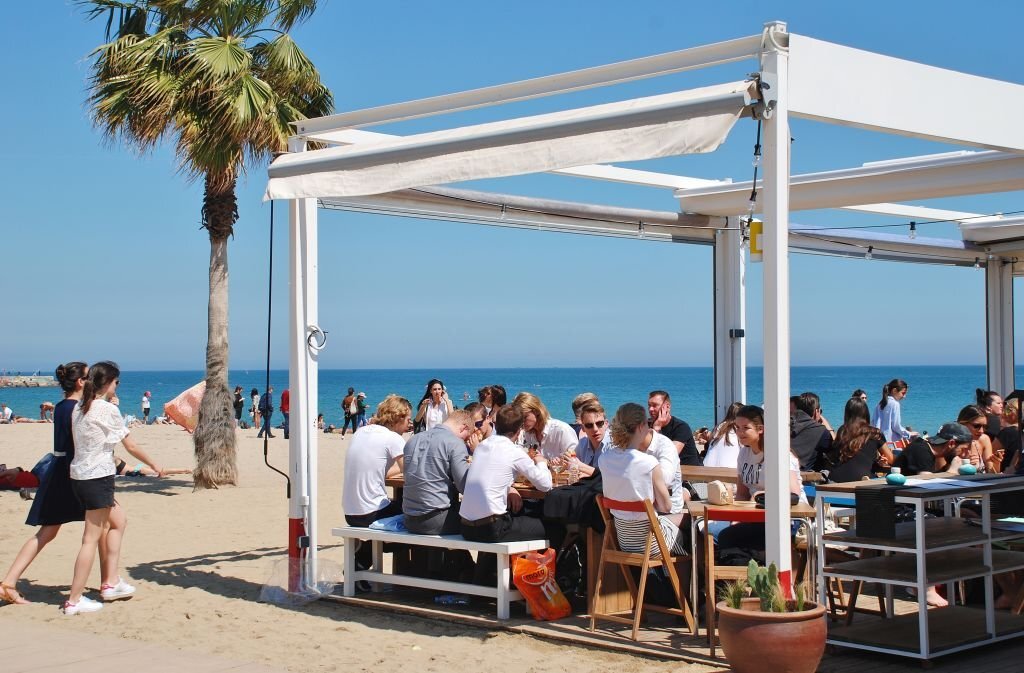 The best places to eat near the beach in Barcelona
If you like the beach atmosphere, but you are not willing to eat in your bikini, here are some of the best places to eat in Barcelona that are close to the beach. These places have local products and work with menus based on seafood.
Some of the following establishments are the best seafood restaurants in Barcelona and you can find them just a few steps from the beach.
7 Portes
7 Portes is one of the classics. It is one of the oldest restaurants in Barcelona and nowadays it is a reference point to taste the traditional Catalan gastronomy in all its essence. The restaurant is located about 15 minutes' walk from the beach.
The problem will come when you have to choose which dish to order, as they have a very extensive menu full of good food: grandma's cannelloni, seasonal rice dishes, sautéed frying pans, cod fritters, etc.
Bestial
Located in front of the sea, Bestial is an open-air restaurant where you can book a table on the terrace at different heights. Among its decoration, some centenary olive trees, the wooden floor and the marvellous views of the sea stand out.
This restaurant mixes traditional food with the most avant-garde cuisine, which is why you can find such interesting dishes as oysters with ceviche or prawn tempura with wasabi vinaigrette.
On weekend nights, the restaurant turns into a cocktail bar, ideal for a pre-dinner drink before going to one of the clubs in the area.
Can Ros
This is a restaurant where you will find good prices and excellent service from all the staff. The best feature of the food at Can Ros is that the product is fresh, because they go every morning to buy their produce from the fish market.
We've just given you an overview of the best beach bars in Barcelona, so you can choose the one that best suits you and enjoy a good meal by the sea. On our Lugaris website you'll find restaurants to suit all budgets, because we want everyone to have the chance to enjoy the city to the full.
Title: The best beach bars in Barcelona | Lugaris
Desc: Take a look at the best places to sip on a cocktail with a view, have a delicious catalan meal in front of the Mediterranean and much more.