Whether or not you have a limited budget when it comes to eating out, you can always find the best seafood restaurants in Barcelona. These are cosy places whose dishes are made with the best fish and shellfish from the Mediterranean, which are handpicked daily from local fish and seafood markets. It is not a matter of extravagant whimsy, but of enjoying an exceptional meal with a taste of the sea.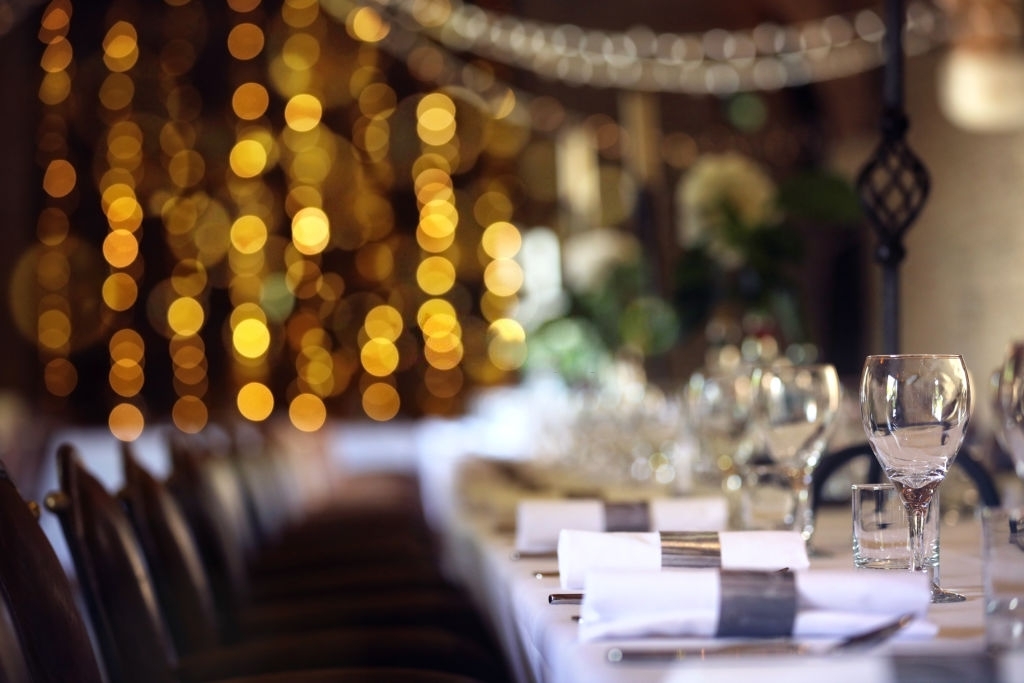 Where to eat seafood in Barcelona?
If you're visiting the Mediterranean, you must try Barcelona's fresh seafood and fish. Cities on the sea usually have several high-quality seafood restaurants, as is the case in Barcelona.
We recommend that you try the well-prepared dishes of these restaurants in Barcelona and try their star dishes. You won't regret Barcelona's seafood taken from the Mediterranean or even the Bay of Biscay.
The best restaurants to eat fresh fish in Barcelona
Are you a seafood lover and you're going to spend a few days in Barcelona? We've done the work for you and we've found the best seafood restaurants in the city for you to try the freshest fish and seafood. Take note!
La Mar Salada (Barceloneta)
La Mar Salada is a well-known restaurant located in Port Vell. It has a very attractive outdoor terrace to enjoy its seafood dishes, with wonderful views of the Mediterranean Sea as a backdrop.
Their menu includes a multitude of appetising dishes and they also have a well-priced weekly set menu where you can opt for some of their star dishes with seafood as the main ingredient. If you fancy eating good seafood at an affordable price, you'll love this restaurant.
MariscCo (Esquerra Eixample)
MariscCo is located in Eixample and the difference with other restaurants is that the client chooses the product he/she wants to taste as soon as he/she arrives. Once you have chosen your piece, all you have to do is tell the waiter how you would like it to be cooked.
This is another of the best restaurants where you can eat fish and seafood freshly caught from the sea. The truth is that it is an interesting experience as it offers a personalised service based on the client's tastes and preferences.
As if this were not enough, each person will pay for their meal according to weight and product to ensure fair treatment. In any case, the ingredients used in their dishes are of excellent quality, satisfying the palate of seafood lovers. They also have a very pleasant outdoor terrace to enjoy the fresh air during the summer months.
Tres Encinas (Esquerra Eixample)
This is another seafood restaurant located in the Eixample area of Barcelona. As with the previous establishments, it specialises in serving fresh fish and seafood, although it is also possible to eat paellaand taste quality cold meats.
The idea is to adapt to different tastes and create the perfect atmosphere. In fact, it has become the meeting point for many family and friends gatherings. It is also possible to hold events inside, thanks to its 3 rooms with a maximum capacity of up to 170 people.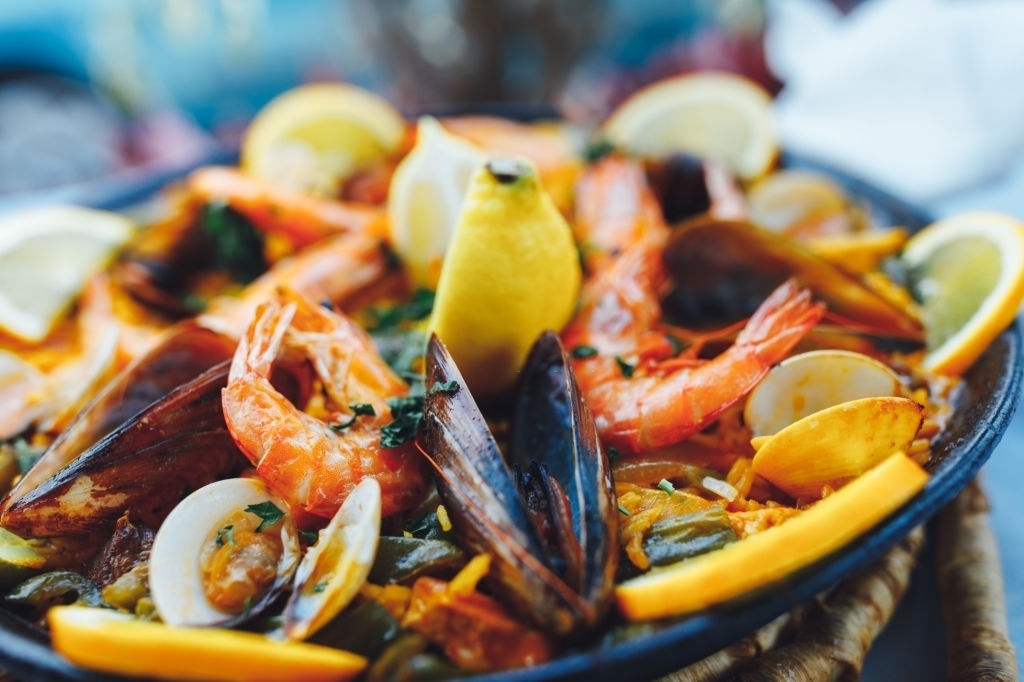 Botafumeiro (Gràcia)
This seafood restaurant has become a benchmark in Barcelona. It is a distinguished place located in the district of Gràcia, where you can opt for a fusion cuisine with fish and seafood freshly brought from Galicia.
In the kitchen of this great restaurant, only quality raw materials are allowed to be used. There is no doubt that this is the favourite place for seafood lovers, as most of its menu features dishes with molluscs, crustaceans and other marine animals, such as lobster salpicon, crayfish, seafood soup, barnacles, crayfish and scallops.
This is one of the best seafood restaurants you'll find in Barcelona, and you can even opt for trays of assorted seafood for a complete tasting.
Lluritu (Barceloneta)
The name already has some intrigue. It comes from the word "llorito", a fish full of sensations, and as for the subtitle "casual seafood restaurant", the truth is that it doesn't miss a beat. The business is shared by three partners and friends, who decided to pay attention to all the details to make their business a success, something that finally happened: Pau Roca, Gerard Belenes and Pol Puigventós.
On their menu you can find a bit of everything, whether it's grilled, raw, cold or charcoal-grilled seafood. As for the techniques used, there is hardly any frying and you won't find any sauce, but you will find a lot of excellent quality raw material, from sardines and mussels to red prawns, octopus, eel, sea urchins and much more.
At the helm of the kitchen is Javier Caballero, a specialist in cooking who knows how to handle seafood like no one else. His menu is quite attractive and his daily specials are not to be missed. Visit him and try his seafood delicacies.
La Paradeta (Sagrada Familia)
This other restaurant will take you to eat freshly caught seafood. This is a restaurant with a long tradition, whose origins are in Sants, but which ended up with 7 more locations with delicious dishes and affordable prices.
Here you'll find a bit of everything, whether it's crab, prawns, mussels, clams, oysters, octopus, squid or cockles, among other seafood delicacies. This seafood restaurant also offers you the possibility of choosing the product you want to eat, preparing it to perfection and serving it to you in a short time.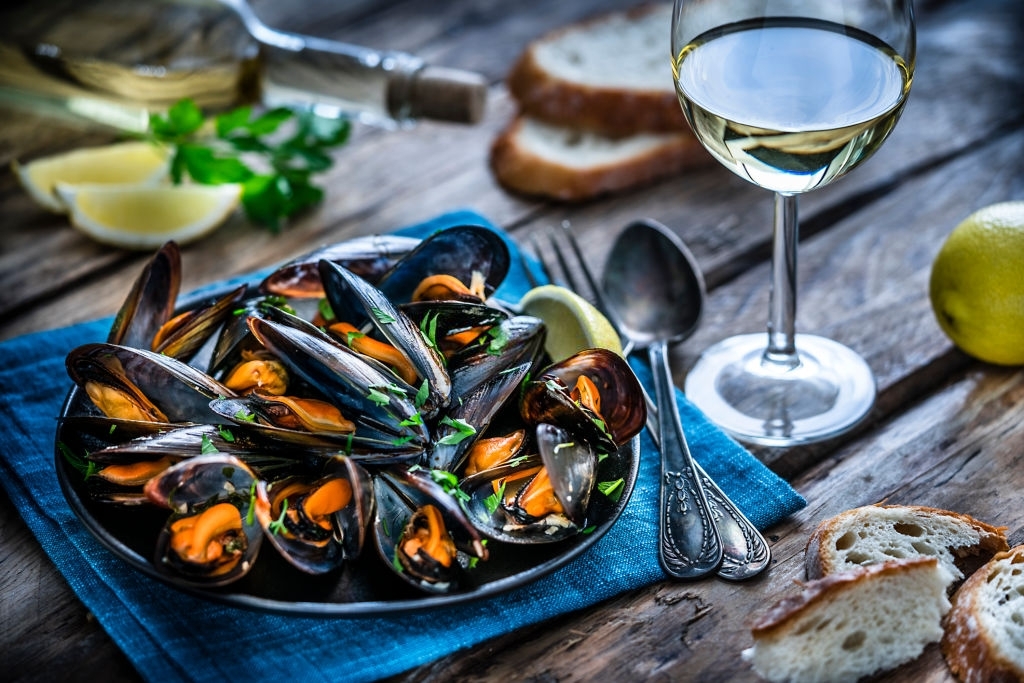 Espai Kru (Poble-Sec)
Espai Kru is another high-quality business that focuses on innovative dishes and seasonal products. In this highly imaginative culinary establishment you can choose from tartares, carpaccios, sashimi and marinated dishes.
If you are used to eating seafood, maybe you want to try something different. This is the ideal place to do so and opt for fish, molluscs, crustaceans, shellfish and well-prepared sushi pieces. If you want to opt for delicious dishes full of seafood, this is one of the best places to try traditional catalan cuisine and exotic dishes, all at the same time.
El Bisaura (Les Corts)
When it comes to listing the best fish restaurants and seafood restaurants in Barcelona, El Bisaura is a must. It is one of the most emblematic restaurants located in the Les Corts market. Originally a fishmonger's shop, it eventually became a top restaurant.
The specialities of this restaurant are fresh fish and good seafood. All its ingredients are of the highest quality and are prepared freshly so that they do not lose their freshness, aroma and flavour. For this reason, the restaurant is always crowded with loyal customers and diners who have heard about its spectacular dishes.
Carballeira (Barceloneta)
Another seafood restaurant in Barcelona is Carballeira, located in Port Vell, in the Barceloneta neighbourhood. Here you will find the best seafood brought directly from the Mediterranean and Galicia.
On their menu you can choose from a variety of specialities that will not leave you indifferent, including grilled dishes, wild products, rice dishes and more. Each dish is prepared with care to guarantee its quality. Visit it and you will enter a unique setting with decorative seafaring motifs.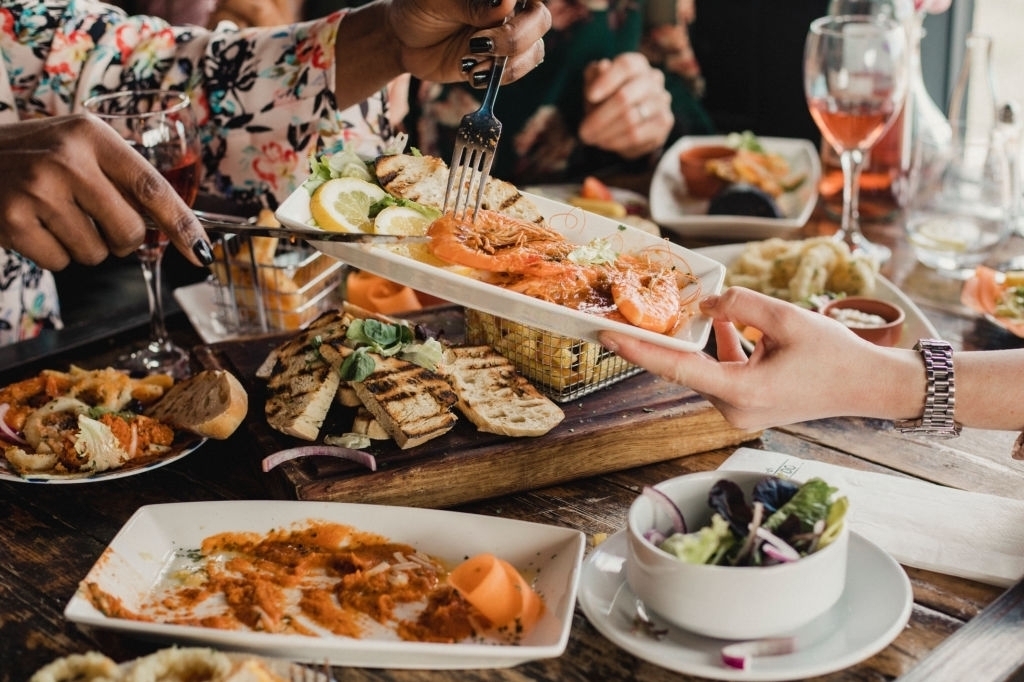 Calabrasa (Sant Pere, Santa Caterina i la Ribera)
Where to eat seafood at a good price in Barcelona? Calabrasa is yet another alternative where they serve a wide variety of dishes with fresh or grilled seafood and fish as the main ingredients. What's more, if you come with someone else who doesn't like fish at all, you don't have to worry because your companion will be able to enjoy specially prepared tasty meats.
In this establishment, as in the rest of the restaurants we have presented, quality is beyond any doubt. Seafood is one of their specialities and they usually give it a very special flavour with their grilled dishes. In addition, during the week it is possible to opt for a menu of the day with very tasty dishes so as not to complicate the menu too much.
Barnabier (Vila Olímpica)
Very close to the Vila Olímpica is this corner of Barcelona, which has earned the title of one of the best seafood restaurants in the city. Barnabier is an establishment with the best seafood in Barcelona, although its extensive menu also includes pastas, meats, rice dishes, tapas and salads to accompany your meal.
It is a very nice restaurant, located in an area well known for its great nightlife. So, if you finally decide to go to this place, you might want to take advantage of the night to have a drink.
We have shown you a great list of the best fish and seafood restaurants in Barcelona. Choosing one or the other is a very personal decision, although we can tell you that none of them will disappoint you, which is why they are the most recommended in the city. Give them a try and we assure you that you'll love them!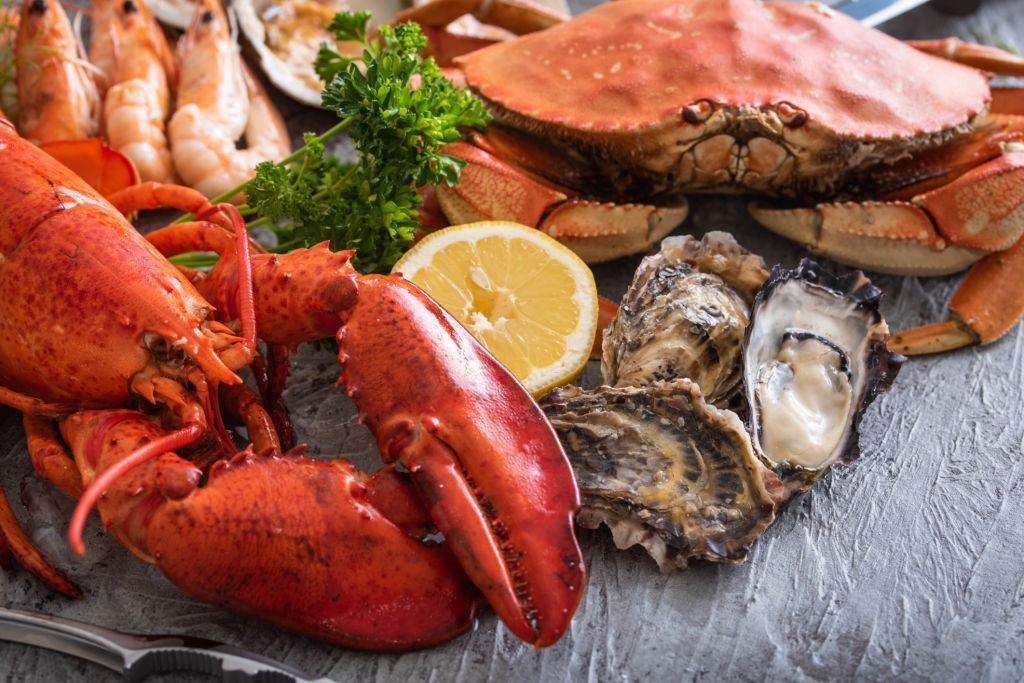 OUR APARTMENTS IN BARCELONA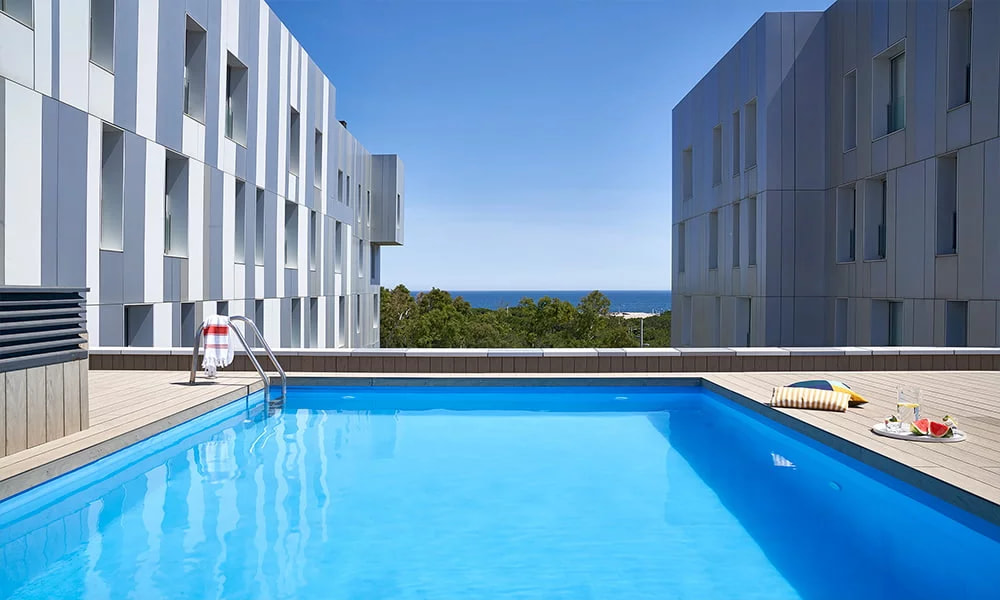 Holiday apartments by the beach in Barcelona
Since 2010, Lugaris Apartaments has been offering you the best holiday rental flats in Barcelona, perfect for a family holiday, with friends or as a couple, or for medium-term stays.
You can choose between apartments near the beach in Barcelona, at Lugaris Beach, with sea views, 2 swimming pools (one for adults and one for children) and capacity for up to 6 people, and the Lugaris Rambla flats, located on the Rambla de Poblenou and just 300 m from Bogatell beach, with a balcony or terrace of up to 22 m2 and ideal for couples or families and groups of up to 5 people. All our luxury flats in Barcelona are air-conditioned and equipped with all the appliances, furniture and bed linen you will need during your stay. They also have satellite TV and free high-speed Wi-Fi connection, as well as a safe and a 24-hour private security service.
What's more, when you make your booking, you can reserve many other additional services: international press in your flat, parking space, transfer service to and from Barcelona airport, bicycle hire, supermarket shopping, museum, sports and show tickets, babysitting service and much more.

For more information, contact Lugaris Apartments without obligation.