According to the most famous work by Miguel de Cervantes, it was on the beach of Barcelona where Don Quijote lost his last battle. Now, in Lugaris we want to help you make the most of your stay on the coast for the sake of other more rewarding and pleasant reasons. For example, savouring the delicious Catalan cuisine while enjoying panoramic views. And what better way to do it than having lunch or dinner in one of the best restaurants with seaviews in Barcelona?
Take advantage of our rental apartments in Poblenou and try the best traditional recipes in luxurious settings. Below, we present you the 10 best restaurants of Barcelona by the sea with an updated list (july 2023). Be aware: it's not easy to decide!
1881 PER SAGARDI
The name of this restaurant gives us clues as to the antiquity of this cosy restaurant, which opens its doors in the old Commercial Docks, also home to the current Museum of the History of Catalonia.
Its simple and genuine dishes are based on Mediterranean recipes and cooked with the utmost care using quality ingredients of this land. Freshly cooked rice dishes, seafood and fish from the Barceloneta fish market are the main protagonists. And if you want to round off the experience, go up to the Terrassa de les Indianes, where you will find a laid-back cocktail bar overlooking the port of Barcelona.
You will find it in Plaça de Pau Vila, 3.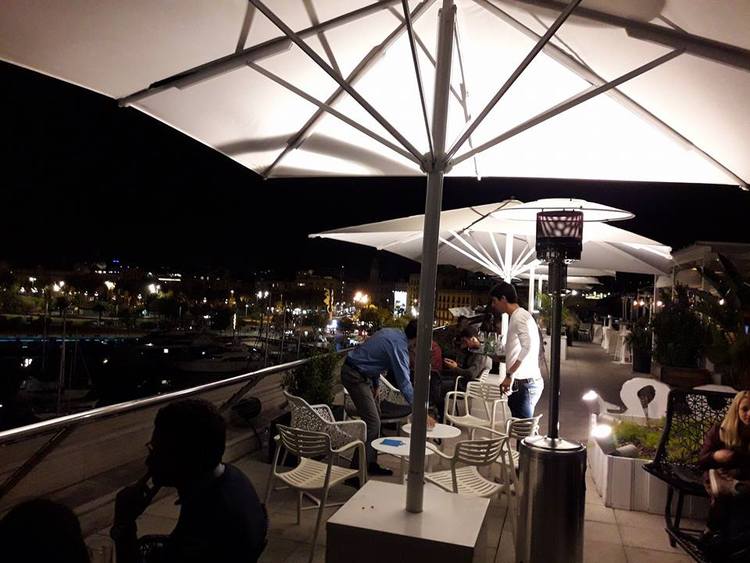 CA LA NURI
If you're looking for a place to make the best paellas in Barcelona by the sea, Ca La Nuri could be the place for you. With an excellent location, here you will find a very varied and complete selection of rice dishes and fideuás. For starters, choose from elevated local starters, such as the grilled mussels with oil and parsley. Best of all, apart from the baked rice and the house paella (called Paella Família Nuri), vegetarians can also enjoy a paella.
The restaurant is located on Passeig Marítim de la Barceloneta, so you can't miss it.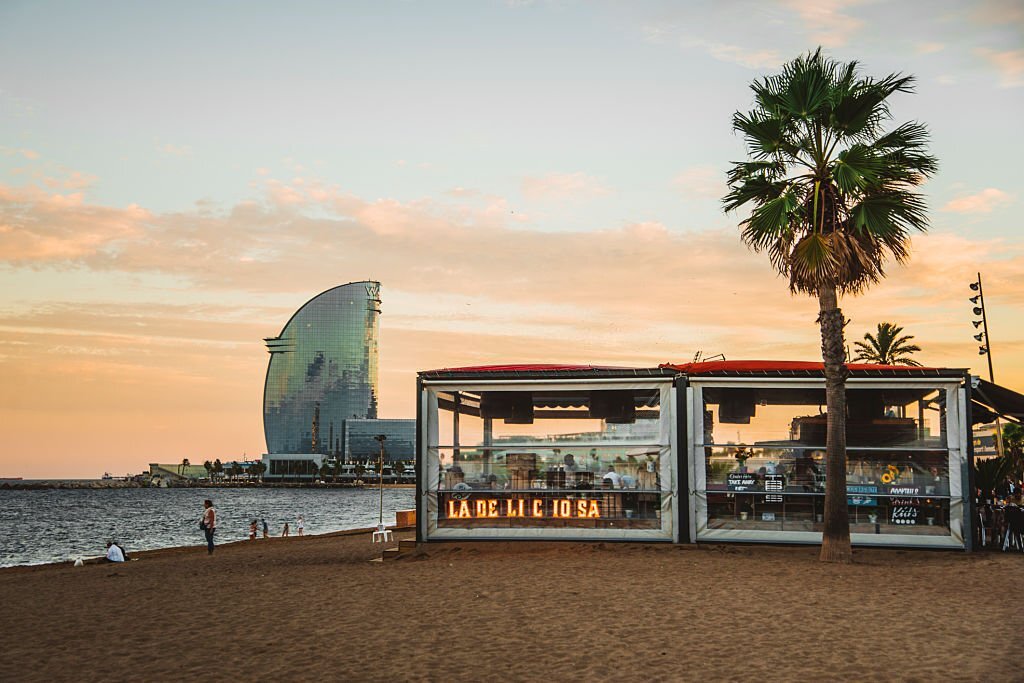 Pez Vela
There is no doubt that for some years now, the Tragaluz group has dominated Barcelona's culinary scene with its daring proposals and spectacular locations. Over the last decade, Pez Vela has become one of the most sought-after seafront restaurants in Barcelona. Favoured by influencers for its Instagram-worthy views, they have elevated the beach bar concept to offer delicious rice dishes and finger-licking tapas. Located just below the W Hotel, don't hesitate to book in advance, as beachfront tables are in high demand.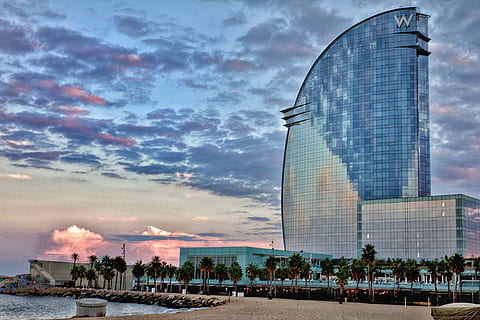 Studio Miramar Restaurant
Studio Miramar, which has recently renovated and located in the Miramar Hotel in Montjuïc, is an unbeatable choice to enjoy a delicious meal in exquisite atmosphere with breath-taking views over the city, the sea and the beautiful gardens of Forestier, from which it takes its name.
Its menu offers the most avant-garde cuisine with creative touches to please every single palate. At the same time, its winery has an extensive wine list with prestigious denominations of origin.
Studio Miramar is located on Carrer Carlos Ibáñez, 3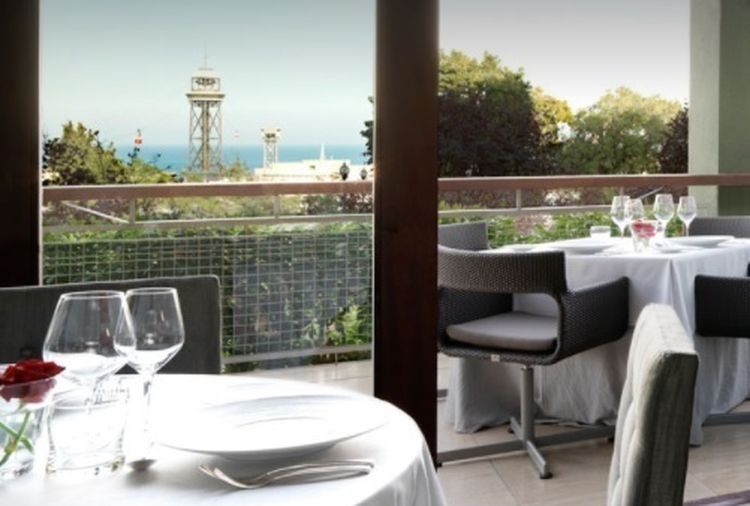 Sal Mar
Sophisticated restaurant facing the sea in Barcelona with a menu of local products that offers a warm and familiar proposal with a really neat decoration. Owned by the Nuri family, another of the restaurants we have mentioned, the type of food you can eat here is basically Mediterranean with a touch of fusion.
Always using the highest quality products, you can try their Andalusian-style squid with wasabi mayonnaise or the chickpea and olive hummus with cheese.A real delicatessen. Of course, you can't miss the fresh salads, high quality meats and fish, as well as the prized rice dishes, among which the scallop and dewlap rice stands out, or the classic "Paella del senyoret", if you want to try a typical Barcelona dish.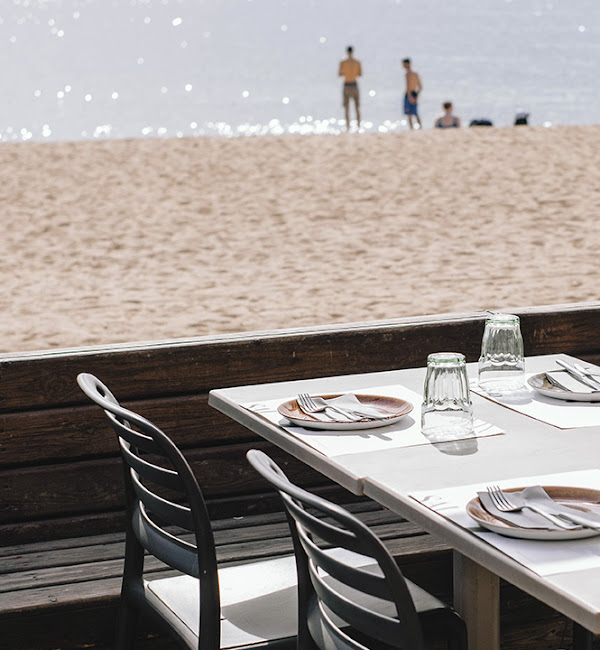 Marina Bay
One of the emblems of the 1992 Olympic Games were the so-called "Torre Maphre" and "Torre Arts", built in front of the new Olympic Port. Well, now you can dine with these privileged views thanks to the terrace of Marina Bay, the Lounge Bar-Restaurant inside the Arts Hotel. Under the watchful eye of Frank Gehry's sculpture "Peix Daurat", here you can try some of the country's best-known tapas, such as Galician-style octopus, zamburriñas or Iberian ham. For your main course, choose from a selection of meats with designation of origin or a paella of whatever you fancy.
This is a good place to go with friends, as after dinner, you can enjoy explosive cocktails with shows and live music. Don't miss out on their agenda and book a table as soon as possible to get the best place with a view.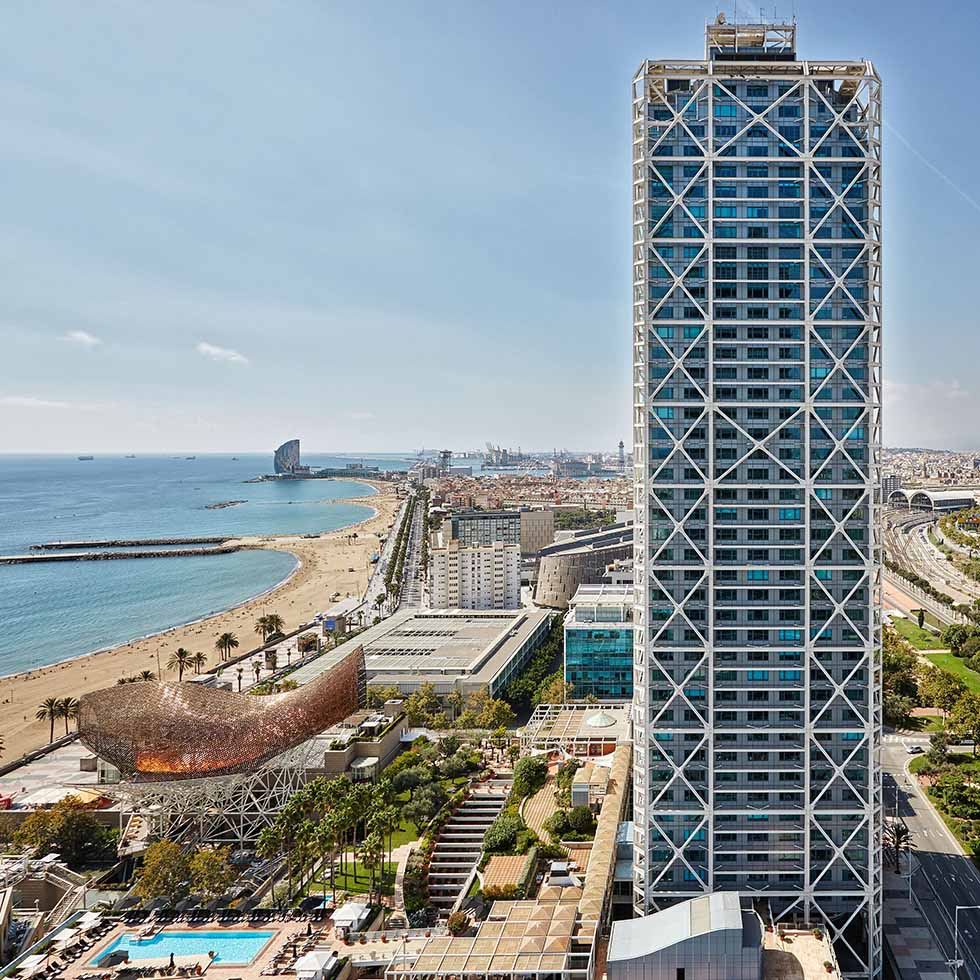 Mar Beach Restaurant
Don't be fooled by its casual and cool atmosphere, as Mar Beach is one of the top-rated beachfront restaurants in Barcelona. Located in Plaça del Mar, in the centre of Barceloneta, sitting on its terrace is synonymous with watching life go by on one of the city's most famous beaches. In terms of food, you'll find everything from American and Mexican-inspired dishes, such as hamburgers and tacos, to more local dishes, such as patatas bravas, pimientos del padrón and huevos rotos. As well as the well-known paellas, the main dishes include a healthy salad or try their escalopa al pollo (chicken escalope).If you are looking for sangria to drink, they also offer a good variety. If you have to drink it, it's better here than anywhere else.
If you want to find one of the best terraces with views of Barcelona, you may be in the right place. The address is Plaça del Mar 1.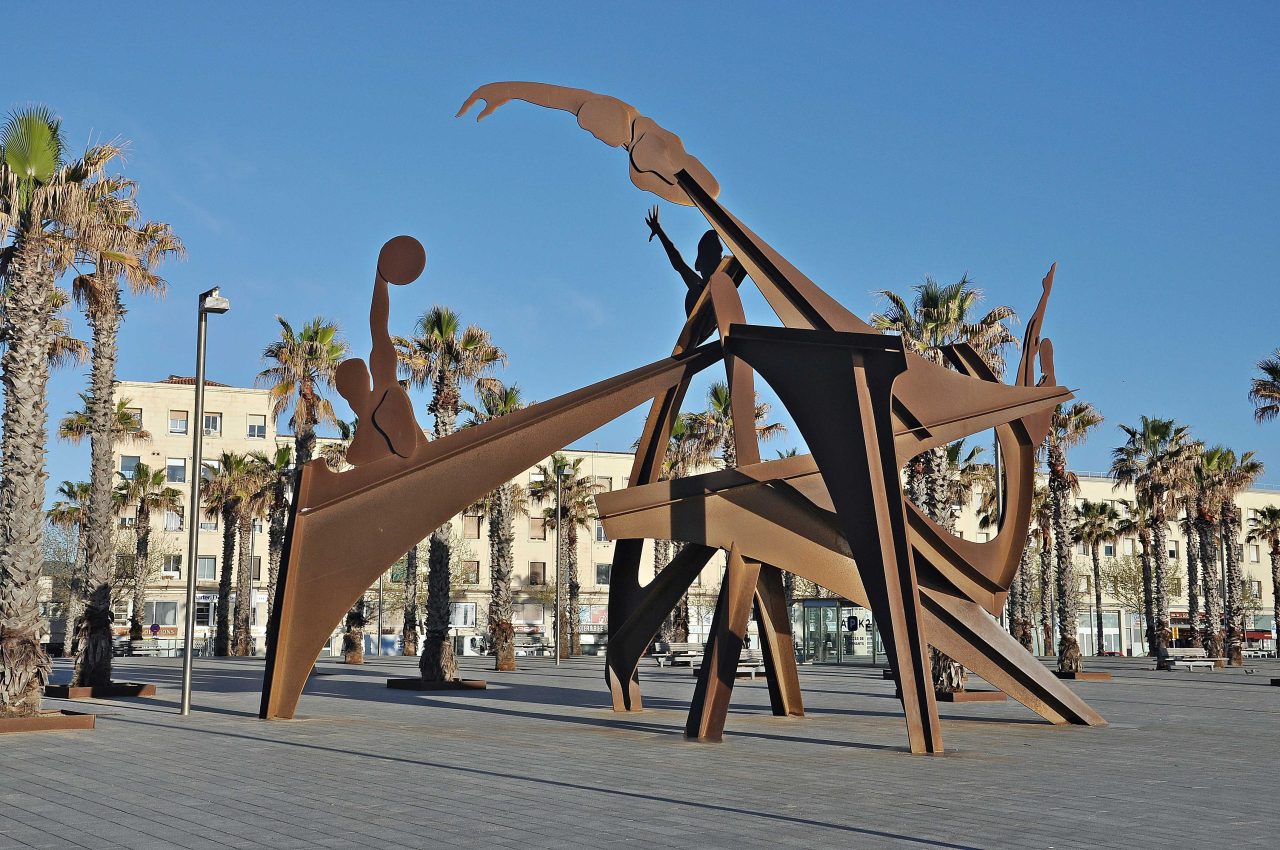 MIRANDOALMAR
With a name reminiscent of a famous song by Jorge Sepulveda, Mirandoalmar is located on the second floor of the Maremágnum Shopping Centre. Delicious dishes of Catalan gastronomy await you there, made with high quality ingredients; the icing on the cake are fascinating views over the Port Vell and the Rellotge tower, an old lighthouse built in 1772 and transformed into a clock in 1904.
The establishment can host up to 120 guests and is open from 12:00 pm to midnight uninterruptedly, 365 days a year.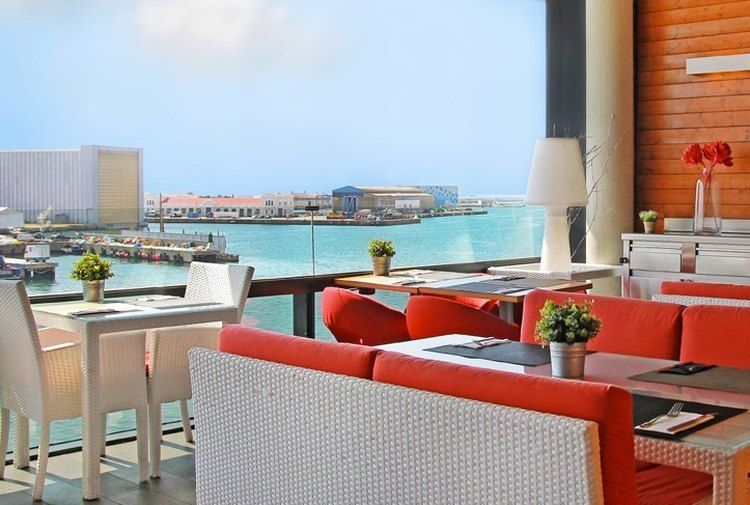 RESTAURANT BARCELONETA
Inaugurated in 1996 and located in the Port Vell (carrer de l' Escar, 22), this establishment is doing its best to make a name for itself and to become the best fish restaurant in Barcelona.
On its premises you can taste the most genuine Catalan and Mediterranean cuisine, with menus for groups offering fresh fish and seafood.
From there you will contemplate unique views over the quays of Barcelona. There are also indoor spaces with private lounges to celebrate family reunions or corporate events. Want to know more about this neighbourhood's cuisine? Check out the best tapas bars in Barceloneta!
By the way: the Gòtic quarter and the church of Sant Miquel are just a stone's throw away.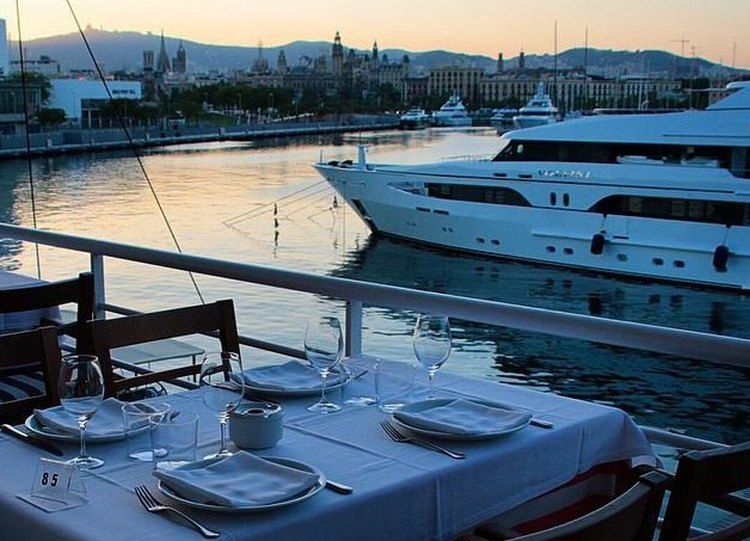 TORRE DE ALTA MAR
Chefs Joan Martínez and Albert Dolcet offer impeccable creative cuisine with wonderful views over the Mediterranean and the city, which is why it could well be on our list of the best rooftop bars in Barcelona.
Savour some of the best fruits of Barcelona recipe book, based on modern Mediterranean cuisine d´auteur. You'll have the chance to choose from one of two irresistible menus – the Gourmet menu or the Petit Gourmet menu; in either case you´ll be offered creamy shrimp rice, beef tartar, hake ¨al pilpil¨, crispy plankton or vegetable garden on top of fake soil.
Would you like to extend this list adding other restaurants with sea views in Barcelona? If that is the case, we will be happy to hear your culinary suggestions. Do not hesitate to send us your comments!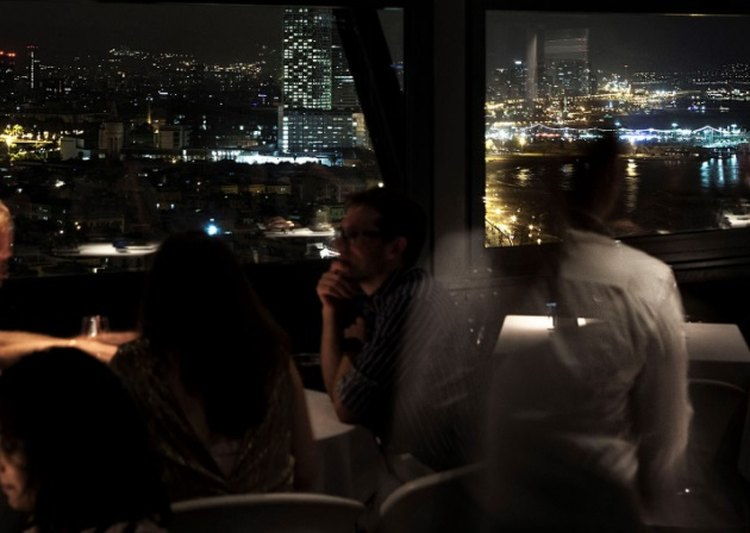 Si prefieres una comida más ligera y tapear con vistas al mar, hemos preparado una selección de los mejores bares de tapas en la Barceloneta. ¡Descúbrelos!
¡Y recuerda que también puedes disfrutar de las mejores vistas al mar desde nuestros apartamentos en la playa de Barcelona!