Let's be honest: your trip to Barcelona does not end in this exciting Mediterranean destination. In fact, this cosmopolitan city is an open door to other corners of the planet, and not only due to the cultural diversity found in some of its neighborhoods, but also thanks its huge dining options. This is not only limited to the irresistible typical Catalan dishes, since these delights coexist with international recipes that will allow your taste buds to experience new sensations. To do this, just visit the best exotic restaurants in Barcelona.
In addition to the great classics —such as Italian, Chinese, Japanese, Indian or Mexican restaurants— new flavors from the most varied origins await in the Catalan capital: Scandinavia, Eastern Europe, Russia, Ethiopia, Southeast Asia…
Take advantage of your stay in our holiday apartments in Barcelona for a gastronomic break that will conquer your palate. Thus, we bring you some suggestions from all over the world that will not leave you cold. Choose yours and book your table!
SCANDINAVIAN RESTAURANTS IN BARCELONA
Although northern Europe hosts some of the most advanced societies, the magnetism of Barcelona can attract some of its citizens. New Barcelonians who, once in Catalonia, do not hesitate to put on their apron and surprise us with their savoir-faire in the kitchen. There are not many Scandinavian restaurants in Barcelona, but the ones that exist are of great quality. Do you want to visit them?
Swedish restaurants
We spoke about Väcka (8 Sèneca) when talking about the best vegetarian restaurants in Barcelona, and we are doing so again on this tour through the exotic restaurants of the city. Here you can taste a good number of raw vegan specialties. And if you want to taste good cheeses in Barcelona, you'll also find them in three 100% vegan varieties: ripened, cheddar and spreadable. Another Swedish restaurant in Barcelona is Pappa Sven (22 Villarroel), whose owner, Nina Olsen, offers some typical Swedish recipes. And if you like beer, visit Olofson Eixample (54 Londres), with a dozen taps and a menu in which the smoked recipes are king.
Danish products
Although they had a store in Gràcia, the owner of Britta's decided to sell her Danish food products from the ocatafums.com website, based in the Barcelona town of Masnou (Maresme). Choose between cold meats, salmon and smoked cheeses, and enjoy the genuine northern flavor.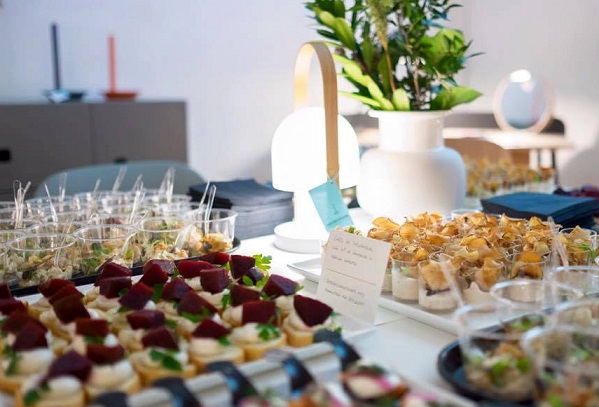 EASTERN EUROPEAN RESTAURANTS IN BARCELONA
The capital of Catalonia has an important Slavic community, a circumstance that has ended up being reflected in its gastronomy. While the offer of Eastern European food in Barcelona is still discreet, the truth is that it is inspired by different countries and culinary traditions, which is a gift for foodies. Here are some of the establishments worth dining in.
Romanian restaurants
The raw materials and the rigorous climate of Eastern Europe unite to lighten up a simple cuisine which is full of contrasts and flavor at the same time. One of the Romanian recipes that you cannot miss is the mămăligă, a kind of polenta that is originally from the Carpathians, as well as its delicious and forceful vegetable soups. One of the most famous Romanian restaurants in Barcelona is Crama Drácula (18 Provença), which we wrote about in our article about original restaurants in Barcelona. However, there are other options, such as La Mama Acasă (41 Guitard) or Transilvania Barcelona (99 Provença).
Hungarian restaurant
Since 2010, the first Hungarian restaurant in Barcelona, Hungaryto, offers an exquisite menu full of traditional Magyar recipes, such as the unfailing goulash, a stew mad of beef and vegetables, or the lángos, fried bread served with cream, cheese or garlic. The decoration of the place, with period furniture, will transport you to the banks of the Danube. You will find it in 353 Aragó. To buy typical Hungarian food products and cook them in your apartment, visit the Paprika Gourmet store (248 Castillejos).
Russian restaurants
Russian cuisine also has its space. Taste the real Russian salad —called herrings with a raincoat— in the elegant Café Tolstoi (170 Mallorca), with a careful 19th-century setting and a generous pastry menu direct from the land of the Tsars. You can also book at the Russian restaurant Souvenir (232 València) or Ekaterina (129 Comte Borrell).
Serbian restaurant
Milan Kalina, former handball player of FC Barcelona born in Belgrade, is the alma mater of La Parada (153 Urgell), whose menu features delicious touches of Balkan cuisine. Nowadays, it is the only restaurant dedicated to Serbian cuisine in Barcelona, so it is well worth a visit.
Bulgarian pastries
Although it is not a restaurant, the Bànitsa Pastissos Artesanals pastry shop (188 Diputació) will convince those with the sweetest tooth. Try some of the delicacies of this Balkan country and add sweet —or salty— touch to any meal. Undoubtedly, the star specialty is the bànitsa, made with phyllo, which is typical in Bulgaria, and which gives its name to the establishment. You will like it! By the way: the chef is originally from that country.
ASIAN RESTAURANTS IN BARCELONA
Yes: there is life beyond Chinese, Japanese, Korean and Indian food (the latter is very close to Tibetan or Nepalese cuisine in Barcelona). Without going any further, Southeast Asia is one of the main players in the offer of exotic restaurants in Barcelona. To check it, pay attention to all these suggestions.
Thai restaurants
Take advantage of your holidays in Barcelona to discover the pleasures of Thai cuisine: a culinary tradition that stands out for the intense flavors and the presence of ingredients such as jasmine-scented rice, coconut milk, banana leaves and spices. Among the best tai restaurants in Barcelona, you can go for Thai Barcelona – Royal Cuisine (273 Diputació), Thai Gràcia (381 Còrsega) or Thailandes (379 Diagonal Avenue), specialized in curries.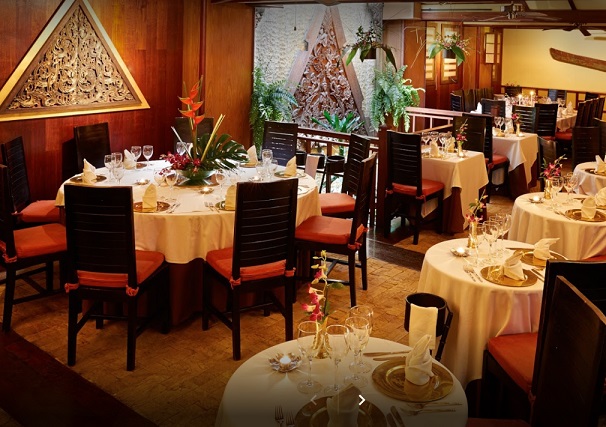 Vietnamese restaurants
Did you know that Vietnam was occupied by China for more than a millennium? This explains why Vietnamese cuisine shares many similarities with the Asian giant's cuisine, but without renouncing to its own essence. From Lugaris, we invite you to taste its star dishes in Capitol (234 Calàbria), the first Vietnamese restaurant in Barcelona and considered the best in its kind. You also have the possibility to eat or dine at the Capitol II (199 Villarroel), Indochine (247 Aribau), Pho Bar (159 Sepúlveda) or Hanoi (27 Doctor Letamendi Square).
Cambodian restaurants
Beyond the amazing temples of Angkor, Cambodia also offers the magnificent Khmer cuisine, with marked Chinese and Indian influences and delicious proposals made with rice and seafood. To try Cambodian food in Barcelona, you have the cozy Indochine Ly Leap (82 Aribau) or the veteran Ta-Tung (75 Mare de Déu de la Salut), created in 1980.
Indonesian restaurant
Among the exotic restaurants of Barcelona, the central Betawi (6 Montsió) is unique in its category. Get ready to enjoy the essence of Southeast Asia in this small establishment, walls in warm tones and a decoration that will make you feel like you are on one of the magical islands of Indonesia.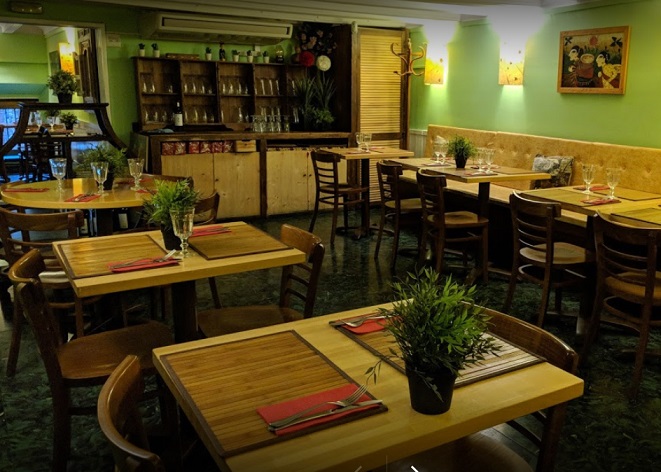 AFRICAN RESTAURANTS IN BARCELONA
There is no shortage of Moroccan and Middle Eastern restaurants in Barcelona, thanks to its Syrian and Lebanese restaurants. In any case, the most surprising thing about the African continent are those establishments that revolve around sub-Saharan cuisine. Here are some examples with which you will surely impress.
Senegalese restaurant
The country whose capital hosted the arrival of the legendary Paris-Dakar Rally for years brings us its culinary delights. In Barcelona, you can make your reservation at the Daru Salaam (18 Agullers), in the heart of the Born, and try their succulent dishes made with swordfish.
Ethiopian restaurants
Color and authenticity go hand in hand in the Ethiopian restaurants of Barcelona. There you will live the incredible experience of eating with your hands and getting acquainted with one of the oldest African cultures. We recommend you discover Addis Ababa (44 Vallespir), in Sants, and Abissínia (55 Torrent de les Flors), in Gràcia. You will want to go back!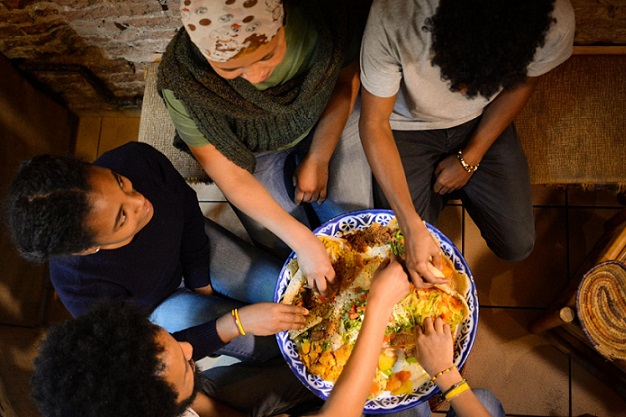 We would need much more than a post to summarize the best exotic restaurants in Barcelona. However, we do not want to miss the opportunity to mention Belgian cuisine (Gilda by Belgious, in Ample, 34), Brazilian (Brasayleña, in the commercial center La Maquinista), Bolivian (La Cuineta d'Horta, in 40 Petrarca), Colombian (El Arepazo, in 264 Cartagena), Cuban (El Paladar del Son, in 6 Torrent de les Flors), Ecuadorian (El Ñaño Bellaterra, in 177 Padilla), Dutch (Felice, in 22 Francisco Giner) and Venezuelan (La Taguara, in 10 Rec) restaurants. Do you know other exotic restaurants in Barcelona? In that case, we would love you to send us your gastronomic recommendations. Will you give them a chance?