Poblenou neighbourhood is one of the most interesting in Barcelona and is ideal for going out for tapas, brunch or dinner. The atmosphere is exceptional and the area is well connected. The main characteristic of this area is its creativity. Poblenou's artistic workshops, design studios and cultural mix stand out. Although it used to be a humble, fishing neighbourhood, nowadays it is one of the most cosmopolitan areas of the city of Barcelona.
It's a perfect place to spend your weekend afternoons and a must-see for every tourist who visits Barcelona and wants to really delve into its culture, its best corners. The only thing you'll have to decide is the establishment where you're going to spend your leisure time, so today we've put together a list of the best restaurants in the area to make it easier for you, take note!
If you don't know where to eat in Poblenou, here are the answers. We have selected the most attractive restaurants so that you only have to book and start enjoying the best meals in the neighbourhood. Don't miss the chance to try them, we're sure you'll want to repeat and go through the whole list.
This type of restaurant is very practical for weekday lunch or for those who go to work near the neighbourhood or are eating out on a budget. As they have a set lunch menu, it can be cheaper to eat there, practical and quicker than ordering from an à la carte menu.
Little Fern
Little Fern is one of the restaurants in Poblenou with a lunch menu, so it's the perfect place to go for lunch. They also offer one of the best places for brunch in Poblenou, for those mornings when you have some free time and want to treat yourself. You'll find gastronomy from New Zealand no less, so go with an open mind and all five senses available for this new experience. It is located at Carrer de Pere IV, 168 and its opening hours are from 09:00 h to 17:00 h Monday, Thursday and Friday, from 10:00h to 17:00h weekends. Closed on Tuesdays and Wednesdays.
Sopa
Sopa is an ideal choice for vegetarians and vegans, as well as for those who prefer organic products. It offers a multitude of options for lunch, snacks and at weekends it offers a menu just for a splendid brunch. It is located at Carrer de Roc Boronat, 114 and its opening hours are from 08:00 h to 19:00 h from Monday to Friday and from 10:00 h to 17:00 h on weekends.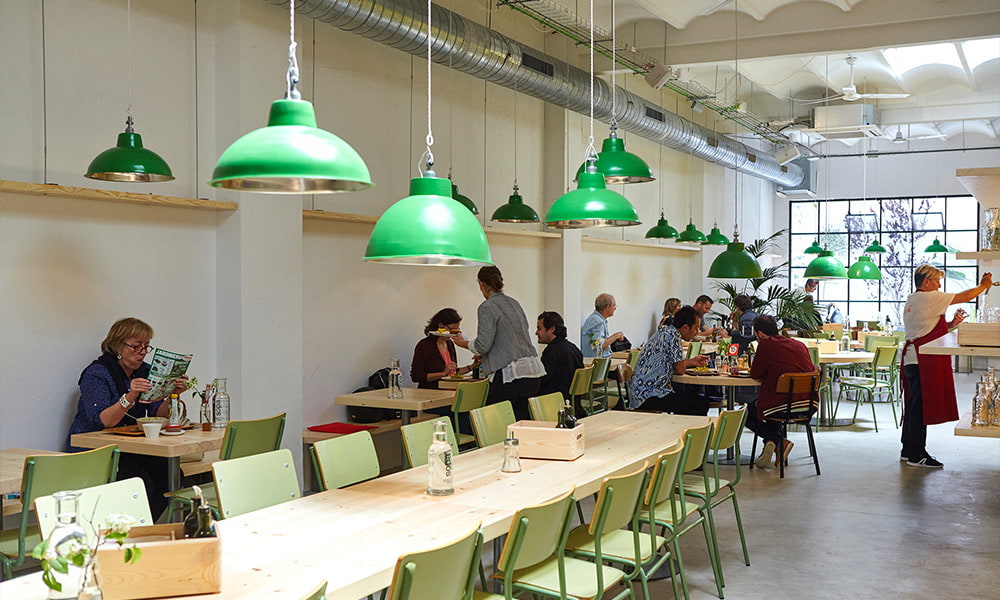 Cheap restaurants in Poblenou
Barcelona can be expensive on many occasions and Poblenou is not exempt from this characteristic in many of its gastronomic options. Having some suggestions for cheap restaurants in the area can be a great help.
Barlovento Poblenou
If you're looking for cheap restaurants in Poblenou, Barlovento is an excellent choice. It specialises in Mediterranean cuisine and you can leave with a full stomach for around 18 euros per person. Here you can enjoy good seafood, both fish and shellfish, and delicious tapas if you are looking for a more informal experience to share with other diners. It is located at Rambla del Poblenou, 21 and its opening hours are from Tuesday to Sunday from 12:00 h to 23:00 h.
El 58
This rustic-inspired restaurant offers a plan of creative tapas and informal food to enjoy in the company of friends. It is an inexpensive restaurant and its offer is also around 18 euros per person. The patatas bravas are one of its most acclaimed specialities and the atmosphere is young and friendly. It is located at Rambla del Poblenou, 58 and its opening hours are from 13:00 h to 15:30 h.
Romantic restaurants in Poblenou
Do you have a date and want to impress the other person? The best plan to seduce is to take your partner (or potential partner) to a good restaurant for dinner and have a fun and intimate time. In Poblenou you can do it perfectly if you know where, you can even complete the experience with visits to museums or walks through the architecture of the area, it is an idyllic neighbourhood for a complete plan.
Boo
For couples looking for romantic restaurants in Poblenou there is nothing better than a visit to Boo. It is located on the jetty of Mar Bella beach and offers spectacular views that will win over any heart. For dinner you can order delicate fusion cuisine dishes and end the date with a good cocktail, everything you need for a perfect evening. It is located at Espigón de Bac de Roda, 1 and its opening hours are from 13:00 h to 01:00 h in summer (June-September) and from 13:00 h to 18:00 h and 19:30 h to 00:30 h in winter.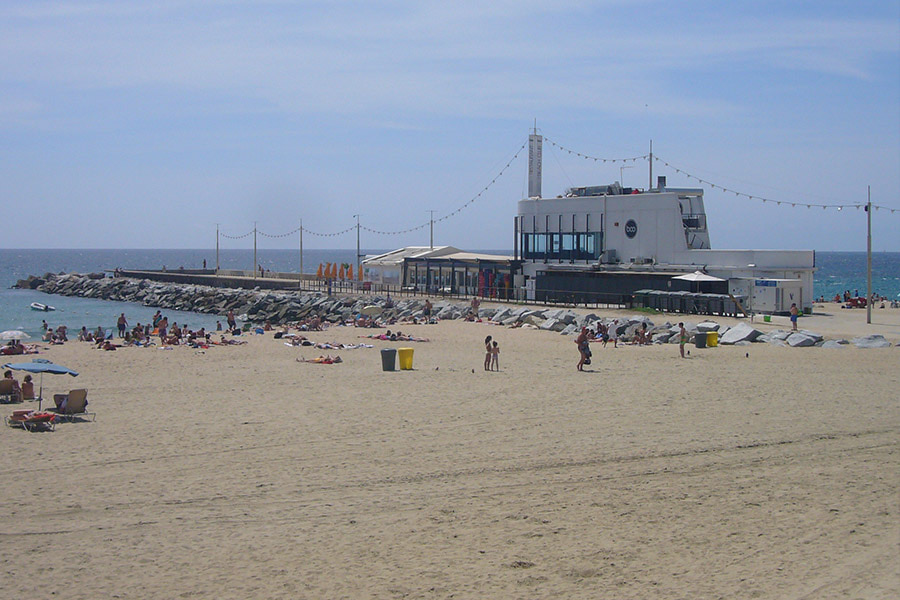 Aguaribay
We know that there are more and more vegetarians and vegans, so there will be no shortage of this suggestion in the Poblenou neighbourhood for a romantic day out. An excellent option is to go to Aguaribay, which has an excellent terrace for sunny days and organic menus with seasonal ingredients. It also has dishes for gluten intolerant people so it is an especially inclusive place for all gastronomic needs. It is located at Taulat, 95 and its opening hours are Monday to Sunday from 13:00 h to 16:00 h, dinners from Thursday to Saturday from 20:30 h to 23:30 h.
Modern restaurants in Poblenou
If you're looking to experience the neighbourhood at its best, you'll want to try modern restaurants that offer different possibilities. This area is ideal for those looking for this type of gastronomic experience, as it is a very creative and original neighbourhood, full of culinary possibilities.
Nolita
Nolita is a cosy restaurant in Poblenou with a very modern spirit. You'll be impressed by its industrial-style décor and its surprising options for a full brunch. It's a very pleasant place with a nearby square where you can enjoy your meal in the sun if the weather is nice at the time. It is located at Carrer de Llull, 230 and its opening hours are from 09:00h to 17:00 h, open every day.
Carrot Café
Carrot Café tries to turn sandwiches and fast food into a cool and creative experience. It certainly succeeds. This emblematic café has the perfect atmosphere to enjoy its unique sandwiches, made with more than fourteen varieties of artisan breads, a cosmopolitan essence that screams avant-garde everywhere. It is located at Carrer de Tànger, 22 and its regular opening hours are from 12:00 pm to 4:30 pm and from 8:00 pm to 11:30 pm.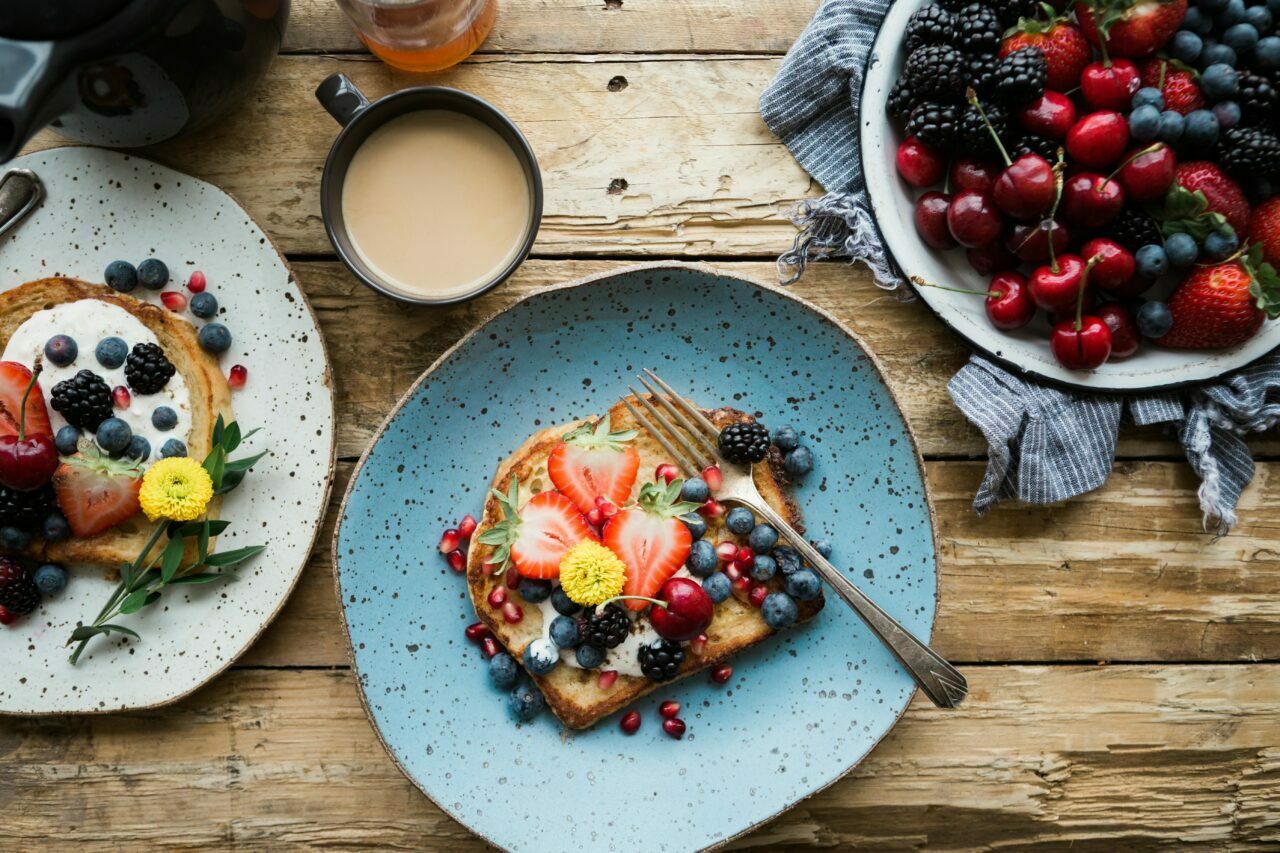 Restaurants that have outdoor seating areas
When the weather is nice, it's wonderful to stroll through the streets of the Poblenou neighbourhood, and if you decide to stay for lunch, you're sure to look for a good terrace to enjoy the best dishes in the open air. There are also ideal options for this, and with a cool beer you won't want to leave the place.
Arola
An excellent terrace and a Michelin star, what more could you ask for? In its large outdoor area you can enjoy its high-level tapas or its rice with lobster, all without losing sight of the Mediterranean. It is the perfect place to let yourself be carried away by the pleasure of the moment without rushing, to relax on any spring afternoon. It is located at Marina, 19-21 and its opening hours are from Thursday to Monday from 1pm to 3:30pm and from 8pm to 11pm.
Els Pescadors
Els Pescadors is one of the most traditional restaurants to be found in Poblenou and has been in business since 1980. It is ideal for tasting rice casseroles and typical dishes from the gastronomy of Barcelona. Of course, it has an excellent terrace located in the large square that preserves the essence of the old fishing neighbourhood it once was. It is located at Plaça de Prim, 1 and is open from 1pm to 4pm and from 8pm to 11pm.
Staying in Poblenou
You may be looking for accommodation in Poblenou if you don't live too close or you want to forget about travelling for those moments of dinner and fun. You can find a multitude of options for this in our holiday rental apartments in Barcelona next to the beach in just one click, without moving from home and without inconveniences, there is no excuse anymore! You will get flats just for you, with all the hygiene measures and the comfort of feeling at home instead of staying in a cold hotel. Once you have chosen a place to spend the night, all you have to do is choose your favourite restaurants from the list and start a tasting tour like no other.