Although it may seem obvious, we do not always remember that Modernism in Barcelona goes beyond Gaudí and the city itself. Most tourists and many locals do not know about it, but the truth is that the metropolitan area has outstanding examples of this important artistic movement, which emerged at the end of the 19th century and changed the appearance of the city and its surroundings completely.
If this is your first visit to Barcelona, the most logical thing to do is to pay attention to its main masterpieces: those that appear in tourist guides and attract hundreds of thousands of visitors each year. However, experience tells us that, after discovering Barcelona, there are many people who want to repeat this incredible getaway by the sea. If this is your case, you will surely need new incentives, even if it involves moving further away the city center. Fret not! Here you will find some of the most spectacular Modernist buildings near Barcelona. Would you like to discover them?
In addition, you will be able to visit them in a comfortable way, as they are well connected to our holiday apartments in Barcelona, perfectly arranged for an unforgettable stay in the Catalan capital. Come and see for yourself!
CAN NEGRE (SANT JOAN DESPÍ)
The neighboring town of Sant Joan Despí has one of the most beautiful Modernist masies (or farmhouses) in Catalonia: Can Negre, at 1 Plaça de Catalunya. Even though this building dates from the 17th century, it was not until the beginning of the 20th century when its former owner, lawyer Pere Negre i Jover, entrusted the remodeling of the house to Josep Maria Jujol i Gibert, one of Gaudí's collaborators. He met him thanks to the friendship between Negre's wife and Jujol's aunt, Josefa Romeu i Grau de Gibert.
The works were carried out in several stages and depended on the budget that was available at each time. Once the initial renovation was completed (1915-1917), Jujol expanded the building (1917-1921) and decorated it (1920-1926). After years of neglect, Can Negre handed to the Local Council in 1966, thanks to the owners' will. The restoration took place between 1982 and 1990. Finally, the house was reopened two years later and was declared an Asset of Cultural Interest In 1997.
Its most characteristic feature is its wavy-lined facade, a clear adaptation of Baroque architecture; its original windows and a main grandstand which depicts a chariot.
From Barcelona, you can get to Sant Joan Despí with the R4 Renfe train, by bus (# 78) or by tram, thanks to the Baix Llobregat tram line.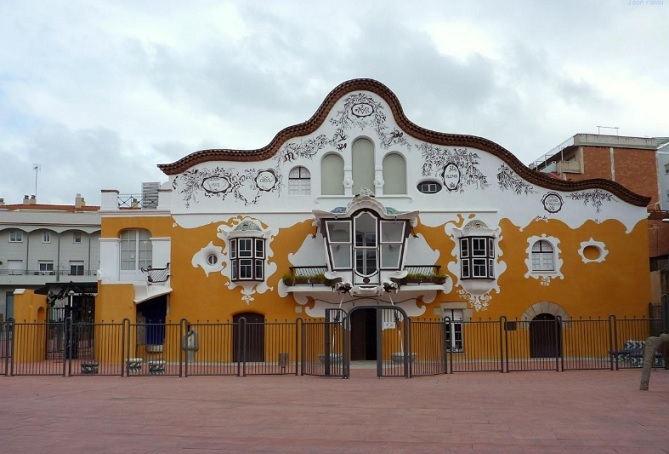 LA TORRE DE LA CREU (SANT JOAN DESPÍ)
Sant Joan Despí hosts another remarkable work by Jujol: the Torre de la Creu, also known as Torre dels Ous ('Tower of the Eggs'), Casa dels Ous, Torre Parellada or Torre Gibert, which was its original name. Located at 14 Passeig de Canalies, this house was built between 1913 and 1916. It was Josefa Romeu whom comissioned the construction of what would be her summer home.
The building consists of a house for two families, formed by five cylindrical, circular-plan shapes that differ in diameter and height. Do not miss the domes that top the building, embellished with amazing colored mosaics. On the top, you can find the cross that gives name to the building.
A pleasant garden rounds off this unusual tourist attraction, which was declared an Asset of Cultural Interest in 2003.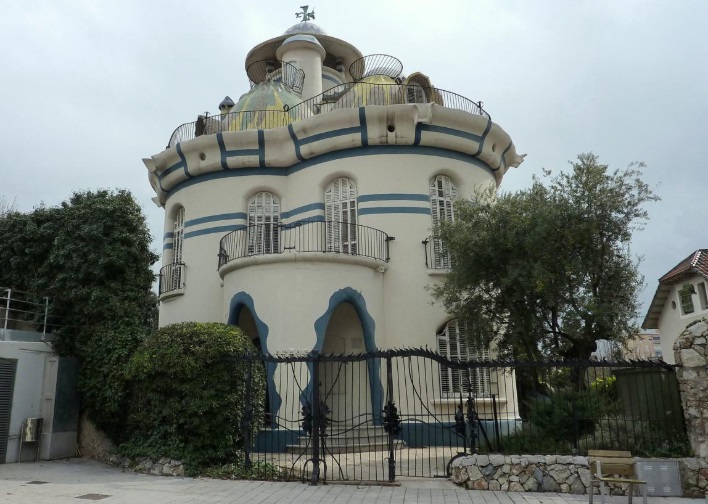 MASIA FREIXA (TERRASSA)
Together with its pre-Romanesque and Romanesque churches, this is one of Terrassa's most well-known monuments. The Freixa farmhouse was built in 1896 and renovated between 1907 and 1914 by Lluís Muncunill i Parellada, who used arched structures and vaults inspired by Gaudí's unmistakable style. For many years it hosted the Municipal Music Conservatory, a center that was moved to a new building on the University Campus.
However, the purpose for which the building was designed was very different, since it was initially a spinning mill. Muncunill would later transform it into the home of the textile businessman Josep Freixa i Argemí, whom would eventually give this place its current name.
Its winding roof, its Catalan flat brick vault and the mortar coating with small embedded crystals give this house a unique aesthetic. Inside, despite having undergone major renovations, you can still admire some vintage furniture that rests in dining room and in the office, whose design bears Joaquim Vancells' signature.
Masia Freixa can be visited from Monday to Sunday at 12:00 PM. Just go to the Tourism Office in Terrassa, which is located within the building itself (Sant Jordi Park-11 Freixa i Argemí Square). There, a guide will be waiting for you. The guided tours take about 45 minutes, and are completely free of charge. Previous registration is not needed.
You can get to Terrassa by train with the Ferrocarrils de la Generalitat de Catalunya or Renfe. However, if you prefer to travel by bus, call this telephone number: (+34) 93 739 70 00.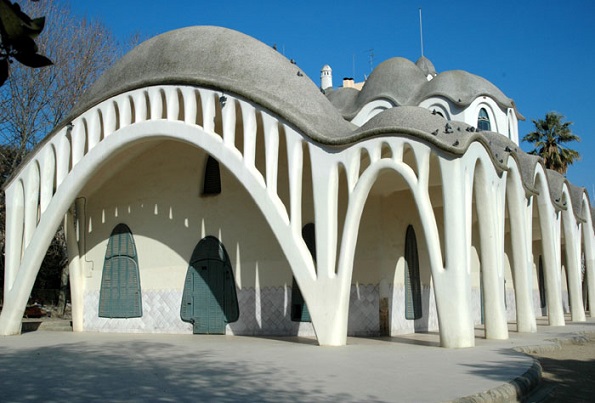 COLÒNIA GÜELL (SANTA COLOMA DE CERVELLÓ)
This Modernist industrial settlement, the biggest one in Catalonia, will take you back to the 19th century, thanks to its houses and shops, which become an exceptional open-air museum. Strolling around its streets, you can admire magnificent buildings created by some of the best architects of that time, who knew how to combine the Catalan tradition with new materials, mosaics (or trencadís) and wrought ironwork.
Undoubtedly, its most impressive building is the crypt of its unfinished church, built between 1898 and 1914 and entrusted by Eusebi Güell, a Catalan businessman and politician. The work is part of Gaudí's naturalist period. In those years, the talented architect from Reus refined his own style, inspired by the organic shapes of nature and displaying an overflowing creativity. However, the crypt's construction was halted after Güell's death, as his heirs were not interested in concluding the project. This is why Gaudí decided not to finish it.
In 2005, this building was declared a World Heritage Site by UNESCO.
From Barcelona, the fastest and most convenient way to get to Colònia Güell is to take the Ferrocarrils de la Generalitat de Catalunya (at Plaça de Espanya station) and get off at the homonymous stop.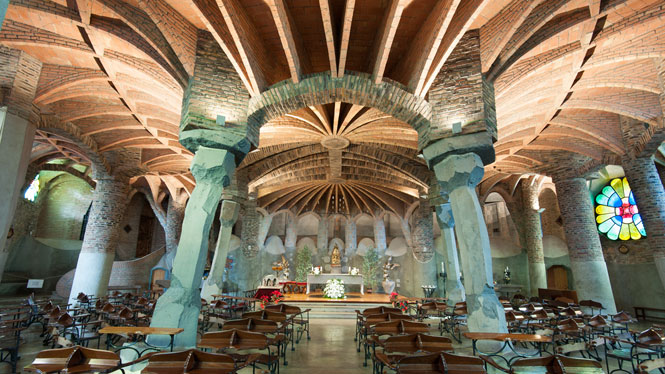 GÜELL CELLAR (SITGES)
This monument consists of wineries and buildings that are located in the vicinity of the town of Sitges. As in the previous case, they have Gaudí's signature, but also his assistant's: Francesc Berenguer. Although the works also included hunting lodges, they were never completed.
Built between 1895 and 1901 and promoted by Eusebi Güell, the Güell Cellar belongs to Gaudí's Neo-Gothic period, inspired by Gothic art. This is not surprising at all, since Gaudí studied how this medieval style developed in Catalonia, the Balearic Islands and the Rosselló, thanks to Viollet-le-Duc's previous studies. Nonetheless, Gaudí thought that this art could be improved. Therefore, he replaced the abutments with ruled surfaces.
To get to the Güell Cellar (or Celler Güell), which is currently a restaurant, the best option is to reach it by car (it is located on the 246 regional road), on the outskirts of Sitges. This coastal town's train station is somewhat far away, although you can see the monument from an excellent perspective during the journey.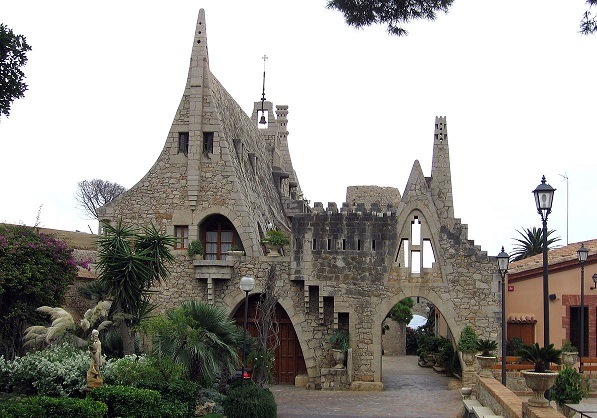 CAU FERRAT (SITGES)
We remain in Sitges to admire another of the astonishing Modernist buildings near Barcelona. We are talking about the Cau Ferrat Museum, founded in 1893 by the multi-skilled artist Santiago Rusiñol, whom concieved it as his house and workshop. Transformed into a public museum in 1933, it houses several collections of ancient and modern art, including Modernist paintings and sculptures by artists such as Ramon Casas, Ignacio Zuloaga and Pablo Gargallo.
Moreover, Cau Ferrat is best known for hosting the famous Modernist parties that brought together the most outstanding artist that followed this movement. Thanks to the renovation that took place between 2010 and 2014, the building recovered its former splendor.
To get to Cau Ferrat, you can go to Sitges by train (Renfe). In addition, there are some buses that go from Barcelona city to this beautiful seaside town.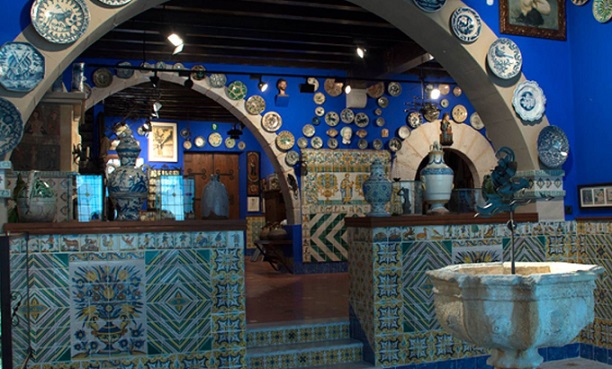 CASA ARQUER (CARDEDEU)
At the end of the 19th century, the village of Cardedeu grew considerably. Those years saw the birth of a new urbanism that brought parks, fountains and other facilities designed for those who slowly made Cardedeu their summer resort.
A part of its Modernist legacy is the Arquer House (or Casa Arquer), another Art Nouveau building in Barcelona. This house is divided into two floors and was designed by the Catalan architect Joaquim Raspall in the early 20th century. Although the exact date is unknown, it is assumed that Raspall was already the Cardedeu's municipal architect in 1904. In 1926, he undertook the facade's renovation.
The Arquer House, which is in Plaça de l'Església, has been declared a Cultural Asset of Local Interest and is included in the so-called Raspall Route, a cultural circuit that encompasses several towns with remarkable Modernist buildings in the province of Barcelona, such as La Garriga, Figaró or L'Ametlla del Vallès.
You can get to Cardedeu with the R3 Rodalies Renfe line, getting off at the homonymous bus stop.
Have you ever heard of other interesting Modernist buildings near Barcelona? If so, we invite you to share them with us.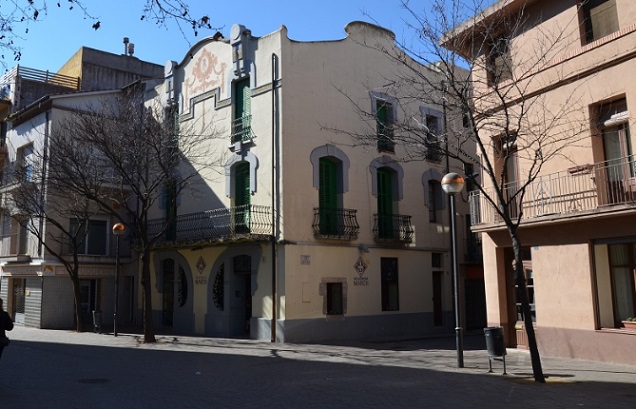 MORE INTERESTING STUFF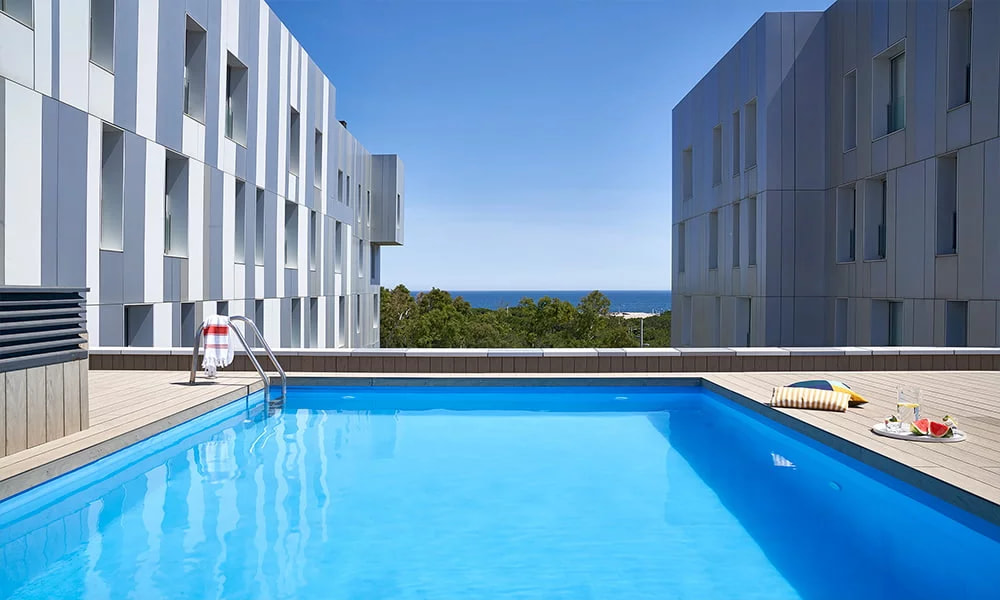 Holiday apartments by the beach in Barcelona
Since 2010, Lugaris Apartaments has been offering you the best holiday rental flats in Barcelona, perfect for a family holiday, with friends or as a couple, or for medium-term stays.
You can choose between apartments near the beach in Barcelona, at Lugaris Beach, with sea views, 2 swimming pools (one for adults and one for children) and capacity for up to 6 people, and the Lugaris Rambla flats, located on the Rambla de Poblenou and just 300 m from Bogatell beach, with a balcony or terrace of up to 22 m2 and ideal for couples or families and groups of up to 5 people. All our luxury flats in Barcelona are air-conditioned and equipped with all the appliances, furniture and bed linen you will need during your stay. They also have satellite TV and free high-speed Wi-Fi connection, as well as a safe and a 24-hour private security service.
What's more, when you make your booking, you can reserve many other additional services: international press in your flat, parking space, transfer service to and from Barcelona airport, bicycle hire, supermarket shopping, museum, sports and show tickets, babysitting service and much more.

For more information, contact Lugaris Apartments without obligation.