The origin of churros is a mystery, although the simplicity of its ingredients suggests that these sweets already existed in Ancient times. Yeast, flour, water, salt and oil combined create the churro (yes, they are vegan!), which is thought to have arrived in the Iberian Peninsula by the hand of the Arabs, although the first writings on the existence of this delicacy only date back to the nineteenth century.
Be that as it may, Barcelona in autumn already invites you to take shelter from the colder temperatures, and what better way than to do it in one of the most emblematic cafés next to a warm mug? Discover the best hot chocolate and churros in Barcelona to savour the perfect combination of these two elements that melt in your mouth.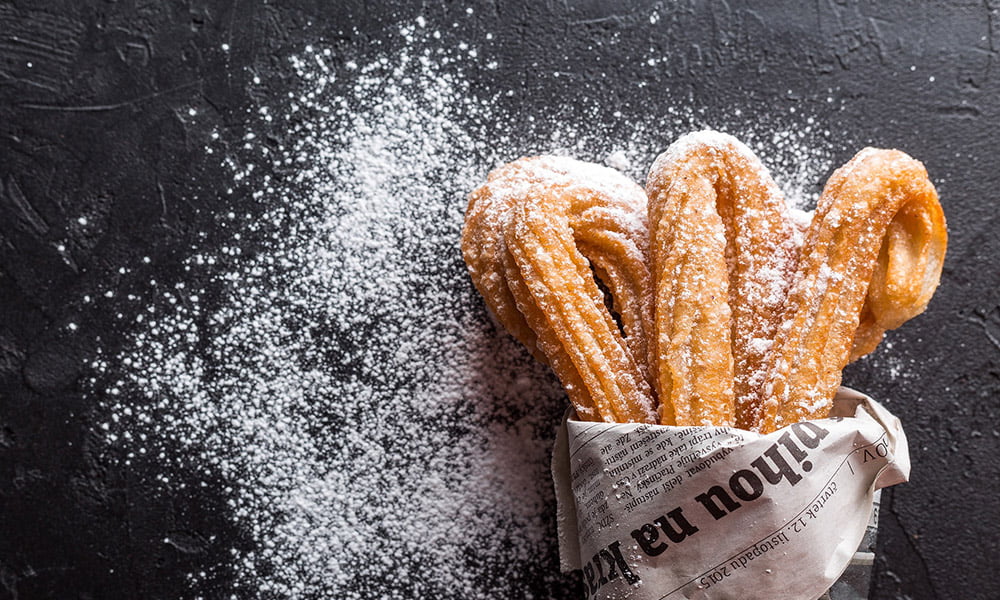 TOP 5 CHURROS IN BARCELONA
It is difficult to choose the best hot chocolate and churros in Barcelona. There are multiple opinions, and the offer is so varied that it sometimes becomes difficult to pick just one. We have selected of the top 5 churros in Barcelona, referenced by the people of the neighborhood where they are located. We should trust them, right?
Granja Dulcinea
This is one of the most charming bars in Barcelona without a doubt. Preserving its 19th century aesthetic, the Mach-Farràs family took control of the premises in 1940, to offer its visitors the most delicious snacks. A selection of typical dishes from Barcelona, such as crema catalana, can be found on the menu together with their delicious chocolate and churros. At Granja Dulcinea you can order your cup of hot chocolate with the amount of milk that you want, taste a dish of arrós amb llet (milky rice) or simply enjoy these legendary churros. In fact, this café has earned a place in the top 3 of the best churros in Spain on more than one occasion. So that's something!
You will find Granja Dulcinea in 2 Petritxol Street, in the Gothic quarter of Barcelona. You can get off at the Liceu metro station or Plaça Catalunya on L3.
La Pallaresa
This is another classic on many lists that has turned Petritxol Street into the mecca of chocolate and churros lovers. La Pallaresa, has been delighting the most gourmet customers with their delicatessen since the forties. With an austere decoration, its ample space allows passers-by to sit down almost without queuing to taste their churros with chocolate, although the most usual customers are precisely the people of the area, who have been appreciating these delicacies during the past decades. In addition, this café is also known for its whipped cream, homemade and served in a separate dish so that you can add the sugar you need.
To get to La Pallaresa, take the L3 metro and get off at Plaça Catalunya or Liceu. Near the Plaça del Pi, go up the narrow street of Petritxol, where you must up to number 11.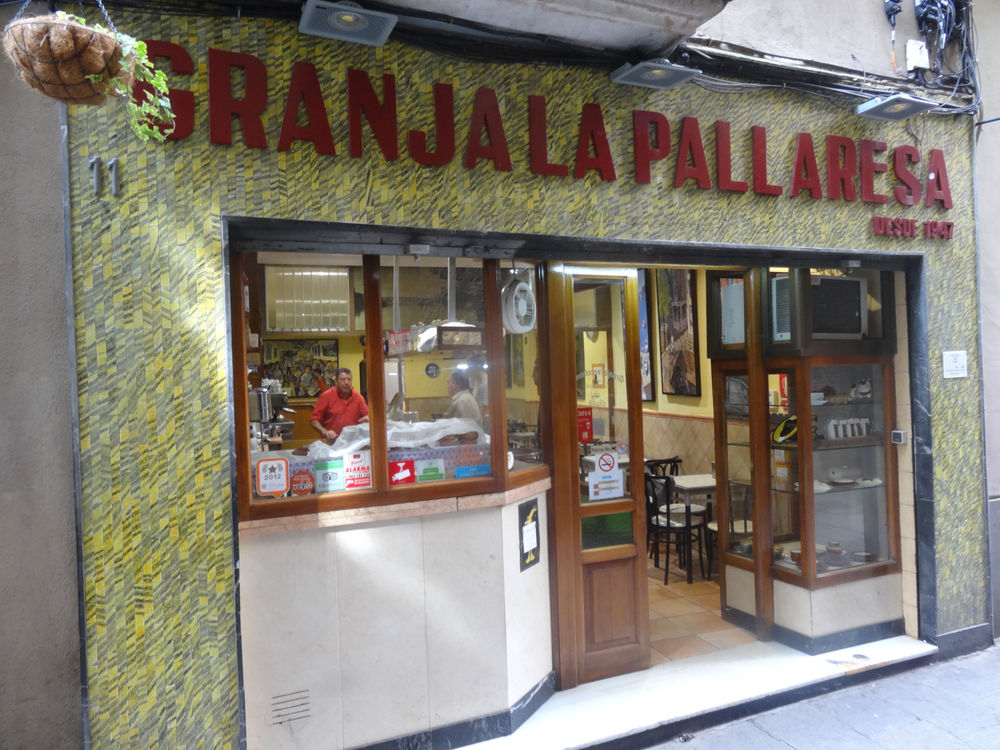 Churrería Laietana
This small place can go unnoticed in the middle of the always bustling Via Laietana. However, this classic churrería has won the heart of the people of Barcelona for years. The hot chocolate that you will try here has a balance between sweet and salty that is perfect to dip the churro in and taste the perfect pairing for the experience you are hoping for. Open since the sixties, you also have the option of buying churros in a typical paper cone to take them wherever you want. According to its customers, another of the advantages of Churrería Laietana is its reasonable price, so there is no excuse not to try them.
You can get to this churrería by getting off at Jaume I with the L4 or in Urquinaona with the L1, since it is in 46 Via Laietana.
La Churre
Let's move from the center of Barcelona to the neighborhood of Poble-sec. At the beginning of the busy Blai Street, you will taste one of the essential breakfasts you should try in this area. Known throughout the neighborhood, this family of churreros has been serving the public for decades in this modest bar. Although the entrance can be deceiving, the family business will serve you one of the best hot chocolate and churros in Barcelona, we can assure you. In addition, it is also a great place to try vermouth at midmorning and savor the odd snack (we are told that its homemade scratchings have many followers), so it could well be part of our list of the best tapas bars in Barcelona.
Get off at the Parallel stop of the L2 or L3 lines and walk towards 2 Blai Street to find it.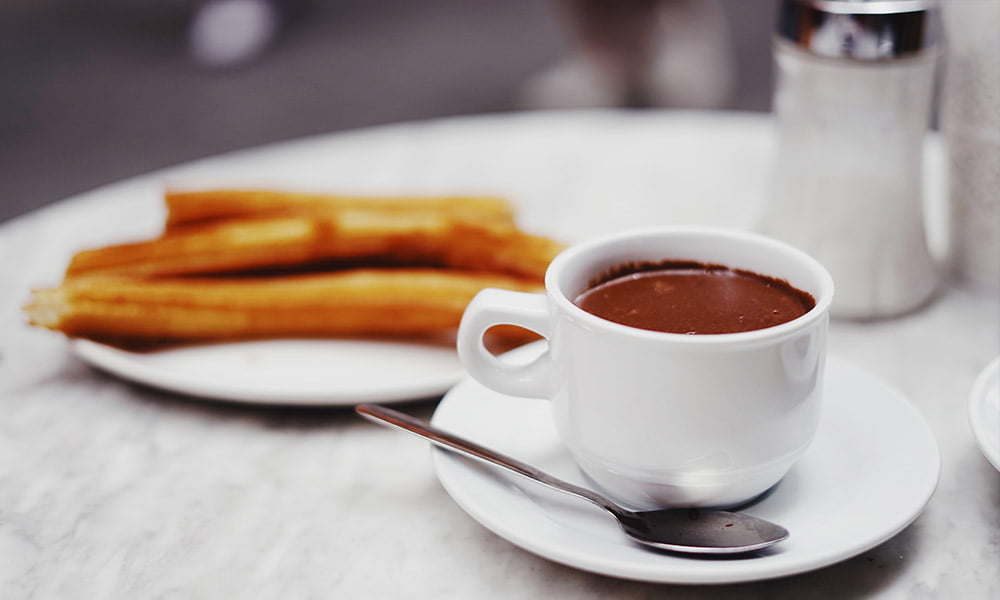 CHURROS IN BARCELONA THAT OPEN LATE
The following did not make it to the top 5, but they deserve to be part of the list of the best hot chocolate and churros in Barcelona with an added advantage, that they can be bought and eaten 24 hours a day.
El Trébol
For many the best in Barcelona, El Trébol, known as Churrería J. Balcells, is an excellent place to eat delicious hot chocolate with churros. Here you will also find churros filled with different flavours such as dulce de leche or vanilla. In this place, you can take your favourite delicacies and dip your churro anywhere and at any time, since it is open 24 hours a day and is one of the most well-known places for those who have gone partying in the area of Diagonal and need to fill their bellies with something sweet.
You will arrive at the El Trébol churrería by going down at the Diagonal stop of lines L3 and L5 or Verdaguer with lines L5 and L4. Specifically, it is located on 341 Córsega Street.
J. Argilés
A classic of Barcelona nights is this street churro stall that has been feeding starving party-goers who arrive to the Marina area in the early hours of the morning for years. As if this were not enough, the owner of this churrería, José Argilés, is the president of the Artisan Guild of Churreros de Cataluña, so they know the profession very well. Here you can also have some chips or scratchings if you feel like it.
This churros stall is next to the Marina metro stop on the L1 line, at the junction between Marina Street and Meridiana Avenue.
CHURROS THAT ARE GLUTEN FREE IN BARCELONA
It seems difficult given the main ingredients of churros, but some places have found the perfect recipe so that those who are gluten intolerant can also eat this delicious snack.
Can Vernet & Miras
No, this churrería is not in Barcelona capital, but if you have decided to make a trip to Sant Cugat, where you can also spend a vintage morning in Mercantic, at this stop you will find a wide variety of gluten-free churros. Do not worry about traces, this is a safe area where celiac people can eat free of remnants of any kind. You have the option of choosing between sugar or chocolate churros, as well as being able to buy other products such as chips or fritters.
You will find Can Vernet & Miras in Josefina Mascareñas Street (no number), Sant Cugat. To get from our apartments in Barcelona, you must take the L1 or L3 until Plaza Catalunya and change to go with the lines S1, S2 or S6 until the Sant Cugat stop. From this point you should continue towards the monastery of the town, the stall is in the square in front.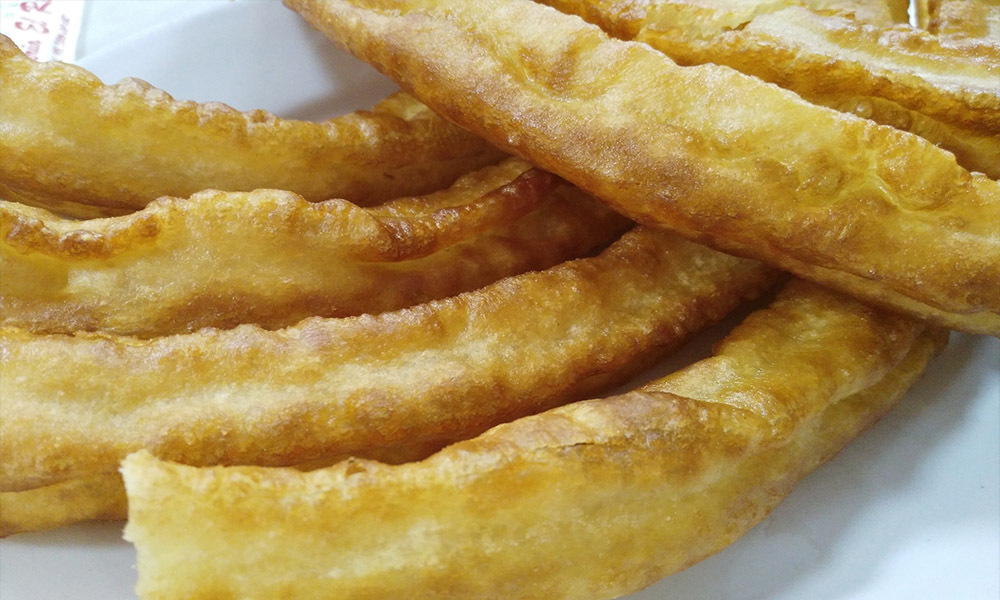 Comaxurros
In the neighbourhood of Sarrià you will find what is considered the church of churros, where this delicacy is raised to its maximum exponent. Here, in addition to tasting the churros with the most extravagant flavours such as salsa brava (yes, the spicy sauce you eat with patatas bravas), you will also have the option of ordering a gluten-free version, although it is not very clear if they are fried in the same container as the rest or not.
You can get to Comaxurros by taking the L7 at the Catalunya Ferrocarrils Catalans station in Plaça Catalunya or with the v13 bus, which leaves at the top of the Rambla. The café is located at 562 Muntaner Street.
Granja Viader
Classical among the classics, this place opened in 1870 by the creator of Cacaolat offers delicious hot chocolate with churros and other typical homemade sweets. Although churros do not have a gluten-free version, at Granja Viader there are many other gluten free options to savour the best of this beautiful historic place.
This establishment is on 4-6 Xuclà Street and it is as easy to get there as getting to Plaça Catalunya or Liceu with metro L1 or L3.
Apart from this list of the best hot chocolate and churros in Barcelona, other places that should be mentioned as a delicious option include: Xurrería Sant Andreu, considered the best of the neighbourhood of the same name; Banys Nous, another of the secrets hidden in the Gothic quarter; and San Román, where you can also try the chocolate covered churros and some delicious donuts.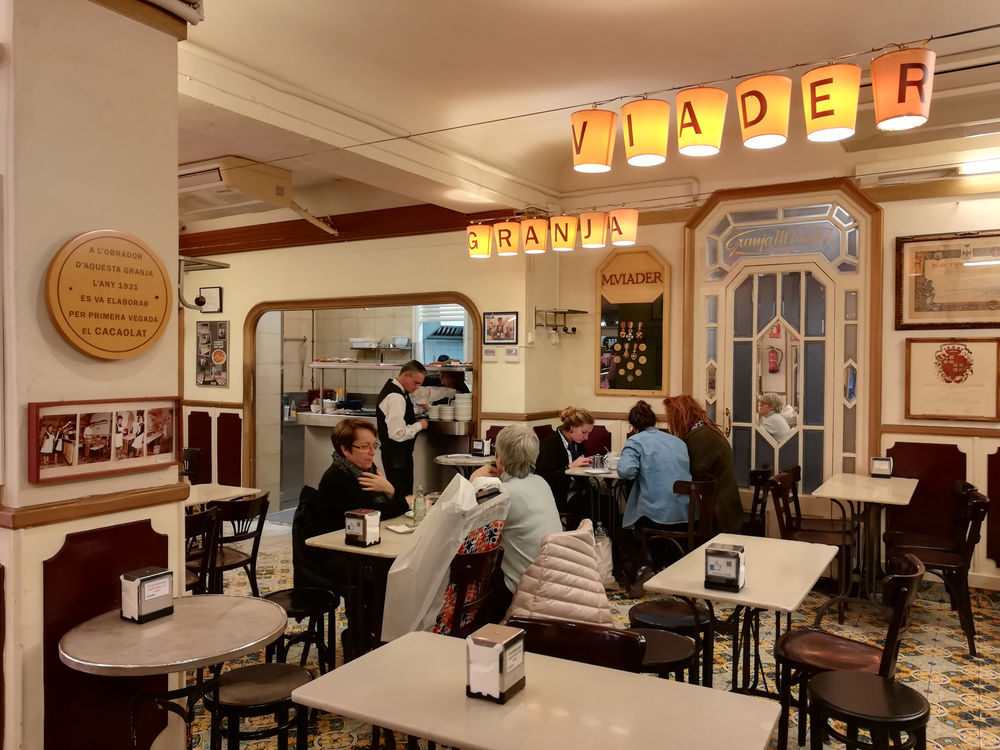 MORE INTERESTING STUFF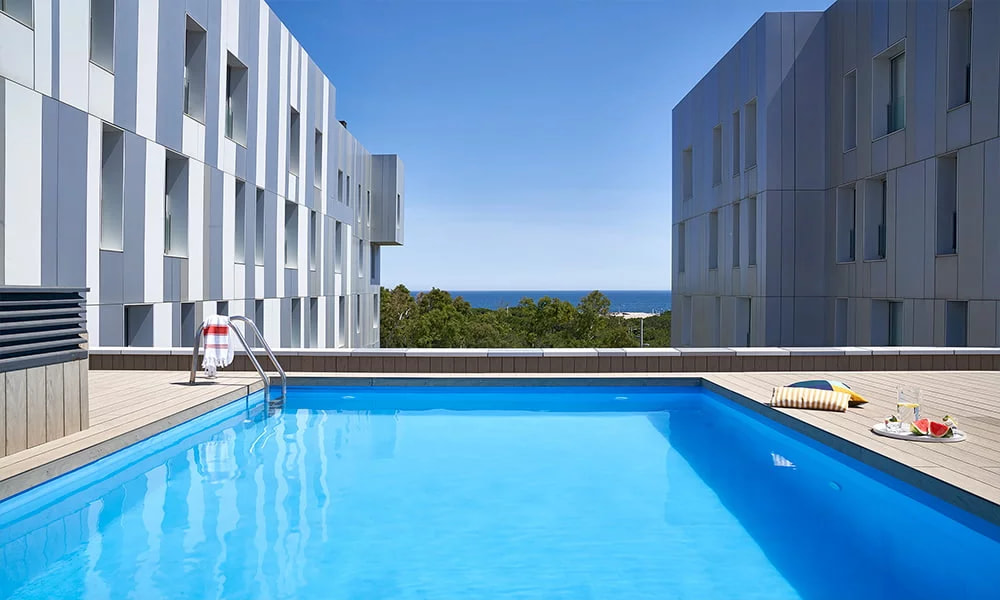 Holiday apartments by the beach in Barcelona
Since 2010, Lugaris Apartaments has been offering you the best holiday rental flats in Barcelona, perfect for a family holiday, with friends or as a couple, or for medium-term stays.
You can choose between apartments near the beach in Barcelona, at Lugaris Beach, with sea views, 2 swimming pools (one for adults and one for children) and capacity for up to 6 people, and the Lugaris Rambla flats, located on the Rambla de Poblenou and just 300 m from Bogatell beach, with a balcony or terrace of up to 22 m2 and ideal for couples or families and groups of up to 5 people. All our luxury flats in Barcelona are air-conditioned and equipped with all the appliances, furniture and bed linen you will need during your stay. They also have satellite TV and free high-speed Wi-Fi connection, as well as a safe and a 24-hour private security service.
What's more, when you make your booking, you can reserve many other additional services: international press in your flat, parking space, transfer service to and from Barcelona airport, bicycle hire, supermarket shopping, museum, sports and show tickets, babysitting service and much more.

For more information, contact Lugaris Apartments without obligation.