If we had to sum up the city of Barcelona in a single concept, it would be terraces. Barcelona locals love going to terraces and spending long hours sitting in an open-air bar, chatting with friends. There are terraces and outdoor bars of all kinds: highly decorated and stylish, some that have the best coffee or beer, terraces with a garden you'll fall in love with, in full view of passers-by or hidden away, etc.
That's why at Lugaris we wanted to make a selection of the best outdoor bars and terraces in Barcelona, so that you can choose the one that most catches your eye and become that friend who always suggests the next place to meet up.
Terraces with the best views of Barcelona
Everything looks better with perspective, and that's why we humans are so fond of views from above. From above everything tastes better, so it's time to visit some of the best terraces with views of Barcelona that will make your eyes rest in the distance and your lungs fill with air in front of the immensity you are contemplating.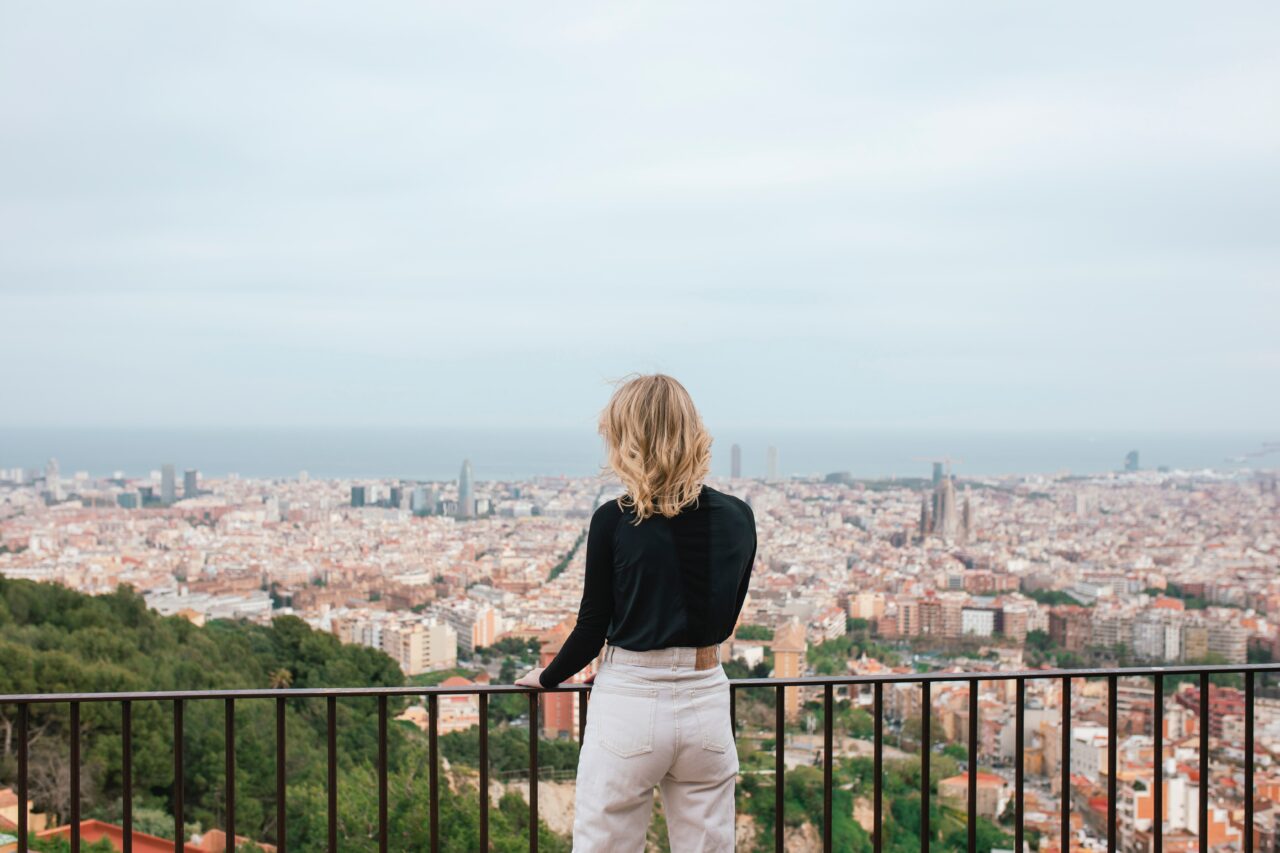 La Caseta del Migdia
La Caseta del Migdia is one of the best terraces in Barcelona where you can enjoy the pleasant atmosphere of its people, Barcelona's glorious weather and one of the best views of the city. It is, therefore, a perfect place to enjoy the best sunsets during your holidays.
It is a very emblematic outdoor bar located right next to the Montjuic Castle viewpoint and, whether you go alone or accompanied, you can't help but feel trapped by the charm of this oasis located a few hundred metres away from the city. One thing you should bear in mind is that they're only open on weekends, so you'll have to wait until Saturday to enjoy the fantastic atmosphere and views at La Caseta del Migdia.
Ayre Rosellón
This iconic terrace is located right in front of the Sagrada Familia and offers unparalleled 360º views of the entire city from above. To have a drink on this terrace you must make a reservation online and you can access it completely free of charge. Of course, there is a minimum one drink order per person, but the views are worth it.
On this terrace you will have the opportunity to relax to the fullest and enjoy a good drink in the chill out area. In the solarium you will find some sun loungers to sunbathe while you contemplate the spectacular profile of the most important religious temple in Barcelona.
Pulitzer
Pulitzer is one of the most exclusive terraces and offers one of the best and most stylish views you can imagine. This place seems to take on two different characters, depending on what time of day you go. In the morning it becomes a good brunch restaurant where you can savour a nice piece of toast with avocado and scrambled eggs, while gazing at the Barcelona skyline.
In the evening, on the other hand, the dim lights come on and the ambient music starts to play, so you can enjoy a nice drink while you gaze at the lights of Barcelona. Whatever the time, the Pulitzer terrace is one of the best options for enjoying amazing views.
360º Raval
The name of the terrace pretty much says it all, so it doesn't need much explanation. When you go up to this rooftop terrace you can admire a panoramic view of Barcelona that spans the entire city and will take your breath away. You can go at any time, as the terrace is open from midday to midnight, so you'll be served vermouth, lunch, tapas, dinner, cocktails, and so on.
Order a drink and, glass in hand, start walking around the terrace to enjoy the 360º view it offers. At weekends, they also offer a very complete brunch where you can discover what the city is like from above, when the sun is at its highest point in the sky. Without a doubt, another of the best charming terraces in Barcelona, don't you think?
Beach bars in Barcelona
Can you imagine having a cold beer while your feet are still enjoying the feel of the sand? That's possible thanks to the best beach bars in Barcelona. In this section we want to talk about terraces in Barcelona or beach bars that try to position themselves as close to the sea as possible, so that their customers don't even have to get dressed to enjoy a cold drink or some good tapas in their establishment.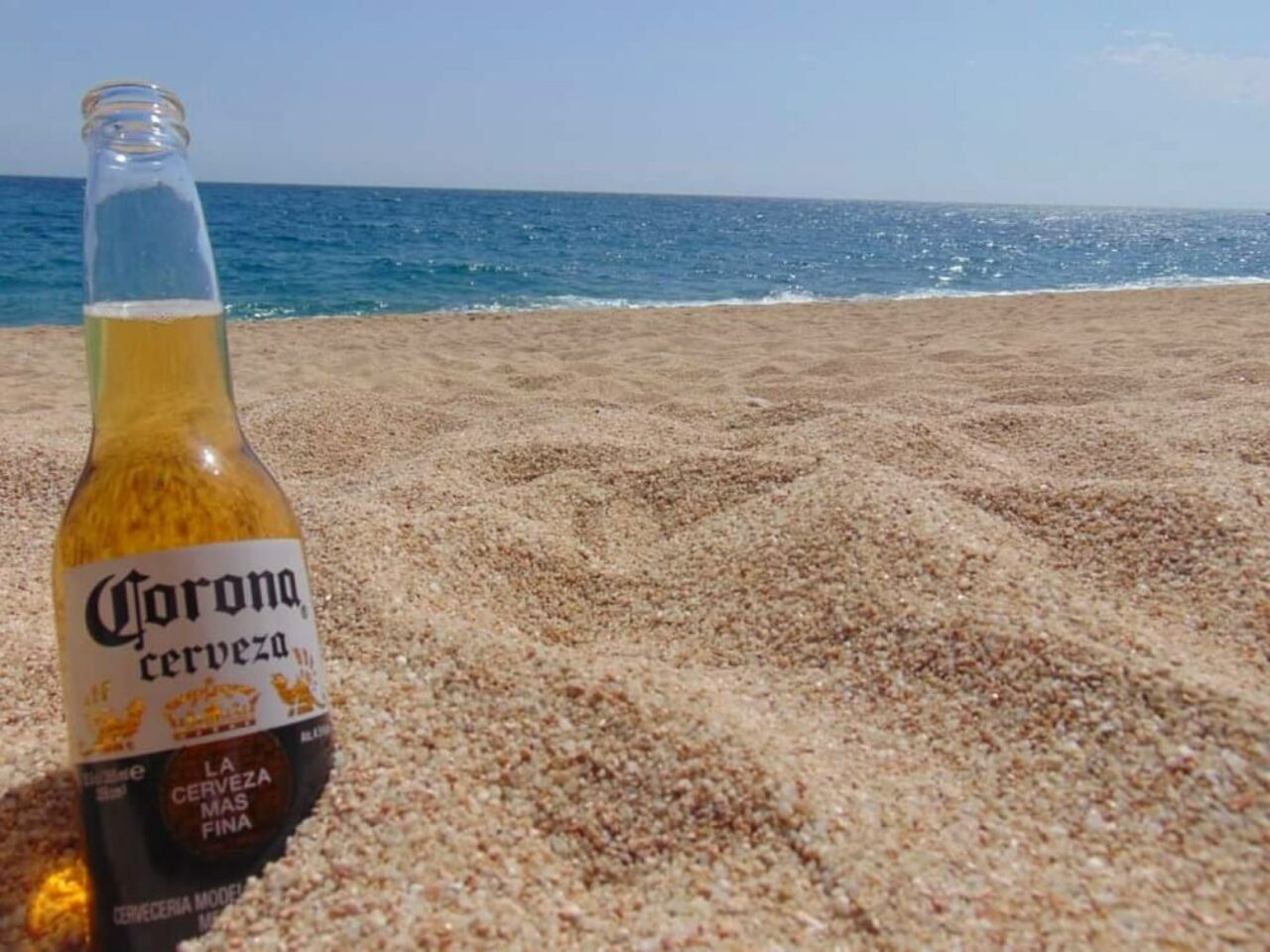 Dockers
Dockers is one of the best terraces in Poblenou and is located right on Nova Icària beach. This establishment opened in 2001 and presents a very innovative aesthetic and a very pleasant treatment to the public. The prices of its menu are affordable and you will find inexpensive dishes, even if you are right on the seafront.
If you prefer to relax with a coffee after a long morning of sun, sand and beach, we recommend you try their frapé of black coffee or coffee with milk, covered with a soft foam that has become the delight of this place. Come to Dockers if you want to discover the true essence of Barcelona.
Restaurant Agua
Agua is an elegant restaurant located in the Barceloneta neighbourhood and its atmosphere is informal and relaxed. Its main charm is that it has one of the best views a beach bar in Barcelona can have, as it is very close to the sea. It belongs to the Tragaluz group, so you can enjoy good quality food with a special focus on seafood.
Success is guaranteed on the terrace of the Agua restaurant, as it is the ideal place to have a good meal with your partner, friends or family. Afterwards you can relax with a coffee or a drink and enjoy the beach atmosphere and the sea breeze.
Salt Beach Club
Salt Beach Club has another of the best terraces in Barcelona. It is one of the best Beach Clubs to enjoy Barcelona's beach in all its splendour. Its views are spectacular, because it is located on a seawall that juts out into the Mediterranean Sea, the same one where the W Hotel is. So you can enjoy a very exclusive and original view of Barcelona's coastline.
You will feel as if you were on a boat and a distant spectator of what is happening on land. You can have a cocktail with your feet in the sand and enjoy the live music being played by the DJ. This can become one of your key points, for all those days when you need to disconnect and spend a pleasant evening.
Pez Vela TERRACE
The Pez Vela Terrace offers an unbeatable maritime setting that is worth admiring at least once in your life. The menu offered by this beachfront establishment is based on seafood: fresh grilled fish, rice dishes, seafood, etc. In addition, you can also find very complete salads, which will serve as an accompaniment.
Without a doubt, its creators built this curious terrace as a counterpoint to the large Olympic buildings, to show the citizens that simplicity can also transmit the charm of the people of Barcelona and that things don't have to be bigger and bigger and more overwhelming.
Rooftop bars in Barcelona
When you go up to one of the rooftop bars in Barcelona, the city is at your feet and with it the real world. This allows you to have an almost magical experience in which you touch the sky with your fingertips. Perhaps this is too mystical, but these terraces on top of buildings will allow you to enjoy a different kind of evening, with great views and a very exclusive and relaxed atmosphere.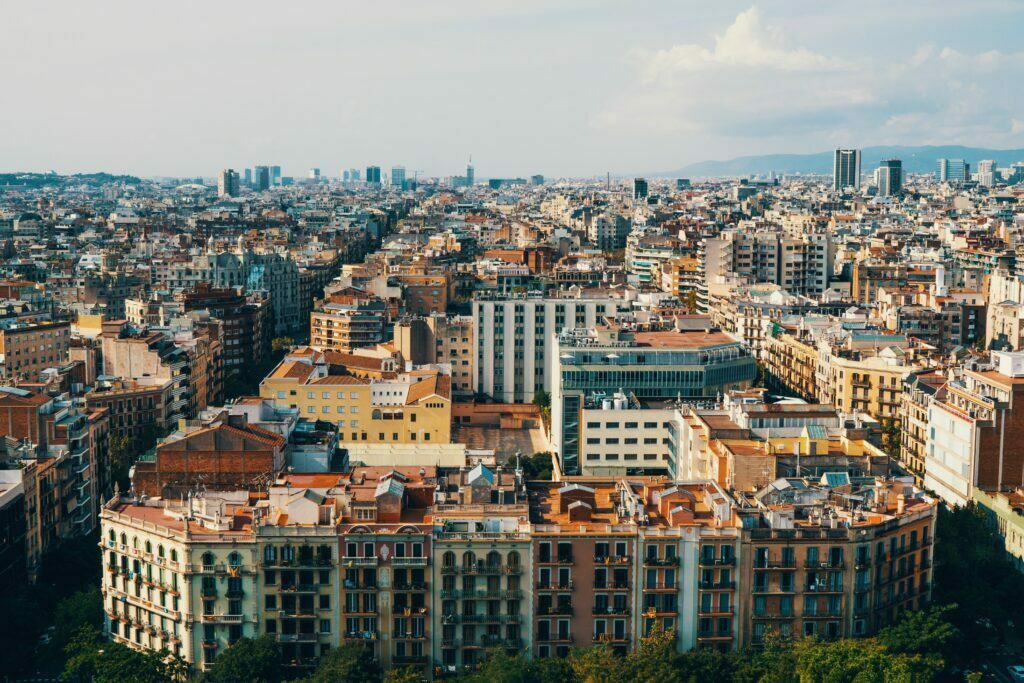 Flax & Kale Terrace
Flax & Kale is a restaurant that designs its entire menu not only with the gastronomic pleasure of its customers in mind, but also with the nutritional value of each of its dishes in mind. On the top floor of their restaurant on Carrer Tallers, you will find a very original Rooftop, as it is an urban vegetable garden where you can contemplate trees and aromatic herbs.
Here you can try the healthiest and most innovative dishes from around the world – it's like a journey for your taste buds!
We recommend you earlyish because you cannot book a table and it's usually quite crowded, due to its privileged position. Can you resist the charm of one of the most beautiful terraces in Barcelona?
El Sueño
The name of the El Sueño (the dream, in Spanish) was chosen because its creators considered that this space would have been Picasso's dream come true. And they were not too far wrong, because this place has been selected as one of the best terraces in the world by the Traveller Awards, being the only one in Spain to achieve this position.
This beautiful rooftop, with a swimming pool, has a very peaceful and relaxing atmosphere where you can enjoy a good cocktail by candlelight, while contemplating the immensity of Barcelona at your feet. Who do you want to take to this charming rooftop?
Sagardi
Sagardi is one of the best rooftops in Barcelona and shares a building with the Museu d'Historia de Catalunya, or Museum of Catalan history, one of the most emblematic in the city. This terrace is located in Barcelona's Port Vell, so you can watch the most spectacular yachts while enjoying a good cocktail with whomever you choose.
When the sun goes down, the DJ turns up the music and the space becomes one of the most exclusive clubs for partying in Barcelona. The minimalist but cosy décor creates an ideal place to enjoy a night full of pleasant sensations.
Secret terraces in Barcelona
Can you keep a secret? There are some open terraces in Barcelona that are totally secret and that very few people know about. These spaces, free of tourists, shouting and crowds, have become an oasis of peace and relaxation for the people who enjoy them. We recommend that you go with a peaceful atmosphere and that you respect the moment that the people around you are enjoying, just as they will do with you.
La Graciosa
La Graciosa is a bar in the Gracia neighbourhood that stands out for its selection of wines from the best brands. Its creators are truly passionate about natural wine and you'll be able to tell as soon as you look at their menu. Ask them to direct you to their secret terrace and to recommend a good wine to accompany your evening.
In this establishment you can enjoy the utmost peace and quiet in the middle of one of Barcelona's noisiest neighbourhoods. The waiters will explain to you what you are drinking, with all the attention in the world, and will recommend some tapas or dishes, so that you can marinate your drink and have a great evening.
Torre Rosa
Torre Rosa is a cocktail bar that has been offering its cocktail services since 1987 and perfecting its mixes from day one. It is located in the courtyard of an early 20th century Colonial-style house. This traditional place has been able to adapt to every moment of society and offers its customers a charming and exclusive space where you can relax with whomever you choose.
Its secret lies not only in its delicious and daring cocktails, but also in the architecture of its building and the atmosphere they create every night when they dim the lights and turn up the music.
La Central del Raval
On Carrer d'Elisabets you'll find the former gardens of the Casa de la Misericordia, but would you keep it a secret if we told you that its owners have turned it into one of the most beautiful terraces in Barcelona? To enter, you have to go through the La Central bookshop, or go all the way around the building.
Once inside, you'll find a peaceful space in the heart of Barcelona where you can relax. We recommend that you choose the book you like best from La Central and start reading its first pages on this terrace, surrounded by the wildest and most well-tended vegetation. It will become your favourite experience without leaving the city!
Magatzem 03
When you go in search of the terrace of Magatzem 03 you will see that you are entering the municipal football field of Barceloneta, but don't panic and keep walking. Suddenly you'll find yourself in the middle of a pleasant grove of pine trees very close to the sea, which will help you get through the hottest days of the summer.
Sit at one of the tables on the terrace and enjoy the speciality coffee or craft beers on offer. Their food menu looks like something out of a hipster magazine, as you'll find the most chic and original dishes, made with fresh market produce from the zero-kilometre market.
Now you know the best outdoor bars and terraces in Barcelona and everything they have to offer. If you're still hungry for more and want to continue discovering Barcelona's secrets, we recommend you visit our Lugaris blog, where we'll help you find your ideal plan for every occasion.
Our apartments in Barcelona
Since 2010, Lugaris Apartaments has been offering you the best holiday rental flats in Barcelona, perfect for a family holiday, with friends or as a couple, or for medium-term stays.
You can choose between apartments near the beach in Barcelona, at Lugaris Beach, with sea views, 2 swimming pools (one for adults and one for children) and capacity for up to 6 people, and the Lugaris Rambla flats, located on the Rambla de Poblenou and just 300 m from Bogatell beach, with a balcony or terrace of up to 22 m2 and ideal for couples or families and groups of up to 5 people. All our luxury flats in Barcelona are air-conditioned and equipped with all the appliances, furniture and bed linen you will need during your stay. They also have satellite TV and free high-speed Wi-Fi connection, as well as a safe and a 24-hour private security service.
What's more, when you make your booking, you can reserve many other additional services: international press in your flat, parking space, transfer service to and from Barcelona airport, bicycle hire, supermarket shopping, museum, sports and show tickets, babysitting service and much more.

For more information, contact Lugaris Apartments without obligation.