Barcelona is one of the most visited cities in Spain for the great amount of art, culture and leisure options it offers. Fortunately, its residents and regular visitors also have many possibilities outside the city, which they can visit on day or weekend excursions or getaways from Barcelona.The range of interesting places is quite wide and the best thing is that, given their proximity, it is possible to reach them by bus or public transport. Do you want to know the best weekend excursions from Barcelona? We'll tell you all about them!
Top weekend excursions from Barcelona
We have made a selection of some of the places you can visit in the vicinity of Barcelona. Most of these places are less than 100 kilometres from Barcelona, making them the perfect excuse to get out of the city in the spirit of seeing and doing different things. Where to go near Barcelona?
Montserrat
Without a doubt, one of the best weekend excursions from Barcelona is to go to Montserrat, a rocky massif considered to be the most important mountain in Catalonia. It is located just 30 kilometres from the centre of Barcelona and represents one of the most atypical and outstanding natural spaces in the region. Here you will find the monastery of the same name, dedicated to the Virgin of Montserrat.
The truth is that its rock formations and views will captivate you, making it perfect for hiking. The place has been associated with spirituality for centuries. There is a legend that the image of the virgin was found inside a cave on this mountain in 880. Since then, the virgin has been venerated in Montserrat and has become a place of worship.
The monastery was founded in 1025 and became the sanctuary and home where the statue of the Virgin rests. From then on it became known as the monastery of Santa Maria, although today it is known as the Monastery of Montserrat. Montserrat is undoubtedly one of the best weekend trips to Barcelona that you can make from Barcelona. The place offers many hiking activities to discover its natural spaces and many places to see: the Basilica of Montserrat in Neoplateresque style dating from the 19th century, the monastery of Santa Maria which houses the Museum of Montserrat, the Holy Cave of Montserrat built in the 18th century and the Funicular of Sant Joan which offers incredible views of the surroundings. Want to know more about this excursion? Check out our article on everything you need to know to visit Montserrat.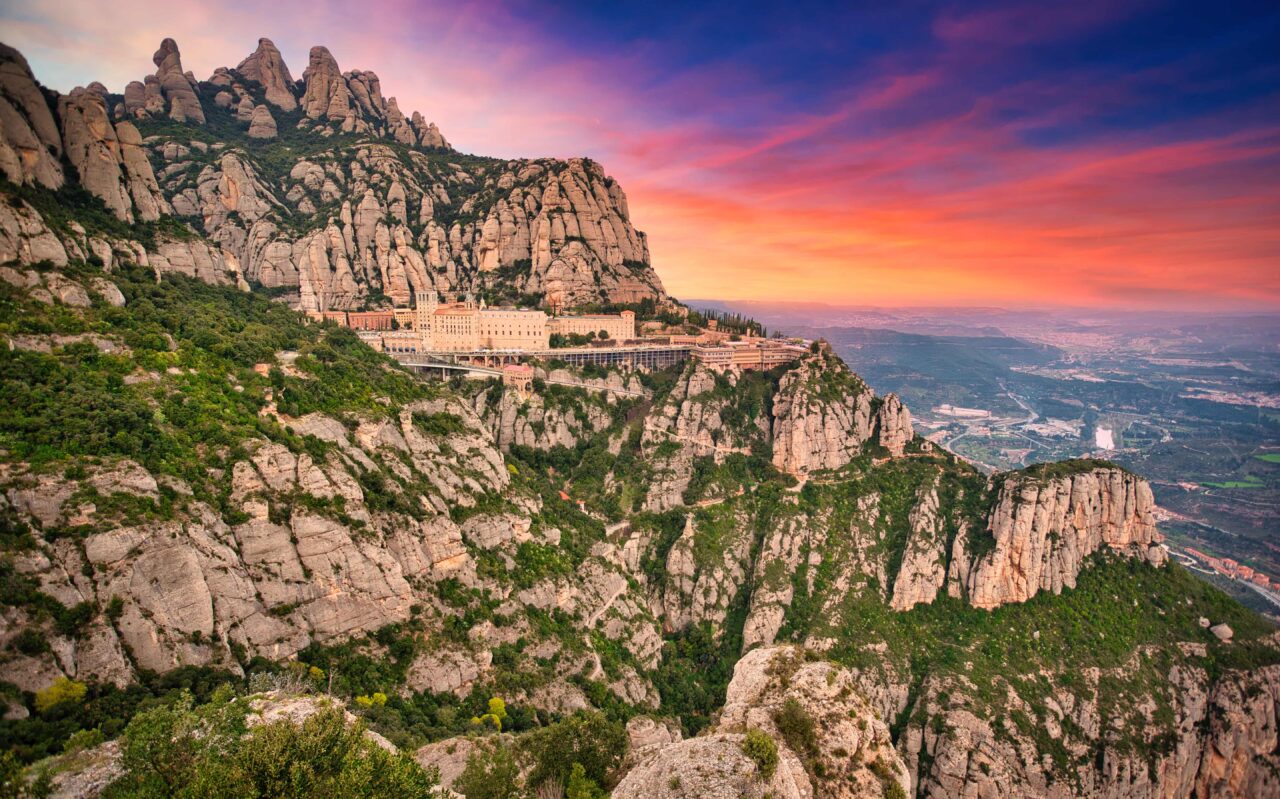 Colònia Güell
Less than half an hour's drive from Barcelona you will find a Gaudí building, a place anchored in the past and full of marvellous nooks and crannies. You can get there by public transport to discover the crypt, the architect's best-kept treasure. You will be captivated by the charm and peaceful atmosphere of this modernist industrial colony. After 120 years, it still preserves its heritage, which is worth admiring. As for the church of the Colonia Güell, this is the first time that the Catalan architect used his architectural innovations. In fact, he used what he learned to create the Sagrada Família.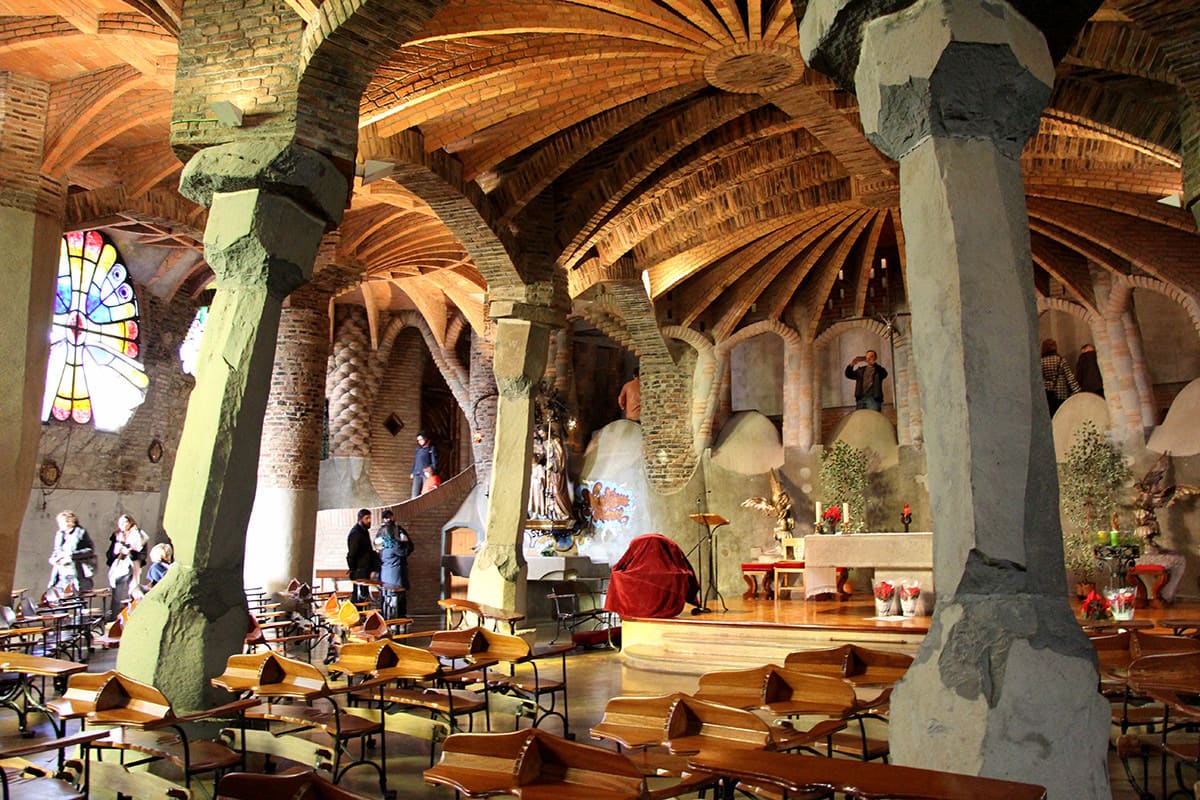 Mataró
Less than 50 kilometres from Barcelona is Mataró, the capital of Maresme, which has an exceptional beach, as well as a seaport to stroll around and an interesting history you'll want to know about.
Take a weekend trip from Barcelona and don't miss its many places of interest, from the Casa Coll i Regàs designed by the architect Josep Puig i Cadafalch, whose architectural composition looks like something out of a fairy tale, to the historic centre of Mataró where you can discover its history as a Roman colony. This city has several attractive buildings, such as the church of Santa Maria, the modernist market redesigned by Puig i Cadafalch or the first building designed by the talented Catalan architect La Nau Gaudí.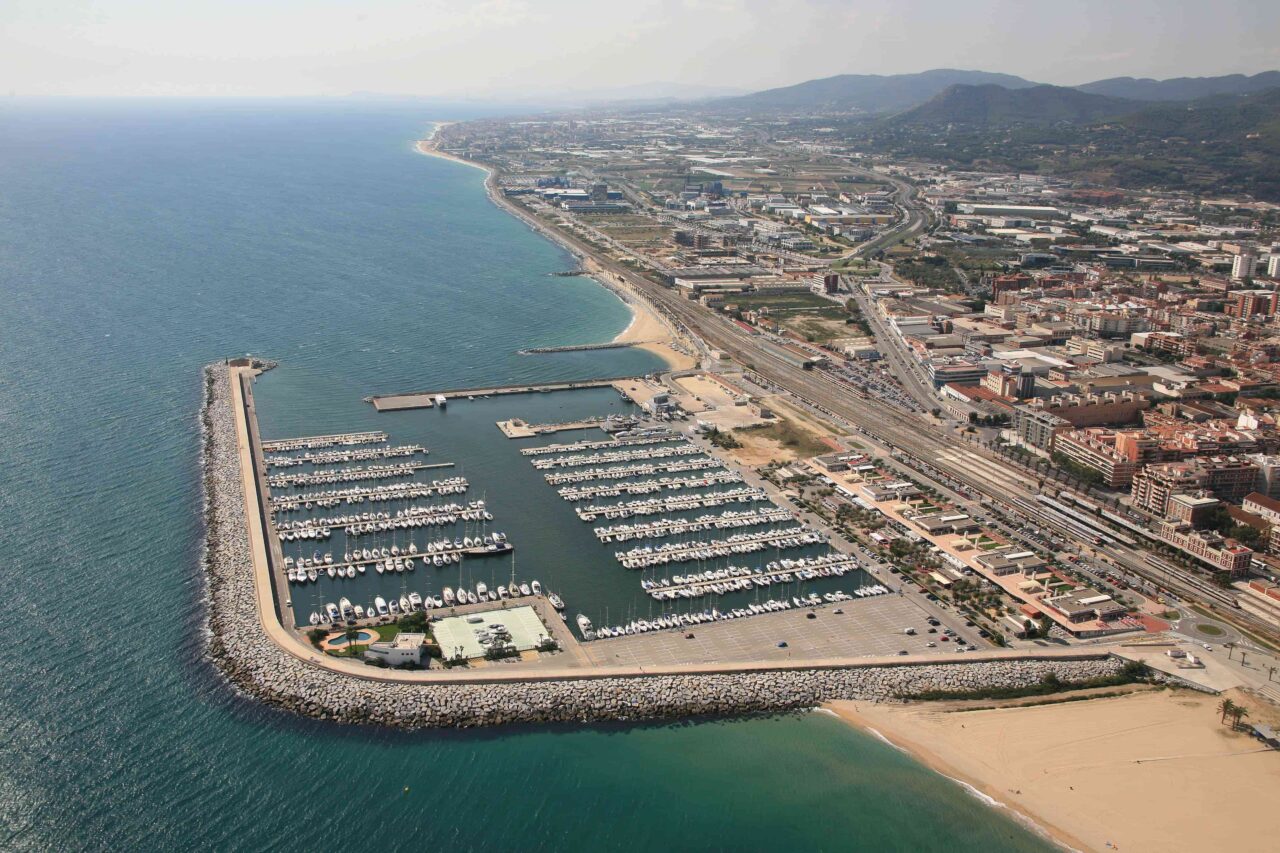 Sitges
Sitges is another of the best weekend trips from Barcelona. It has charming whitewashed houses, beautiful beaches, pretty little streets full of flowers and religious buildings to visit such as the church of Sant Bartomeu and Santa Tecla, which you will find in front of the sea.
It is undoubtedly one of the most beautiful villages near Barcelona, which you can easily reach without using your car, but by public transport. It is ideal for a weekend getaway, so you can enjoy the beach and its traditional gastronomy. The truth is that it has it all, from museums like the Maricel or the Cau Ferrat, to the noucentista palace Palau de Maricel, one of its most emblematic buildings. It was built at the beginning of the 20th century by order of the millionaire Charles Deering, becoming an artistic legacy that is visited by thousands of tourists every year. If you decide to visit it, don't miss its tiled cloister, its marvellous terraces, the Blue Room, the Golden Room and the Chapel Room.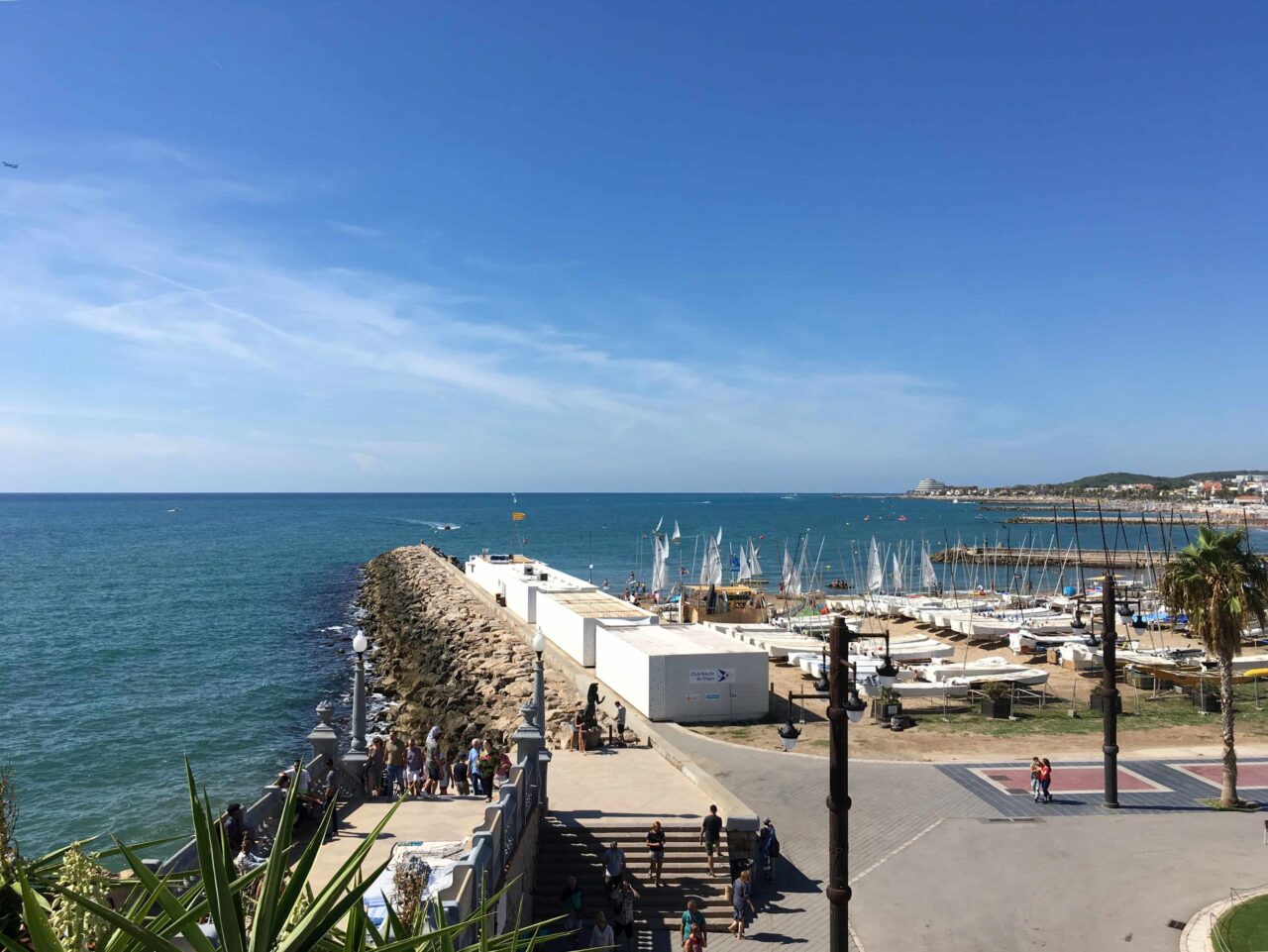 Terrassa
Another ideal plan is to visit Terrassa, an industrial city located less than 30 kilometres from Barcelona. You may not find many tourists here because it is not as visited as other nearby cities. However, it has some very interesting buildings such as the Museum of Science and Technology, as well as the Freixa country house, its most prized Art Nouveau jewel.
In addition, you cannot miss its gastronomy, its surprising historic centre and the Monumental Complex of the Churches of Sant Pere in Romanesque style formed by 3 different churches: Sant Pere, Sant Miquel and Santa Maria.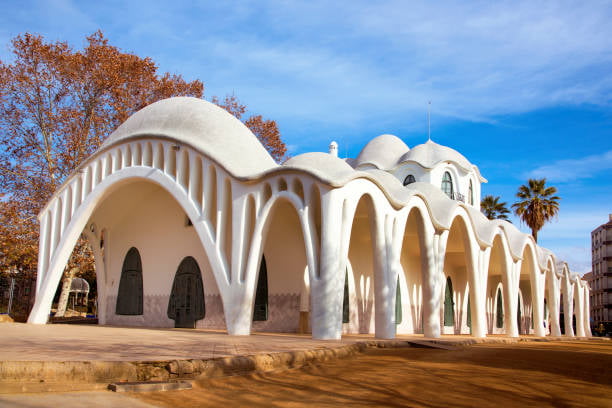 Montseny Natural Park
If you are looking for mountain villages or natural parks to enjoy nature, we recommend you to visit the Natural Park of Montseny, less than 50 kilometres from Barcelona. It has more than 31,000 hectares of natural area and is perfect for walking and hiking.
If you don't know it, it's logical that you're a bit lost and don't know where to start. Before going on a hike, we recommend that you organise yourself and create a route to follow. In any case, you can start from Collformic and go as far as Pla de la Calma, or climb some of its mountains such as Matagalls, Les Agudes or Turó de l'Home.
Its biodiversity is exceptional and we are convinced that you will greatly enjoy its forests and rivers. But make sure you wear suitable footwear and don't forget to bring water and food for unforgettable evenings.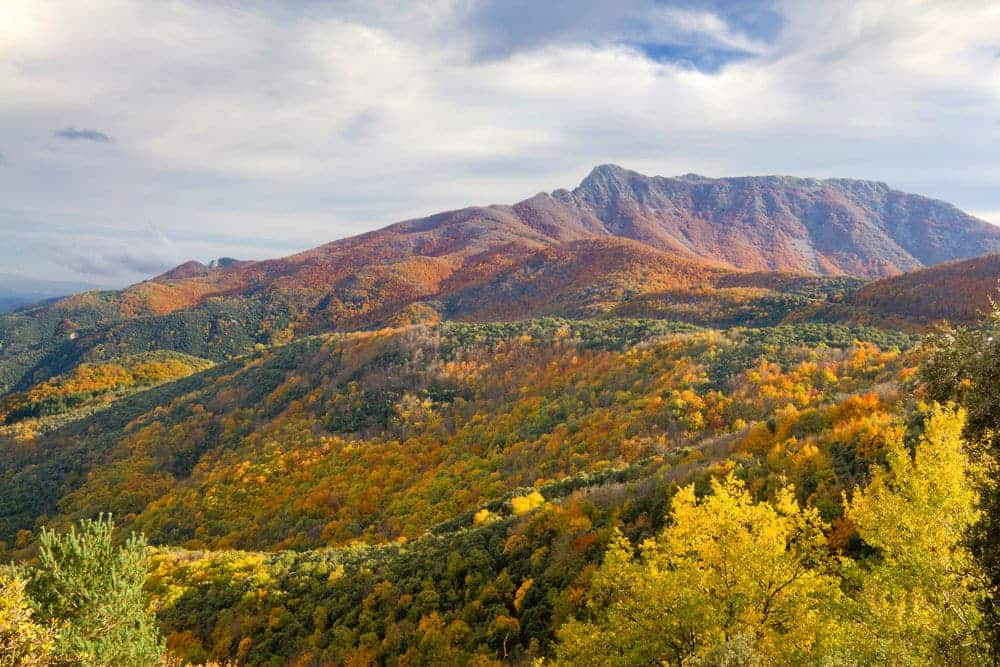 Llobregat Delta
The Llobregat Delta is located close to El Prat airport. It is a very beautiful place, a natural space with a great biodiversity throughout its 145 hectares. If you want to do a route near Barcelona and you feel like birdwatching, we can't think of a better place than here. It has few fish, but its lagoons serve as a migratory passage for many birds and have become a very important nesting area. It is also worth mentioning the return of the otter, an animal that had disappeared for more than 60 years. You will find it half an hour's drive from Barcelona.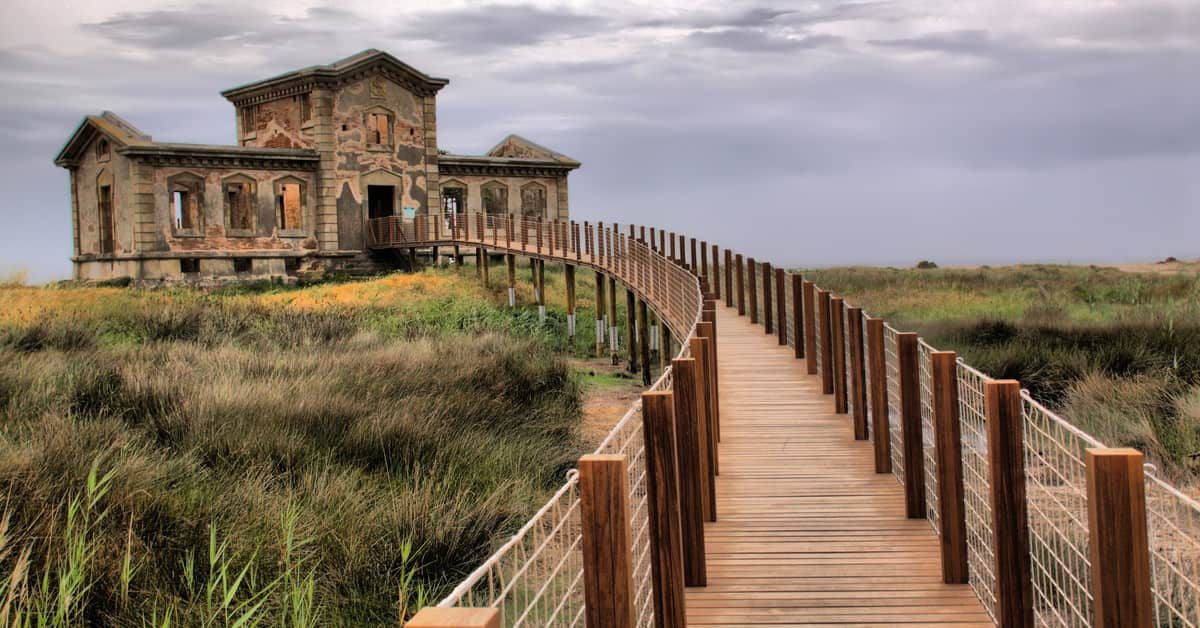 Vallromanes
Going to Vallromanes is another of the best weekend trips from Barcelona. It is a very small village located almost 30 kilometres from Barcelona, in the heart of the Catalan Serralada Litoral. If you like nature, it is another perfect place for hiking routes. It also has one of the most special spas you'll find in Catalonia, Aire de Vallromanes, located in an old farmhouse that has been restored. Enjoy its relaxed atmosphere and popular gastronomy. Without a doubt, 100% recommendable!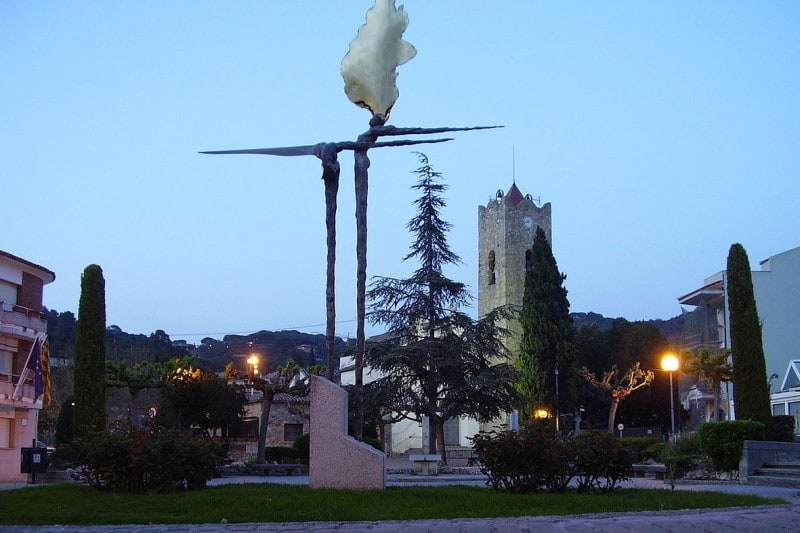 Santa Florentina Castle, Canet de Mar
Santa Florentina Castle is one of the most outstanding places we recommend you visit, built on the remains of what was once a Roman villa. It is one of the most spectacular medieval castles and the best thing about it is that it is less than 80 kilometres from Barcelona, in Canet de Mar.
In the 19th century, the Muntaner family took charge of improving and extending it with the help of the modernist architect Lluís Doménech i Montaner, who was responsible for the marvellous transformation you can see today.
If you are a Game of Thrones fan, you should know that this location was used to give life to Raven Hill, the settlement of House Tarly. Once you visit it, you are sure to discover, without anyone telling you, the corners that were used to film the medieval fantasy series.
The truth is that we thought it appropriate to add this castle to the list of weekend excursions from Barcelona because it is full of wonderful details and because it combines several styles between Gothic and Art Nouveau.
Of course, there are other equally exceptional sites close to Barcelona that are worth discovering. In fact, if you like skiing, there are several ski resorts less than two hours from Barcelona. These places are just a few examples of what you'll find.
However, everything seems to indicate that you won't get bored with the numerous excursions we've suggested. Choose the ones that interest you most and in the order you want, and look for the best midstay accommodation in Barcelona to enjoy unforgettable experiences without any worries.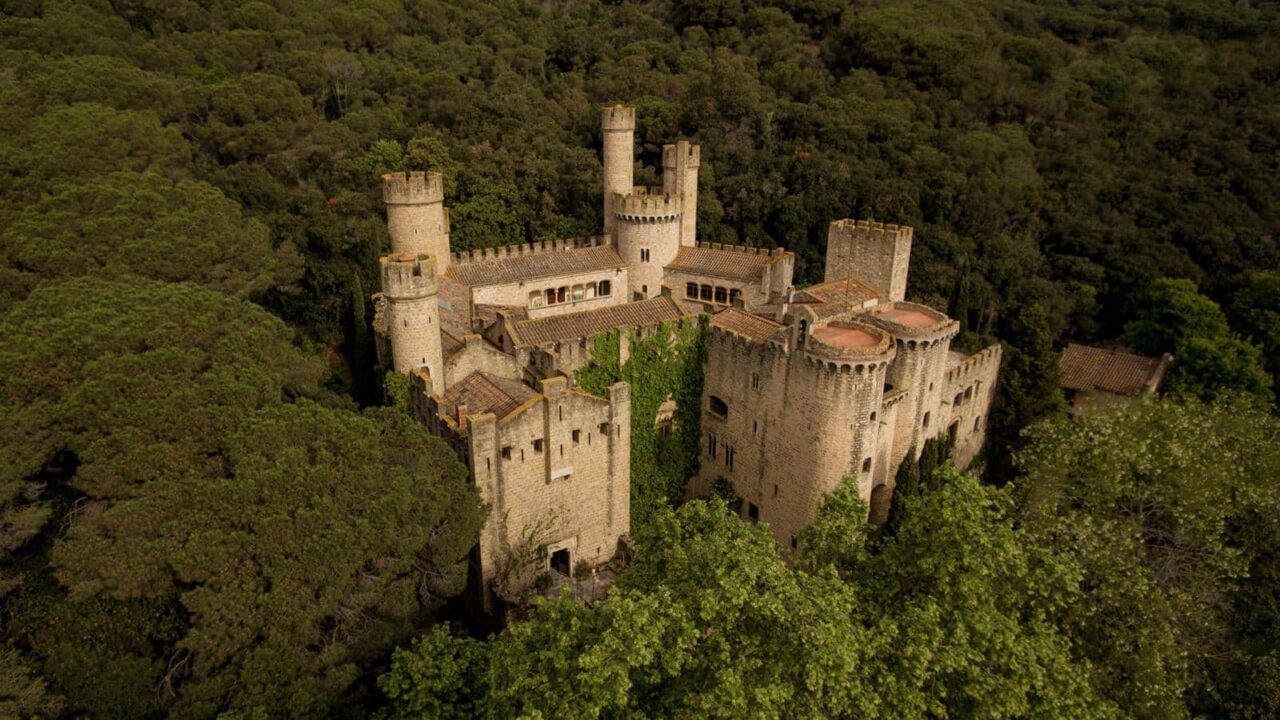 Our apartments in Barcelona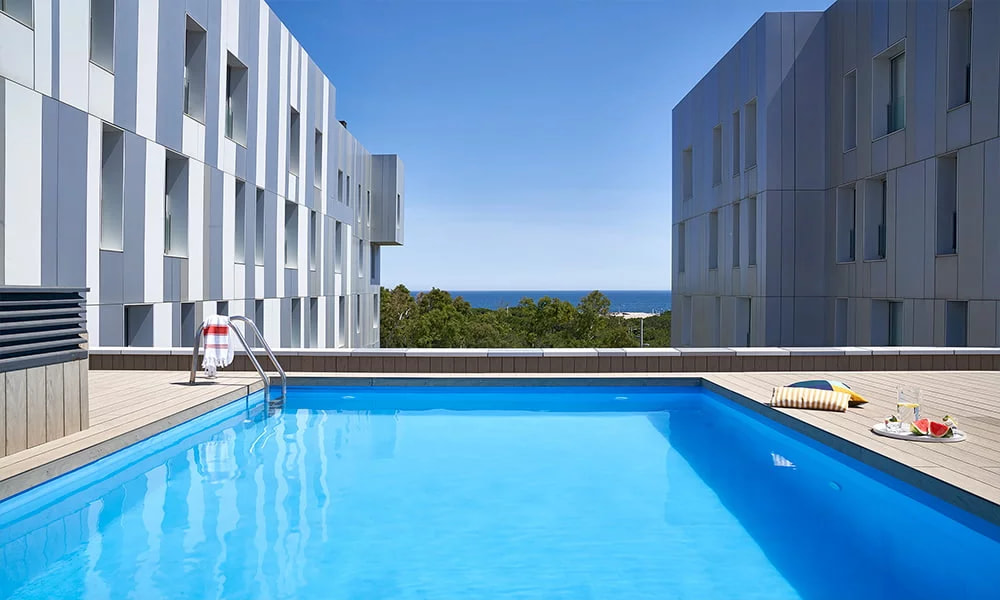 Holiday apartments by the beach in Barcelona
Since 2010, Lugaris Apartaments has been offering you the best holiday rental flats in Barcelona, perfect for a family holiday, with friends or as a couple, or for medium-term stays.
You can choose between apartments near the beach in Barcelona, at Lugaris Beach, with sea views, 2 swimming pools (one for adults and one for children) and capacity for up to 6 people, and the Lugaris Rambla flats, located on the Rambla de Poblenou and just 300 m from Bogatell beach, with a balcony or terrace of up to 22 m2 and ideal for couples or families and groups of up to 5 people. All our luxury flats in Barcelona are air-conditioned and equipped with all the appliances, furniture and bed linen you will need during your stay. They also have satellite TV and free high-speed Wi-Fi connection, as well as a safe and a 24-hour private security service.
What's more, when you make your booking, you can reserve many other additional services: international press in your flat, parking space, transfer service to and from Barcelona airport, bicycle hire, supermarket shopping, museum, sports and show tickets, babysitting service and much more.

For more information, contact Lugaris Apartments without obligation.