When we visit a new city for the first time, what we want is to know it as thoroughly as possible, so investing part of our time in exploring the unique corners beyond the great monuments and museums is an essential activity to learn more about it. Thus, local businesses tell a tale about the city they are in, their people, their culture and their tastes. If you want to stroll around the most beautiful shops in Barcelona and go on a unique shopping spree, discover this guide to original shops that are just a few steps away from our rental apartments in Barcelona. Keep reading and discover the jewels hidden in each shopping area of the city.
UNIQUE CLOTHES SHOPS IN BARCELONA
When we talk about unique and original stores, the first thing that comes to mind are clothes shops. Beyond department stores and multinational chains, this Mediterranean city has a wide variety of small boutiques with character that not only hide pieces of vintage clothing but are in places that transport you to other times and places.
Sombrerería Obach
If we veer from the busy shopping area of Portaferrissa, in a small alley of the Gothic Quarter we will find this historic shop. Founded in 1924, this family-run business has been selling all sorts of hats for generations. Its facade already gives us clues of what we will find inside and, although the store has been slightly renovated since it was founded, the exquisiteness of the decoration and the attention to detail will take you to another era. Who knows, you may end up taking a typical barretina (traditional Catalan hat) as a souvenir.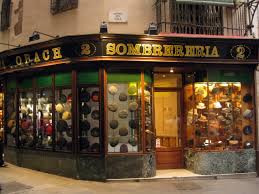 Flamingos Gallery
If you're looking for thrift shops in Barcelona, Flamingos Gallery is one of the best places to go. Located in the alternative Tallers street, Flamingos began as a vintage clothing store sold by the kilo, but, thanks to this location, it has become much more. Among neon lights and hanging antiques, you'll find a gallery of small shops selling recycled, original or second-hand clothes with a signature touch. Whatever your style, this beautiful clothes shop offers options for all tastes and pockets.
Guantería Alonso
In the same line of historical shops that are dedicated to the world of accessories we find this glove shop founded in 1905. Its location not only presents a façade that's perfect to frame the delicacy of the items that the trade offers, but has managed to become a folkloric accessories shop without the interior losing an iota of the modernist authenticity it was created in. Moreover, you'll find this shop near one of the main shopping areas of Barcelona.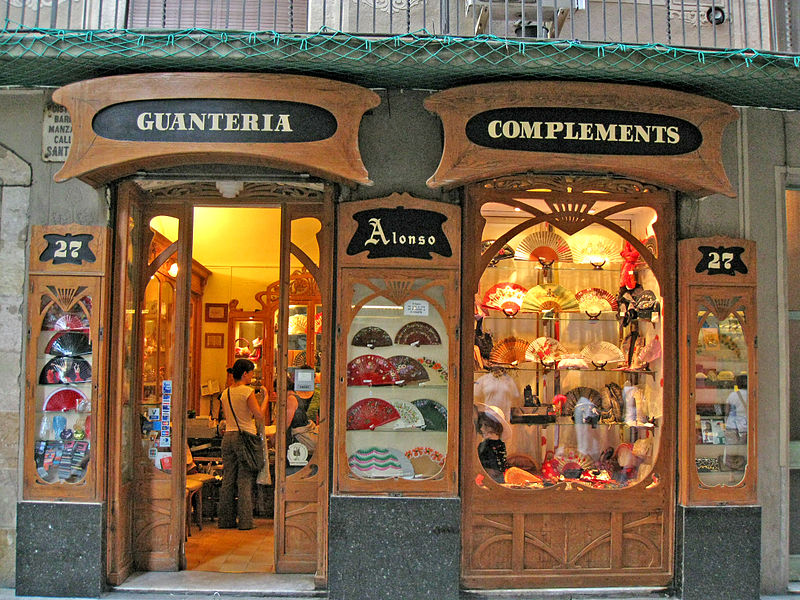 Rollitoasí
Quite a way from the bustling shopping area of Barcelona, there is this small place tailored for lovers of naïve style. Located in the alternative neighbourhood of Gràcia, this clothing and accessories store is an oasis for those who go crazy with prints, patchwork and bright colours. If you want to buy original clothing made in BCN, this is your place.
WEIRD SHOPS IN BARCELONA
However, if what you need is a store with a certain aura of mystery, in the Catalan capital you will find shops that sell anything you can imagine, so it is not surprising that some of the most beautiful shops also contain the most extraordinary products that we can imagine.
El Rei de la Màgia
Supposedly the oldest magic shop in the world, this place located in el Born is a small altar to the world of illusionism. Its owners have been fighting on Princesa street since 1881 to preserve the world of magic through the sale of all kinds of products: from the most classic like the magic wand, to the most contemporary and fascinating magic tricks. Its strategically placed capgrossos (typical Catalan folkloric characters) and vintage aesthetics make this store a most curious attraction for instagrammers.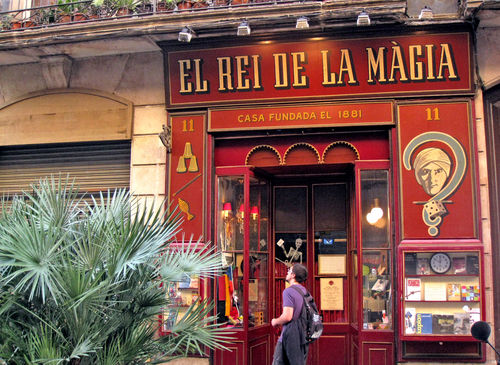 El Mercadillo
Popularly known as El Camello ('The Camel' in Spanish), this Portaferrissa store hides an indoor market where you can find all kinds of strange clothes. Hidden in the interior courtyard of a manor house in the centre of the city, this bazaar has been a curious place to wander around for years. Here you will find such random items as impossible piercings to the most Gothic clothes you can find. Going around the rows of hangers is a unique experience. Also, if you get to the end you can have a drink in a hidden and peaceful garden that not many know about.
Fantastik
The Raval neighbourhood also has some rare shops that are truly fascinating, such as the Fantastik. Located in the street of Joaquín Costa, this small shop is like candy for kitsch fans. Tin toys, statues of Virgins and educational posters create a controlled chaos that turns the place into a curiously extraordinary space where the visitor could spend hours looking for a unique vintage object to take home.
ORIGINAL GIFT SHOPS IN BARCELONA
When we want to surprise our loved ones and do not know exactly how we can innovate, the best option is to approach the most original gift stores to fill us with inspiration and creativity to find the perfect present, so these shops are the ideal place for it.
La Nostra Ciutat
Are you tired of bringing the typical horrible souvenirs to your family and friends? La Nostra Ciutat is a beautiful store near Plaza del Pi that wants to promote local talent through products made by Barcelona designers. Apart from enjoying a good time discovering new artists, you can also take home a truly unique present.
Mercería Santa Ana
You won't find a more original and authentic than this beautiful Portal de l'Àngel shop. This enormous haberdashery has as many bits and pieces as you can imagine. Those who love crafts, embroidery, fabrics and sewing will feel like fish in the water, not only due to the number of options to choose from, but because of the personalized treatment offered by the multiple employees who are willing to attend each person who walks through the door of Santa Ana.
Flowers by Bornay
To end our guide to the most beautiful shops in Barcelona, we want to suggest one of the most charming shops you will find. Located in the neighborhood of Sants, this greenhouse inside an old and picturesque dye factory is one of the most important creative floral decoration shops in Europe. This prestigious brand decided to bet on the beautiful location of Melcior de Palau and fill its interior with the green of its plants and the sweet aroma of its floral compositions.
MORE INTERESTING STUFF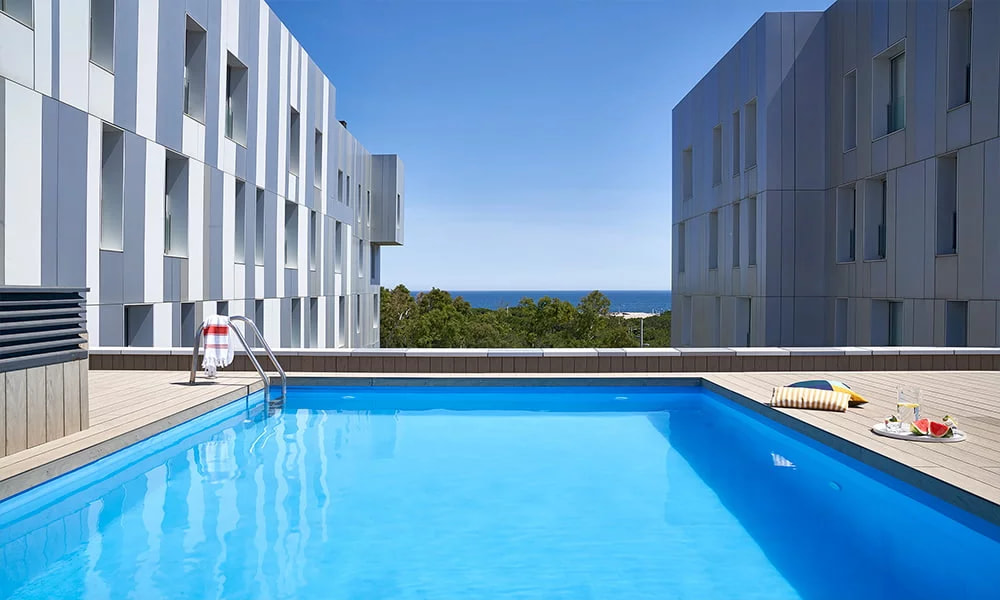 Holiday apartments by the beach in Barcelona
Since 2010, Lugaris Apartaments has been offering you the best holiday rental flats in Barcelona, perfect for a family holiday, with friends or as a couple, or for medium-term stays.
You can choose between apartments near the beach in Barcelona, at Lugaris Beach, with sea views, 2 swimming pools (one for adults and one for children) and capacity for up to 6 people, and the Lugaris Rambla flats, located on the Rambla de Poblenou and just 300 m from Bogatell beach, with a balcony or terrace of up to 22 m2 and ideal for couples or families and groups of up to 5 people. All our luxury flats in Barcelona are air-conditioned and equipped with all the appliances, furniture and bed linen you will need during your stay. They also have satellite TV and free high-speed Wi-Fi connection, as well as a safe and a 24-hour private security service.
What's more, when you make your booking, you can reserve many other additional services: international press in your flat, parking space, transfer service to and from Barcelona airport, bicycle hire, supermarket shopping, museum, sports and show tickets, babysitting service and much more.

For more information, contact Lugaris Apartments without obligation.