If you need to move to Barcelona for a while or temporarily move from one apartment to another, finding a temporary rental apartment can be difficult. The truth is that it takes a long time and you will need to arm yourself with patience so as not to endure small scares and make sure that everything is in perfect order.
Luckily, there are several ways to do it correctly and we want to help you with a small guide that will help you find a temporary flat in Barcelona without complicating it too much. The idea is that your search does not turn into a nightmare and that you can move as soon as possible with the help of the best tips to choose a temporary rental apartment in Barcelona.
Why are flats rented temporarily nowadays?
Barcelona is one of the most beautiful cities in the world and spending time in it can become a very rewarding experience. In fact, once you discover part of its essence, you will wonder why you have not taken this step before and if you will be able to leave.
There are many reasons why a person may want, at one point in their life, to rent a flat temporarily. They can be health workers on temporary contracts or people who have just moved to the city and urgently need a home where they can live for a while before finally settling in.
Luckily, there are companies dedicated to short or monthly rentals in Barcelona, which have different properties distributed throughout the city. This is because more and more people need to meet their personal or work mobility needs, which is why the options when hiring monthly rentals are increasing.
People who are in the process of divorce, people who have to move temporarily while they doing up their house, or even foreigners who are teleworking and can afford to choose a hotter destination during the winter months. The truth is that the reasons are endless and the important thing is to have an immediate, economical and reliable solution.
Some people prefer to search for it themselves via the Internet or advertisements, while others delegate that responsibility to companies dedicated to finding temporary accommodation based on their needs for the duration of their stay. Ultimately, they have the ability to do so and an expert team dedicated to this task.
If you need a home for months, you will be surprised by the wide list of flats and apartments that are available and waiting for you. Whether for academic reasons, for a temporary substitution, a specific work project or for pleasure, you will be able to access an apartment to live in it for a month or several more. In fact, if you don't fall in love at first sight, be patient and keep looking to find what will be your new home.
Sometimes, especially in high season, it can be difficult to find a room in hotels in Barcelona. In addition, perhaps you are one of those who need something more, perhaps a personal space in which you feel at home, that is, safe, comfortable and quiet. Temporary rental apartments in Barcelona will make it easy for you. They are fully equipped and you will not have to sign the typical rental contracts with their complicated and tedious clauses.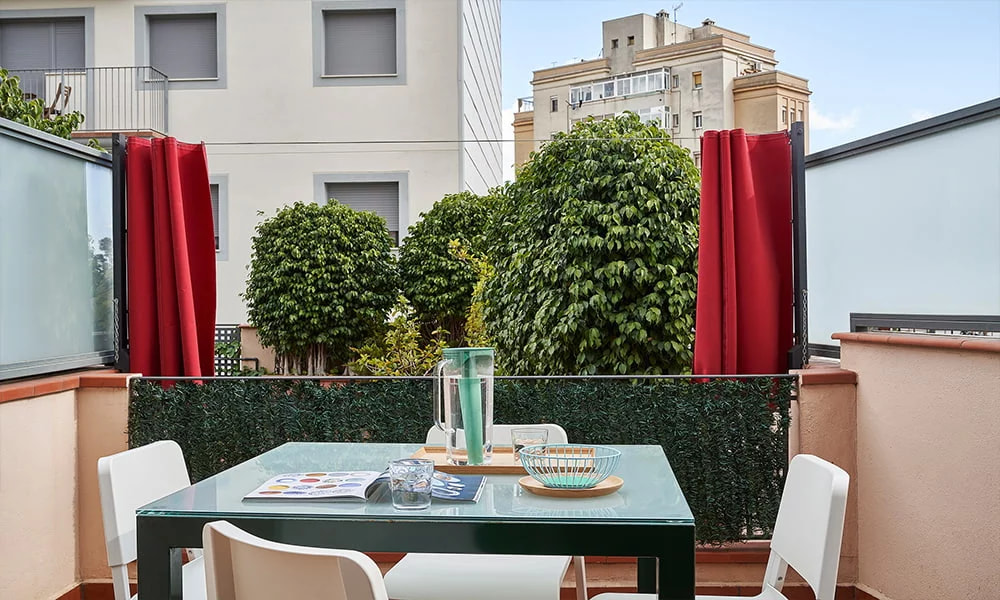 How to find the best monthly rental
From here we are going to show you the best tips for choosing a temporary rental apartment in Barcelona. The objective is that you can find the type of accommodation you are looking for without much effort, without spending too much time and with the best value for money. Of course, before doing so, it doesn't hurt to find out about the best areas of Barcelona where you could fit in.
Temporary rental of a room. One of the most common accommodation options is to rent a room in a shared flat with family, students or similar. Now, this type of modality is not the cheapest, although if you like the company, you can share accommodation with other people, though they are total strangers.
Temporary rental of a private apartment. One more option that consists of renting an apartment for months. It is a modality that has more privacy than renting rooms. In addition, you will choose the people you want to live with. Now, there are several drawbacks. In the first place, it implies spending more money and you will have to invest more time to visit them, unless you decide to book the rental in advance by contacting the advertiser. In this case, you should be careful because there are rental scammers on the Internet that can deceive you. Another drawback has to do with the value for money. The temporary rentals of these apartments are reserved first, mainly with the arrival of the holidays, and with respect to those that are free, you will have to wonder why they have not been rented before. In addition, finally it is the tenant who chooses the person who interests him the most, so your visit can be a waste of time. Still, it is yet another option to consider.
Coliving in Barcelona is another alternative similar to coworking, but instead of sharing an office, physical spaces are shared to live. The idea is to be part of a housing system associated with the common use of shared services and spaces. It is about having a private space with kitchen and bathroom, to which we must add places of shared use, such as a swimming pool, the hall, a terrace or a parking lot. This method can be perfect for people who are going through a transition period, as we mentioned earlier: separated or divorced, young people who want to become independent or temporary displacement for work reasons. It is usually cheaper than the typical shared rental and even entails greater privacy, although in Spain it needs to gain momentum.
Businesses dedicated to temporary rental. Without a doubt, it is one of the best alternatives, especially if the company has a good reputation in forums, networks and other social media. This is the case for Lugaris Apartments, a company that has apartments focused more on short or medium-term reservations. The best thing about these companies is that they have the best apartments to make you feel as comfortable as possible, even if you are far from your usual place of residence. These are equipped homes, which can be luxurious, with everything you need while you are in Barcelona, such as free WiFi connection, communal pool, wonderful views or a splendid terrace. You can even choose different exclusive locations and find apartments available near the beach in Barcelona, in residential complexes surrounded by green areas or, if you like hustle and bustle, in the heart of the city, next to La Rambla del Poblenou.
Barcelona is one of those hospitable cities that will welcome you from the first moment. Converting it into your new home will not be very complicated, especially if you find a temporary rental apartment with good access and all the necessary facilities (heating, air conditioning or elevator) to facilitate your day to day and make your stay more comfortable.