After decades of progressive urban growth with little regard for the serious consequences of traffic-based pollution, Europe's major metropolises have become saturated. The high levels reached in recent decades have resulted in a worrying increase in health problems such as respiratory infections, strokes, heart disease and lung cancer, especially affecting the most vulnerable population, both children and adults with previous illnesses.
The beautiful city of Barcelona has also taken action to address this situation and, following the example of other European cities, has launched an action plan from 1 January 2020. This plan consists of the activation of a low emission zone (ZBE, in Catalan) in the area within Barcelona's ring roads, which, due to the crisis caused by the coronavirus, has been delayed until 15 September 2020. But how does the ZBE affect you? How can you get from Barcelona airport to the city? Can you drive around Barcelona with your car? Here we tell you everything you need to know about driving in Barcelona and how the low emission zone may affect you.
Which cars can drive in Barcelona in 2021?
The implementation of the Low Emission Zone (ZBE) in Barcelona has meant a drastic change in the way we can move around the city in a motor vehicle. Thus, circulation in the city is restricted for all vehicles that do not have the Spanish DGT label.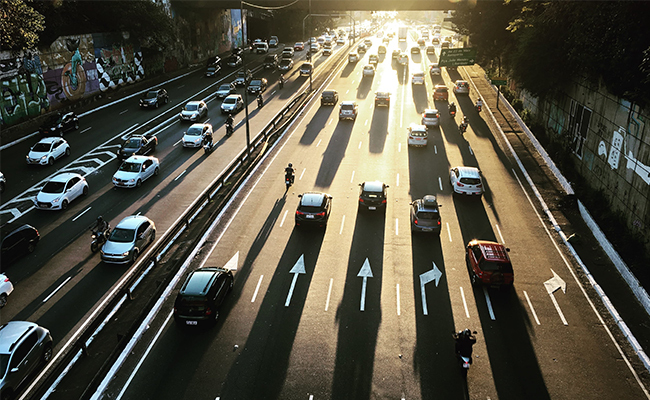 This label or environmental sticker has been issued by the DGT (Dirección General de Tráfico) to all vehicles considered to be non-polluting. This group is made up of five types of vehicles, from the least to the most polluting.
The cars affected by the regulation, i.e. those that cannot circulate in the ZBE, are petrol vehicles registered before January 2000 and diesel vehicles registered before January 2006. Petrol vans registered before 2000 and Euro 4 diesel vans, motorbikes, mopeds and quadricycles registered before 2003 are also affected.
Exempted are vehicles used for the transport of persons with reduced mobility; emergency and essential service vehicles such as doctors, undertakers, police and fire brigades; and vehicles considered to be unique, such as cranes, concrete mixers, etc. This group of vehicles must first apply for a vehicle licence for the ZBE at the offices of the Metropolitan Vehicle Register.
Small lorries and coaches are also subject to an extension of this ZBE regulation until 1 July 2021, as well as large buses and coaches used for collective transport. In this case, the date is extended until 1 January 2022.
On the other hand, it should be noted that each vehicle with restricted circulation in the EPZ is granted 10 days of free circulation. For the rest of the days, drivers of these vehicles can apply for daily authorisations, paying a fee of 2 euros per day to circulate within the area. Vehicles belonging to families with an income of less than double the IPREM (Indicador Público de Renta de Efectos Múltiples), will have to pay 1 euro per day, being free of charge for those with an income of less than the IPREM, i.e. an income of less than 538 euros.
In addition to following the ZBE Barcelona license guide to find out which environmental badge applies to you, you can also check it online on the Barcelona Metropolitan Area's urban planning website.
What is the ZBE?
As we have already mentioned, ZBE is the acronym for Low Emission Zone (Zona de Baixes Emissions, in Catalan), a protected area where access to the most polluting vehicles is restricted. The ZBE came into force on 1 January 2020, although it did not become effective until 2 January, the first working day.
This area covers an area of 95 square kilometres, including Barcelona and the municipalities surrounding the ring roads.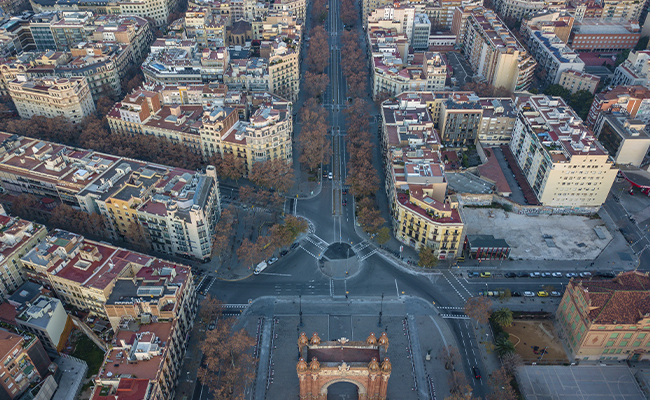 The Barcelona Low Emission Zone map: Where does it start?
The ZBE map covers the city of Barcelona, except for the industrial Zona Franca and the Vallvidrera district, Tibidabo and les Planes, and l'Hospitalet de Llobregat, Sant Adrià del Besòs, part of Esplugues de Llobregat and Cornellà de Llobregat.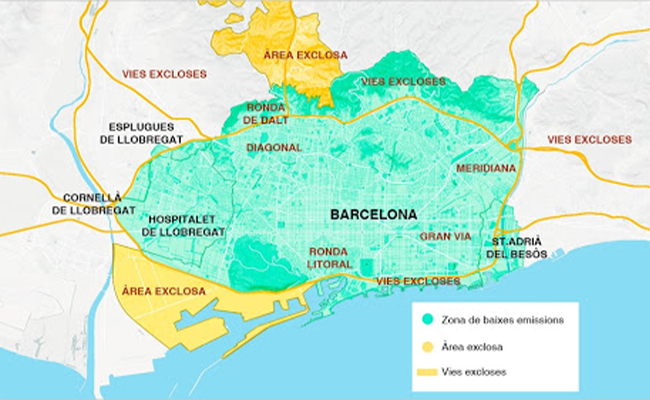 All vehicles can drive on the Ronda de Dalt and Ronda del Litoral ring roads, although vehicles without stickers cannot drive on the access roads to Barcelona.
A restriction that seeks to reduce the number of polluting vehicles in the metropolitan area of the city and to which you can contribute if you rent a bike in our flats by the beach in Barcelona.
Which cars have to carry the environmental sticker in Barcelona?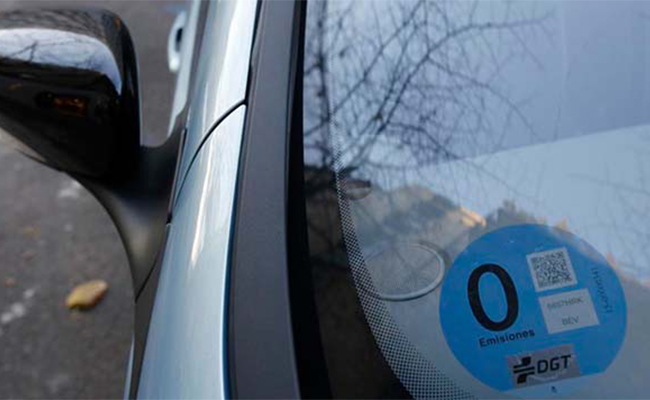 The environmental sticker has been distributed by the DGT and it is advisable to stick it on the lower right-hand corner of the front window of your vehicle. Although it is not compulsory, it is a good idea to display the sticker to make it easier for the Guardia Urbana (local police) to carry out checks.
It should be borne in mind that there are video surveillance cameras at the entrances and exits of the city to check number plates and penalise those who do not comply with the regulations.
The cars that have to carry this sticker are:
The "Zero Emissions" label is reserved for electric or hybrid vehicles with a range of more than 40 kilometres.
The "Eco" label is for hybrid cars with a range of less than 40 kilometres and vehicles powered by natural gas.
The "C" label is for petrol cars and vans from 2006 and diesel vans from 2014, as well as vehicles with more than 8 seats and those dedicated to the transport of goods registered from the same year.
The "B" label is awarded to petrol vans and passenger cars registered from 2000 and diesel vans from 2006, including vehicles with more than 8 seats and goods vehicles from 2005.
Polluting vehicles do not have environmental stickers.
How to enter the ZBE with a foreign-registered car?
For foreign-registered vehicles, as they are not classified according to the DGT guidelines, a series of technological and environmental requirements have been established. Thus, the following vehicles will be able to enter the ZBE:
Since 1 January 2020, motorbikes and mopeds (category L) classified as Euro 2 or higher, electric passenger cars (M1), petrol Euro 3 or higher and diesel Euro 4 or higher have been able to enter. This group has been joined from 1 April 2021 by light commercial vehicles (N1) classified as electric, Euro 3 or higher petrol or Euro 4 or higher diesel.
From 1 July 2021, small coaches (M2) or trucks (N2, N3) classified as Euro 4 or higher will be eligible.
And from 1 January 2022, buses or coaches (M3) intended for collective passenger transport and classified as Euro 4 or higher will be eligible.
As with all other vehicles, foreign-registered vehicles must be registered in advance. Otherwise, owners may face a fine of 100 euros or more. If these requirements are not met, it is also possible to apply for daily authorisations or to use public transport or cycle around Barcelona.
All this can be processed through the AMB's ZBE website (https://zberegistre.ambmobilitat.cat/es/VehiclesEstrangers) or, if you are staying at Lugaris, our team can help you to do so.
What days can I drive in Barcelona without a sticker?
The ZBE is not active all year round or at all hours, with a timetable that runs from Monday to Friday from 7:00 to 20:00, with no restrictions on Saturdays, Sundays and public holidays. In the case of local festivities, only these areas will be affected. Thus, you can reachLugaris Apartments during this period of time with any type of car.
OUR APARTMENTS IN BARCELONA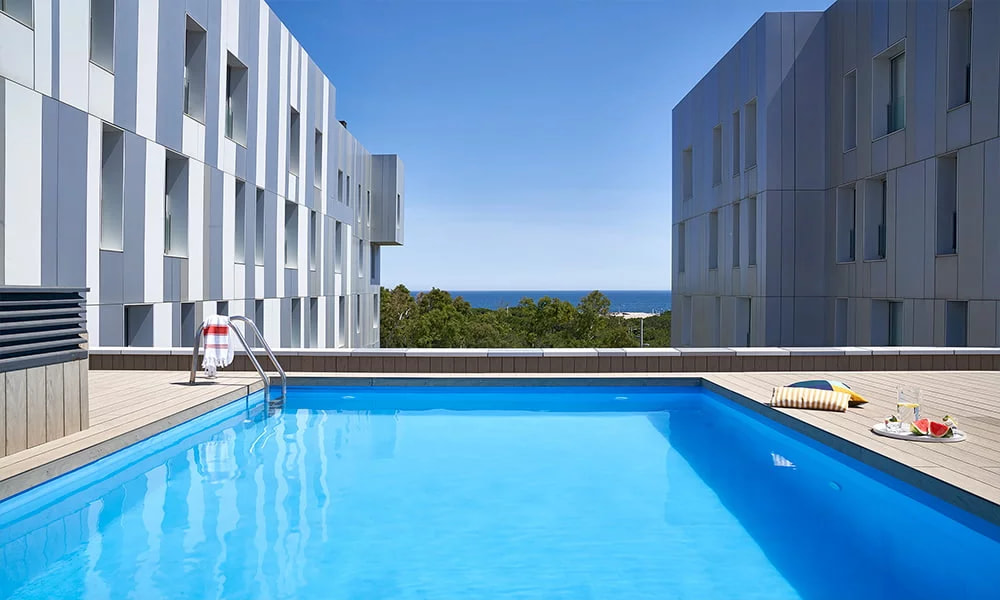 Holiday apartments by the beach in Barcelona
Since 2010, Lugaris Apartaments has been offering you the best holiday rental flats in Barcelona, perfect for a family holiday, with friends or as a couple, or for medium-term stays.
You can choose between apartments near the beach in Barcelona, at Lugaris Beach, with sea views, 2 swimming pools (one for adults and one for children) and capacity for up to 6 people, and the Lugaris Rambla flats, located on the Rambla de Poblenou and just 300 m from Bogatell beach, with a balcony or terrace of up to 22 m2 and ideal for couples or families and groups of up to 5 people. All our luxury flats in Barcelona are air-conditioned and equipped with all the appliances, furniture and bed linen you will need during your stay. They also have satellite TV and free high-speed Wi-Fi connection, as well as a safe and a 24-hour private security service.
What's more, when you make your booking, you can reserve many other additional services: international press in your flat, parking space, transfer service to and from Barcelona airport, bicycle hire, supermarket shopping, museum, sports and show tickets, babysitting service and much more.

For more information, contact Lugaris Apartments without obligation.