The attractions of Barcelona go beyond its imposing churches, modernist houses and palaces. In fact, the pleasures of Mediterranean cuisine are another of its great tourist attractions. And to familiarize yourself with them, there is nothing like going to the places where the raw material to create the most typical Catalan dishes is obtained. That is why we would like to invite you to visit the best markets in Barcelona.
By visiting their colorful stalls, you will not only be able to buy all kinds of top quality food, both local and imported (ideal to prepare a delicious lunch or dinner in the kitchen of your holiday apartment in Barcelona): you will also be able to get a closer look at some of the most fascinating episodes of Barcelona's history. The local street map features 39 food markets plus four themed markets, so you'll be spoilt for choice.
Are you ready to see the most famous ones? Let's start our route, then.
1. EL BORN CENTRE CULTURAL I MEMÒRIA
We begin our list of the best markets in Barcelona in one of the most important areas of El Born district, located next to the basilica of Santa Maria del Mar. Although we have already referred to it when talking about the archaeological sites in Barcelona, it is worth stopping here again, as this was the first covered market in the city. In fact, in the late Middle Ages in Barcelona, there was already an open-air version of it. This was a common feature for many centuries (hence the Catalan expression anar a la plaça – which is translated as going to the square – which is synonymous with shopping).
Built in 1873, El Born market was in operation until August 1971, coinciding with the opening of Mercabarna, in the Zona Franca area, the great logistics center of the Catalan capital. After it closed, the residents managed to avoid its demolition, and in 2002, during renovations aimed at converting the precinct into a public library, some ruins from the early 18th century appeared. Thus, a neighborhood that had been destroyed by order of the Bourbon authorities as a result of the defeat suffered by Barcelona in the War of Succession in 1714 was brought to the surface.
Since 2013, this unique enclave has been open to the public. It is even possible to take a guided tour through the streets of the old city that has disappeared, discovering houses, shops, taverns, a distillery and even an ice well, which provided markets and the old hospital of the Santa Creu, in the Raval. There are also two exhibition halls – one temporary and one permanent -, a shop selling gifts and typical products of Barcelona and a bar-restaurant, which sometimes offers menus inspired by 18th century cuisine.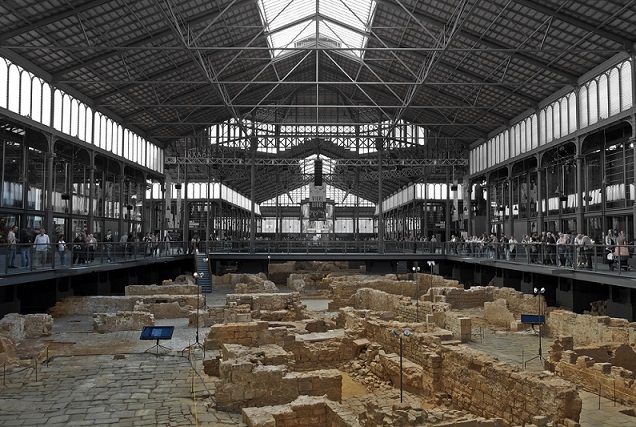 2. ENCANTS VELLS OR FIRA DE BELLCAIRE
We leave food aside for a moment to visit one of the oldest flea markets in Europe. Moreover, it is the only one in the Old Continent where the tradition of public auctions is still maintained, which are held on Mondays, Wednesdays and Fridays from 7 a.m. to 9 a.m. The objects auctioned are lots formed by remains of stocks, emptied flats or businesses that have closed.
On September 25, 2013, the Encants Vells opened a new location at 158 Carrer de Castillejos. Its stalls are displayed under a spectacular cover of mirrors that reflect the activity of this street market – where new and second-hand items are sold – while protecting vendors and visitors from bad weather. In total, the enclosure has an area of 32,466 m2, with a commercial surface area of 17,000 m2.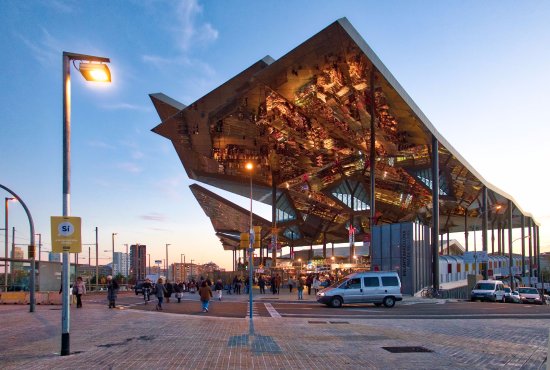 3. FLEA MARKET
Another interesting flea market in the city is the Flea Market, located in Plaça Blanquerna since 2007. Part of its charm lies in the fact that anyone can book a space and set up a stand where they can sell items they no longer need, such as clothes, antiques, furniture, clothing, paintings or gadgets. You can visit it on the second Sunday of each month, from 10:00 am to 7:00 pm.
Another very similar market is the Lost & Found Market, which is held simultaneously in Madrid and Barcelona (in the case of the Catalan capital, in the Estació de França, always on weekends). And if you don't know what to see in Poblenou, the neighborhood where our apartments near the beach in Barcelona are located, you'll be pleased to know that there are two other interesting second-hand markets here. One of them is Two Market, which opens on the first or second Sunday of the month – we recommend you check the timetable in advance – at L'Ovella Negra tavern on 78 Carrer Zamora, from 10 am to 7 pm. There you can purchase clothes, household goods and many other items at an unbeatable price: just one euro. The other great second-hand market in Poblenou is the Palo Alto Market Fest, which takes place on the first weekend of every month, Saturdays and Sundays from 11:00 am to 9:00 pm. This fair opens its doors at 30 Carrer de Pellaires.
4.BOQUERIA MARKET OR SANT JOSEP MARKET
Located at number 91 of Les Rambles, it is undoubtedly another of the best markets in Barcelona, as well as being the largest municipal market in Catalonia. Opened in 1840, it stands out for its beautiful modernist entrance and an elegant metal roof dating from 1914. In its 2,583 m², with more than 300 food stalls to visit, it is possible to buy all kinds of local and exotic products, so its clientele consists of both families and restaurateurs… and tourists. In this sense, it should be noted that, recently, the entry of groups on tour operated guided tours has been restricted. All this has been regulated in order to avoid it dying of success. In the interior, there are also bars where you can recover your strength with the best tapas in Barcelona (for example, the Barceloneta bombes).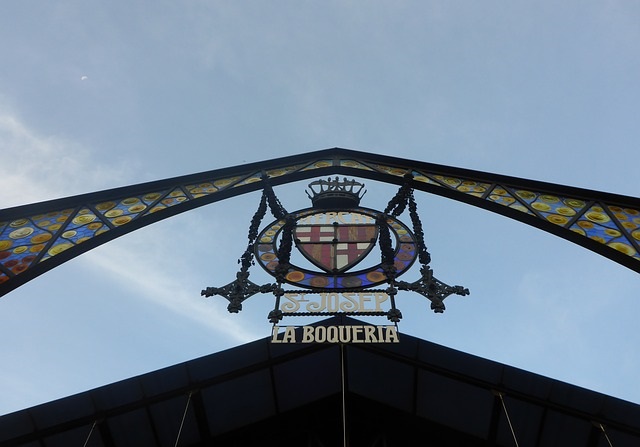 5. SANTA CATERINA MARKET
At number 16, Francesc Cambó Avenue, another must awaits during your holidays in Barcelona: Santa Caterina Market. Opened for the first time in 1845, it was extensively renovated in 2005 by Enric Miralles and Benedetta Tabliabue. This intervention gave it a striking undulating ceramic roof, designed to be admired from a certain height. Its thousand-colored tiles clearly recreate the fruits and vegetables sold inside, where there are also restaurants to taste the most irresistible recipes of Catalan gastronomy. Ideal for foodies!
When you finish visiting this little gem, remember that all the secrets of Barcelona's Gothic Quarter are just a few steps away – don't miss them!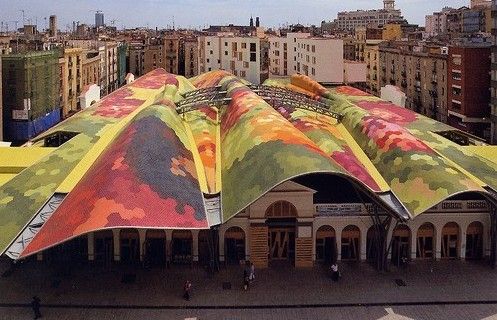 6. CONCEPCIÓ MARKET
If you want to surprise someone with a bouquet of flowers during your trip to Barcelona and at any time of day, go to the market of La Concepció, 1888. Although this is the city's flower market par excellence, there is also a food court here and an area that sells household appliances. It is located at 313 Carrer Aragó, in the heart of Barcelona's Eixample district.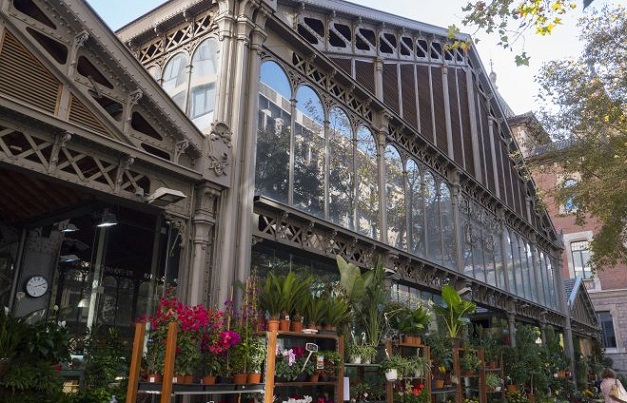 7. MARKET OF SANT ANTONI
Another noteworthy market is the Sant Antoni market, one of the icons of the neighborhood of the same name due to its beautiful façade and radial layout, as well as one of the largest markets in the city. Built between 1879 and 1882 by the architect Antoni Rovira i Trias, it underwent a costly restoration that took place between 2009 and the spring of 2018, when it was re-opened. Although there are those who claim that these works have taken away part of its charm, its 53,388 m2 surface area distributed over five floors, four of them underground, are well worth a look. In total, there are 235 establishments, to which another 78 stalls that are set up around the premises every Sunday morning. must be added The star product of this open-air market? Second-hand comics.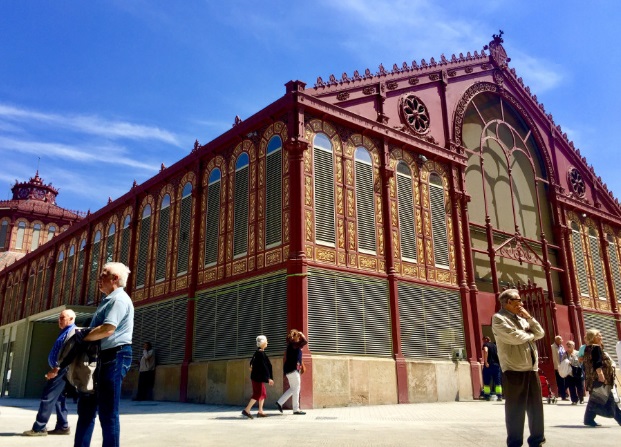 8. NINOT MARKET
The Ninot market is a municipal market in the Noucentista style (a rationalist-inspired movement that opposed Catalan Modernism) with 19th century iron architecture. Located at 133 Carrer Mallorca, it offers the best fresh produce, restaurants and dozens of outdoor stalls with clothes, accessories and household products. And that is not all, as cooking workshops open to everyone are regularly organized. We assure you that they will help you discover the gastronomic treasures of the city. What do you think?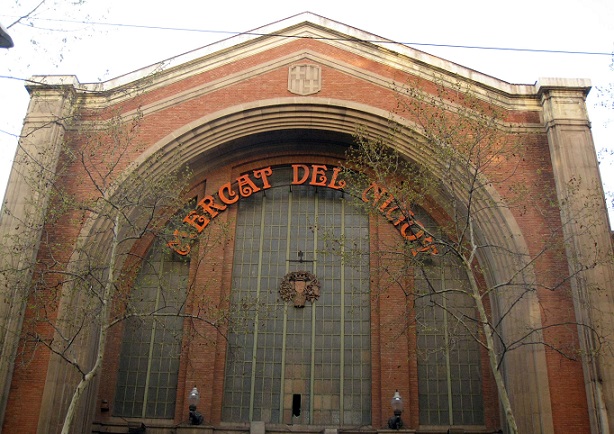 9. NEW POBLENOU MARKET
Despite is small size in comparison with the other markets mentioned, this is the closest municipal market to our holiday apartments in Barcelona. It was inaugurated in 1889, when the current district of Sant Martí was still an independent municipality, to host a livestock exchange market and sales tables. Its structure corresponds to the period of the great iron constructions, which were so fashionable in the last quarter of the 19th century. It is also an exposed building with stained glass windows on the sides. The building has been the object of architectural interventions in 1923, 1945 and 1966, the most recent of which was completed in November 2005. It is located in the Plaça de la Unió, 25, and is open every day of the week in the morning, from 8:30 am, and from Tuesday to Thursday, also from 5:30 pm to 8:30 pm.
Would you add another name to this list of the best markets in Barcelona? If so, please send us a message: we would love to hear your suggestions!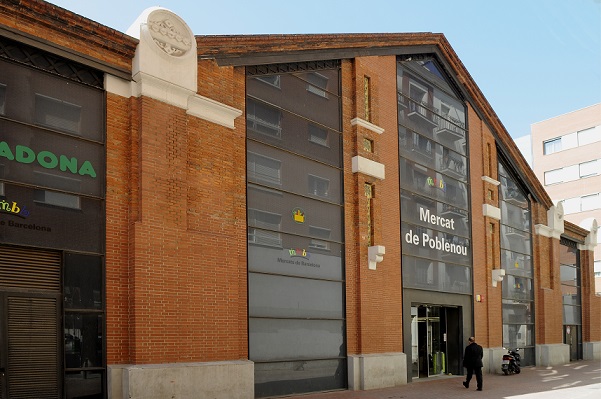 MORE INTERESTING STUFF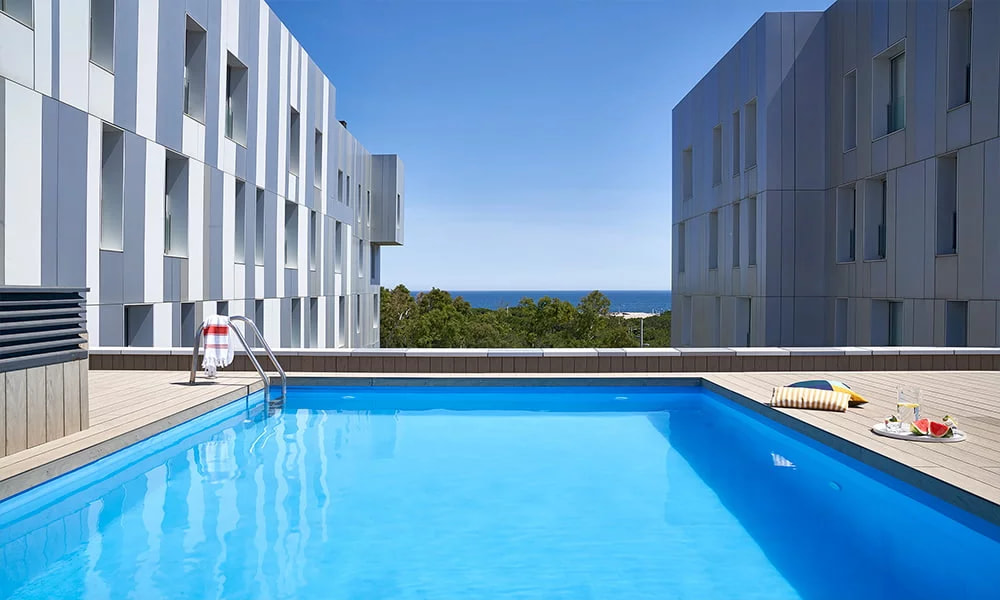 Holiday apartments by the beach in Barcelona
Since 2010, Lugaris Apartaments has been offering you the best holiday rental flats in Barcelona, perfect for a family holiday, with friends or as a couple, or for medium-term stays.
You can choose between apartments near the beach in Barcelona, at Lugaris Beach, with sea views, 2 swimming pools (one for adults and one for children) and capacity for up to 6 people, and the Lugaris Rambla flats, located on the Rambla de Poblenou and just 300 m from Bogatell beach, with a balcony or terrace of up to 22 m2 and ideal for couples or families and groups of up to 5 people. All our luxury flats in Barcelona are air-conditioned and equipped with all the appliances, furniture and bed linen you will need during your stay. They also have satellite TV and free high-speed Wi-Fi connection, as well as a safe and a 24-hour private security service.
What's more, when you make your booking, you can reserve many other additional services: international press in your flat, parking space, transfer service to and from Barcelona airport, bicycle hire, supermarket shopping, museum, sports and show tickets, babysitting service and much more.

For more information, contact Lugaris Apartments without obligation.