Remember when you were young, and you were satisfied with the typical frozen pizza from the supermarket? However, that time is long gone, and now you're only able to taste the best Italian-style pizzas that have been cooked in traditional stone ovens.
At Lugaris, without a doubt, we are your kind of people and our mouths water at the mere thought of this gastronomic delight. That's why, and because we don't want you to miss out on any plans in our wonderful city, we're going to introduce you to the best pizzerias in Barcelona. Are you ready to discover some of the most original restaurants in Barcelona?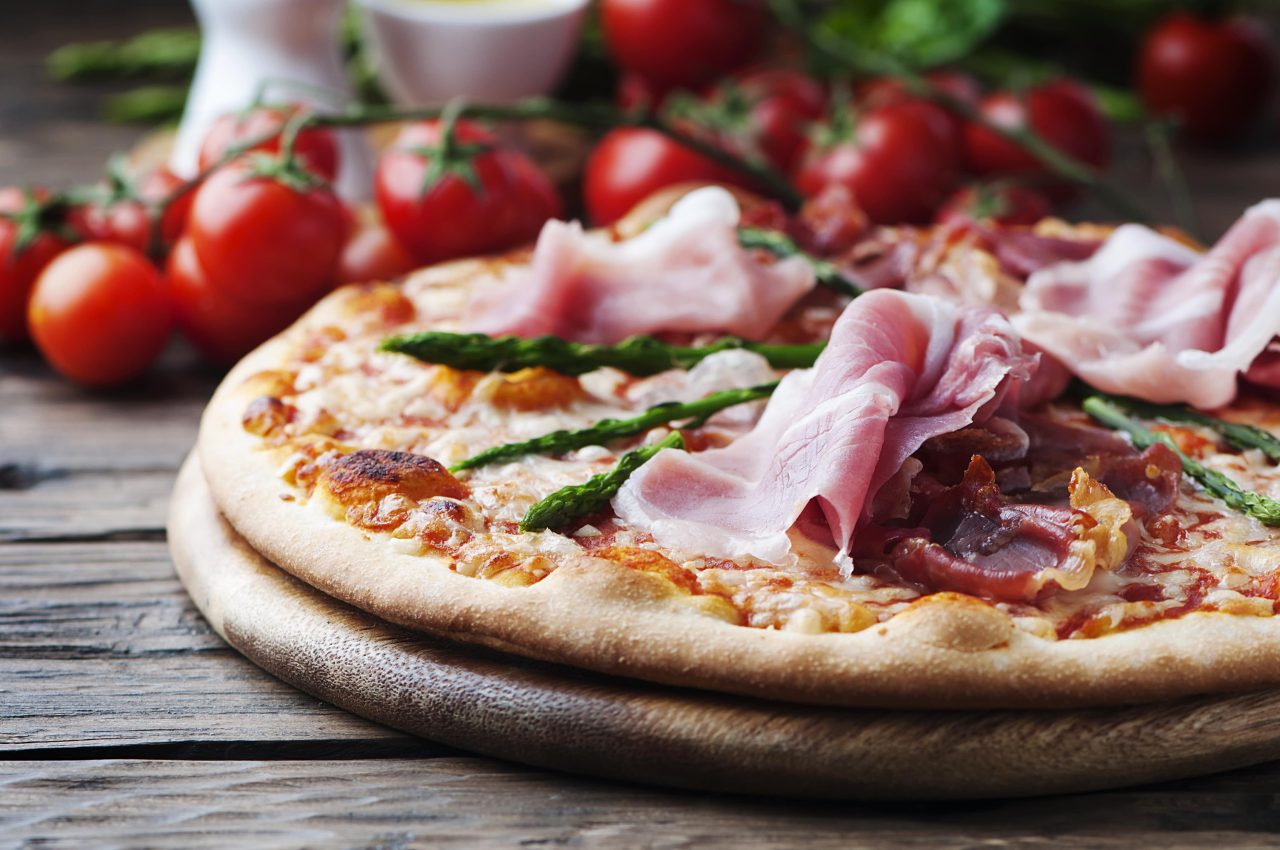 The best Neapolitan pizzas in Barcelona
The Neapolitan pizza is the quintessential queen of pizzas and originated in the city of Naples, Italy. This type of pizza is served with simple, fresh ingredients, such as a basic dough, tomato sauce, mozzarella cheese, fresh basil and olive oil. One of the most famous peculiarities of this version of pizzas is that there is usually more sauce than cheese and this makes the dough quite wet or soggy.
If you want to eat the best Neapolitan-style pizzas in Barcelona, you should make a reservation at one of these places.
La Balmesina
La Balmesina pizza is one of the most exotic restaurants in Barcelona where you can try an authentic Neapolitan pizza. This pizzeria opened its doors in 2017 and offers 3 different types of dough, from which you can choose: the classic (very thin and crispy), the wholemeal spelt and the Pala (rectangular, to share in portions).
What is most striking about their recipe is the crispy edge of the pizza and the delicacy of their sauces, such as the artichoke sauce, which makes you feel like you're chewing on a cloud. In 2020 they won the award for the Best Neapolitan Pizza in Spain at Madrid Fusion and their team works to innovate their creations every day.
La Pummarola
In the Sant Antoni neighbourhood, on the corner of Ronda Sant Pau, you will find one of the best Neapolitan pizzerias in Barcelona, La Pummarola. This establishment is very special because, despite the fact that the economy of Barcelona is changing, they have decided to offer their Neapolitan pizza at Neapolitan prices, which means that it is very cheap!
For example, you can order a top quality margherita pizza, made in a stone oven, for just €6, which is practically unthinkable in Barcelona. However, we recommend that you go in good time, because the queues are quite long, although the oven never stops working, so if you call ahead, they'll reserve you a table and save you the queues!
Grosso Napoletano
Grosso Napoletano Barcelona is another of the best pizzerias in Barcelona and, in fact, one of our favourite pizzerias. With 3 establishments in the Catalan capital, its secret is the combination of a thin and elastic dough, which works as the base for the best Italian ingredients. The thick and spongy edges give it a very crunchy touch, so that this dish becomes the perfect combination of textures and flavours.
All pizzas are baked in a stone oven made in Naples by a family of pizzaiolos, and the hands of their expert chefs will have you licking your fingers. As well as one of the 12 pizzas on the menu, we recommend you leave room for dessert: a delicious special Nutella pizza.
Parking Pizza
When you walk along Passeig de Sant Joan, there is a shy entrance that will surely go unnoticed, but you should not miss it, as this is where Parking Pizza Barcelona is hidden. It's a space with a very industrial feel, located where there should have been a car park.
Inside this garage you'll find large tables to share the best Neapolitan pizzas, and any of their options is a guaranteed hit! One of our recommendations is the black truffle with fontina, egg and parmesan, which will leave you speechless.
Antica pizzeria Da Michele
The Antica pizzeria Da Michele is based in Naples, where the restaurant has been operating since 1870 to offer the best margarita in the world. Therefore, if you go to this pizzeria in Barcelona, we recommend that you try a basic margarita, to get a taste of the true Neapolitan flavour that has been perfected over the years.
A good way to experiment with various flavours is for each of you to order a different pizza and share them all, to compare and choose the one you liked the most. It won't be as easy as it seems!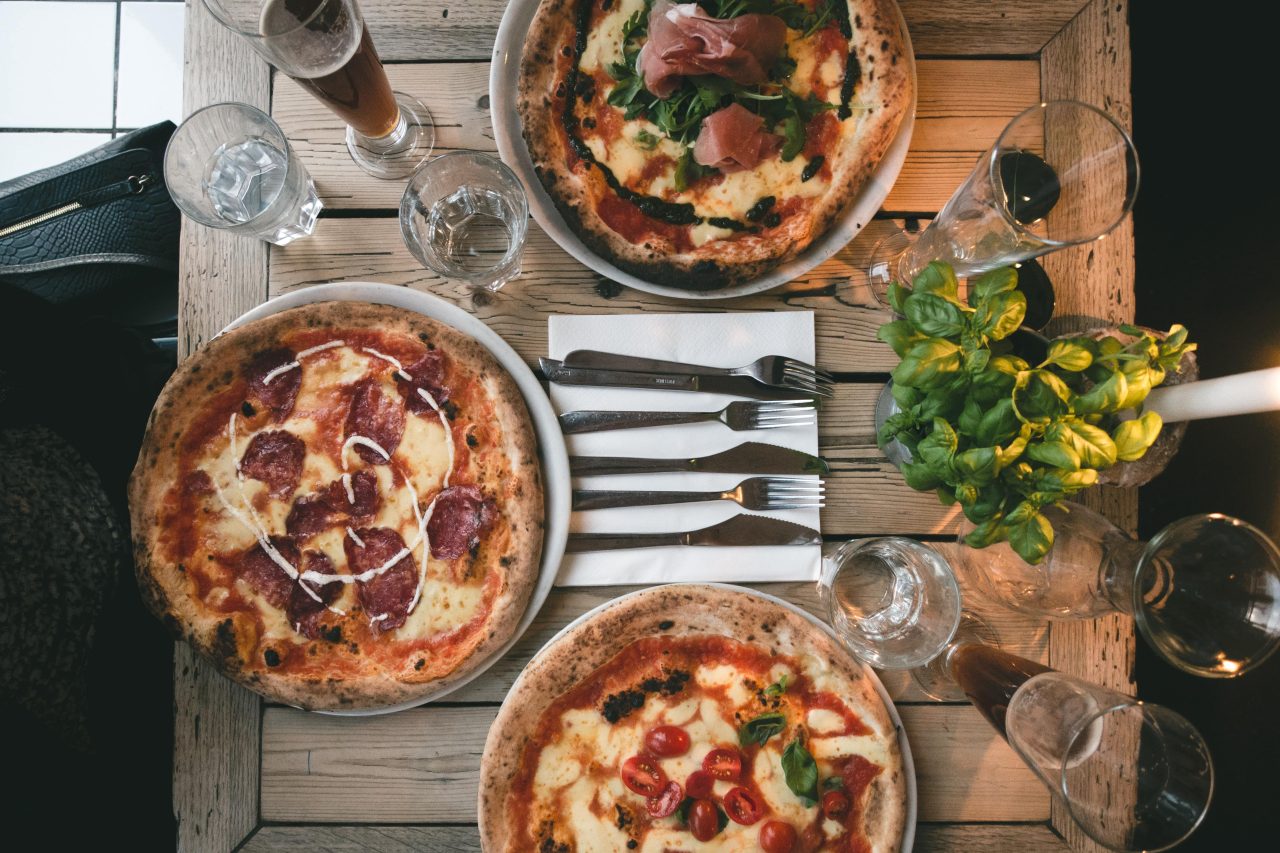 Where to eat gluten-free pizza in Barcelona
Pizza is one of the forbidden dishes for coeliacs, until now! If you are looking for a place to eat pizza in Barcelona with your friends and one of them is intolerant to gluten, take note, because we are going to tell you about the best places to taste it.
These establishments also comply with all the regulations to the letter, so that there is no cross-contamination of food and the dishes are completely safe. Which one will you choose?
Messié Gluten Free
We know that gluten is what gives the dough its elasticity, but at Messié Gluten Free you'll hardly notice the difference. This is heaven for coeliacs and one of the few establishments in the city where you won't have to worry about cross-contamination.
The dough is made of rice, corn and tapioca and the toppings are very original, such as the sweet potato, caramelised onion and mushroom pizza or the calçots, mozzarella, romesco sauce and butifarra sausage pizza, only available from November to April. For all these reasons, it's another of the best pizzerias in Barcelona, you have to try them!
Don Kilo
Don Kilo is a restaurant that offers homemade pizzas and has a lot of gluten-free options. In addition to the delicious pizza, you can also try the pasta or the panuozzo, which is a kind of pizza sandwich, and there are also snack options to whet your appetite while you wait for the pizza.
There are also snack options to whet your appetite while you wait for the pizza and all at a very reasonable price. The real problem at Don Kilo will be deciding on just one dish!
Senza Glutine
The main feature of Senza Glutine is that they perfectly replicate the texture and flavours of authentic Neapolitan dough, but without a drop of gluten. It is part of the Grosso Napoletano chain and achieves the typical elasticity and a large rim, based on a flour of rice, corn and buckwheat.
If you are a gluten-free companion, we recommend that you try them anyway, as they will sit better in your stomach and, thanks to the dough with a more neutral flavour, you will be able to better discover the hues of flavour in each of the ingredients.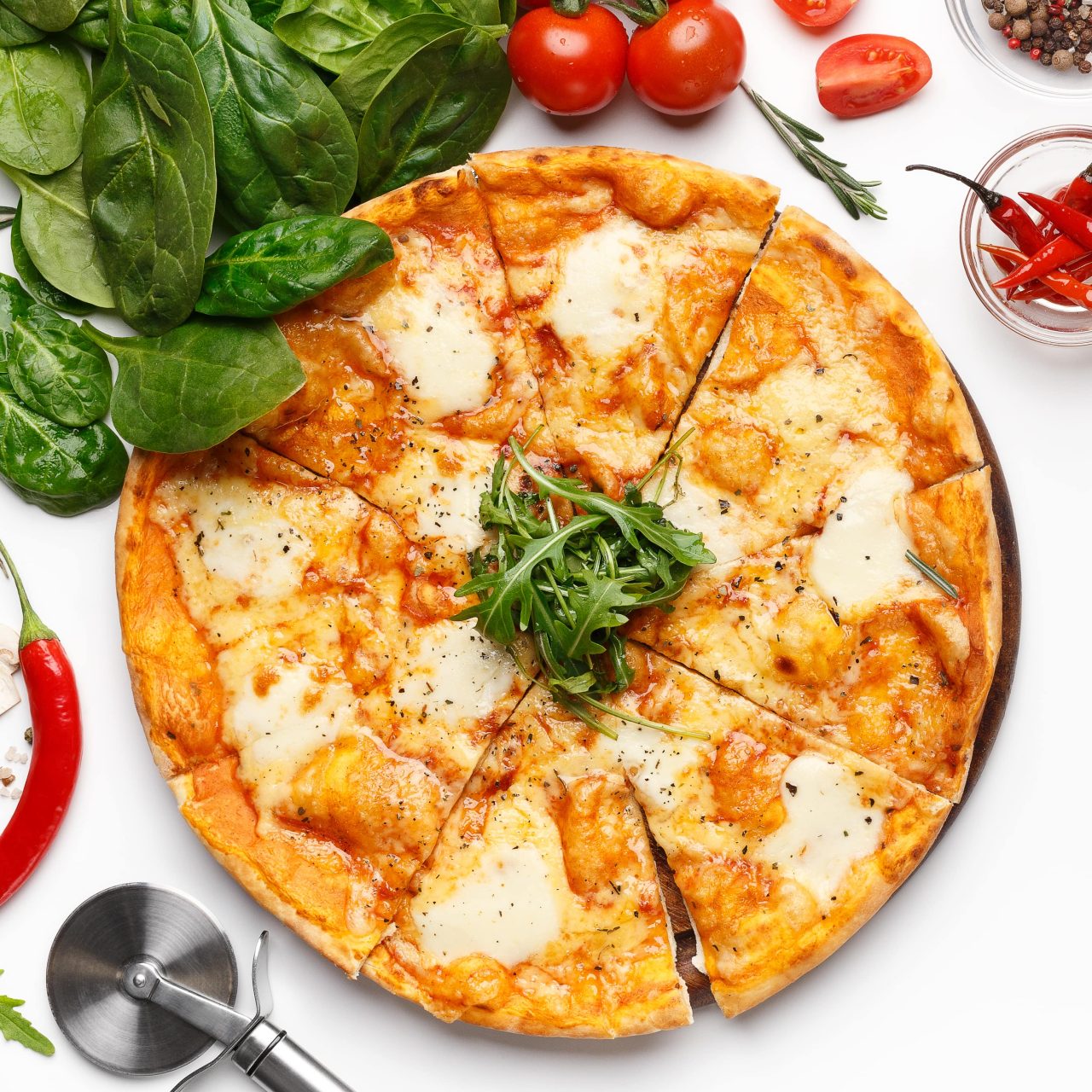 The best vegan pizzeria in Barcelona
We love vegetarian and vegan restaurants in Barcelona! These places can bring out the full flavour of plant-based ingredients, without using any products that involve animal exploitation. If you want to take care of our planet, and you are also passionate about vegetables and the healthiest ingredients, you can't miss our selection of the best vegan pizzerias in Barcelona.
El Vato Loco
The bar for vegan restaurants is set very high with the new opening of El Vato Loco. There you will find the best Neapolitan pizzas cooked in a stone oven and its vegan owner will take care of working with the best ingredients of vegetable origin.
The menu is very extensive, and you can find the most classic recipes and some innovations, with ingredients such as Heura, Beyond meat, etc.
Dolce Pizza y los Veganos
Dolce Pizza y los Veganos offers a vegan version of the best Italian cuisine. This pizzeria is run by Italians and offers 100% vegan pizzas, pastas, risottos, burgers, sandwiches, salads, homemade desserts and juices with natural and organic ingredients.
All the pizzas they offer are vegan, and they have very curious combinations of flavours, so you can try the one you fancy the most at any time!
La Clotenca
La Clotenca is a pizzeria in the Clot neighbourhood that is gaining more and more followers, thanks to its quality pizzas. The menu is very extensive with many options to choose from in addition to pizzas, such as hamburgers, sandwiches, etc.
You can choose the size of the pizza and many of them are vegan or vegetarian, like the Mex pizza, with vegetable mozzarella, cherry tomatoes, guacamole, cucumber, and caramelised aubergine. Here you will fully enjoy the experience, whether you are vegan or not!
Pizza Manso
Can you imagine being able to eat a 4 cheese pizza while being vegan? It will bring tears to your eyes when you try this delicacy.
At Pizza Manso you can taste the best ingredients of Italian gastronomy such as prosciutto, chorizo, bacon, carbonara and more, all in their vegan version. Amazing!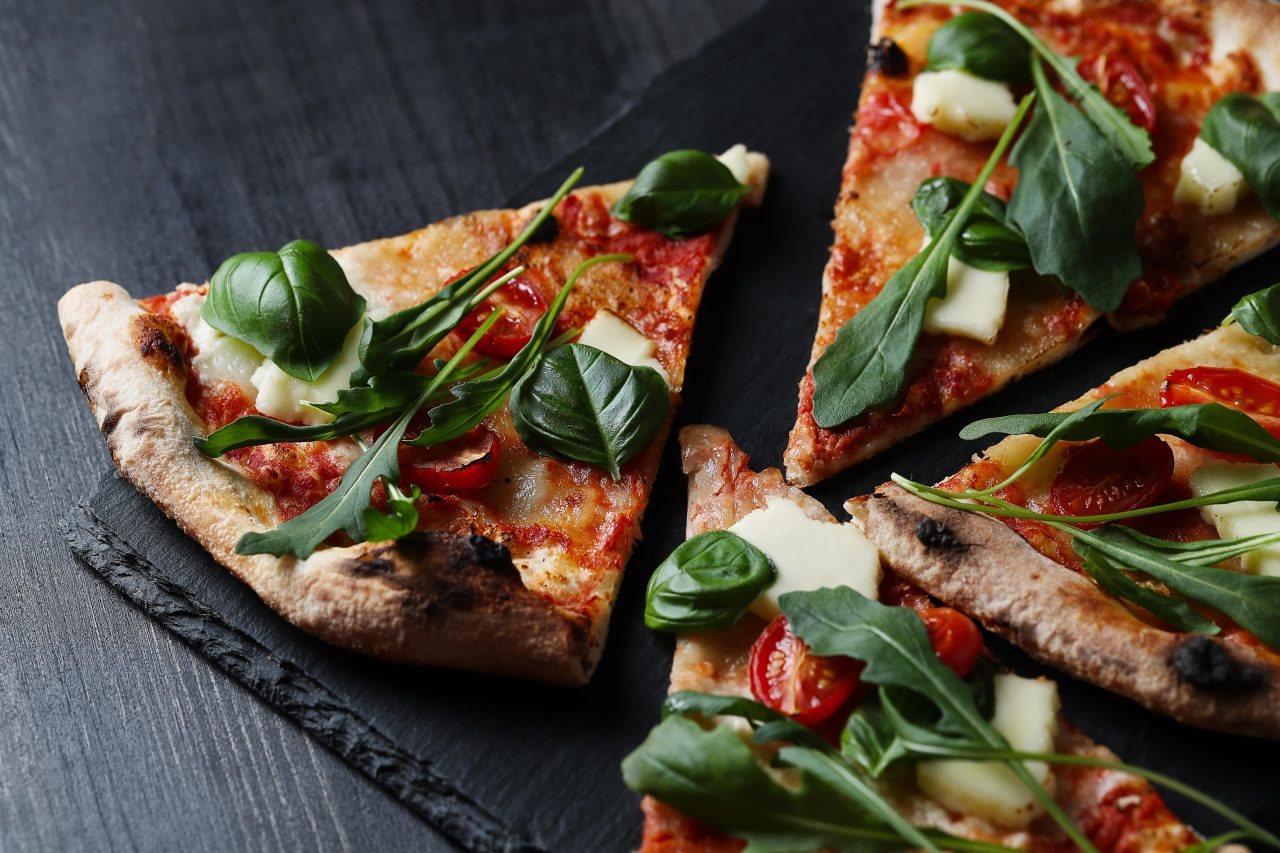 Pizzerias in Gràcia, Barcelona
Gràcia is a neighbourhood with a lot of charm, thanks to its narrow streets and bohemian atmosphere. In addition to all this, there are plenty of good places to eat in Gràcia, which will allow you to taste the most authentic gastronomy, with quality ingredients.
Of course, this is quite a touristy neighbourhood, so we recommend you read the restaurant reviews before you sit down on a terrace to make sure you're going to eat well. Here are some of the best pizzerias in Barcelona's Gràcia neighbourhood.
Sartoria Panatieri
The best pizza in Europe is in Barcelona, according to the 50 Top Pizza Europe 2023, is called Sartoria Panatieri and is located in the Gràcia neighbourhood. It was founded by Rafa Panatieri and Jorge Sastre. The artisan dough of their pizzas is prepared with local stone-ground organic flour and all their ingredients are local products or ingredients brought from Italy. We would like to make special mention of their charcuterie section, as it is one of the best in the city.
Pizzeria Da Nanni
Pizzeria de Nanni is another of the best pizzerias in Barcelona. It is in the heart of the Gracia neighbourhood and offers the authentic and traditional Neapolitan pizza, with top quality ingredients brought directly from Italy. Its aim is to give you a taste of the best pizza in the city, either in its premises or at home, with its take away or delivery service.
In addition to pizzas, you can find many Italian specialities, such as calzones, saltimbocca, antipasti, desserts, etc. In its comfortable premises you will be able to enjoy a 100% Italian gastronomic proposal alone, as a couple, with your family or friends.
Maramaia
At Maramaia, every pizza you try will be a marvel. Their proposal is a mix between the famous Roman pizzas and the texture of the Neapolitan recipe, incorporating some of the most outstanding ingredients of the Latin tradition. The result is an explosion of flavours that will make you want to come back again and again.
We recommend you try some of their star pizzas, such as the capricciosa and the prosciutto e funghi with tomato, mozzarella, ham and mushrooms.
Pizzerias in Poblenou
A good pizza is always an ideal meal to share with friends or family on a relaxed evening. One of the best things to do in Barcelona is to sit on one of the best terraces in Poblenou with a cool drink and engage in an interesting conversation with the people who accompany you, but be careful because you'll be so comfortable that you can get so busy!
We're going to recommend some of the best pizzerias in Poblenou, so you can play it safe, and your friends will enjoy the food almost as much as the conversation.
Can Pizza
If you walk through the neighbourhood and ask any of the locals in Poblenou for a good pizzeria, they will no doubt point you in the direction of Can Pizza Barcelona, one of the best pizzerias in the neighbourhood. Their secret is that they have perfected the art of thin dough to its limits, carefully fermenting it for 72 hours to achieve the perfect texture.
The menu is very extensive and has options for all tastes, although we recommend you try the Pizza Melanzani, a combination of cheeses with cherry tomatoes, aubergine and a touch of oregano.
Iaia Cristina
Iaia Cristina is a family-run Italian restaurant in the Poblenou neighbourhood. Its decoration is very colourful and what will catch your attention when you enter the restaurant are the large windows through which natural light enters. The staff is very attentive and friendly, but that's not the only charm of Iaia Cristina.
Here you can try all kinds of top-quality Italian food, cooked with fresh ingredients. The greatest success of their menu is, without a doubt, the stone oven pizza.
Romabella
Do you want to try authentic Roman pizza in Poblenou? All you have to do is go to Romabella and take a look at their extensive menu. Their pizzas range from the most classic to the most extreme and strange ingredients. They have many options for vegans and the ingredients they use are 100% natural.
We recommend you try the Pizza Diavola if you like that spicy touch, although you can also opt for options such as the Margarita or the Pizza Romabella (the house pizza).
Now you know the best pizzerias in Barcelona and you know where to take your friends to try the best Italian cuisine. At Lugaris, we believe that the best way to get to know a city is by staying in its main neighbourhoods, and that's why we offer you the best accommodation for your trip to Barcelona.
NUESTROS APARTAMENTOS EN BARCELONA
Since 2010, Lugaris Apartaments has been offering you the best holiday rental flats in Barcelona, perfect for a family holiday, with friends or as a couple, or for medium-term stays.
You can choose between apartments near the beach in Barcelona, at Lugaris Beach, with sea views, 2 swimming pools (one for adults and one for children) and capacity for up to 6 people, and the Lugaris Rambla flats, located on the Rambla de Poblenou and just 300 m from Bogatell beach, with a balcony or terrace of up to 22 m2 and ideal for couples or families and groups of up to 5 people. All our luxury flats in Barcelona are air-conditioned and equipped with all the appliances, furniture and bed linen you will need during your stay. They also have satellite TV and free high-speed Wi-Fi connection, as well as a safe and a 24-hour private security service.
What's more, when you make your booking, you can reserve many other additional services: international press in your flat, parking space, transfer service to and from Barcelona airport, bicycle hire, supermarket shopping, museum, sports and show tickets, babysitting service and much more.

For more information, contact Lugaris Apartments without obligation.