Did you know that cheese has been around for 8,500 years? A fact that should not surprise lovers of this delicious food, whose taste, aroma and creaminess can turn any appetizer, lunch or dinner into a memorable experience.
If you are also among the many cheese lovers around and you have in mind to visit the Catalan capital soon, it is very likely that you want to know about the best places for cheese in Barcelona. Therefore, we have selected a series of shops, specialized restaurants and cheese factories in Barcelona -including an option suitable for vegans and lactose intolerant– that you will surely love, and to which, without a doubt, you will want to return. Ready?
BASILEA
In the district of Guinardó, you can travel to the Swiss city that gives name to this cozy restaurant. Founded in 2002, Basel offers 16 varieties of fondue and raclette based on cheeses from the Alpine country, such as the Tête de Moine or the Appenzeller. Its irresistible culinary choice is completed with meat fondues accompanied by homemade sauces. To add the finishing touch to the evening, do not hesitate to taste the delicious chocolate fondues prepared in this establishment, one of the few Swiss restaurants in Barcelona. Although the prices are not cheap, the quality of the ingredients and the preparation well deserve a special night out.
Address: Sant Antoni Maria Claret, 211
Opening hours: from 12:45 to 15:30 and from 20:45 to 00:00 from Wednesday to Saturday; Sundays, from 1:00 p.m. to 4:00 p.m. (reservation only). Closed on Mondays and Tuesdays.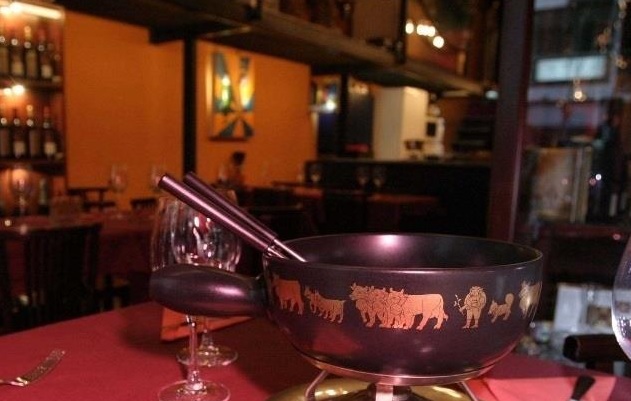 CHEESE'S ART
The pleasant pedestrian street of Enric Granados, in Esquerra de l'Eixample, accommodates this restaurant specializing in fondues. Do not miss out on the Moité moité fondue, made with autumn truffles, gruyere and Vacherin Mont d'Or cheese, and its Swiss emmental fondue, gruyere, Appenzeller and white wine. Moreover, you can also try refreshing seasonal salads or an extensive hamburger menu. Once you have visited this place, you will understand why they have baptized it with such a name.
Address: Enric Granados, 13
Opening hours: open every day from 1:00 pm to 11:00 pm.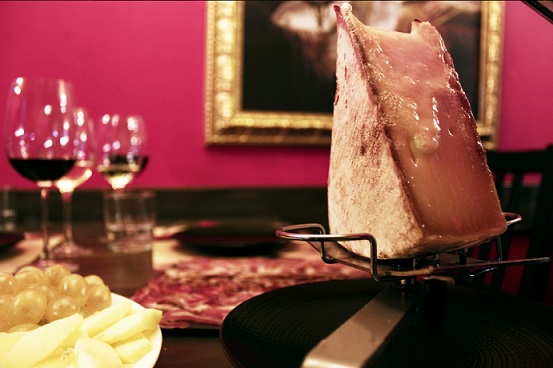 MIC SOPARS
The Catalan name of this small restaurant with international cuisine is not deceiving: it only opens its doors at dinner time. In any case, it is worth paying a visit to dig in to its star specialty: fondues, whether meat, chocolate … or cheese, naturally. These are the ones that enjoy greater acceptance among the diners, since they are prepared in the traditional style and with an excellent quality-price ratio. We must also refer to its careful rustic setting, with stone walls and wooden tables. In addition, on leaving, you can enjoy the huge nightlife in the Gràcia neighborhood.
Address: Bruniquer, 44
Opening hours: Monday to Saturday, from 8:30 p.m. to 11:30 p.m. Sunday closed.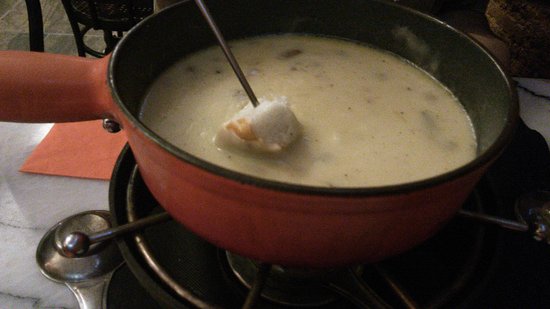 EL PLA DE LA GARSA
Although we have already referred to this establishment when talking about original restaurants in Barcelona, this old seventeenth century hostel has also earned a place among the best places for cheese in Barcelona. Without forgetting their tastings of handmade cheeses – made of sheep, goat and cow's milk – their creamy blue cheese croquettes – like the French Fourme d'Ambert – will make you fall in love. Not far from there, and in the neighborhood of El Born, two other restaurants with cheese fondues on their menu, which are mentioned in the article in the previous link: La Cua Curta and La Carassa.
Address: Assaonadors, 13
Opening hours: from 7:00 p.m. to 01:00 p.m. from Tuesday to Saturday, and from 7:00 p.m. to 12:00 p.m. on Sundays. Closed on Mondays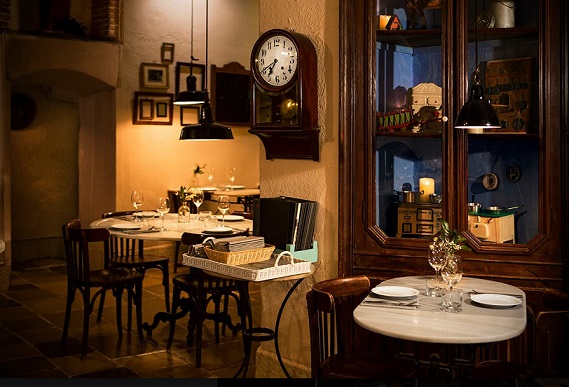 VILA VINITECA
Do not be confused by its name: in addition to an extensive catalog of more than 7,500 wines and liquors, this gourmet establishment also offers an extensive selection of beautifully tuned cheeses from around the world. And that's not all: in addition to being able to buy them in the local store, you also have the possibility of tasting them in situ, paired with the most appropriate wines in each case. You just must indicate your preferences to the staff, who will be in charge of pleasantly surprising you. Choose between any of their two locations. They will make your mouth water!
Address: Agullers, 7 / Diagonal, 557
Opening hours: at L'Illa Diagonal store, from 9:30 a.m. to 9:00 p.m. from Monday to Saturday, and at the El Born store, from 08:30 h to 20:30 h from Monday to Saturday. It closes on Sunday in both cases.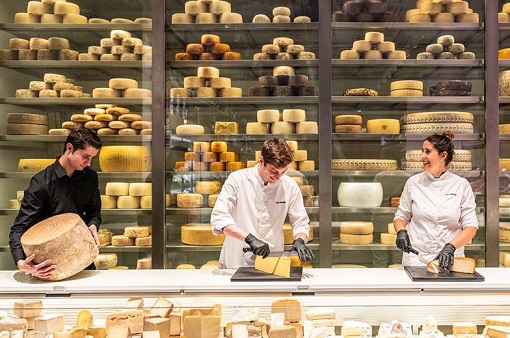 LA QUESERA
We now move to the neighborhood of Sarrià to present this store and cheese bar, with a wide selection of cheeses and artisanal delicatessen and sausages. In the store, in addition to numerous varieties of cheese – hard, blue, soft white, fresh, soft-ripened, semi-soft with washed rind, etc.-, you can also order gift baskets and ask them to prepare the cheese to make a fondue at home. They will give you the kitchen material you need for free too. In turn, at the bar you can choose from endless specialties in cheeses, salads, toasts, breakfast, tapas, and desserts, as well as more than 150 references of selected wines.
Address: Plaça del Camp, 7
Opening hours: the store opens from 10:00 a.m. to 2:30 p.m. and from 5:00 p.m. to 8:30 p.m. from Tuesday to Saturday, and the cheese bar, from 10:00 a.m. to 11:00 p.m. Closed on Mondays and Sundays.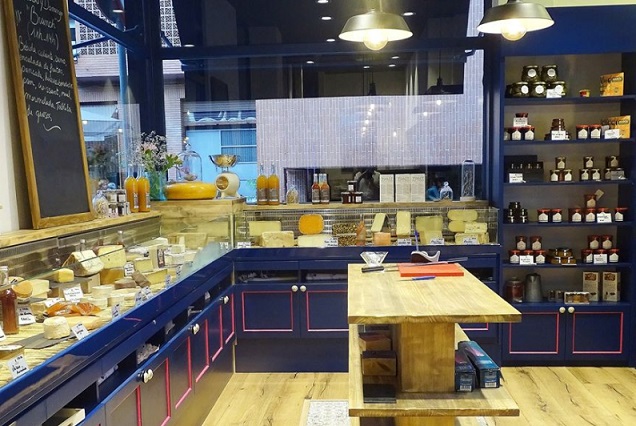 FROMAGERIE CAN LUC
A complete reference in Barcelona. In this shop in the heart of Gràcia you will not only be able to choose from more than 150 types of cheeses, but they will also advise you on how to prepare an amazing cheese board. And as in the previous case, you can borrow items to make your fondue or raclette at home without any additional cost. Dare to try between the classic Swiss raclette and a creamy smoked raclette, with goat cheese, truffles, pepper and mustard. And if you want to enjoy all these delights without leaving your beach apartment in Barcelona, you can try out their home delivery service.
Address: Berga, 4
Opening hours: from 10:00 am to 2:30 pm and from 5:00 pm to 8:30 pm from Monday to Saturday. Closed on Sundays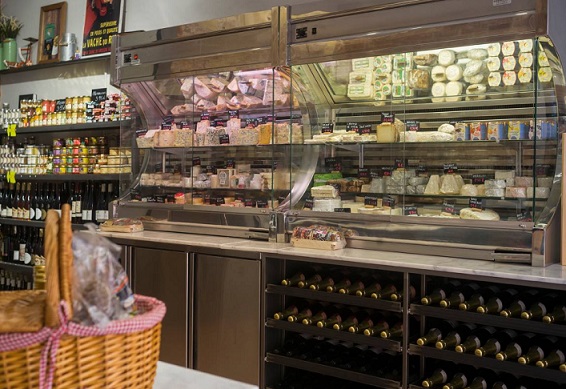 VEGAN FROMAGERIE
And, as promised: for those seeking vegan options in Barcelona, this will be a sure bet. In this vegan cheese factory, you can choose between four varieties of 100% vegetable-based cheese made from almond milk: original, rustic, Provencal herbs and paprika. We have tried them, and we guarantee that their flavor and texture will convince even the most exquisite cheese fanatics. In the "where to find us" tab on their website you can find the store that suits you best, and even place your order online for an appetizing veggie meal in Barcelona.
Address: Morales, 27 E (the company is a gastronomic incubator).
If you know other restaurants specializing in cheese in Barcelona, do not hesitate to send us your suggestions: we will be delighted for you to help us expand this list.