Although there are many people in Barcelona who have never attended a flamenco show (yet), the Catalan capital has always been closely linked to this musical genre. In fact, it was here that the legendary dancer Carmen Amaya, who grew up in the now extinct Somorrostro shantytown, was born. Moreover, the province of Barcelona has also been the birthplace of the cantaor Pere Martínez or of Rosalía herself. If we add the generous offer of places to watch flamenco dancing in Barcelona, some of which have a long tradition, we will understand why Barcelona is a must for those who want to enjoy duende. What's more, only Andalusia and Madrid have more venues than Barcelona.
Many of those who visit our apartments by the beach in Barcelona ask us for advice about the best flamenco shows in Barcelona, or to book tickets for a concert. That's why we've decided to create a small list of the best flamenco clubs in Barcelona. Do you want to visit them? Then pay attention and… let's go!
LOS TARANTOS
We start our route through the best places to watch flamenco dancing in Barcelona in one of the oldest in the city: the Los Tarantos hall, located in Plaça Reial and in operation since 1963. At that time, the film Los Tarantos had just been released, an adaptation of a theatrical piece that featured Carmen Amaya, who died in November of that same year. This establishment has received top-level dancers such as Antonio Gades and Maruja Garrido, and has had visitors as illustrious as Salvador Dalí, a regular on Barcelona's neighboring Ramblas in the 1970s. In the nineteen-nineties, the premises were the object of a profound restoration and were opened to singer-songwriters.
Today, this temple of flamenco continues to be committed to shows of guitar playing, dancing and singing in which improvisation is the main feature and in which young national and international talents also have a place. Art and passion in its purest form.
TABLAO CORDOBÉS
Located in Las Ramblas, 35, since 1970, the Tablao Cordobés is a space inspired by 15th century Nasrid architecture and decorated under the supervision of the Patronato de La Alhambra de Granada. Run by a family of artists, it is home to one of the most important shows in Barcelona and to a careful gastronomic proposal, with more than 44 specialties of Catalan and Spanish cuisine.
Its live performances bring together the country's leading singers and dancers every day of the year, such as Karime Amaya, Jesús Carmona, Paloma Fantova, Águeda Saavedra and Tete Fernández. Are you going to miss out?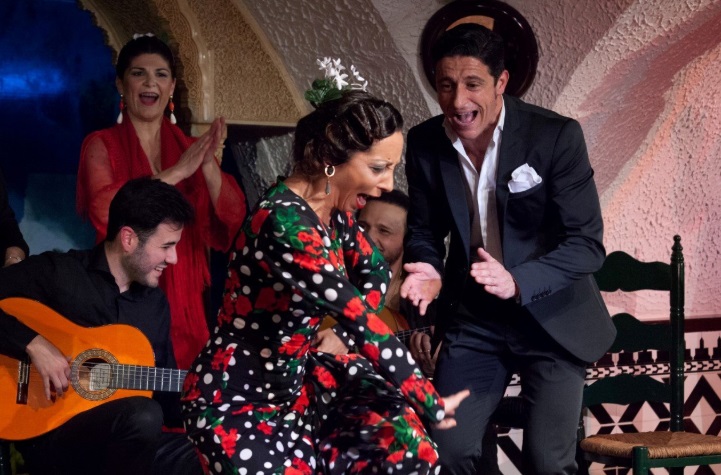 FLAMENCO CASA LOLA
Also in Las Ramblas (in this case, at number 12), this venue hosts dance, singing and cajón shows every afternoon and evening, with three live show sessions. In addition, dinners based on Spanish recipes are also served. The ticket offices are open from 4pm to 10.15pm, although tickets can also be purchased online through the Flamenco Casa Lola website.
By the way: the company has another restaurant located on Via Laietana and very close to the Palau de la Música Catalana, although no performances are scheduled there.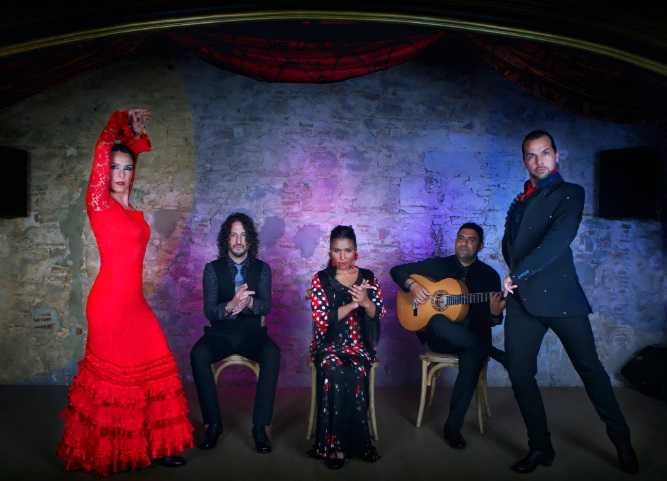 EL PATIO ANDALUZ
With more than 40 years behind it, this restaurant and tablao on 229 Carrer Rocafort is a reference point for those who wish to see flamenco in Barcelona and, at the same time, enjoy a unique gastronomic experience. The establishment has a bar on the upper floor and a restaurant on the ground floor, where they serve tapas and specialties of Spanish food and, in particular, Andalusian cuisine. Among them, Iberian ham, gazpacho, paella and some fish and seafood dishes stand out.
Its carefully designed setting, with tiles, fans, chairs and Spanish guitars, will transport you to the south of Spain without moving from Barcelona. The live music and dance shows are performed by a Spanish dance group and can include other musical genres, such as rumba or sevillanas. The two daily one-hour shows start at 8pm and 10pm. The price of the ticket will depend on whether you only attend the performance or whether you also have dinner. In this case, there are also differentiated rates depending on the menu chosen.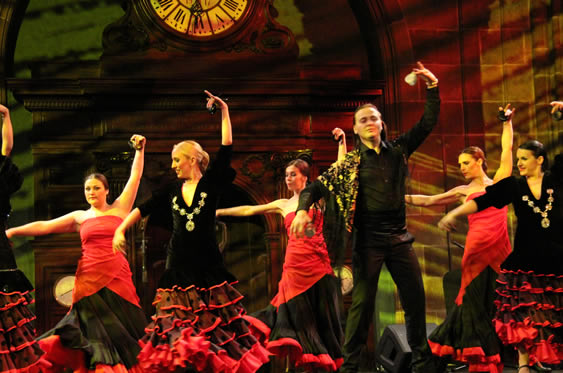 PALACIO DEL FLAMENCO
This elegant theatre in the Eixample, opened in 1920 and with a capacity for 380 people, is another of the venues that combine gastronomy and dance in the Catalan capital. In addition to the culinary experience, with eight menu options and tapas inspired by Spanish cuisine, there is a show in which the best pure flamenco and classic fusion are presented. The venue organizes up to three shows a day for a cast made up of a dozen artists.
You will find it in the city center, at 139 Carrer de Balmes. To get there, the best way is to get off at the Diagonal metro station (L3 and L5) or at the Provença station of the Ferrocarrils de la Generalitat de Catalunya.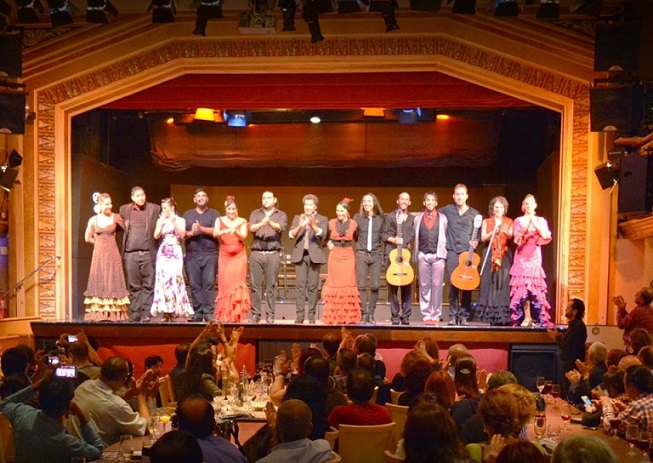 TABLAO DE CARMEN
This cozy flamenco tablao pays homage to the remembered Carmen Amaya, with a lounge-restaurant of Spanish cuisine a la carte and arranged like a theatre. In operation since 1988 in the Poble Espanyol, on the mountain of Montjuïc, this venue opens its doors at the exact spot where Carmen performed in 1929 in front of King Alfonso XIII while still a teenager, and coinciding with the opening of the Poble Espanyol and the 1929 International Exhibition. This space for flamenco performances, which was originally called El Patio del Farolillo, is today an intimate place decorated in the style of an Andalusian corrala, and where there is no lack of a perfectly decorated typical Cordovan patio. During dinner, you will be able to cheer on some of the main figures of flamenco. The artistic direction is in the hands of the Sevillian dancer Manuel Jiménez, Bartolo.
For many flamenco connoisseurs, this is the best place to attend a traditional show in Barcelona. Want to check it out?
PALAU DALMASES
This magnificent 17th century Baroque palace is located at 20, Carrer Montcada, in the heart of the old town and next to some of the best museums in Barcelona, such as the Picasso Museum. In this incomparable setting, you can attend an unforgettable hour-long flamenco show, which fuses singing, dancing, cajón and Spanish guitar. While you watch the artists dance, you will have a free drink (included in the price of the ticket).
If you want to enjoy this scenic tradition, which emerged in Andalusia in the 18th century and was declared Intangible Cultural Heritage of Humanity by UNESCO in 2010, this is one of the most recommended options.
FLAMENCO BARCELONA
Next to the iconic Plaça de Catalunya (at La Rambla de Catalunya, 2), the former Teatre Barcelona now hosts vibrant flamenco singing and dancing performances. There are three sessions: at 6pm, 7.30pm and 9.30pm. The tickets, which include a drink, cost from 15 euros for adults (a discount is applied for children from 5 to 10 years old, with free access for those under 5).
OTROS LOCALES DONDE VER FLAMENCO EN BARCELONA
In addition to the flamenco tablaos in Barcelona mentioned, the Catalan capital has other venues that include live performances of this genre on a regular basis. One of them is Gracia Latina, a musical bar in the Gràcia district (Carrer de l'Or, 19), which also offers salsa and bachata classes. The flamenco shows take place on Tuesdays, Thursdays and Sundays.
Although flamenco does not have as much of a presence as in Gracia Latina, La Rouge (in the Rambla del Raval, 10) is among the bars in Barcelona that also dress up their live music program with faralaes (in this case, the performances are on Wednesdays and Sundays at 9:30 pm). The same could be said of the restaurant Ca l'Andreu (Bou de Sant Pere, 13), which offers live shows at the weekend; of Bar Pastís (Santa Mònica, 4), right next to Las Ramblas, or of the tablao Toc de Mar (Paseo de Joan de Borbó, 31), in the emblematic Barceloneta neighborhood, where the shows are held on Saturdays at 9.15 pm.
Do you know other flamenco tablaos in Barcelona and have you attended any of these shows? If so, we would be delighted if you shared your experience with us.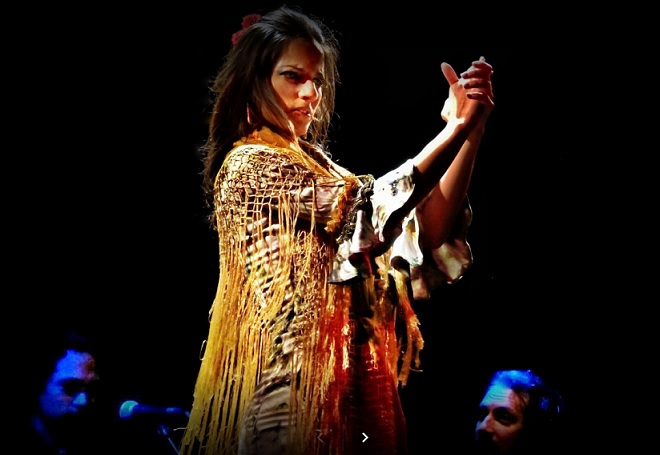 MORE INTERESTING STUFF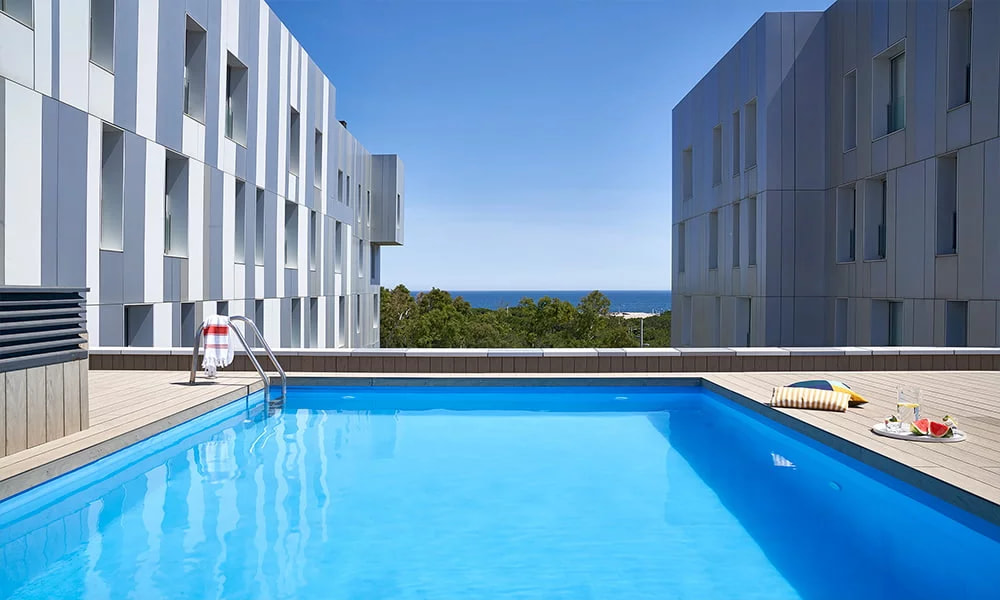 Holiday apartments by the beach in Barcelona
Since 2010, Lugaris Apartaments has been offering you the best holiday rental flats in Barcelona, perfect for a family holiday, with friends or as a couple, or for medium-term stays.
You can choose between apartments near the beach in Barcelona, at Lugaris Beach, with sea views, 2 swimming pools (one for adults and one for children) and capacity for up to 6 people, and the Lugaris Rambla flats, located on the Rambla de Poblenou and just 300 m from Bogatell beach, with a balcony or terrace of up to 22 m2 and ideal for couples or families and groups of up to 5 people. All our luxury flats in Barcelona are air-conditioned and equipped with all the appliances, furniture and bed linen you will need during your stay. They also have satellite TV and free high-speed Wi-Fi connection, as well as a safe and a 24-hour private security service.
What's more, when you make your booking, you can reserve many other additional services: international press in your flat, parking space, transfer service to and from Barcelona airport, bicycle hire, supermarket shopping, museum, sports and show tickets, babysitting service and much more.

For more information, contact Lugaris Apartments without obligation.