In the last few years, it has become more than usual to wake up with the news that a historic place in our city has closed down, either because of the increase in the price of rent or because of the difficulty of competing with e-commerce platforms. One of the most recent cases has been that of the iconic Xancó shirt shop on Les Rambles, which would have been 200 years old in 2020. However, there are still some emblematic establishments that continue to defy the passage of time. Would you like to get to know them? If so, we invite you to discover the oldest shops in Barcelona.
CERERIA SUBIRÀ
We start with what is probably the oldest shop in Barcelona: the Subirà candle shop. A business with a lot of history behind it, as the Subirà family has been making candles since 1761. In 1847, the activity was moved to its current location: an old clothing store located in Baixada de la Llibreteria, 7. From 1875, the year in which the first private electrical installations began to appear in Barcelona, the business suffered a serious setback that, fortunately, did not cause the owners to give up. Although it was restored in 1983, the premises still have the beautiful furniture of the old clothes shop. If you would like to see this little wonder up close, you can visit it from Monday to Saturday until 8 pm (it closes on Sunday).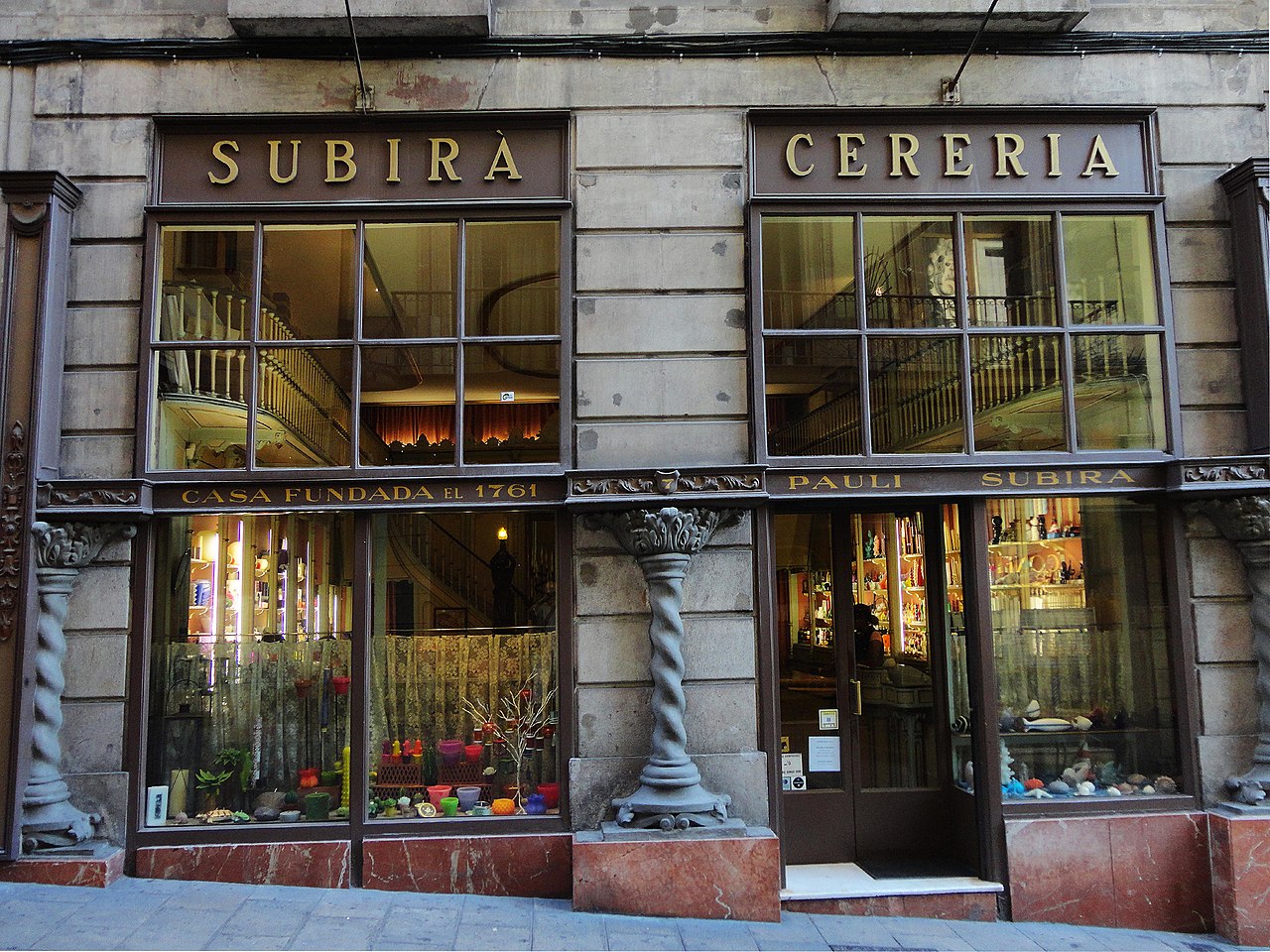 CAN CULLERETES
Let's go on a gastronomic trip…, which will also make you travel in time, by booking a table in the oldest restaurant in Barcelona and the second one in the whole of Spain. This is how the Guinness Book of Records refers to this business, founded in 1786. Located in the heart of the Gothic Quarter – specifically, at 5 Carrer Quintana– it has been serving meals ever since. According to its owners, its first cook was the concierge of a nearby convent, who had become very popular for her good cooking skills. And where does the name of the restaurant come from? Although some say that this was the first restaurant where metal spoons were used, another theory says that it was common to hear the waiter say "noies, culleretes!" ('girls, spoons!) when the clean cutlery had run out. It seems that the catchphrase ended up curdling among the diners, who started calling the restaurant Can Culleretes.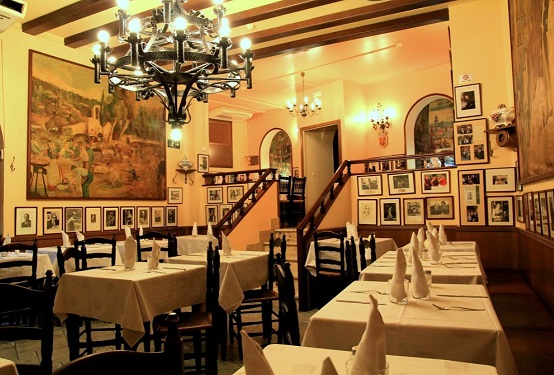 HERBORISTERIA DEL REI
We continue in the Gothic Quarter – in Carrer del Vidre, 1– to enter the oldest herb shop in Barcelona: Herboristeria del Rei. Created in 1818, it has been dedicated to the sale of medicinal herbs and natural remedies ever since. On its shelves, you will find around 200 varieties of native Catalan plants. However, this is not its only attraction, as the establishment also stands out for its Elizabethan decoration and for housing a spectacular Carrara marble fountain, dedicated to the naturalist Carlos Linneo. The shop has been declared a Cultural Asset of Local Interest, so it is worth visiting. It is open from Tuesday to Saturday until 8:30 pm (closed on Mondays and Sundays). Furthermore, in the nearby Plaça Reial, you can also see one of Gaudí's works of art in Barcelona. Are you up for it?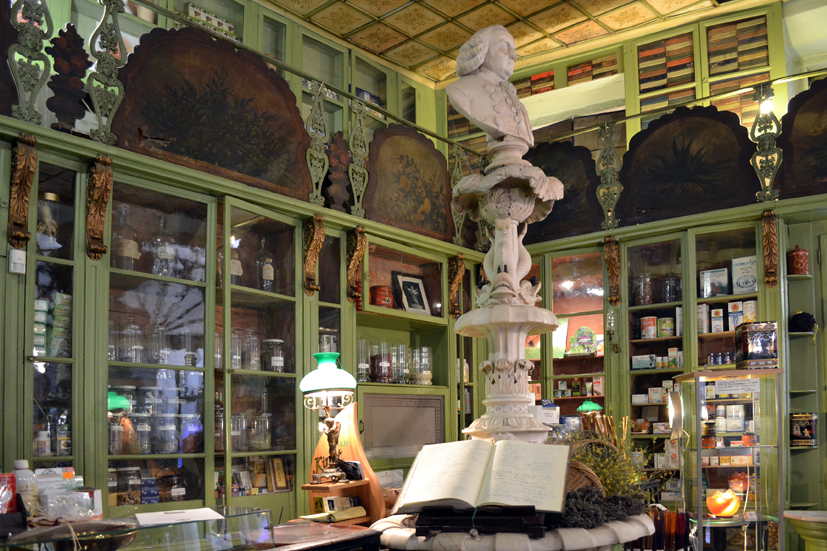 FARGAS
We continue with our tour of Barcelona's oldest shops, stopping at one of the great passions of Barcelona's people for centuries: chocolate. This fever even led a parish priest in the early eighteenth century to admonish his parishioners for drinking this hot drink during mass. It is therefore not surprising that chocolate shops abound in Barcelona, although none – at least, that is what is said – is as old as the Fargas chocolate shop. Documented since 1826 and located at 16 Carrer del Pi, it is a real institution when it comes to making chocolates and chocolate figures. Among its most popular products are the irresistible càtanies, one of Barcelona's typical desserts par excellence. Be sure to visit this establishment, whose modernist decoration is dressed in a delicious aroma of chocolate. Visit it from Monday to Saturday, from 10:00 am to 8:30 pm, and on Sundays, from 11:00 am to 3:00 pm.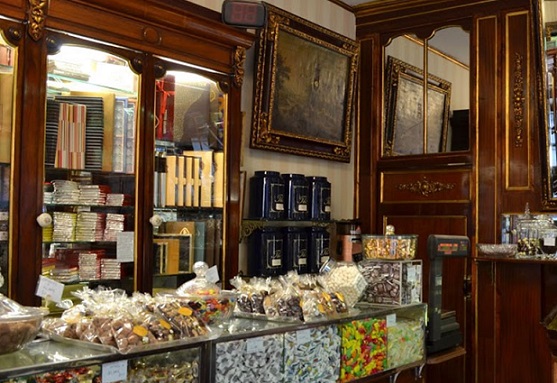 CASA BEETHOVEN
Music also sneaks into Barcelona's most historic shops. You can see for yourself how such a business, which has paradoxically been operating since before the invention of the gramophone, survives. It is Casa Beethoven, in Les Rambles, 97, and active since 1880. There you can buy musical libretti, scores and all kinds of books and manuals about musicians or musical genres, as well as CDs and DVDs. In the midst of the Spotify era and online music downloads, its catalogue challenges new technologies with 125,000 titles of classical and modern music. On Saturdays, starting at 5pm, they usually organize talks on music, as well as singing performances or small concerts. If you don't know where to go shopping in Barcelona, you'll be right here. Open from Monday to Saturday until 8 pm.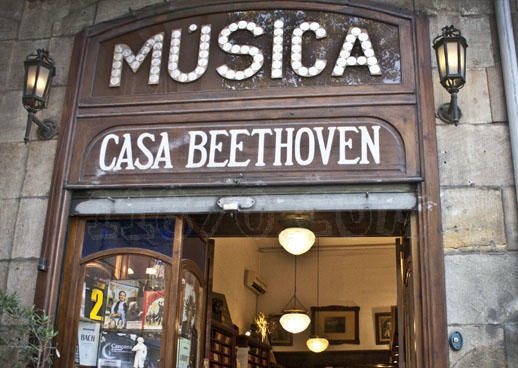 EL REI DE LA MÀGIA
At 11, Carrer de la Princesa, there is the oldest magic shop in the world: El Rei de la Màgia, opened in 1881 by Joaquín Partagàs. It was also the only one of its kind in our country until the 1950s. The wooden floors and furniture are the business card of this shop dedicated to illusionism. A velvet curtain keeps the back room hidden, where classes of this art are held. The shop displays some curious objects related to this field and joke articles, as well as a large-scale reproduction of the magician Partagàs. The shop is open from Monday to Saturday from 12 noon to 7.30 p.m.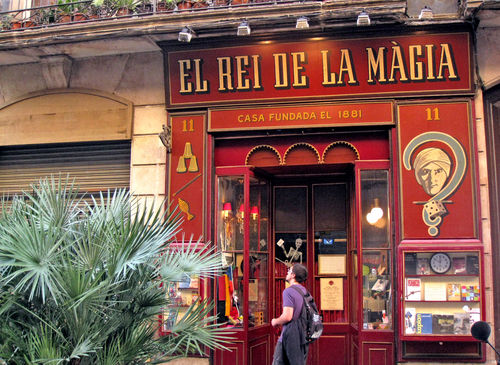 ANTIGA PASSAMANERIA J. SOLER
Among the oldest shops in Barcelona, this is one of the most surprising because of its unique offer, which includes fabrics, laces, bows and other accessories used to make textile pieces and crafts, as well as fans and accessories. Founded in 1898 and heir to the elegant decoration of the time, it has known how to adapt its vintage articles to current demands and needs. Its commercial timetable is from Monday to Friday, from 10:00 am to 1:30 pm and from 4:30 pm to 8:00 pm, and on Saturdays, from 10:00 am to 2:00 pm. You can find it in the Plaza del Pi, 2, right in front of the classic Dulcinea, where you can try the best churros with chocolate in Barcelona.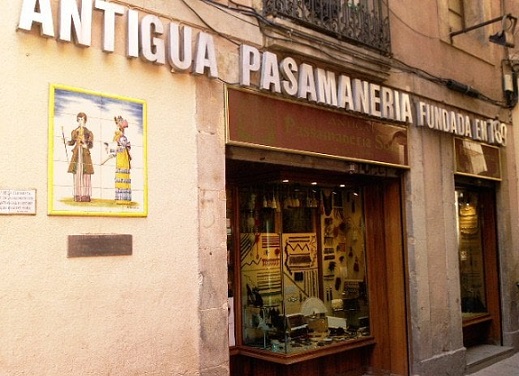 GUANTERIA ALONSO
Let's move to 27, Carrer Santa Ana to enter one of the best places in the city to buy gloves, mittens and fans. Founded in 1905 by the Muñoz Barrera family, this glove shop not only stands out because of its excellent fabric, but also because of its magnificent wooden facade inspired by modernism and its furniture. Such is its charm that the City Council has not hesitated to include this shop in its modernist routes. It is open from Monday to Saturday from 10:00 a.m. to 8:00 p.m., uninterruptedly. Take advantage of your stay in our Barcelona beach apartments to stop by!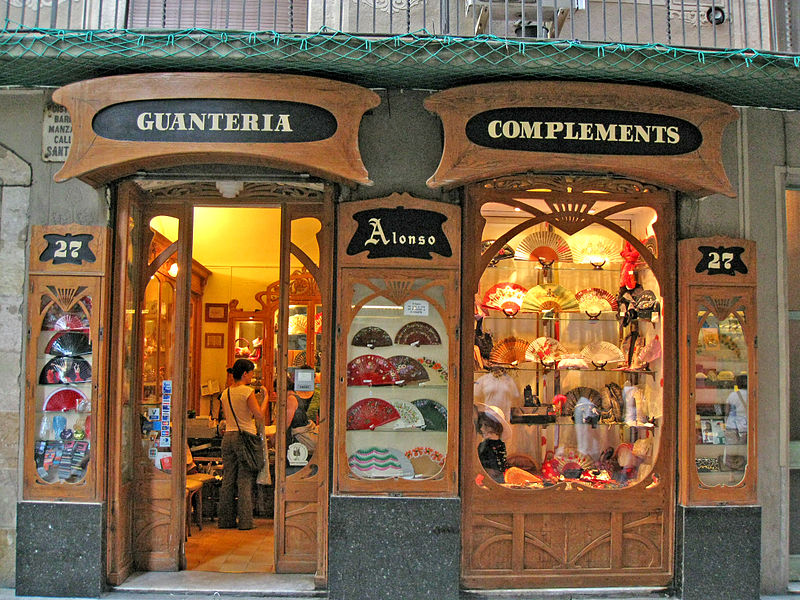 PASTISSERIA ESCRIBÀ
Time now to get to know another of Barcelona's most famous and veteran bakeries. The foundation of the Escribà patisserie dates back to July 1906, when Mateu Serra i Capell started up Forn Serra, a bakery located at 546 Gran Via. On the occasion of the 1929 International Exhibition in Barcelona, Antoni Escribà i Cases was hired as a pastry chef, whose name would inspire the new name of the business, adopted in 1933. Although the company still has the premises of its first location and has opened several others in other parts of Barcelona, we recommend you visit the bakery they own at Les Rambles, 83. There you can try the delicious pastissets from Tortosa, made daily since 1906, and the most popular sweet in the shop: burnt yolk turró, marzipan tortell, cremadet, a Majorcan speciality that the Escribà family has been making since 1976, and their butter croissants, the first to be made in Spain (1961).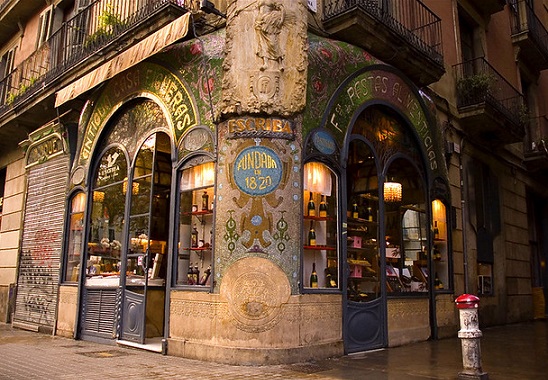 GANIVETERIA ROCA
We return to Plaça del Pi, at number 3, to admire a cutlery shop dating from 1916. The figures in its catalogue are impressive, as they bring together more than 7,000 types of objects and around 32,000 units, more or less, including knives, survival and multipurpose knives, scissors, cutlery pliers, razors… The shop was passed down from generation to generation until, in the year 2000, it was handed over to a group of renowned cutlers who, two decades later, remain faithful to the spirit of this century-old business. Once there, you can take a leisurely look at its photogenic façade and its no less striking shop window. Open from Monday to Saturday until 8 pm.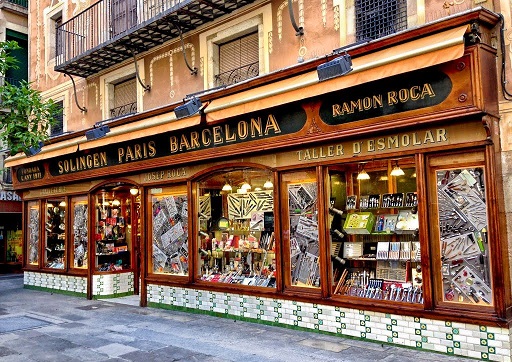 SOMBRERERÍA OBACH
Our walk through the oldest shops in Barcelona now takes us to Carrer del Call, 2, in the old Jewish quarter. When we arrive at this picturesque hat shop, we are greeted by an almost century-old, hand-painted sign. Behind the door, a family business whose origins date back to 1924, when hats were an indispensable part of Barcelona's clothing. Today, the fourth generation of the Obach family runs the establishment. As a fun fact, we will tell you about this curious legend: there is still the joke that the great-grandfather of the current owners opened the establishment because, having a very big head, he could not find hats that fit him. If you want to visit one of the most beautiful shops in Barcelona, you can do so from Monday to Saturday until 8 pm.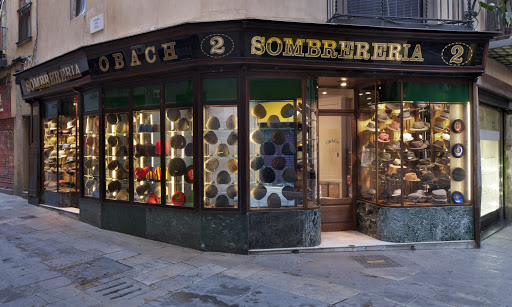 LA MANUAL ALPARGATERA
Let's end our journey through the oldest shops in Barcelona in this workshop opened in 1940. Its importance lies in the fact that it was the first to introduce the espadrille into the fashion of the time, a shoe whose use was limited until then to farm work. This establishment thrived thanks to its appearance on the covers of international magazines and winning a large number of international prizes. This espadrille shop is open from Monday to Saturday from 9.30 am to 8 pm, and is located at number 7 Carrer d'Avinyó. Without a doubt, it is an ideal option for those looking for gifts and typical quality products from Barcelona.
Can you think of other shops with a tradition in Barcelona? If so, don't hesitate to send us your comments; we'd love to hear from you!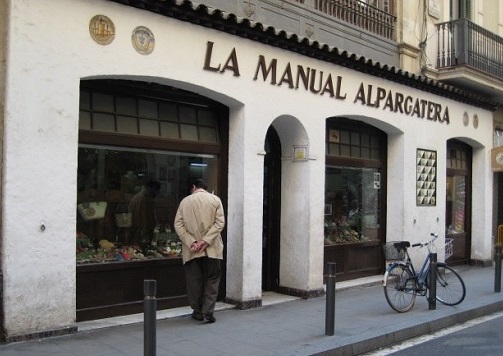 This is a highly original plan you will enjoy when visiting Barcelona, whether on holidays or on business. At Lugaris, we offer you luxury apartments in Barcelona by the sea that will all0w you both to relax and take advantage of all the amazing things the city has to offer. Moreover, we will gladly advise you on the best things to do and places to see during your stay. We can't wait to greet you at your home away from home!
MORE INTERESTING STUFF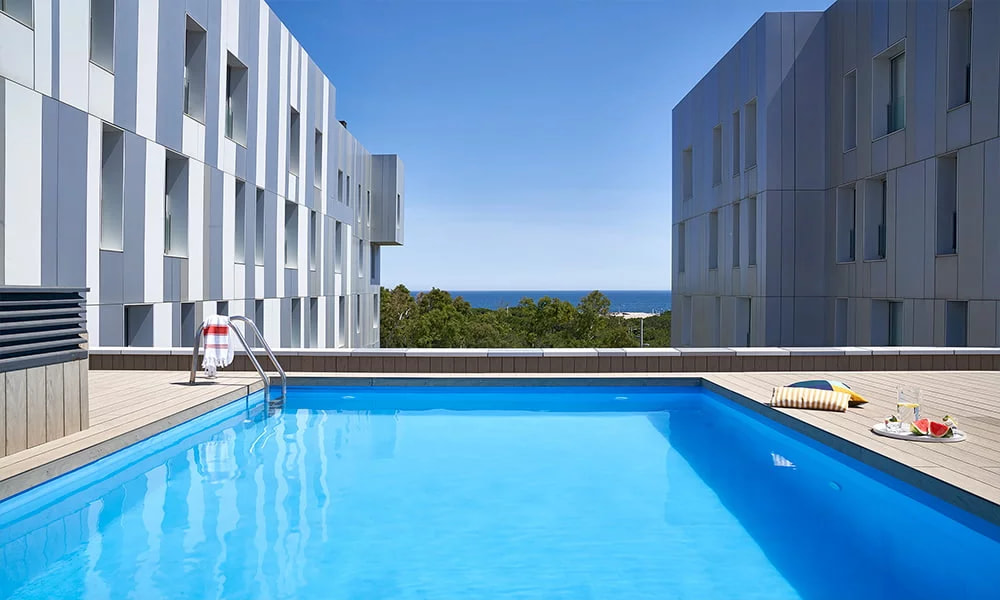 Holiday apartments by the beach in Barcelona
Since 2010, Lugaris Apartaments has been offering you the best holiday rental flats in Barcelona, perfect for a family holiday, with friends or as a couple, or for medium-term stays.
You can choose between apartments near the beach in Barcelona, at Lugaris Beach, with sea views, 2 swimming pools (one for adults and one for children) and capacity for up to 6 people, and the Lugaris Rambla flats, located on the Rambla de Poblenou and just 300 m from Bogatell beach, with a balcony or terrace of up to 22 m2 and ideal for couples or families and groups of up to 5 people. All our luxury flats in Barcelona are air-conditioned and equipped with all the appliances, furniture and bed linen you will need during your stay. They also have satellite TV and free high-speed Wi-Fi connection, as well as a safe and a 24-hour private security service.
What's more, when you make your booking, you can reserve many other additional services: international press in your flat, parking space, transfer service to and from Barcelona airport, bicycle hire, supermarket shopping, museum, sports and show tickets, babysitting service and much more.

For more information, contact Lugaris Apartments without obligation.