Today we would like to focus on one of the most common Sunday morning traditions in Barcelona. Watching game? Having a vermouth on a terrace by the sea? It's none of that; we are talking about an almost sacred custom in many homes: visiting the closest bakery. There you can buy some typical desserts in Barcelona and add a sweet touch to your lunches and dinners.
For this moment to be perfect, you have the dining room, the balcony or the terrace of our apartments for rent by the beach… and a list of 10 sweet treats you cannot miss during your getaway in Barcelona. It will be hard to decide!
BORREGOS DE CARDEDEU
Documented since 1770, these delicate biscuits are the star in bakeries around Cardedeu, a Barcelona town located in the Vallès Oriental region. Made with flour, sugar, butter or margarine, oil, eggs, yeast, brandy and salt, they are sold in the shape narrow bars. Hence, they are very practical to eat at any time or to dip them in your favorite hot drink.
Although it is almost impossible to find this product in Barcelona city, this may be the excuse to visit Cardedeu by train (line R2 of Rodalies Renfe) and take advantage to discover the interesting modernist buildings found here. Want to try it out?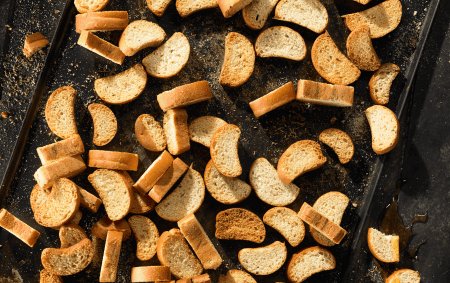 CATÀNIES
This delight has nothing to do with the Italian region of Catania, nor with the legendary samurai swords. In fact, its history begins in Vilafranca del Penedès —a city near Barcelona that is famous for its casteller (human towers) tradition—, where a chocolate company began to produce and sell catànies.
The formula is simple: a whole almond, toasted and caramelized, is covered with a hazelnut, almond and milk paste and, finely sprinkled with cocoa powder and sugar. The result? A bonbon with an unmistakable texture.
Although catànies are not exactly cheap, it is worth buying a few and be seduced by its exquisite flavor. You can buy them without problems in the bakeries of the center of Barcelona.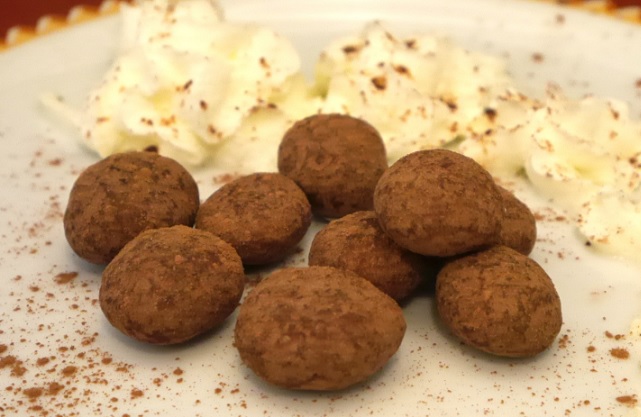 CARQUINYOLIS
If you like dry biscuits, carquinyolis will be a safe bet for dessert, or even for breakfast and as a snack. Very similar to rusks due their consistency, they are made with wheat flour, sugar, egg and almond and, like borregos, they are elongated in shape, although somewhat longer. Thus, they can be easily dunked in coffee or in any hot drink.
If you are Italian or have lived in the transalpine country, carquinyolis will remind you of cantuccini, which they usually take with sweet wine. If this formula seduces you, why not try it with moscatell or mistela? These are two delicious typical drinks to try in Barcelona.
One of the places where you can buy carquinyolis is pastisseria La Colmena (12 Plaça de l'Àngel), although they can be purchased in most bakeries. You also have them in the pastisseria Triomf, in 41 Rambla del Poblenou (very close to our Lugaris Rambla apartments).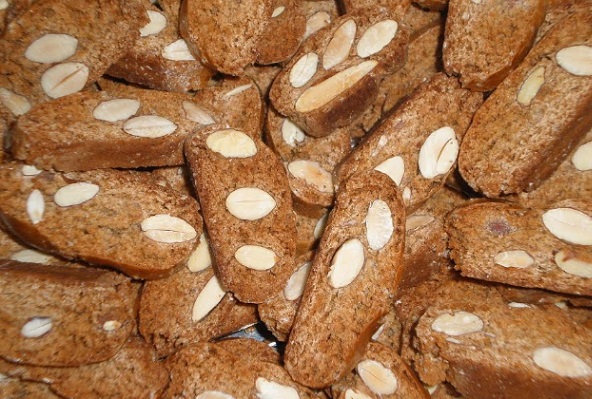 COCA
Although we already included this recipe in our post about typical dishes to try in Barcelona, this juicy sponge cake is another traditional dessert that must be savored. Also known as coc in other parts of the Catalan geography, this irresistible cake could have its origin in the times of Charlemagne. It can be salty or sweet, as there are more than thirty varieties of this dessert (including coca de Llavaneres, typical the homonymous town in the Maresme region).
In Catalonia, coca is closely linked to a popular celebration: the verbena or revetlla de Sant Joan (Saint John's eve), which takes place on the night of June 23 to 24. On these dates, they especially eat coca de llardons (with animal fat), candied fruit and chocolate.
By the way: if you decide to visit Montserrat, do not forget to take home one of the exquisite Montserrat cocas, made with crunchy glass bread. You will also find them in some establishments on Les Ramblas, although they do meet the standards of the original recipe.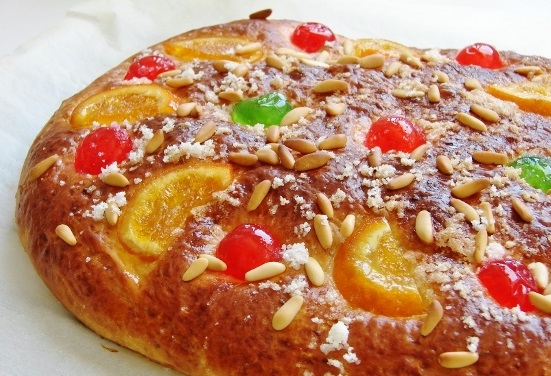 CREMA CATALANA
Here is another traditional dessert from Catalan cuisine that we rediscover in this article. Also known as crema de Sant Josep and very similar to French crème brûlée, it is very common dessert on the menus of many restaurants in Barcelona.
Crema catalana is made with an egg-based custard, covered with a layer of burnt caramel. You will definitely want a second serving!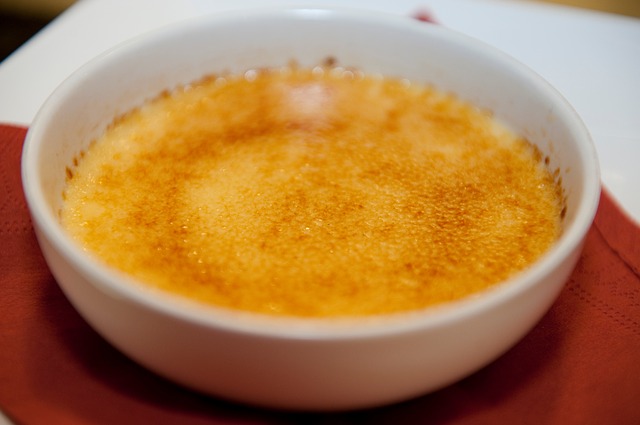 MAMELLES DE PEDRALBES
Resembling menjar blanc from Reus, this dessert consists of small flans made with almond milk, and it is said that it was created by the nuns of the monastery of Santa Maria de Pedralbes.
It is not usually available in many establishments —we do not know if its irreverent name has anything to do with it (as the translation would be Pedralbes tits)— but it is not impossible to taste this specialty either. One of the restaurants that usually include it in its menu is Pla de la Garsa, a cozy place in the Born that appears in our suggestions for original restaurants in Barcelona.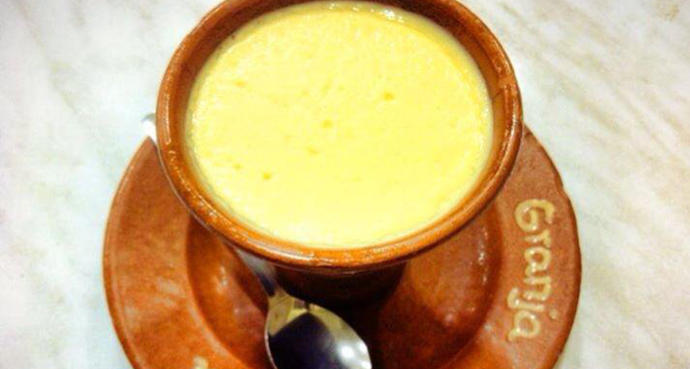 MEL I MATÓ
Yet again, we quote another of the typical desserts of Barcelona that you must enjoy more than once. Its formula is as simple as it is tempting: mató (traditional mountain fresh cheese) covered with honey and, sometimes, accompanied by sweet quince or nuts, especially walnuts.
Its soft flavor will put the finishing touch to any lunch or daily menu. Therefore, it is not surprising that so many restaurants serve it.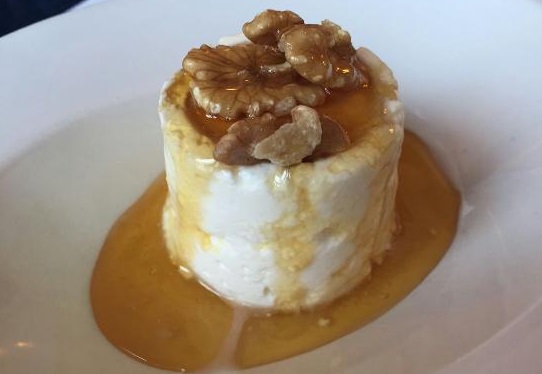 NEULES
These wafers are typical during Christmas and are sometimes dipped in champagne or wine. This fact feeds a legend about its origin, which is attributed to a nun who decided to roll a consecrated host to dip it in the goblet.
In any case, it a proven fact that King James I ordered to serve a similar sweet during a Christmas Eve dinner, back in the thirteenth century.
Currently, it is possible to buy neules filled with Jijona nougat (torró in Catalan) or covered in dark or white chocolate. There are even recipes adapted for people with gluten or lactose intolerance.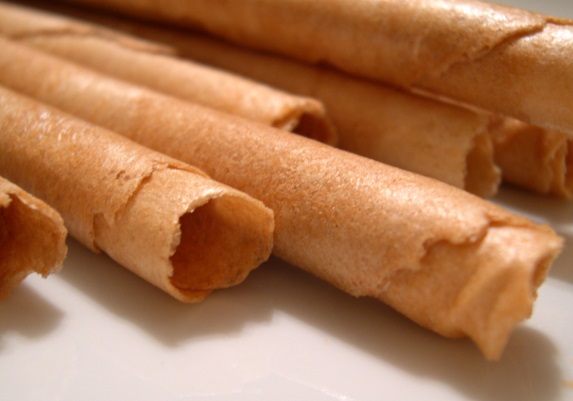 PANELLETS
Panellets are to All Saints Day what pumpkin to Halloween. This type of marzipan is prepared and sold in bakeries and patisseries on the indicated date, and they stand out for being rather expensive (around 30 euros per kilo). In any case, the recipe is very easy: ground almond and sugar, which is sometimes combined with boiled potato or sweet potato. The dough has a rounded shape and is sometimes covered with pine nuts. Sometimes a little jam and pink coloring is added to the panellets to give them a strawberry flavor, or even coffee sometimes is added.
A very popular variety of panellets are ossos de sant ('bones of saint'), which owe their name to their color and their elongated shape.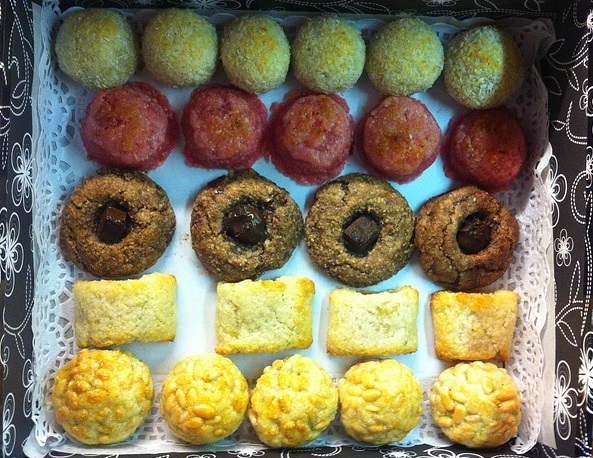 ROSCÓN DE REYES
We close the list with the true king in the meal held on Kings' day (January 6): the tortell. This circular-shaped cake with a hole in the middle is covered with candied fruit and stuffed with marzipan. However, the most interesting things about this dessert are the two surprises that it hides inside: a porcelain figurine of one of the three wise men, better known as the Kings, and a bean. The diner who discovers the king receives a cardboard crown that is sold together with the dessert. On the other hand, whoever finds the bean, must pay for the tortell.
To these typical desserts of Barcelona, we would have to add other popular choices that come from several towns and cities of Catalonia, like the nougat or torró from Agramunt, created in this town from Lleida in the 17th century; bunyols de vent from the Empordà, typical during Lent, melindros…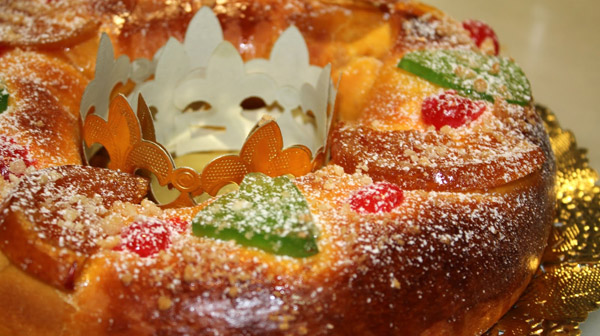 We should also mention the ritual of taking a comforting chocolate with churros on Carrer de Petritxol, in the heart of the Gothic quarter and very close to the evocative Plaça del Pi. You also have the possibility of visiting Casa Amatller, a modernist estate located on 41 Passeig de Gràcia, which was the residence of a chocolate industrialist. Of course: even today, Amatller chocolates are still sold, although they are no longer manufactured in Barcelona.
Have you tried other typical desserts in Barcelona? In that case, make sure you let other readers know about your culinary suggestions. Do not hesitate to send us your comments!
MORE INTERESTING STUFF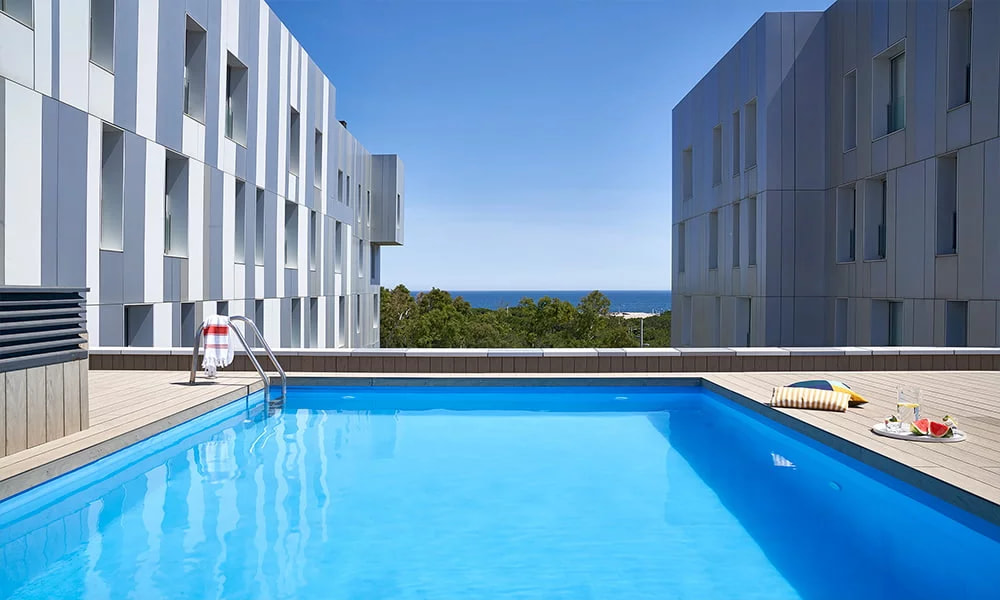 Holiday apartments by the beach in Barcelona
Since 2010, Lugaris Apartaments has been offering you the best holiday rental flats in Barcelona, perfect for a family holiday, with friends or as a couple, or for medium-term stays.
You can choose between apartments near the beach in Barcelona, at Lugaris Beach, with sea views, 2 swimming pools (one for adults and one for children) and capacity for up to 6 people, and the Lugaris Rambla flats, located on the Rambla de Poblenou and just 300 m from Bogatell beach, with a balcony or terrace of up to 22 m2 and ideal for couples or families and groups of up to 5 people. All our luxury flats in Barcelona are air-conditioned and equipped with all the appliances, furniture and bed linen you will need during your stay. They also have satellite TV and free high-speed Wi-Fi connection, as well as a safe and a 24-hour private security service.
What's more, when you make your booking, you can reserve many other additional services: international press in your flat, parking space, transfer service to and from Barcelona airport, bicycle hire, supermarket shopping, museum, sports and show tickets, babysitting service and much more.

For more information, contact Lugaris Apartments without obligation.