Barcelona hosts a multitude of Christian and pagan festivals, although the city also stands out for the many customs that are part of its popular tradition. Here we will try to summarise the most important events celebrated in Barcelona throughout the year and show you what its inhabitants do to have a good time.
If you want to find out about Barcelona's traditions and customs, read on!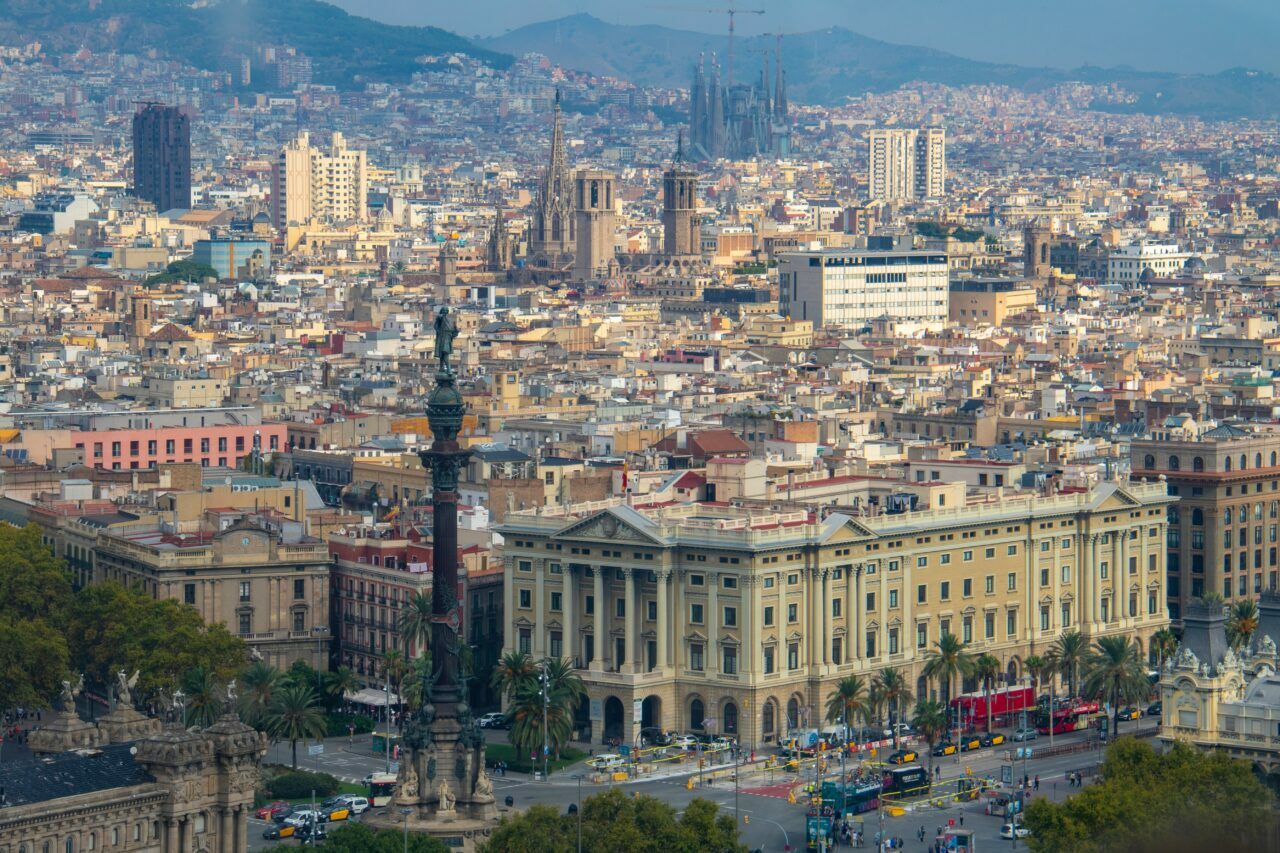 What are Barcelona's traditions?
Barcelona is a Mediterranean city in essence, and the people of Barcelona tend to respect its customs, which they do not fail to enjoy whenever tradition dictates.
It is a very cosmopolitan city, where there is also a place for popular culture in which the following activities tend to stand out:
Having a vermouth and an aperitif. The vermouth forms part of one of its most characteristic gastronomic traditions. This drink is exquisite due to its bittersweet touch and has long been present again at aperitif time in its popular cellars and taverns, ideal before an incredible menu in the best Catalan cuisine restaurants in Barcelona. Drinking vermouth has become something of a ritual, dating back to the 18th century, although back then it was exclusive to the Catalan gentry. This drink is made from white wine to which a series of herbs, absinthe and/or caramel are added. Be that as it may, it is the star of many lunchtime gatherings and is usually accompanied by the most traditional tapas.
The Sardana. This is a popular dance in which anyone can take part. It takes place at any major festival and the people who dance it have to form circles and dance or jump to the rhythm of the melody, where there is no lack of popular instruments such as drums or flabioles. You can often see them dancing in the Cathedral square.
The Easter Mona. This is an Easter Monday tradition in Barcelona, and in Catalonia as a whole. It takes the form of a cake or chocolate figure and is a real spectacle in the city's bakeries. Some of them are so complex that they look like works of art. It is thought that they come from Arab culture and that they were a kind of payment that the Moors made for the leasing of land, in the form of hard-boiled eggs or cakes. Nowadays, various ingredients are used to make Monas, such as sponge cake, chocolate, butter, eggs, candied fruit and even feathers. Traditionally, it is the child's godparent that gives their godchild the Mona as an easter Monday gift. It is traditionally eaten in parks and such, although many families celebrate at home nowadays.
Castellers. They are Intangible Cultural Heritage of Humanity and are part of the cultural identity of the city, passed down from generation to generation, which is why they cannot be missing from the Festes Majors. They are human towers built on strength and balance. These so-called castles are made up of three different parts: the base, the trunk and the top where the youngest participants climb up to.
Santa Llucia Christmas market. The first recorded Santa Lucia market dates back to the 18th century, although it could be even earlier. This is a traditional Christmas fair, held every year around 13 December next to Barcelona Cathedral. Here you can find a wide variety of decorative objects to decorate the Nativity Scene (special mention should be made of the figure of the "caganer", one of the most important pieces in the Catalan Nativity Scene which depicts a shepherd doing his own business), as well as Christmas trees and musical instruments such as zambombas and tambourines. This is one of the best Christmas markets in Barcelona and one of the best known.
El Tió de Nadal. This is a Catalan Christmas character that children feed with sweets, sweets, candies or chocolates. It consists of a log with a smiling face that is covered with a blanket every night to keep it warm until Christmas Eve, when it is beaten by the children while they sing popular songs to get the presents it will eventually poop.
What festivals and traditional festivities are celebrated in Barcelona?
Catalan festivals usually include three very characteristic elements: dance, music and fire.
There are also parades of cap-grossos (big-heads) and giants, fire shows, popular songs and fireworks.
These are some of the most significant festivals in Barcelona that are held every year:
National Day of Catalonia. It takes place every 11 September mainly in the Gothic Quarter and its main venues are the City Hall Palace and the Palace of the Generalitat de Catalunya, in Sant Jaume square.
This day commemorates the city's resistance during the War of the Spanish Succession, which kept its population under siege by Bourbon troops for several months. Such resistance shocked the whole of Europe by demonstrating such courage and bravery in the face of a clearly superior army. On this day, human towers (castellers) are erected, popular songs are danced in the squares and various public events are held. In addition, the balconies of the houses are decorated with Catalan flags.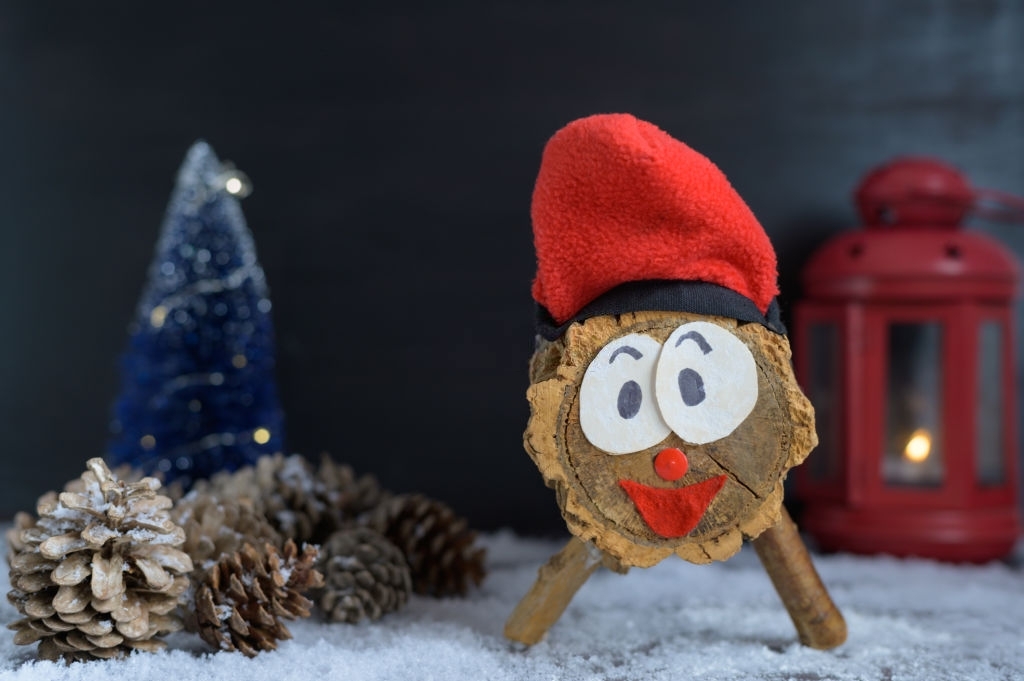 Saint George's Day. Saint George's Day is the patron saint of Catalonia and the festival held in his name takes place every 23 April. On this special day, it is customary for men to give red roses to women and for women to give a book to men as a token of their love.
Festa Major de Gràcia. This is one of the best-known popular festivals held in summer, in mid-August. In the past, the Gracia neighbourhood festival was religious, although today it is a popular event with concerts, exhibitions, activities and cultural events. During these days, the streets are decorated in surprising ways, the work of the locals, to win the prize in the competition organised by the neighbourhood. In addition, food and drink are on offer in the streets at very cheap prices.
Festivities of La Mercè. Held in honour of the city's patron saint every 24 September. During the festival there are many activities and events in the streets: a parade of giants, a fire show (El Correfoc), human castles and the popular dance (La Sardana). In addition, for some time now, many free concerts have been held in Barcelona's most characteristic squares and streets, such as Plaça de Catalunya and Plaça de Sant Jaume.
The night of Sant Joan. The vigil of 23 June is the shortest night of the year and Catalonia celebrates the summer solstice. It coincides with Saint John's Day, so the people of Barcelona celebrate both traditions: the saint's day in line with its religious significance and, when night falls, the solstice. Following on from the traditions listed above, after dinner with the family, a popular sweet known as the coca de Sant Joan is eaten, made with pine nuts and candied fruit and always accompanied by cava (sparkling wine).
The Virgin of Montserrat. The day of the patron saint of Catalonia takes place on 27 April. It is celebrated in different Catalan towns, although mainly in the Monastery dedicated to the Virgin, in the mountain with the same name, which is only 60 kilometres from Barcelona. During this day there are incredible human towers and popular dances such as the Sardana. In Barcelona, popular celebrations also take place in the most important places of the city, such as the Plaça de Sant Jaume or the Plaça de Catalunya.
What is everyday life like for people in Barcelona?
Barcelona is a very welcoming and open city, and is considered one of the safest cities in the world with the highest quality of life. Its inhabitants live quite well, enjoying a spectacular Mediterranean climate and a multitude of green areas.
Its people have a lifestyle that is unique in the world. Their good-natured and friendly manner makes visitors feel at home, so that they can comfortably enjoy all that the city has to offer.
On weekdays, Barcelonans lead a normal life, going to work, picking up their children from school or shopping at the supermarket or at Barcelona's best markets, such as Ninot, Concepció or Santa Caterina. However, they always find time to enjoy the many parks, natural spaces and gardens scattered throughout the city. In fact, Collserola Park is one of the most spectacular natural spaces in the world with its 8000 hectares.
People usually go to these green areas in their free time to read a good book, have a picnic, play sport or simply go for a walk. The same is true of Barcelona's beaches, which are more than 4 kilometres long, where the people of Barcelona also go every day, benefiting from their high level of hygiene, safety and complete facilities.
The city has quality medical and health services, both public and private, and its educational network is quite good. Barcelona's residents go about their daily business, although they always try to enjoy nature in its parks and mountains, which they explore on foot or by bicycle.
Barcelona also has a wide variety of natural areas to choose from, ranging from botanical gardens to urban parks, labyrinths and even magical areas such as Park Güell. On the other hand, the waters of its beaches are calm and the temperature is good enough for swimming until autumn.
As for the weekends, the city offers a wide range of shopping, cultural and gastronomic activities that you can make the most of, not to mention PortAventura, one of the most popular theme parks for a good time with the family.
OUR APARTMENTS IN BARCELONA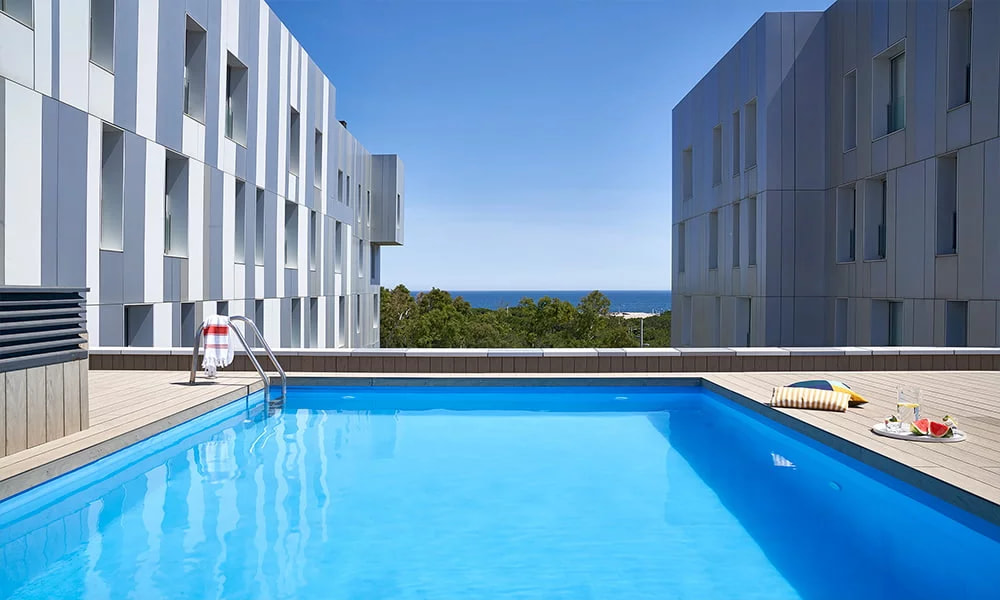 Holiday apartments by the beach in Barcelona
Since 2010, Lugaris Apartaments has been offering you the best holiday rental flats in Barcelona, perfect for a family holiday, with friends or as a couple, or for medium-term stays.
You can choose between apartments near the beach in Barcelona, at Lugaris Beach, with sea views, 2 swimming pools (one for adults and one for children) and capacity for up to 6 people, and the Lugaris Rambla flats, located on the Rambla de Poblenou and just 300 m from Bogatell beach, with a balcony or terrace of up to 22 m2 and ideal for couples or families and groups of up to 5 people. All our luxury flats in Barcelona are air-conditioned and equipped with all the appliances, furniture and bed linen you will need during your stay. They also have satellite TV and free high-speed Wi-Fi connection, as well as a safe and a 24-hour private security service.
What's more, when you make your booking, you can reserve many other additional services: international press in your flat, parking space, transfer service to and from Barcelona airport, bicycle hire, supermarket shopping, museum, sports and show tickets, babysitting service and much more.

For more information, contact Lugaris Apartments without obligation.